10 Baby Necessities You Need for a Baby
I've had many people ask me what baby items I would consider to be my "baby necessities"- you know, the ones that I couldn't have survived the baby years without.
If you've ever looked at the essentials checklist when doing a baby registry, not only is it overwhelming but there are so many baby items you can live without!
Let's talk about it and get your newborn baby shopping list squared away. If you're wondering when to start buying baby stuff, you can start with that here. As you're preparing for your baby, it can be hard to know which baby registry things are most important. Here are the top baby necessities.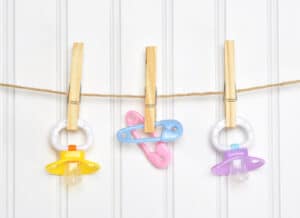 *This post may contain affiliate links, which means I receive a small commission, at no extra cost to you, if you make a purchase using this link. I only recommend products I love or would personally use.
The Baby Necessities
Car seat or travel system- The Biggest of Baby Necessities!
The first baby necessity you must have before you're even allowed to leave the hospital is an infant car seat with a 5-point harness.
We chose to go with a baby travel system that came with the infant car seat, a base (you can buy more if needed in more than one car), and a stroller. We didn't want to wake a sleeping baby. (These are the best infant travel system for first-time parents!)
When we switched to a convertible car seat, we bought this highly-rated Safety 1st brand car seat that we used after our baby travel system.
The second car seat we bought was the Graco Extend2Fit car seat so that we could leave our kids rear-facing longer. If you want to know more about why we did this, I would encourage you to check out this article by Consumer Reports. It explains the benefits of leaving your child rear-facing longer, as long as they are within the appropriate weight and height measurements according to the car seat requirements.
If you're going to be flying with your toddler, and want to take your own car seat, I would HIGHLY recommend the Cosco Onlook Car Seat. When we decided to fly with our toddlers, I knew it was important to make sure that we set them up for the best flying experience possible. The best way to do this was to make the environment as familiar as we could, which meant having them in a car seat. Our car seats were too large, so we bought these and they worked great!
Portable Play Yard
One of the baby things to buy before birth is a portable crib.
This one has a vibration, sound, and a nightlight. It also has a "bassinet" that is great for when you don't want to have to lay baby all the way down in the bottom. This Graco Pack n Play Playard is one that is very similar to what we have. WE LOVE our Pack and Play!
READY TO START YOUR

AMAZON BABY REGISTRY

??
Here is where to get started on your Amazon Baby Registry!
Baby Carriers
One of my favorite baby essentials has been our baby carriers.
Each of my kiddos liked a different type of wearable carrier (here are the different types of baby carriers and their benefits!). Thankfully, we had two different types that we were given as gifts. My first liked the Moby Wrap. I'm not going to lie, I was rather confused about how a piece of fabric was going to hold my baby.
Thankfully they do offer you a guide in the box, and you can also find some great YouTube videos on how to use the Moby Wrap if you're still struggling. It took a lot of practice to understand the tie, but I finally figured it out and my little one LOVED being right up against me. There are so many ways to wear this wrap! The best part is that it grows with you as your little one grows.
My second baby loved the Ergobaby Baby Carrier. Our second had colic and when trying to survive colic, you go with what works. There were so many times that this was the only way our sweet baby would sleep. Once you have it fitted correctly, it is super easy to put on and place the baby in.
This carrier can be used by people with both a small and large frame. All of the straps are adjustable, which is fantastic if you're going to be walking or hiking and you need to switch off quickly.
Nursery Furniture
Another one of the baby necessities you'll need to purchase is furniture. These are some of the best nursery furniture sets I have found.
We opted to go the route of a convertible crib because we like to get the most out of our money and this allowed us to never have to change furniture.
We looked in many furniture stores and ended up purchasing this Bently S Series 4-n-1 crib by Delta brand because it is a convertible crib. I would suggest that you make sure you also buy the conversion kit so you have it for the future. I know sometimes they change the models of things and it can be hard to track down the conversion kit you will need. In fact, I have a friend currently trying to track down the conversion kit for her discontinued crib!
We also bought the matching Delta brand 6-drawer dresser when we bought the crib. I loved the design and color. There is a matching changing table, but we didn't have space for it. So, instead, we opted for this Delta changing table dresser topper.
We bought this highly-rated Summer Infant Contoured Changing Pad, rather than the 4-sided one because my husband is tall. I knew the likelihood was high of our kiddos outgrowing the changing pad before getting out of diapers. Make sure you register for a water-proof changing pad cover as well.
Swing or Glider
If you aren't sure what to look for when shopping for a baby swing, I have an easy guide for buying the right baby swing to help you.
For my first baby, we borrowed a swing, and it wasn't something anyone enjoyed. Because of this, we bought this small, simple Ingenuity brand swing for the second, and once again, no luck.
There were several reasons that we bought this swing. First and foremost, it was small. We don't have a huge house, so space-saving is a must. The other biggest reason I bought this swing was that it could run on electric OR batteries. I loved the idea of it being easily transportable and not always having to be connected to electricity.
Does all of this baby gear talk make you excited? Start your

Amazon Baby Registry NOW!
Diaper Bag
One of the forgotten baby essentials that you won't want to leave the house without is a great diaper bag. I knew I wanted something I could wear on my back that wouldn't fall every time I bent over. I also wanted to make sure that I had plenty of pockets to store things in, as well as easy access to things like diapers and wipes.
We had a Fisher-Price diaper bag backpack that worked really well to carry our baby necessities when we had one kiddo.
But, as our family grew, I was looking for the best diaper bags for two kids. The bag we have now is this RUVALINO Diaper Bag Backpack. I love how it's easy to find things inside, has lots of pockets, a front insulated pocket for bottles, and so many other convenient features.
Bathtub
As I mentioned before, we don't have a lot of space. I know a bathtub is an essential baby item, but I didn't want a huge infant bathtub that I would eventually have to find a place to store. I stumbled upon the Mommy's Helper brand inflatable tub and I thought I would give it a shot. It's inflatable so it could travel if you need it to go with you. Our kids have loved it!
*I would suggest that you rinse it out after each bath so it doesn't get mold in the creases of the lining.
Nursing Pillow
If you are planning to breastfeed, you'll want to register for a nursing pillow and waterproof cover. We even took our nursing pillow to the hospital for each baby's birth. I opted for the traditional Boppy Pillow. We picked this one after going to the baby store and looking at several different nursing pillows, which is something I would suggest you do as well.
If you go this route, I recommend that you purchase a Boppy Water-resistant protective cover. You never know what kinds of liquids might hit the pillow!
Video Baby Monitor
My video monitor is one of my favorite baby shower gifts we received! There is a peace of mind that comes with being able to see your baby whenever you want. I know this to be true especially if you're a first-time mom. I also found this to be true when my babies were sick. It was important for me to see them and know they were ok.
We have two different monitors because the one we first bought is no longer available. However, they came out with an updated version.
Neither of the monitors we have is available now, but this Summer Infant monitor is similar. We have had no issues with either monitor we bought from Summer Infant.
Grocery Cart and High Chair Cover
One of the last and most-used baby essentials I will recommend is a cart cover/high chair cover. Don't get me wrong here, germs are good and healthy, but kids like to put their mouths and hands onto everything!
The great part about the one we have is that we can use it on high chairs in restaurants and ours has traveled everywhere we have. We were lucky to be given one that was homemade as a gift, but I have found the Boppy Compact Cart Cover that would be very similar to the one we have.
I think I have covered the top baby necessities you'll really need. Of course, you will still need to purchase the obvious things, like diapers, wipes, bottles, clothes, etc.
However, we raised our kids without the diaper bins, wipe warmers, and other, possibly unneeded items.
Minimalist Baby Registry- What Do You Need?
When to Start Buying Baby Stuff
7 Baby Items You'll Use Into Childhood
The Best Baby Travel Systems for First-Time Parents
Fun Baby Shower Songs for a Great Party!
Baby Essentials List for the First Year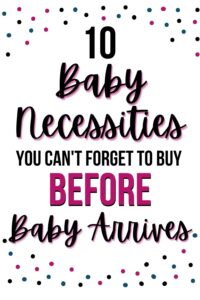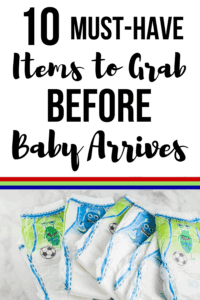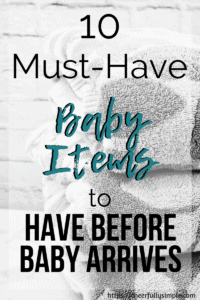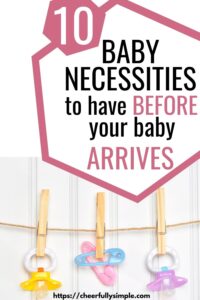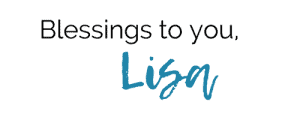 The owner of this website is a participant in the Amazon Services LLC Associates Program, an affiliate advertising program designed to provide a means for sites to earn advertising fees by advertising and linking to Amazon properties.
---