Best Baby Shower Songs for a Fun Baby Shower
Let's talk baby showers.
You have food, baby shower games (you either love them or hate them), gifts, baby shower decorations, etc.
But sometimes, baby showers can feel awkward when there are a lot of people who don't know each other, creating a really awkward silence if you don't have any baby shower background music.
It would be weird to have the radio on in the background, so instead, you can create a baby shower playlist to have songs playing in the background related to babies.
You don't need to spend a lot of time trying to find the best baby shower songs because I've already done that for you. I'm going to give you a generic baby shower playlist, a baby shower playlist for girls, a baby shower playlist for boys, and baby shower songs with the word "baby in them".
You can choose one baby shower playlist or mix and match your favorites! I'm also sharing each video with lyrics so you can see the lyrics while listening to the songs!
*This post may contain affiliate links, which means I receive a small commission, at no extra cost to you, if you make a purchase using this link. I only recommend products I love or would personally use. * I do not own the right to these lyrics, I'm just sharing them for your baby shower music needs!
Start Your Amazon Baby Registry Here!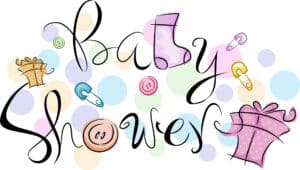 Generic Baby Shower Playlist
Here are the best baby shower songs for any baby shower, regardless of whether you're having a boy or girl.
My Wish by Rascal Flatts

Forever Young by Rod Stewart

I Don't Want to Miss a Thing by Aerosmith

With Arms Wide Open by Creed

Humble and Kind by Tim McGraw

Somewhere Over the Rainbow by Israel Kamakawiwoole

What a Wonderful World by Louis Armstrong

There Goes My Life by Kenny Chesney

I Get to Be the One by JJ Heller

Can't Take My Eyes Off of You by Frankie Valli

Better Together by Jack Johnson

Just the Two of Us by Will Smith

A Thousand Years by Christina Perri

Haven't Met You Yet by Michael Buble

Yellow by Coldplay

Blue by Beyonce

In My Arms by Plumb

Baby Shower Playlist for Baby Girls
Butterfly Kisses by Bob Carlisle

My Little Girl by Tim McGraw

Just the Way You Are by Bruno Mars

Isn't She Lovely by Stevie Wonder

Right by You by John Legend

In My Daughter's Eyes by Martina McBride

Daughters by John Mayer

Handprints on the Wall by Kenny Rogers

I Hope You Dance by Lee Ann Womack

My Wish by Rascal Flatts

My Girl by The Temptations

Baby Shower Playlist for Baby Boys
A Song for Mama by Boys II Men

Simple Man by Lynyrd Skynyrd

A New Day Has Come by Celine Dion

Hourglass by Mindy Gledhill

Anything Like Me by Brad Paisley

93 Million Miles by Jason Mraz

The Perfect Fan by Backstreet Boys

Sweetest Devotion by Adele

Baby Shower Songs with Baby in the Lyrics
Ice, Ice Baby by Vanilla Ice

Always Be My Baby by Mariah Carey

I Got You, Babe by Sonny and Cher

Baby Love by The Supremes

Baby Mine by Arcade Fire

Dance Baby Dance by Chris Cagle

Baby by Justin Bieber

Baby, I Love Your Way by Peter Frampton

Don't Worry Baby by the Beach Boys

Baby I by Ariana Grande

My Baby by Britney Spears

Do I need to play music at my baby shower?
A lot of people feel awkward at baby showers where there is silence in the background, especially if they don't know anyone else there. Make them feel more comfortable by playing some fun baby shower music in the background!
What kind of music should I play at a baby shower?
When choosing baby shower music, you'll want to consider your audience. You may select different music if the mom to be is 20 versus a mom to be who is 40.
Or, you may have a variety of ages of women at your baby shower and you want to choose current music with a mix of some classics. Just consider your audience and what type of baby shower songs you think they'll enjoy.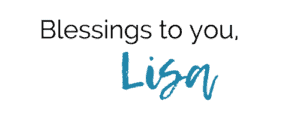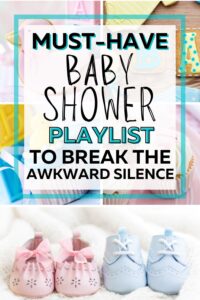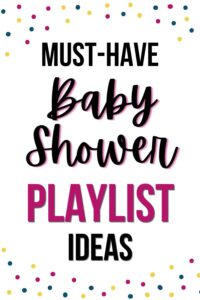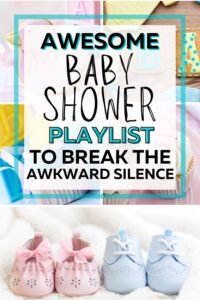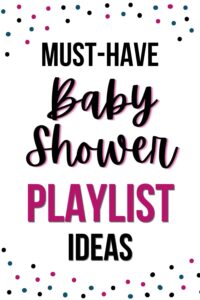 More Awesome Baby Stuff!
The Best Baby Shower Gifts for New Moms
Baby Necessities to Have Before Baby Arrives
Baby Items to Skip on Your Baby Registry
The owner of this website is a participant in the Amazon Services LLC Associates Program, an affiliate advertising program designed to provide a means for sites to earn advertising fees by advertising and linking to Amazon properties.
---