When to Start Buying Baby Stuff
When you find out you're pregnant, naturally you may be wondering when to start buying baby stuff.
Really, there is no RIGHT answer.
Some people think it's bad luck to start buying baby stuff early in pregnancy, while others start buying baby gear when they find out they're pregnant.
So, if you're newly pregnant and wondering when to start buying baby stuff, here's an all-inclusive guide on when to start preparing a baby!
*This post may contain affiliate links, which means I receive a small commission, at no extra cost to you, if you make a purchase using this link. I only recommend products I love or would personally use.
What to buy when you find out you're pregnant?
When you find out you're pregnant, you'll want to buy a few things to document your pregnancy and prepare for what's ahead.
Baby Bump Stickers: If you plan to take pictures every week of your pregnancy (which I highly recommend because they're fun to look back on), make sure you have cute baby bump stickers.
Pregnancy Planner: People buy planners for everything else in their life, and a pregnancy planner that tells you when things are going to happen, what it will be like, and how to prepare, is a must! The pregnancy planner I recommend is the Oh, Baby

pregnancy planner.

This pregnancy planner has everything you need including weekly pregnancy tracking sheets, baby registry checklists, how to prep your home for a baby, questions to ask on your hospital tour, finding the right pediatrician, how to care for your newborn, and so much more!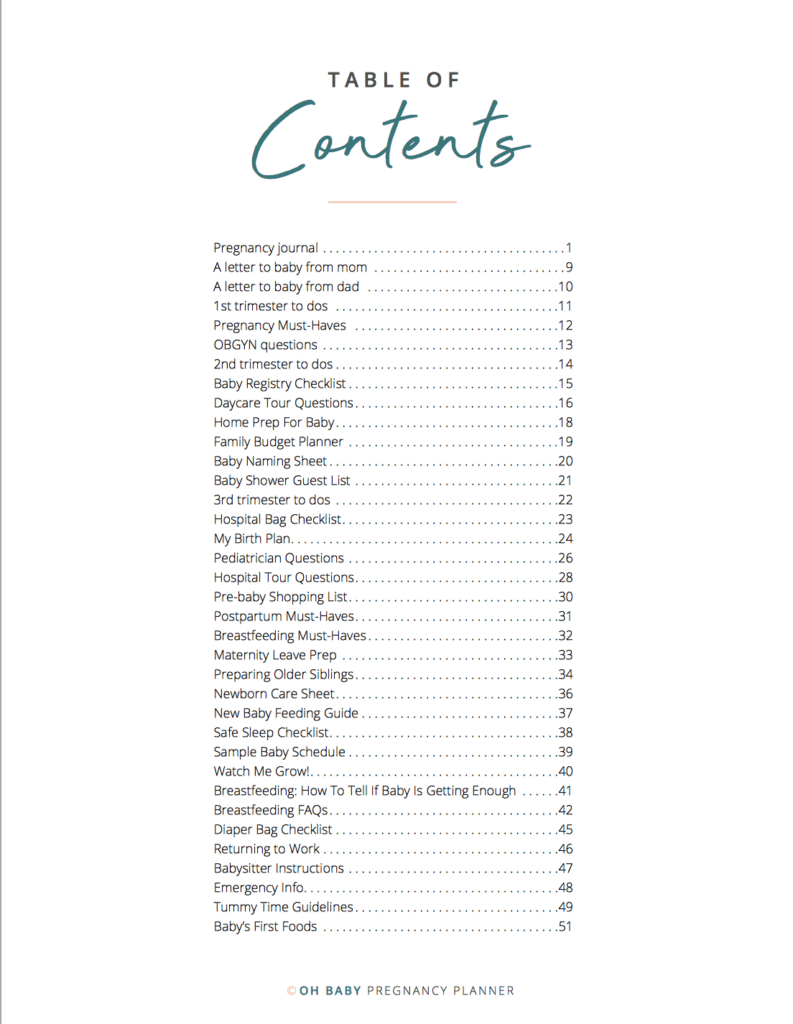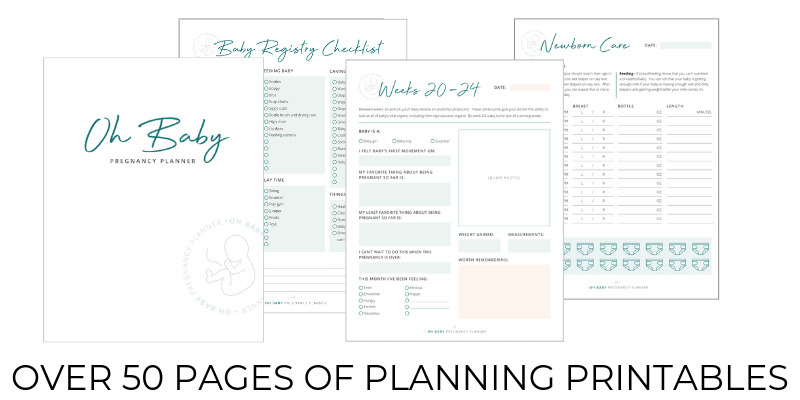 Pregnancy Journal: If you're into journaling, make sure you grab a pregnancy journal to document all of the fun (and sometimes not so fun) parts of your pregnancy!
A Prenatal Vitamin: Find a prenatal vitamin if you aren't already taking one. I have several that I like but check with your doctor to make sure you're taking the right one for your personal needs.
When to start buying baby stuff and things to consider when buying baby stuff!
I have newly pregnant friends who ask me, "When did you start buying baby stuff?" For me, I am a shopper and a deal finder, so I started early(ish). Here's why.
Are you having a baby shower?
We have MANY pockets of friends, family, and co-workers.
I had 7 baby showers with my first pregnancy. YES, 7!! And honestly, it was an incredible blessing, but there was a lot of stuff!
I (thought) I had completed my baby registry essentials, but after each baby shower, I found myself needing to add more.
I DON'T say this to gloat at all, but just to encourage you to think about HOW MUCH baby stuff you won't have to buy. Also, think about what baby stuff you can live without.
And, think about the entire first year when you're registering for baby stuff. What are all the baby items you need for the baby's first year and beyond!
Don't go crazy buying baby gear until you have a reasonable idea about how much you yourself will actually be buying.
Will you find out the gender?
We have never found out the gender of our kids. We have always enjoyed the surprise of the moment, both for my c-section delivery and my vaginal deliveries.
If you aren't finding out the gender, be sure to register for everything gender-neutral. We still had people bring us gender-specific baby clothes after the baby was born.
If you are finding out the gender of your baby, you can register for more gender-specific baby gear.
BUT, keep in mind that your first may be a boy, and then your next is a girl. I always recommend buying gender-neutral baby gear, because you don't want to have to buy brand new baby gear for baby #2.
How much space do you have?
If space is going to be an issue for you, keep this in mind when creating your baby registry. Make sure you buy baby gear for small spaces so that you don't buy more than what your home can handle.
What is your budget for buying baby gear?
Similar to space being an issue, keep in mind what your budget for buying baby gear is like. If you haven't thought about this yet, I encourage you to consider how much you can spend on baby gear before creating your baby registry.
Don't register for high-end baby gear when it doesn't fit your lifestyle or your needs. Sometimes you can find new, or gently used baby gear at consignment sales.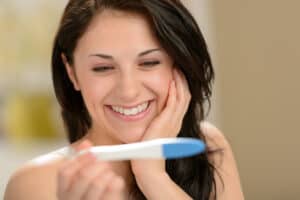 Is it bad luck to start buying baby stuff early?
I think this is an old wives' tale. Buying a onesie isn't going to have a literal effect on your pregnancy.
If you want to buy something cute, buy it. After all, you're carrying a sweet, precious life that deserves to be celebrated.
READY TO START YOUR

AMAZON BABY REGISTRY

??
Here is where to get started on your Amazon Baby Registry!
What to buy in early pregnancy?
If you're newly pregnant, like less than 12 weeks, you don't really need to buy anything yet.
You'll want to start buying things for your baby in your second trimester.
By the end of your second trimester, you'll want to make sure you have your infant car seat, a baby stroller, a crib and crib mattress, your beginning stockpile of diapers and wipes, and some newborn and size 1 diapers and wipes. You can also buy a cute diaper bag or a diaper bag alternative. (Even though the diaper bag post is for 2 kids, they're still my favorite diaper bags and you can totally buy one as your first diaper bag!)
Other things you'll want to buy between your second and third trimester are baby clothes, pacifiers, bottles, etc. Anything you would put on your baby registry checklist, you'll want to make sure you have by 34 weeks.
Here are my TOP 10 BABY NECESSITIES to have before the baby arrives!
When to start buying diapers when pregnant?
Yesterday.
Ok, just kidding. But for real, there isn't a time that's too early to start buying diapers and wipes.
Regardless of whether you plan to use disposable diapers or cloth diapers, you'll want to start your diaper stockpile early. (Here are the best diapers to avoid blowouts!)
Diapers are EXPENSIVE, and the earlier you can begin your diaper stockpile, the better.
Here is a breakdown of how many of each diaper size to register for (or buy):
Newborn Size Diapers: I bought one or two packs because some babies don't ever wear this size. If you don't use them, regift them.
Size 1, 2, 3, and 4 Diapers: I registered for about 4 boxes of each size of diapers.
Wipes: I would register for no less than 6 boxes of wipes.
Make sure you have your diaper stockpile of newborn size, size 1 diapers, and at least one box of wipes ready by 32 weeks.
When to buy a stroller and car seat during pregnancy?
One of the most important baby gear purchases you (or someone else) will make, is your car seat and stroller.
Regardless of whether you choose to buy a stroller/car seat travel system, or a separate stroller and car seat, you'll want to make sure you have your car seat purchased by 30(ish) weeks.
You'll want to make sure you're familiar with how to install the car seat safely, how to use the stroller, and you want to have plenty of time to install the car seat.
If you're having twins, here are my FAVORITE double strollers!
Had I known I would end up having my kids so close together, I would've honestly registered for a double stroller too.
When to start buying baby furniture?
Similar to when to buy a stroller and car seat, the question of when to buy baby furniture will likely come up early on in your pregnancy.
There's something about putting together your baby nursery that makes your pregnancy all the more real.
Putting your nursery furniture together may take a few days. And sometimes, the baby crib kits are missing pieces.
Because of these things, you'll want to make sure you've purchased and assembled your nursery furniture by 32-34 weeks at the latest.
One thing you could go ahead and buy and put in your nursery is a rocking chair. This is a great place to rest while preparing the nursery for your baby and enjoy the quiet before giving birth.
The stroller, car seat, and nursery furniture are BIG ticket items. Although it would be great to have others buy these for you, it may mean you need to buy them yourself.
Here is the baby furniture I recommend for new parents!
When is the best time to start buying baby clothes?
With the excitement of finding out that you're pregnant, comes the innate desire to want to buy all the cute baby things.
Unless you've experienced miscarriage. If you've lost a baby, I'm so sorry. It's hard to allow yourself to start buying baby stuff too early.
A lot of women feel better waiting until after the 12-week mark to start buying baby stuff. The risk of miscarriage goes down drastically once you're out of your first trimester.
So, it's safe to say that you can start buying baby gear after the first trimester. But, it's totally up to you to decide when you should start buying baby stuff.
I would for sure start buying baby stuff by the 20-week mark of your pregnancy, or at least have your baby registry created for your upcoming baby shower(s).
These are some of the most helpful tips for organizing baby clothes that I have used in my nursery with every baby!
How many baby clothes should I buy in each size?
Buying baby clothes in advance is a great idea, especially if you find a good sale. If you know the gender of your baby, or even if you plan to wait until the baby is born, you can start buying baby clothes whenever you want.
I wouldn't buy a lot of newborn clothes. Only one of my kids wore newborn clothes for more than a week. You'll want to start buying baby clothes at the 3-month size.
For each baby clothes size grouping, 0-3 months, 3-6 months, 6-9 months, and 9-12 months, you want to have the following:
10-12 sleepers

10-12 pairs of pants/shorts

15-20 onesies

15-20 pairs of socks
This will allow you a bit of wiggle room for your laundry day every week. Babies are messy!
When is it too late to shop for a baby?
Is there a time when it's too late to start shopping for your baby? YES!
You should have all of the baby necessities purchased by 32-34 weeks at the latest. This is about the time a lot of pregnant women have their baby showers.
Once you've had your baby shower(s), and you know what you have and what you need, use your baby registry discounts and finish purchasing the things you need from your baby registry.
> Struggling with pregnancy symptoms? Here are some of the best pregnancy hacks for every trimester! <
When should you buy a breast pump?
If you're planning to breastfeed your baby, you'll want to make sure you choose the right breast pump. Give yourself plenty of time to research breast pumps, as well as find out which breast pumps may be covered by your insurance.
I had my breast pump by 30 weeks because I wanted to make sure I had it.
Once you have your breast pump, make sure you read about how to use it, as well as find some helpful videos about the settings of your breast pump.
By the way, if you want to read more about breastfeeding and pumping, as well as my favorite breast pump, the Spectra S1, I do share all my breastfeeding and pumping tips!
When did you start buying baby stuff?
I personally started buying stuff when I found good deals on things. It doesn't mean you have to do this, it was just the right time to start buying baby gear for me.
When did you start buying stuff for your sweet baby?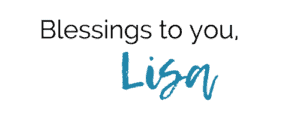 More Awesome Baby Stuff!
The Best Baby Shower Gifts for New Moms
Awesome Baby Carriers for Petite Moms
Baby Necessities to Have Before Baby Arrives
Baby Items to Skip on Your Baby Registry
Fun Baby Shower Songs for a Fun Party
Baby Essentials List for the First Year
Practical Diaper Bag Alternatives for First-Time Moms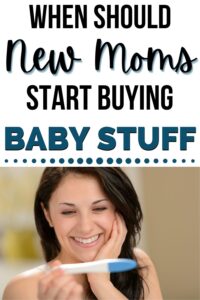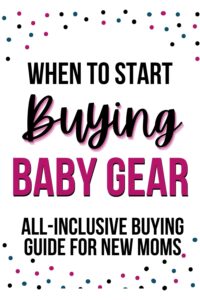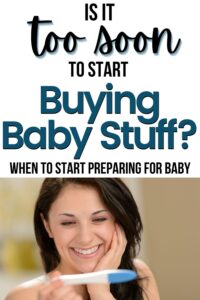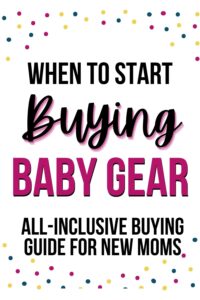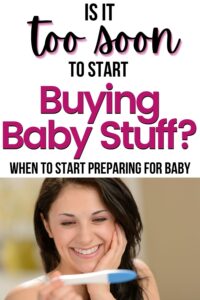 The owner of this website is a participant in the Amazon Services LLC Associates Program, an affiliate advertising program designed to provide a means for sites to earn advertising fees by advertising and linking to Amazon properties.
---