Minimalist Baby Registry Must-Haves
Preparing for a new baby is very exciting and everyone does it differently based on their own personal needs and wants.
There really is no right or wrong way to create your baby registry.
For some people though, creating a minimalist baby registry is a necessity.
You may be living in a small space without much room for a lot of baby stuff. Possibly you travel often and want baby stuff that can travel with you. Maybe you're expecting a baby on a budget, and know you have to create a simple baby registry.
Regardless of what has brought you here, I am going to show you that creating a minimalist baby registry checklist is really easy!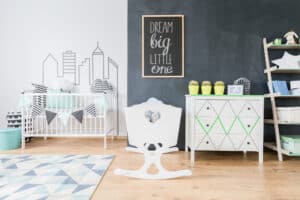 *This post may contain affiliate links, which means I receive a small commission, at no extra cost to you, if you make a purchase using this link. I only recommend products I love or would personally use.
Minimalist Baby Sleep Gear
Portable Crib
When you're living a minimalistic lifestyle, space is often something you try to make the most of. This Baby Trend Retreat Nursery Center, is a portable bassinet, changing station, changing organizer, a full bassinet, and a portable play center. Seriously, it serves so many purposes! I love that the price is totally reasonable if you're shopping for baby gear on a budget, but you don't sacrifice any of the convenience.
This portable crib also comes with a unit that provides vibration, nature sounds, and lullaby songs. It also comes with a convenient carry bag for traveling and is available in 3 different color patterns.
Baby Crib
If you're really wanting to create a true minimalistic baby registry, you may not want a traditional baby crib. Instead, the portable crib may be enough for you.
But, if you want a mini crib, this Dream on Me Edgewood 4-n-1 Convertible Mini Crib for you!
Available in 7 different colors, this convertible min crib converts from a baby crib to a toddler bed, a twin bed, and a day bed. This crib comes with 3 different mattress height levels so you can always make sure your baby sleeps safely.
You can pair this convertible mini crib with a Serta mini crib mattress and mattress protector so you can always make sure the mattress stays dry for when accidents happen.
Noise Machine
Having a sound machine may not sound like a baby necessity but if you plan to do anything while your baby sleeps, or if you'll be traveling, you'll want a sound machine. The Hatch Baby Rest Sound Machine with Nightlight will start with your baby in the newborn stage but will grow with them as they get older.
The gentle nightlight is great for feeding sessions at night, and then as your child gets older, it naturally wakes them and also acts as an OK to wake light letter your child know it's OK to get up. Another great feature is that you can totally control this sound machine from your phone, which is an amazing feature for when your baby is sleeping.
Baby Sleep Sack
There are two types of sleeping wraps I will recommend. The first is the SwaddleMe Baby Swaddle and the second is the Halo SleepSack.
Some may argue that this isn't a necessity, but with all of my kids, it has been a must. Babies like to feel snug and secure in their natural fetal position after they're born. When we force them out of that too quickly, sleep may be a constant fight.
The SwaddleMe swaddles are great for babies up to 3 months, this allows them to transition to the world a bit before you force them to learn to sleep differently. The Halo SleepSacks are great as your baby gets older because it provides warmth and a bit of security, but with more mobility.
START YOUR AMAZON BABY REGISTRY HERE!
Minimalist Baby Personal Care
Baby Wash
I love this Little Twig Baby Wash. It's made of natural ingredients, has a soothing lavender scent that's perfect for bedtime. It has aloe and chamomile making it gentle on the baby's skin.
Baby Lotion
I like to pair the Little Twig Baby Lotion with the baby wash. This baby lotion combines aloe, calendula, cucumber extract, jojoba oil, and other great ingredients to create a soft, relaxing, moisturizing massage for your baby.
Baby Diaper Cream
Keeping with the natural baby care theme, I want to share my favorite natural bottom cream. I recently discovered Zarbee's Daily Bottom Balm, and I love it! I have tried nearly every bottom cream available, often to no avail. This diaper balm combines calendula, beeswax, and aloe which create an amazingly soft balm for your baby's bottom. I like to pair this with browned flour. I know it sounds weird, but you can read more about this amazing diaper rash remedy!
Baby Thermometer
A forehead thermometer is a must when you have a baby because you never know when they may spike a fever. This Infrared Forehead Thermometer is great because you don't have to actually touch your baby. Another great feature of this thermometer is that you can take check the temperature of liquids as well as the room temperature.
Minimalist Baby Gear for Breastfeeding
Reliable Breast Pump
There are so many things I could tell you about why I love the Spectra S1 Breast Pump. This breast pump saved my breastfeeding relationship when I went back to work. I was using a different breast pump that wasn't getting enough milk. But I ordered the Spectra, and I was pumping 1-2 ounces extra per pumping session.
This breast pump is amazing because it can be charged and can travel. You can double pump, adjust the suction level and vibration level. The unique thing about this breast pump is that it creates a suckle motion that allows for a great letdown. I cannot say enough positive things about this breast pump. If you're debating between which breast pump to order, hands down choose this one!
Breast Milk Storage Bags
As we head into breast milk storage, it's important to know your goal. Do you need to pump and store enough breast milk to have a stash as you go back to work, or is it just to have enough extra to go out for an afternoon?
I have taken the time to do some research and write about the best breast milk storage options. For now, I am going to share haakaa silicone reusable breast milk storage bags because they're eco-friendly and space-saving as you just rinse and reuse.
Nipple Cream
For a great nipple cream, I highly recommend the Lansinoh nipple cream or the Medela Purelan nipple cream. I have used both, and both are great. When I delivered my babies, the hospital supplied the Medela nipple cream. I was given the Lansinoh nipple cream as a gift, so I used both. Check this out if you want to know more about what the hospital supplies when you have a baby.
Reusable Breast Milk Pads
Keeping with the theme of creating an eco-friendly minimalist baby registry, you should add these Organic Bamboo Nursing Breast Pads to your registry. They come in a pack of 14 with three size varieties available. They won't stick to your nipple, yet they are absorbant. You can wash and reuse as often as nieeded.
Comfortable Nursing Bras
Having the right nursing bras for breastfeeding will help make your breastfeeding experience more enjoyable. I want to make finding the right nursing bra easier for you than it was for me. I have an entire post dedicated to the most comfortable nursing bras.
For now, I will share one of my favorite nursing bras for breastfeeding. One of my favorite nursing bras is the Bravado! Bliss Wireless Nursing Bra. It is super comfortable, allows easy access for breastfeeding on demand, and washes really well.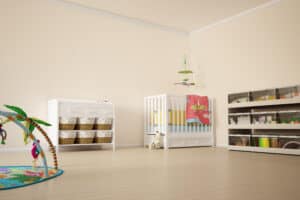 Minimalist Baby Gear for Feeding
Baby Bottles
There are A LOT of baby bottles to choose from. One of the most popular baby bottles is the Comotomo baby bottles. They resemble the breast in the way they empty, they reduce colic because they minimize the amount of air a baby swallows, they're dishwasher safe, and they last. If you want more recommendations on bottles, I do a full review of the best bottles for breastfed babies, and babies in general for that matter.
Baby Bottle Brush
Unless you plan to exclusively breastfeed, you want to make sure you have bottles and a bottle brush. Make sure you have a bottle brush that is able to clean all parts of the baby bottle syou plan to use.
Pop-Up High Chair
This Summer space saving high chair is great for anyone who needs to conserve space or wants a great high chair for traveling. This portable high chair folds down and stores easily, is great for both indoor and outdoor use, has a removable food tray, has fabric that is machine washable, and an attached pouch for snack or silverware storage.
**I'm currently in here editing this post, and I just wanted to say we LOVE this chair. We have taken it traveling, we've used it for camping, and it is SOOO convenient!**
And, as long as you take care of it, you won't have any issues reselling this portable high chair.
Burp Cloths
Babies spit up and drool, and you'll want to make sure you have burp cloths. I would recommend registering for at least 2 packs because you'll find that you have a few everywhere because you never know when you'll need them.
Minimalist Baby Gear for Travel
Baby Carrier
You will quickly learn you can't carry your baby everywhere all the time. There are days it can be impossible to get anything done without wearing your baby. If you plan to travel or do any kind of hiking, this carrier will be perfect for you!
You want to find a baby carrier that will last through at least the first year. This Infantino Flip Advanced Ergonomic 4-n-1 Baby Carrier will do just that. Designed to face inward with a narrow seat, inward with a wide seat, outward, and worn on the back.
If you want to see some other awesome baby carriers, you should check out these awesome baby carriers for petite moms.
Stroller
Another baby item to add to your minimalist baby registry is a baby stroller. I am going to share two options because it truly depends on how you plan to use your stroller.
The first is the Doona Infant Car Seat with Wheels. This infant car seat comes with the car seat, a car seat base, an infant insert, infant head support, and a car seat protector. This car seat is rear-facing only, so once your baby meets the height or weight requirements, you'll need to move them into a convertible car seat.
If you're looking for a more versatile stroller, then you can't go wrong with this Chicco Bravo Travel System. This travel system includes the baby car seat, the stroller, and one car seat base. This stroller will likely last you as long as your child needs a stroller. The stroller folds up easily, has an adjustable handlebar, lots of storage and so much more. As an added space saver, this stroller folds up nicely and can be stored in your trunk, saving space in your house.
If you know you're going to need a car seat and a stroller, here are some of my favorite infant travel systems!
Car Seat
Before you're allowed to leave the hospital, they want to see that you have an infant car seat with a 5-point harness. If you want to skip the infant seat, you can buy one car seat that will convert from an infant car seat, all the way up to a booster seat, making this the only car seat you will ever have to buy.
The Graco 4 Ever DLX 4-n-1 car seat will be the only car seat you ever need to buy, and honestly, it isn't that expensive when it comes to the world of car seats. Not only is this car seat great for minimalistic living, but it's also very reasonably priced!
Diaper Bag or Diaper Bag Alternative
I currently have the Ruvalino Diaper Bag Backpack and I love it. It was a gift when we had our newest baby. I wish this was the diaper bag I had with my first, and it would've been the only diaper bag we needed.
When looking for a diaper bag, you want a diaper bag that isn't going to move all over when you bend down to tend to your baby or pick up the car seat. This backpack has plenty of storage, is easy to clean, and is also fashionable.
If you want to skip the traditional diaper bag and use a bag you already have, this Diaper Bag Insert is a great choice to add to your minimalist baby registry! I can also help you find a great diaper bag alternative that you'll be able to use beyond the baby days!
Minimalist Baby Gear for Diapering
Diapers and Wipes
Regardless of if you want to use disposable diapers or cloth diapers, your baby will need diapers. And you should probably read about the best diapers for blowouts before adding diapers to your registry. (these two diapers are on my list!)
To keep space decluttered, I recommend either using cloth diapers. You won't have the need to be buying diapers regularly and trying to find a place to store them. If you want to use cloth diapers, I recommend using Nora's Nursery Cloth Diapers. I appreciate a company that has a 100%satisfaction guarantee on their products, and you get that here. Guaranteed to be leak-proof, this cloth diapering kit will help you get started on your cloth diapering journey.
Last, but not least, if you want to be eco-friendly, you can snag these awesome reusable baby wipes! I love that these cotton terry cloth wipes can be used for your baby's bottom, but they are also gentle enough to use as a washcloth. I would recommend getting 3 packs of these so you don't run out before washing them.
You can also get a discount on diapers when you create your Amazon Registry and have $500 purchased from it!
Minimalist Baby Closet and Nursery
Baby Video Monitor
As with many of the baby items, there are a LOT of video baby monitor options. I consider this a must-have because I like to see what my baby is doing before I go in. If I don't need to go in when they're crying, then I don't. It's also fun to watch them as they get older and start talking. This Infant Optics Video Baby Monitor is one of my favorites because of how well you can see and hear your baby. With 3 different zoom lens options, you'll find the right one for your space. You don't have to have Wi-Fi to see your baby as this is a completely independent unit.
If you aren't sure if you'll need a baby monitor or which one you'll need, I've written a helpful post on choosing a baby monitor.
Baby Clothes in Various Sizes
If you're struggling to decide which baby clothes to register for, then go for gender-neutral clothes, especially if you aren't going to find out the gender of your baby before giving birth.
Go ahead and register for some basic baby onesies, some sleepers, baby sleep gowns (my favorite for newborns) and there are even baby clothes sets that are great to give you a start.
Baby Swaddle Blankets
I loved having Muslin swaddle blankets. My personal preference for swaddle blankets are the aden and anais Swaddle Blankets, but some people prefer these Upsimples Swaddle Blankets, so I am including both. I personally think 4 swaddle blankets are plenty.
Baby Pacifiers
There are a lot of baby pacifiers, so I'm not going to recommend just one type. In fact, I recommend buying several types because it's hard to tell which one your baby will like. I also recommend that you grab a few pacifier clips as well. Serving two purposes, these silicone teething beads pacifiers clips make a great chew toy as your baby begins teething!
Hanging Laundry Hamper
Saving space is a must if you have a baby in a small space and this hanging laundry hamper for the back of the door will help hide your dirty laundry and save floor space. I had no idea this was a thing until I started doing some research, but what a great idea! The fabric is durable, washable, and has a zipper at the bottom on the back for laundry release. You can hang it with the suction cup hooks, or with the metal hooks. Both are included!
Baby Activity Center
Meeting the needs of your baby in multiple stages of toddlerhood, this Skip Hop activity center will be an activity seat when they're first learning to sit up, an activity table when they're learning to stand, and a play table when they stand independently. It has lots of colorful toys that are great for your baby's development, and they will play music with their feet as they learn about action and reaction.
Minimalist Baby Shower Options
Diaper Shower
If you're looking for a different way to do baby showers, consider a diaper shower. When creating a minimal baby registry, you likely won't have much on there.
Oftentimes, people have multiple baby showers. One way to make sure you get the most needed items would be to have a diaper shower. It's pretty simple- people only gift you diapers and wipes. This type of baby shower is often popular for dads as well.
On-the-Go Shower
Another baby shower idea to keep things minimal would be to have an on-the-go shower. It's no secret that some of the most expensive baby items are your car seat, stroller, portable crib, etc.
An on-the-go baby shower will allow people to "chip in" so to speak on some of the larger baby items on your baby registry.
Room-by-Room Shower
Honestly, this idea is genius.
If you know you're going to have several baby showers, you may want to consider having a baby shower specific to each room. Examples would be the bath, on-the-go, closet, feeding, etc.
Why create a minimalist baby registry?
Saves Money
You may consider creating a minimalist baby registry if you have a small space, don't want all the baby clutter, want to have an eco-friendly nursery, have a small baby budget, or if you travel a lot.
All of these reasons are totally reasonable!
By not adding all the baby "stuff" to your baby registry, you'll save a lot of money!
Reduces Stress
If clutter stresses you out, don't create a large baby registry. Register only for must-have baby gear so you aren't always looking around wondering why you thought you needed all this stuff!
More Eco-Friendly
Creating a small baby registry and avoiding all the baby stuff will help you make more eco-friendly purchases and less waste. It also gives you the chance to focus specifically on the important items and making sure those items meet your eco-friendly standards.
You Get the Necessities
Without a doubt, I had all of the baby necessities I needed before giving birth. I was incredibly blessed with several baby showers. BUT, I certainly ended up with some things I could have skipped. I ended up with 2 diaper pails and I didn't use either one because I hated the idea of more plastic waste that wasn't necessary.
Keep your baby registry simple, and you'll likely get all the baby gear you need!
Things to Consider When Creating a Minimalist Baby Registry
How long will you use the baby item?
Baby gear that will last you for a long time will help you make the most of your baby registry and your money. If you aren't going to use the item for very long, maybe it's worth skipping. But, if it's something like a convertible car seat that you know you're going to use for the duration of your baby's car seat days, then absolutely register for that!
Can you buy the baby item secondhand?
Before I had a baby shower, I went to a couple of consignment sales and bought a few higher dollar items secondhand that I felt safe buying. There are absolutely things you should buy new, but consider buying used items if you can!
Does the baby item have more than one use?
If you can justify a baby item because you know you'll be able to use it for more than one purpose then it is absolutely worth adding to your minimalistic baby registry.
Can the baby item be reused by someone else?
One of the greatest things you can do with your baby gear is to pass it on to someone else who can also use it. When creating your minimalistic baby registry, if you buy something you know you'll be able to pass along to someone else, then that's worth adding!
Does the baby item have good resale value?
Sometimes baby items can be really expensive. At times it can be worth spending the money, but sometimes it isn't. Before you buy the big-ticket item, make sure you can resell it if that's your plan. Check to make sure there is a market for it.
Is the baby item eco-friendly?
If you want to have a more green baby registry, be sure the things you add to your baby registry meet your eco-friendly standards.
Minimalist Baby Registry Tips
Buy used when you can!
Absolutely buy all things used if you can. My personal preference is to buy car seats new, as well as anything that is going to be near your baby's face. There are things I buy used, but be certain you check into safety standards before you do so.
Don't wash all the baby clothes until the baby is here!
Each of my babies has been different when it comes to what size clothes they wore when we came home. My most recent baby was the only one who wore newborn clothes for more than a week.
It is wise to wash a few clothing items for each size and wait to wash all the others until you know what size clothes your baby will need. If you aren't able to return the clothes, you can always donate them, or use them as baby shower gifts for other new moms.
Buy baby items that serve more than one purpose!
There are a lot of really great baby items that can be used for more than one thing. If you see the word convertible, it is likely something you want to add to your minimalist baby registry.
Buy things you know you will use- even if someone else says you won't need them!
Don't buy something unless you know for sure you're going to use it. Then, after the baby is born, if you find you need something you didn't register for, you can always go buy it.
At the same time, you know yourself and what kinds of things you will use to care for your baby. If you know for certain you'll use something, go ahead and register for it. If someone buys it for you, you can always wait to open it and see if the need arises. If so, use it. If not, you can always return it.
Convenience is sometimes more important than being minimalistic!
Having a baby is hard, especially for the first few months. If there are baby items that you think will help make your life easier, then register for them. Keeping things simple is great, but sometimes, there are things that you may not "need", but they'll make your life with a new baby easier.
There is no wrong way to create your minimalist baby registry. Hopefully you've found some helpful tips and tricks for choosing baby gear that meets your minimalistic lifestyle.
When to Start Buying Baby Stuff
Small Rocking Chairs for Minimalist Baby Nurseries
Practical Diaper Bag Alternatives
10 Things to Have Before Baby Arrives
7 Baby Items You'll Use Into Childhood
The Best Baby Travel Systems for First-Time Parents
Fun Baby Shower Songs for a Great Party!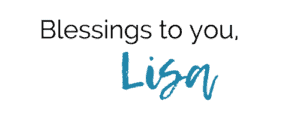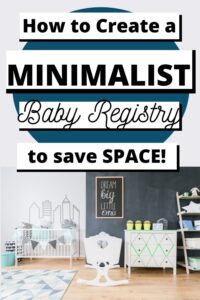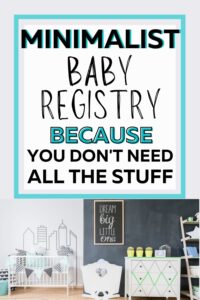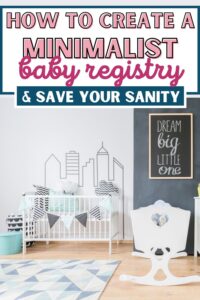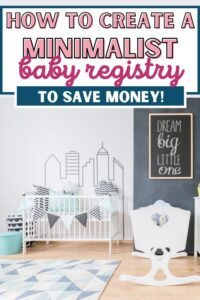 The owner of this website is a participant in the Amazon Services LLC Associates Program, an affiliate advertising program designed to provide a means for sites to earn advertising fees by advertising and linking to Amazon properties.
---