7 Small Baby Swings for Small Spaces
One thing you'll quickly learn as a parent is that you cannot hold your baby all the time.
BUT, your baby would love to be in your arms every moment of the day.
The closest place to being snuggled, held, and rocked is a baby swing. A baby swing can offer the support your baby needs while giving them a safe place to hang out while you take a much-needed break.
If you're on the search for a small baby swing, maybe because you have a small space, or because you need a small baby swing for traveling, I want to share with you the best infant swings currently available.
Important Features of a Baby Swing
Battery vs Electric
This is the most important feature I looked for when shopping for a baby swing. The swing we keep at our house I didn't care if it had a battery option because it wasn't going to leave. BUT, when I was shopping for a small baby swing for traveling, it had to have a battery option because I wasn't always sure I would have electricity. So, double-check to see if the swing has a battery option.
Age/Weight Recommendations
Depending on how long you plan to use your baby swing, you'll want to check the age/weight recommendations. Not all swings can be used for long periods of time because they're baby swings that are designed for small babies.
Swing Size
If you need a small baby swing for a small space, you need to make sure the baby swing a)fits in the space and b)the swing isn't going to swing far enough to hit anything around it. So, check to see all the dimensions of the baby swing before purchasing.
Easy to Assemble
When you're pregnant, the last thing you want to be doing is trying to figure out how to assemble your baby swing, especially if you're trying to put it together in a small space. Most baby swings are fairly easy to assemble, but check the reviews for ease of assembly.
Easy to Clean
If you're a first-time parent, you will soon find out just how messy babies can be. When trying to find a baby swing to add to your baby registry, you'll want to make sure it comes apart easily and that the fabric part is machine washable.
Safety
Check for any important safety features. Make sure you're comfortable with the straps that will be holding your baby in the swing, as some come with a 5-point harness and others do not. Also, make sure the space you have for your baby swing will safely accommodate the baby swing you're considering purchasing. Here is some more information on how to safely use baby swings.
Comfort and Soothing Options
Baby swings can do so many amazing things to help keep your baby entertained and happy. Many baby swings can sing lullabies, make soothing sounds or nature sounds, have mobiles, and so many other things. So be sure to look for any important soothing features you want to have.
Sturdiness
Not all baby swings are made the same. Some infant swings just feel more sturdy than others. I have personally used 3 different baby swings that have all been designed differently, but each felt sturdy to me. I know it's usually hard to tell by just looking at the swing, so if you're questioning a swing's durability, take a trip to the store and check them out.
*This post may contain affiliate links, which means I receive a small commission, at no extra cost to you, if you make a purchase using this link. I only recommend products I love or would personally use.
Popular Small Baby Swing
I would be remiss if I didn't talk about the 4moms rockaRoo Baby Swing first. In my opinion, this is the deluxe version of a small baby swing. This swing has 5 adjustable speeds, is 1/3 the size of its larger competitors, and has breathable fabric to keep your baby comfortable. The fabric on the swing is removable and machine-washable.
The swinging motion will provide the same comfort to your baby that they get when rocking with you in the rocker or glider. There is an overhead mobile that will keep your baby entertained during playtime. The rockaRoo comes with a 3-point harness to secure your baby into the seat.
The biggest drawback for some buyers is that the swing randomly shuts off by itself when it isn't supposed to. If this happens to you, the company has some things you can try to remedy the situation.
Dimensions: 29.6in x 16.5in x 27.5in
Swing Weight: 11.5 pounds
Weight Limit: birth until 25 pounds or can sit unassisted
Power: AC Adapter Electric; no battery option
Small Baby Swing Without the Bells and Whistles
The next swing you should consider buying is the Graco Slim Spaces Compact Baby Swing.
To begin, this swing has a 5-point harness which is always a great safety feature of any baby product. It folds up flat for easy storage or if you're going to be traveling with your baby swing. It does feature a couple of toys that hang from the bar above the baby's head for entertainment. The cover can be removed and is machine washable.
This baby swing is only powered by a battery, which for some is a drawback and for others is a bonus. The biggest advantage is that you can take this swing anywhere because you aren't relying on having electricity.
If you're looking for a baby swing that is simply going to swing your baby, this is your winner! It is a great option for anyone who may not have a baby all the time but wants to have a simple swing available should the need arise.
Dimensions: 25in x 15 in x 7.99 in
Swing Weight: 15.07 pounds
Weight Limit: 5.5 – 30 pounds
Power: 4 "D" batteries; no Electric option
High-Tech Baby Swing
If you're shopping for a baby swing that has some high-tech features, you should consider buying the Munchkin Bluetooth Enabled Baby Swing.
This baby swing is very unique in its back and forth swinging motion. It is a side-to-side swaying motion that most babies enjoy. This baby swing breaks down into two parts, making it just about flat. This makes it easy to store and is the reason it's a great baby swing for traveling. The swing weighs less than 9 pounds!
In terms of functionality, the baby swing can be controlled with the touch display on the front of the swing base. You can operate the swing speed, sounds, and timer feature with the digital touch display. You can also do this with the convenient remote control that is included. There are 5 swinging speeds to choose from as well!
Another high-tech feature of this baby swing is that you can play music from your phone through the Bluetooth-enabled speaker on the swing. You can also take advantage of the 8 soothing ambient sounds, and the 4 classical music pieces also preloaded onto the swing.
This baby swing is also a great choice because of the support it offers simply from the position of the seat. The padding and head support are all in the right places, providing a safe place for your baby to rest and play.
Dimensions: 23.6in x 23.6in x 15 in
Swing Weight: 8.6 pounds
Weight Limit: 5-20 pounds
Power: AC Adapter Electric; no battery option
Swing/Baby Seat Combo
This is the Ingenuity ConvertMe Swing-2-Seat. It is an incredibly basic, small swing that is battery-operated. If you're new to this kind of baby swing, it's important that you read the instructions. For the swing to work properly, your baby must be in the swing. The baby's weight is what pushes the magnet down into the right place to make the swing move back and forth.
The swing-to-seat option comes in with the recline level of the seat. There are 2 reclining options. The fully reclined position is appropriate for babies with no head and neck control. When your baby is able to hold its head up, you can move the seat from the recline position to the sitting position. Your baby will be secure in the seat with the 5-point harness.
There is a single toy that hangs above the baby's head for visual stimulation. The swing seat does offer a vibration feature and you'll need "C" batteries.
For the swing option, there are 5 swing speeds, and the swinging motion is nearly silent. If you want sound, you can choose from 8 melodies or 3 nature sounds that can be turned on at the base of the infant swing. When you take your baby out of the swing, make sure you shut off the swing completely or it will drain the batteries.
There is a removable headrest included with the swing.
The fabric on the swing seat is removable and machine washable. The swing folds up easily and is almost flat, which is great if you'll be storing your baby swing in a small space.
Dimensions: 23.5in x 22in x 23in
Swing Weight: 14.75 pounds
Weight Limit: birth -20 pounds
Power: 4 "D" battery; no Electric option
Budget-Friendly Small Baby Swing
I personally own and have used the Ingenuity Swing n' Go Baby Swing. We bought this swing for our camper because we needed a baby swing that would travel well and could be stored in a small space.
The baby swing is absolutely silent if just swinging. You do have the option to take advantage of the 8 melodies and 3 nature sounds that can be accessed from the control panel on the swing base. There you will also find the buttons to control the 5 swinging speeds, as well as the 3 timer setting buttons: 30, 45, and 60 minutes. If you use the timer setting, the swing will automatically shut off at the end of the time.
The swing folds up easily and is great for storing in a small space. The seat cushion on the swing can be removed and is machine washable. The head support that comes with the swing is also machine washable.
The batteries should last for approximately 24 hours of use.
Dimensions: 6.8in x 14.5in x 22.2in
Swing Weight: 6.7 pounds
Weight Limit: 6 – 20 pounds
Power: 4 "D" batteries or AC Adapter Electricity
Swing and Sway Baby Swing
As the name of the baby swing indicates, the Fisher-Price 2-in-1 Deluxe Soothe 'n Play Glider can swing front to back and sway from side to side. The seat part is removable which is awesome because if you want to take your baby around the house with you, you can totally do that.
There are 6 different speed options, as well as an adjustable reclining seat, a removable toy bar that has 2 hanging toys, and soothing music and sounds built-in. All of the controls are on the base of the unit. You can also control the settings from your phone with the Smart Connect app!
The seat pad and head support come off the seat and pad are machine washable.
This is a great option if you're considering the mamaRoo but don't want to spend that much money. It may not have every option the same, but it will get the job done at a fraction of the price.
Dimensions: 28.35in x 21.26in x 31.5in
Swing Weight: 19 pounds
Weight Limit: up to 25 pounds
Power: AC Adapter Electricity
All the Features Baby Swing
If you're looking for a baby swing with lots of helpful features, the Graco EveryWay Soother Baby Swing is the baby swing for you.
First, the seat comes off the unit and operates as a baby rocking seat. There are 16 different motions to select from while your baby enjoys the seat. You can choose from arch, swing, bounce, figure 8, circle, wave, zig-zag, and sway. The seat itself can move both side-to-side and front-to-back. Pair the 8 different motions with the 2 directions, and you have 16 different movement options. You can also select from 6 different speeds.
The seat offers two different levels of vibration to help soothe your baby. There are 3 recline positions, an adjustable mobile with a few toys on it, removable head support for the littlest riders, and 15 different songs and sounds.
Dimensions: 28in x 25.5in x 35in
Swing Weight: 22.5 pounds
Weight Limit: (swing) 5.5 lbs – 25 pounds; (rocker) 5.5 – 18 pounds
Power: AC Adapter Electric
Baby Swing FAQ
Is a small, compact baby swing safe to use?
Yes, as long as you follow the instructions for the swing you choose. Just because the swing is small has nothing to do with whether or not the swing is safe. You should always do your due diligence to make sure your baby swing is safe with every use.
When should I stop using the baby swing?
You should stop using the baby swing when your baby has passed the height/weight recommendations. For many, once your baby is mobile, there isn't much of a use for a baby swing.
Why use a baby swing?
A baby swing is a baby necessity many parents swear by. Baby swings offer a place of rest and entertainment for many babies. A swing can offer the same result of soothing a fussy baby because of the motion and soothing sounds that parents can offer, but without being held by a human.
Safety Tips for Using a Baby Swing
Never let your baby sleep in the swing.
I know many people do use their baby swing as a place for their baby to sleep, BUT the safest place for a baby to sleep is in their crib, alone, and on their back. Please know your risks before allowing your baby to sleep in the baby swing.
Always read the baby swing instructions.
Before placing your baby inside any baby equipment, you should always read the instructions first. Make sure the device is set up properly and be sure you know how to secure your child inside the baby swing.
Keep swinging sessions short.
Swings aren't made to keep your baby occupied for long periods of time. They're designed for a place of short rest or entertainment. Swing sessions should be kept short.
Keep your baby in the recline position.
You will want to make sure your baby is always in the recline position. Until a baby gains neck and head control, they should always be in the furthest recline position available on the baby swing.
Always monitor your baby while they're in the swing.
A baby should never be left alone without supervision in a baby swing. Even when following all instructions, accidents can happen, which is the main reason babies should be supervised at all times.
Choose a swing that meets safety guidelines.
I feel it is every parent's responsibility to do your research and be comfortable with the features of the baby swing you choose to use with your baby. Things to consider are its stability, the type of harness used, the things that are hanging from the swing, the padding around and near your baby's head, etc.
I hope you've found this baby swing buying guide to be helpful! There are a lot of things to consider when buying a baby swing. These small baby swings are great if you're traveling often or just don't have a lot of room for baby gear. Which baby swing will your baby be enjoying?
More AWESOME Baby Ideas!
When to Start Buying Baby Stuff
10 Things to Have Before Baby Arrives
7 Baby Items You'll Use Into Childhood
The Best Baby Travel Systems for First-Time Parents
Baby Essentials List for the First Year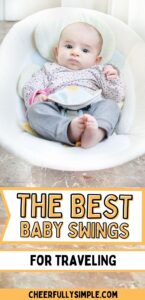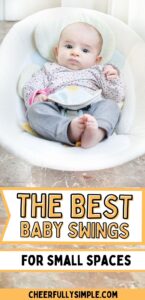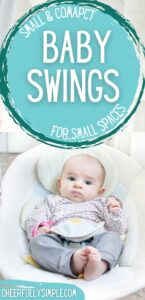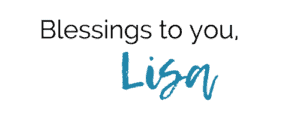 The owner of this website is a participant in the Amazon Services LLC Associates Program, an affiliate advertising program designed to provide a means for sites to earn advertising fees by advertising and linking to Amazon properties.
---