How to Organize Baby Clothes
If you had a baby shower, or baby shower(s), then chances are you have baby clothes in a variety of sizes. After washing the clothes, you'll start to try to figure out the best way to organize baby clothes that makes the most sense.
Every first-time mom has wondered this. You may choose a method for organizing baby clothes today, go with it, and then decide you need to re-adjust.
That's OK.
It's important that you create an organizational system that works best for you. Here's how to get started organizing baby clothes.
** You will notice I include a lot of links to awesome things on Amazon. I do this first because Amazon is super easy to shop, but also because I like for you to be able to click the links, read the reviews, and see if the product fits your needs!
How to organize baby clothes?
Figuring out how to organize baby clothes depends so much on what you have available. Some people have closets, dressers, bookshelves, etc.
And some people have none of that.
The one thing everyone has in common is that you need some baby clothes organization ideas that work.
And I have something for all of you! There is a clothes solution for everyone.
Even if you have a dresser and a closet, you may still want to organize your baby clothes in storage bins or on hooks on the wall. There are no rules! You do you!
*This post may contain affiliate links, which means I receive a small commission, at no extra cost to you, if you make a purchase using this link. I only recommend products I love or would personally use.
How to organize baby clothes in a closet?
As a modern-day mom, we are so lucky to have so many great organization hacks to organize baby clothes! One of my favorite tools to organize baby clothes in a closet is closet organizer labels. These especially come in handy when your baby is in between sizes. We will talk about that in a bit.
To use these organizer labels, you just push them over the rack in the closet. They'll help you to keep your hanging baby clothes organized by size.
I am a bit OCD when it comes to clothes. I like to have all the clothes facing the same direction. And of course, I also like to have the t-shirts together, the pants together, dresses/cute suits together, and then I like to have a section for outfits as well.
If there are no racks in your closet for hanging baby clothes, you can use storage bins and put the bins on the shelves. I would put these baby clothes labels on each bin so you know what's inside each basket and you don't have to search around.
How to organize baby clothes without a closet?
No closet, no big deal! You can totally store all of your baby clothes and accessories in your dresser, or other storage options.
If you have a dresser, keep reading because I am going to give you some great tips on how to organize baby clothes in a dresser.
If you don't have a dresser, let's talk about some other storage options for baby clothes. I am all about decorative storage bins as long as you keep them organized. (I'm not good at this!) You can use floor space to store the clothes baskets, or if you have a bookshelf or some other shelving unit you can put them on, that's great too.
If you have no shelving unit whatsoever, you may consider the plastic bag method for storing baby clothes. I use this method when we travel because it makes getting kids dressed super easy.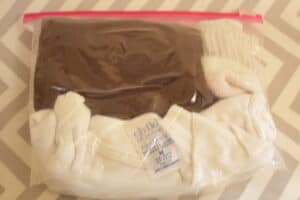 The plastic bag method for storing baby clothes involves a couple of boxes of different sizes of Ziploc bags. Nothing fancy here. I take a permanent marker and label each bag with what's inside. If you want to store daily outfits together, you would use a quart-size bag. If you want to store several onesies together, you would opt for the gallon size plastic bag. This method is great if you've created a minimalist baby registry and like to keep things simple!
In the picture above, I have a long-sleeve onesie, a pair of pants, and a pair of socks. This would be an outfit for a day.
How to organize baby clothes in a dresser?
I am pretty particular about how I like to fold baby clothes. You can see that in the pictures below!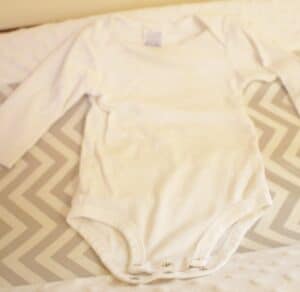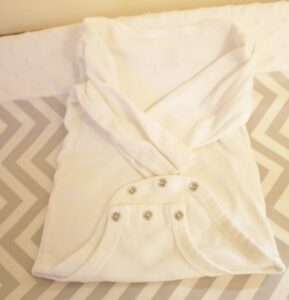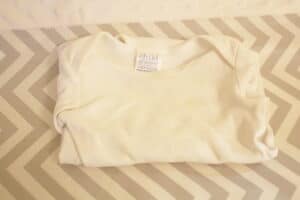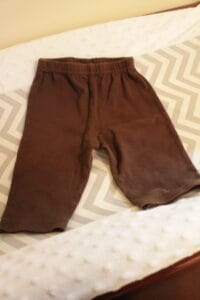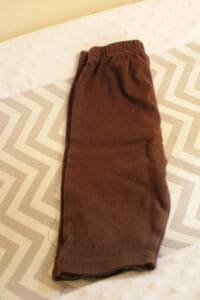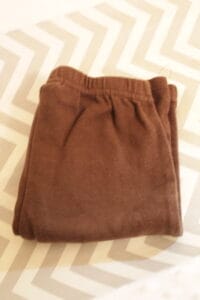 Once I have the baby clothes folded, I put them in the drawer I specifically use for those items. These drawers are usually at the top of the dresser.
Depending on the depth of your dresser drawers, you may have room for a few stacks of clothes. My dresser drawers are pretty deep. If you have shallow dresser drawers a better option for you may be to roll your baby clothes the same way you would if packing a suitcase. This is not my preferred method because I like to see the design on the front of the shirt, but it is absolutely an option you can use!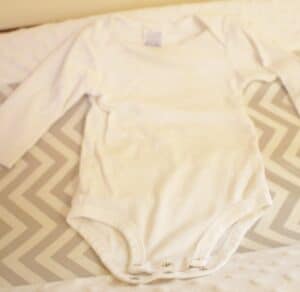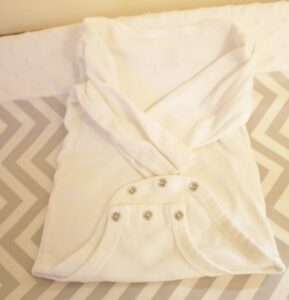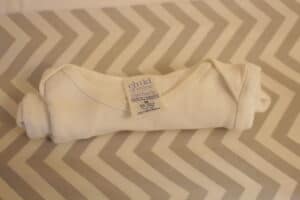 I share more about what I put in each dresser drawer next!
What do you put in each drawer and why?
If you're a first-time mom, this is an EXCELLENT question.
You could just randomly put clothes in each drawer. But, there is some rationale behind how you may want to organize your baby clothes.
When you're ready to organize the baby clothes, think about what you'll use most often. I like to have onesies, pants, burp cloths, bibs, blankets, and sleepers easily accessible. These are the things I use most often on a day-to-day basis.
So, I have my burp cloths and bibs in one drawer. Long-sleeve and short-sleeve onesies each in their own stacks in another drawer. The third drawer has pants and socks. The fourth drawer has sleepers. The fifth drawer has extra sheets and blankets. I have a drawer for extra things, like diapers, wipes, diaper cream, milk storage bags, etc.
If you have a puking baby in the middle of the night, you want to know exactly where things are. Obviously, you can move the drawers around based upon your preference, but those are the basic organization tips I would give for organizing baby clothes in a dresser.
How to organize baby clothes without a dresser?
There are some really great baby clothes organization hacks you can use if you're lacking a dresser. Here are some of the best places to store baby clothes and accessories!
A hanging clothes organizer is a great place to store baby clothes. Each section of the clothes organizer can be used to organize your baby's clothes. One section for long-sleeve onesies, another for short-sleeve onesies, one for pants, etc. This is a great baby clothes organization solution!
How to organize baby clothes by size?
When I begin organizing baby clothes, I first sort by size. Much like adult clothes (women's clothes especially), the sizes are all out of whack. Not only on the printed labels but also in terms of one size of one brand may be different than another brand.
When you're ready to sit down and begin organizing baby clothes, sort your baby clothes by the first size listed. For instance, if it's labeled as 3-6 months, put it in the 3-month stack. If it's listed as 3 months, put it in the 3-month stack. The reason behind this method is so your baby doesn't miss out on a chance to wear something because you put it in a larger size stack.
Once you've sorted all of the clothes by size, take a look at each stack and see if there are any that either look smaller or larger than the other clothes in that stack. Then, move clothes around according to where they fit in best.
Baby socks are an entirely different organization method. Baby socks do (sometimes) come with a size listed, but if you're getting any hand-me-downs, you'll have no idea what size the socks are. My personal preference for socks is to size down. For instance, if you have a 6-month old, I prefer for them to wear 3-month socks. They seem to stay on better once your baby is on the move.
As your baby begins to move through the different sizes, you'll want to start a bin of clothes that they've grown out of. Once you notice most of their clothes don't fit anymore, it's time to size up. Go ahead and pull the rest of that clothing size out of the closet and dresser drawers and put them into storage. Don't leave any clothes behind, even if they still fit, because that will get really frustrating organizationally speaking when you keep randomly finding different sizes of clothes in the laundry and you have to try to remember to get them to the storage bin.
How to store baby clothes without a nursery?
I totally get that not everyone has a nursery for their baby. The best part is that you will for sure find baby clothes storage solutions here. You can use wall space and the space on the back of doors to store your baby's clothes. If you have room in your own closet, you can use that as well. Also, don't forget to use random space like the back of the bathroom door. Not having a nursery isn't a deal-breaker for having your baby's clothes organized. It just looks a little different.
How to organize baby clothes for storage?
Putting baby clothes in storage is super easy if you've been gradually putting clothes into a storage bin as you notice they don't fit.
For us, this looks like having a large plastic tote in the corner of our nursery that has a size label on the side. If we are currently in size 6-month clothes, the bin would be labeled "Size 6 months onesies, pants, socks, shoes (girl/boy), etc." We always label the bin with a size, a description of what's inside and whether it is clothes for a girl or boy. If you plan to have more than one child, labeling the clothes by gender makes it so much easier when you're looking for something in particular.
I always make sure the clothes are clean, folded, and stacked in appropriate stacks. There have been times that I needed clothes right now and I didn't have time to wash them. Generally though, even though I know they're clean, my OCD kicks in and I often wash the clothes before hanging them up and putting them in the dresser.
Once the clothes bins are organized and labeled, we put them away in a place where they're out of the way. This may be a basement, the attic, a storage shed, or a storage unit. I do try to keep them organized by size because it makes it easier to find what you need when you're ready to pass the clothes onto someone else, or when you need it for the next kid.
How to organize baby clothes during a growth spurt?
For a lot of people, this is super confusing! One day something fits, and then the next day you can't even get the shirt over their head. When your baby is going through a growth spurt, your natural reaction is to pull out the next clothing size and add them to the clothes you're currently using.
If you don't have a lot of clothes for each size, that is totally doable. But, if the closet and drawers are already full, you're likely going to end up in a baby clothes nightmare with multiple sizes of clothes out.
You have two options at this point. You can A) go ahead and transition to the next size, or B) have a section of each drawer for the next size up so you're keeping the clothes in separate size piles.
I wish I could always do option A, but sometimes I am an option B person. The clutter makes me crazy, but sometimes I still need both sizes. Things really get messy when your baby is in one size of onesies, and another size pants. Oy vey!
One thing to note here. If you have two sizes of clothes out at one time, make sure you also have two sizes of clothes storage bins available. This will help you remember that you're working with two different sizes. As one thing doesn't fit, put it in the bin so you're done with it and not trying to keep it out until you decide to fully move on with the next size.
How do you decide what baby clothes to store and which to donate?
When you're transitioning to a new size of baby clothes, you need to take a look at each piece of clothes before tossing it into a storage bin.
The first thing to consider is the quality of the item. Does it have stains or holes? If it does, it may be time to toss it. With that said, I have held onto them until I know what my next baby will be like. If they're a spitter, I put the baby in those stained clothes until the puking lets up, or if we're just going to be around the house. There's no reason to ruin more clothes.
The next thing to consider is if you plan to have more kids. If not, you may want to pick out some of your favorite baby clothes and keep them for your own kids. You may be totally good to pass the clothes along to someone else, and that's totally cool too. Just something to consider.
If you do plan to have more kids, make sure you've clearly labeled what's inside of each bin. I cannot tell you how much time this could save you! No joke, I searched for almost a month for newborn clothes with our most recent baby. Do you want to know where I found our newborn clothes?
With the Christmas decorations.
I kid you not! I have no idea why it was in a Christmas bin (green/red), but I obviously did a terrible job of labeling that bin. And when you're 40 weeks pregnant, climbing around and going through bins isn't fun. LABEL THE BIN!
How can you make more room for baby clothes in a closet?
If you're able to add another closet rail, do it! Baby clothes are small and don't take up much room vertically. You likely have a few years before you would need to consider going back to one rail for your kid's clothes.
Put hooks under shelves and hang baskets from the hooks
Sometimes you have to make the best use of ANY space you have available. You can buy hooks that screw into the wall of the closet or buy hooks that go underneath a closet shelf and hang things from those hooks. Think baby shoes, baby hair bows, baby hats, etc. You may also be able to hang baskets from those hooks. I would put shoes, socks, baby headbands, etc. in those bins.
Put storage baskets on the inside of the closet doors
If you're struggling to find space for baby clothes, you can use closet storage hangers to hang baskets on the front or back of your closet doors. These are great options for storing baby clothes, baby shoes, baby blankets, etc.
Hang a shoe organizer on the inside of the closet doors
Similar to hanging storage baskets on the closet or even the bedroom door, you can hang a shoe organizer and use that to store baby clothes. If this is something you're going to do, the best way to put baby clothes in the drawers is to roll them like I mentioned above (How to Organize Baby Clothes in a Dresser).
Put storage baskets on the floor
Each of the closets in my kids' rooms looks different. There is no storage in the closets of the house we live in. This means I have to get creative. Obviously, I use the hanging rail in the closet, but I need more storage and I need to use what would otherwise be wasted space. Some of their closets have storage baskets on the floor. Some have storage bins placed inside of bookshelves. Some even have an entire shelving unit like the one pictured. We then put fabric drawers inside of it.
Where can you store baby clothes?
If you have a closet available use it. If not, proceed forward.
Storage baskets are an excellent storage solution when space for storing baby clothes is limited. There are some attractive storage baskets that are budget-friendly and make organizing baby clothes easier.
One of my favorite storage hacks is under the bed totes! Even if you don't need them for baby clothes, you can use them for toys, books, etc. and they help to keep the floor decluttered in your kid's room.
Having a closet and dresser are the two easiest ways to organize baby clothes.
In freezer bags (great for vacation!)
I love this method of organizing baby clothes. Although it's not my everyday storage method, it is an excellent method for storing baby clothes in small spaces. You can read more about this up above in the "How to Organize Baby Clothes Without a Closet" section.
You don't need to hang hooks with baby clothes all over the walls. You can create aesthetically pleasing storage in a room without storage. For the first hanging organization, you can choose from a bear, giraffe, ostrich, or llama. The second set of hanging shelves is great as well because you can label what's inside of each bin. This is a great bay clothes storage idea for small spaces.
On a bookshelf in cute storage bins
One of my kid's closets has a bookshelf in it and I bought these closet organizer bins to keep baby clothes, baby wash, diapers, etc. in them. You can use cloth storage bins that are neutral, of a specific color (other colors available), or that have a place to write what's inside of each baby clothes storage bin. This is one of the best nursery storage ideas if you're limited on space.
In a toy bin (later used as an actual toy bin)
An easy purchase to make is something that you can reuse. Once you're able to have most of your kid's clothes in the closet, you may find you don't need your storage bins as much. This is a great time to transition them to toy storage. One of these toy storage systems is an awesome way to store your baby's clothes and then eventually use them as toy storage. I love when you can use things for more than one purpose.
Best Tips for Storing Baby Clothes
When organizing your baby's clothes, always keep like items together. Long-sleeve and short-sleeve onesies should go together. Shoes and socks should go together, etc. Keeping like items together will make getting dressed and putting laundry away easier.
Use dividers to make the best use of space
Use dividers in the closet to help you keep sizes separated. You can also use labels to help you know what is in storage bins.
Keep the most used items the most accessible
When organizing baby clothes in the dresser, in a closet, or in storage bins, always make sure you're keeping your most used items easily accessible. If you don't set put things away in a way that is functional for you when you first put everything away, you'll find yourself going back and re-doing it.
Use size organizers anywhere that's going to be helpful, especially when you're in the middle of a size transition.
Avoid the urge to overstuff
If there's already a lot of baby clothes in a drawer, don't shove more stuff in. Go through the drawer and take out the items you're not using as much. You always want to keep the things they're wearing easily available.
I've also found that when I overstuff drawers is often when I accidentally leave small-sized clothes behind and they don't make it in the storage bin the first time around. It's really frustrating to randomly find clothes my kids no longer fit in, and then have to go find the right storage bin(s) to put them in.
More AWESOME Baby Ideas!
When to Start Buying Baby Stuff
10 Things to Have Before Baby Arrives
7 Baby Items You'll Use Into Childhood
The Best Baby Travel Systems for First-Time Parents
Baby Essentials List for the First Year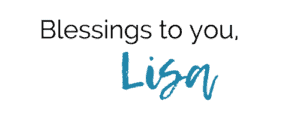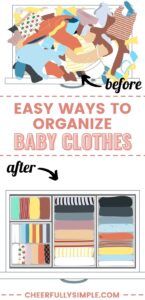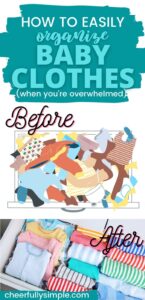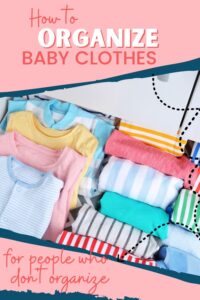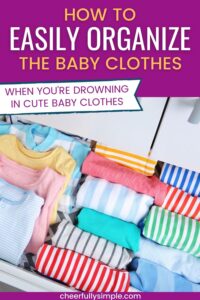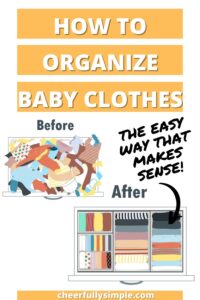 The owner of this website is a participant in the Amazon Services LLC Associates Program, an affiliate advertising program designed to provide a means for sites to earn advertising fees by advertising and linking to Amazon properties.
---