The Best Diapers for Blowouts
Do you have a baby who keeps blowing out their diaper? If you haven't yet, try one of these best diapers for blowouts to save your sanity! There's nothing worse than picking up your baby and your fingers suddenly being covered in nasty baby poop. You quickly realize your baby has had a diaper blowout and there's baby poop EVERYWHERE!
One may not seem like a big deal, but if your baby is having a lot of poopy diaper blowouts, it is time to re-evaluate your baby's current diaper brand and diaper size.
If you aren't sure where to start, let's first take a look at your baby's diaper fit, check for potential errors in how the diaper is being put on, and then if we haven't figured it out yet, I will share the best diapers for blowouts, and you can pick a new brand of baby diapers!
*This post may contain affiliate links, which means I receive a small commission, at no extra cost to you, if you make a purchase using this link. I only recommend products I love or would personally use.
Things That Cause Diaper Blowouts
Check the Diaper Fit
There is always a sizing guide on the diaper package that gives recommendations for the size of babies who should wear that particular size of diapers. If your baby is within the recommendations, you should be good. If your baby is at the higher end, you may consider moving up to the next size.
Also, make sure that the diaper can fit comfortably around your baby's legs and abdomen. If the diaper isn't fitting well, it's time to size up.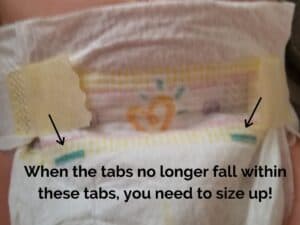 Check the Leg Cuff
Sometimes I think as moms we get distracted when changing our kids. I have even forgotten to fasten the waistbands of diapers before. One thing to check to avoid diaper blowouts is the leg cuffs. The part of the diaper that wraps around your baby's leg needs to be untucked.
It's something simple but it can certainly be the cause for your baby blowing out their diaper. Just make sure the ruffled part is sticking out on the outside and didn't get tucked on the inside of the diaper. The first picture is the correct way the leg cuffs should be on a diaper.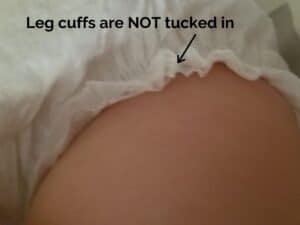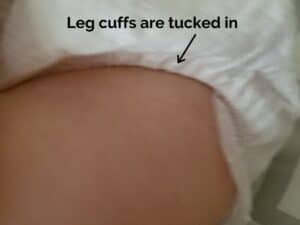 Check the Waistband
Make sure the waistband on your baby's diaper is fastened tightly. Obviously, you want to make sure the diaper is comfortable and not too tight, but a diaper that is put on too loose is absolutely going to leak and may even fall off. Without a doubt, this will create a mess all the way around, rather than just poop up the back.
How to Reduce the Number of Diaper Blowouts
Consider what your baby is eating
If your baby is eating foods that could be upsetting his/her tummy, you may consider switching their diet. Also, if you've recently added a new food to their diet, this may be a food you want to remove for a time. You may also notice a difference in your baby's poop if you've recently started solid food.
Consider what you're eating if you're breastfeeding
If you're a breastfeeding mom, the foods you eat can affect your baby's digestive system. There may be foods that upset your stomach from time to time, and you may find that your baby's belly gets upset as well. If you've been eating foods like broccoli or cauliflower that can cause gas a bloating, this may be causing your baby's diaper blowouts.
Make sure your baby is wearing the right size diaper
One of the most common reasons a baby's diaper blows out is because the baby isn't wearing the right size diaper. Even if your baby is within the recommended weight guidelines on the diaper package, you may notice that the diaper isn't quite fitting your baby how it should. This may be a good reason to try the next size up of diapers so you avoid diaper leaks.
Size up if at the end of one size recommendation
Similarly, if you're at the end of the recommendation for the weight for the size of diaper your baby is currently wearing, you can go ahead and size up to see if that ends your baby's diaper blowouts.
Try a diaper booster pad
If you think the diaper is sized correctly, but your child just soils themselves a lot at night, you can always try a diaper booster pad. Sposie diaper booster pads fit right down inside a regular diaper and they essentially give extra absorbency.
Try a baby blowout blocker
A baby blowout blocker is another line of defense when you're trying to end your baby's diaper blowouts. A diaper blowout blocker velcros to your baby's waist and basically will absorb anything that goes up your baby's back and keeps it from leaking all over their clothes, car seat, bed, etc.
Look for a different brand of diaper
A simple attempt to stop diaper blowouts would be to try a different brand of diapers. Although all diapers may appear to be the same, not all disposable diapers are made the same. The same can be said for cloth diapers. By the way, in my experience, the cost doesn't always mean a better diaper. Sometimes even the cheaper diapers can stop diaper blowouts.
Make sure the leg ruffles are pulled out
One simple thing to look for if your baby's diaper is blowing out at the leg cuff would be to make sure that the cuff part is fanned outside the diaper. If it gets tucked inside the diaper, it's super easy for the diaper to leak out because the leg ruffle is tucked inside the elastic band.
5 Best Disposable Diapers for Blowouts
Pampers Pure Diapers
One of the first things you'll recognize about this brand of baby diapers is the word "pure". Pampers Pure Diapers have 0% chlorine bleaching, no fragrance, no parabens, and no latex. They promise 12 hours of leakproof protection for babies. They're made with premium cotton and soft plant-based fibers. An added benefit of the Pampers Pure brand is the diaper liner is enriched with shea butter, making sure your baby's bottom will stay soft and moisturized.
PROS:
Free of parabens and other harmful chemicals

12-hour protection promise

Shea butter in the diaper liner
CONS:
May fit bigger babies better

If not put on correctly, you may experience a leak

Some people have had the diaper stick to their baby's skin
Pampers Swaddlers (Active Baby) Diapers
Pampers Swaddlers feature LockAway channels that quickly absorb and lock away wetness, keeping your baby's bottom dry. They have a BreatheFree liner that will wick away the wetness and mess which helps your baby's skin to breathe and not be caked down with yuckiness. The Soft Flexi-Sides give a soft comfy stretch to your baby's sides.
The diapers are hypoallergenic and paraben and latex-free. One thing I love about this brand of diapers is that the smaller sizes are great for newborns because there's a notch in the front of the diaper to accommodate your baby's umbilical cord. These are one of the best diapers to prevent blowouts.
PROS:
Great for overnight wetness protection

Awesome protection against up-the-back diaper blowouts

Great for protecting a baby on the move without any diaper blowouts

Gentle on baby's skin

Flexible fit for every baby's individual curves
Huggies Snug and Dry Diapers
Huggies Snug & Dry diapers are some of the best blowout diapers that are VERY reasonably priced. These diapers offer 12 hours of protection for your baby's bottom. They feature a unique Leak Lock System that will quickly lock in moisture and keep your baby's bottom protected. They absorb wetness in seconds and are designed with a shape contoured to provide better protection against leaks. The diapers are also hypoallergenic and fragrance-free. They're free of parabens, elemental chlorine, and latex.
PROS:
Free of harmful chemicals

Great protection and leaks and blowouts

Contoured to fit your baby well

12-hour protection against leaks
CONS:
I will note a handful of people reported a leak, but that is not the overall review of this diaper
Huggies Special Delivery Diapers
Huggies Special Delivery diapers are one of my favorite disposable diapers for blowouts. They're a very well-made baby diaper that is soft and absorbent while protecting your baby's delicate skin. The diapers are made with responsibly sourced plant-based material, contain no harsh ingredients, and are clinically proven to be hypoallergic.
They're free of parabens, fragrance, and elemental chlorine bleach. The leg cuffs are flexible which helps to keep the mess in at the legs, and the secure gussets at the back help protect against diaper blowouts up the back.
PROS:
They have a wetness indicator letting you know your baby needs to be changed

They are free of harmful chemicals

They're gentle on the baby's skin

They help to protect your baby against diaper blowouts

Super soft for your baby's delicate skin
CONS:
Some people had an issue with the size chart (always go by the best fit for your baby)
Honest Diapers
Honest Brand diapers are quality diapers for the cost. Although slightly more expensive than other diaper brands, the quality of the diaper is reflective of the cost. These are some of the best diapers for blowouts because they fit babies well and they are very absorbent. They're also great because they don't leave marks on babies.
PROS:
Awesome if you're struggling with diaper blowouts

Fit well and don't leave marks on the baby's skin

The price is reflected in the quality of the diapers

A quality diaper without all the chemicals
CONS:
No wet indicator line

Diapers are a bit stiff, but they hold up well

Some people feel they run small
2 Best Cloth Diapers for Blowouts
Maybe you're currently using cloth diapers, but you need something different, or maybe this is your first time considering cloth diapers. The great benefit of cloth diapers is that they're a great eco-friendly diaper option because you simply wash and reuse them.
Pacific Neutrals Cloth Diapers
Nora's Nursery, the makers of this cloth diaper, have put out one of the best cloth diapers for blowouts! These suede cloth diapers have a TPU lining and bamboo/microfiber inserts. This set also comes with a handy wet/dry bag. Clean diapers go on the outside of the bag and soiled diapers go on the inside of the bag.
The 4-layer inserts are made of a blend of polyester bamboo and microfiber and you'll notice they actually become more absorbent the more you wash them. The outside of the diaper has a variety of snap fasteners that you'll use to accommodate your baby's exact fit.
The diapers will grow with your child starting at 10 pounds and going all the way up to 33 pounds. The kit comes with 7 pocket diapers, 7 bamboo inserts, and a wet/dry bag.
PROS:
These diapers are eco-friendly because they're re-usable

They'll adjust with your child as your kiddo grows

They're designed to absorb a good amount of moisture

Minimal leakage issues

They have a 100% satisfaction guarantee

They're snug around the legs to eliminate diaper blowouts

They dry quickly

These diapers and inserts are sewn and constructed very well
CONS:
Not a total disadvantage per se, but you'll want an extra set of inserts to double up at night
ALVABABY Cloth Diapers
ALVABABY brand cloth diapers are washable, and super absorbent, which makes them a great cloth diaper option if you're struggling with diaper blowouts. The inside of the cloth diaper is made of suede cloth. But, the moisture doesn't stay there because it's pulled away to the diaper insert, which is how your baby will stay dry.
These cloth diapers can be worn by babies weighing a little over 6 pounds, up to 33 pounds. They are a one size fits all diaper and you adjust the size of the diaper with a variety of levels of snaps.
PROS:
The diapers are adorable!

They are customizable to meet your baby's absorbency needs

This brand of diapers doesn't take as long as other brands to dry

They hold up better when using stronger detergents

They're a great value for your money

They're cheaper than many other cloth diaper brands
CONS:
The inserts don't hold as much as other brand inserts (buy these covers and then other brand inserts)

It does seem like these diapers work better for younger babies, and then you'll need to re-evaluate your inserts as your child gets older
Things to Consider When Choosing a Diaper
Cost
Before you hit the diaper aisle, it's important to know that not all diapers are budget-friendly. I do think there are several budget-friendly diapers that offer great leakage protection against diaper blowouts. I will also say though that you get what you pay for. Sometimes it's worth it to spend a little more money on a higher-quality diaper to avoid diaper blowouts.
Fit
One of the most important things to pay attention to when choosing a diaper for blowouts is the fit. Check the size recommendations before you buy the diapers. Some diapers are contoured really well to fit snuggly around your baby's leg and bottom. Check out the picture on the package and read the reviews to verify the diapers have a good, snug fit.
Absorbency
Not all diapers are created equal. You will want to check the absorbency of the diaper brand you're currently using. If you like the diaper itself and you think it's effective, but just not absorbent enough, you can add an extra diaper pad. If you just aren't happy with the diaper overall, try a different brand of diaper, or see if the diaper brand you like has a more absorbent diaper. It's also important to note that the next size of diapers will have more absorbency because they assume as the child gets larger, they'll have more of a urine/poop output.
Softness
It may be possible that the diaper you're currently using is too soft and it isn't holding up to the needs of your child. If this is the case, you would likely want to consider another brand of diapers that uses more sturdy material. Similarly, a diaper may be too stiff and doesn't contour around your baby's body well and that may be the reason you're having diaper blowouts.
Scent
Although totally unrelated to a diaper's effectiveness, always check to see if you can handle the scent of a diaper before you purchase it. Also, if your child has sensitive skin, you should always shy away from diapers that have a scent. If this is the case, look for diapers labeled as "sensitive".
Diaper Blowout FAQ
How to find the right size diaper for your baby?
The diaper should be snug, but not dig in their skin and they should be able to move around without being uncomfortable

You should be able to fasten both sides toward the middle of the diaper

The front should be right below your baby's belly button

The back should be slightly higher than the front
Why is my baby having so many blowouts?
There are several potential reasons that your baby is having blowouts often. Chances are, there is something wrong with the application of the diaper, or you may just need a different diaper size. It's also possible that the brand of diaper you're using isn't working for your baby and you may need to try a different diaper brand.
How do you prevent diaper blowouts?
There are several ways to prevent diaper blowouts. Once you've identified what's causing the diaper blowout, you can move forward with figuring out the best solution.
Do blowouts mean the diaper is too small?
If your baby is constantly having diaper blowouts, it is highly likely that your baby's diaper is too small. This could be because the diaper itself isn't big enough, or just that your baby has maxed out the absorbency for that size of the diaper. As you size up on diapers, the amount of absorbency goes up also.
Are diaper blowouts normal?
Diaper blowouts are totally normal, somewhat. If you're experiencing diaper blowouts on a regular basis, you'll want to try to figure out what's causing the diaper blowouts. But in general, at some point in their lives, most babies will experience a diaper blowout.
The bottom line is that most babies experience a diaper blowout here and there. The goal is to always make sure that your baby has a diaper that is comfortable and fits well. Check that the leg cuffs are applied correctly, as well as the tabs on the front of the diaper. From that point forward, you just have to see how your baby does in that type of diaper. From my personal experience, these are the best diapers for blowouts!
MORE Awesome Baby Stuff!
Super Awesome Diaper Bag Alternatives!
How to Make a Minimalist Baby Registry
How to Easily Organize Baby Clothes
Best Infant Travel Systems- How to Find the RIGHT One!
What to Stock Up On BEFORE Baby Arrives!
The Best Diaper Bags for 2 Kids!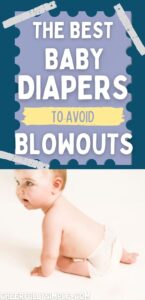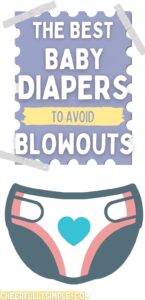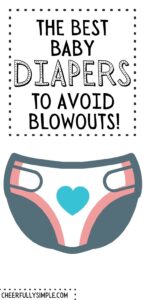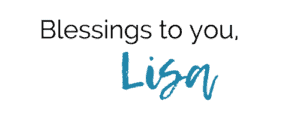 The owner of this website is a participant in the Amazon Services LLC Associates Program, an affiliate advertising program designed to provide a means for sites to earn advertising fees by advertising and linking to Amazon properties.
---