What to Buy for a Second Baby
Having a second baby is equally as exciting and should be celebrated the same way you celebrated the birth of your first child.
Some people think you shouldn't have a baby shower for your second baby, but you totally can! Some people call it a baby sprinkle, as you don't need as many things as you did at your baby shower. Call it what you want, but make sure you create a second baby registry checklist for your 2nd baby registry so that people know what kinds of baby gifts you need.
If you aren't sure what to buy for a second baby, I'm going to share which baby items you shouldn't use, which baby items you should replace for your second baby, and what NEW baby items you'll need for two kids!
Preparing for a second baby won't be intimidating at all once you've made your baby #2 list, so let's go shopping!
If you haven't considered creating a baby registry for your second baby, I highly recommend that you do. Even if you don't want to share it with anyone, it will help you keep track of the stuff you've purchased for your second baby.
I personally think the easiest way to do this is to create an Amazon Baby Registry. A lot of people shop Amazon and will happily second you a gift from your 2nd baby registry!
If you don't have Amazon Prime, you can create your baby registry and try Amazon Prime FREE for 30 days!
*This post may contain affiliate links, which means I receive a small commission, at no extra cost to you, if you make a purchase using this link. I only recommend products I love or would personally use.
Must-Have Baby Gear for a Second Baby
Pacifiers
You should not reuse your pacifiers from your first baby, so make sure you buy some new pacifiers. I always liked to have a variety of types because you never know that kind they'll take. I always try to pick the 4 or 5 most popular pacifiers and have those on hand.
AVENT brand pacifiers are very popular for newborns. In fact, it's what we were given in the hospital. Check out these adorable cow pacifiers!
MAM Newborn pacifiers are what most of my kids loved. They're awesome because you can start with the newborn pacifiers and size up every time you need to. They also make glow-in-the-dark pacifiers which are awesome once your kids are old enough to put them back in their own mouth at night.
Bottles and nipples
You may be able to reuse the bottles you used for your first baby if you still have them. Check to make sure they still seal ok, especially if you're going to be putting breast milk in them because you can't waste that liquid gold.
Also, keep in mind that not all babies can use the same bottles and you may need a different kind.
MAM anti-colic bottles are very popular for newborns because they help reduce the amount of air your baby takes in while eating. Colic is very common among newborns, and believe me, you want to avoid the symptoms of colic at all costs! You can also check out my entire list of bottle recommendations!
Dr. Brown's bottles are another very popular brand of bottles for newborns. They're another great option that has a system to reduce colic. *sets may be slightly different at different stores*
Bottle cleaning brush
Dr. Brown's has a universal bottle brush that can be used with any style of baby bottle.
Breast pump replacement parts
If you're planning to use the same breast pump you used with your first baby, you need to make sure you buy the necessary replacement parts. For most breast pumps, you'll need to replace any valves, as well as buy new tubing.
I personally have used the Spectra S1 breast pump with all my kids and I LOVE it! Here are the valves and tubing you would need to replace for this pump. From my personal shopping experience, I have found that buying a set like this one is cheaper than trying to purchase the parts individually. You can also choose the correct flange size. Amazon is the cheapest place I have found a full set of replacement parts.
Breast milk storage bags
If you're going to be breastfeeding your second baby, make sure you've stocked up on breast milk storage bags. If you aren't sure which bags are going to be best for you, I have done an extensive review of the best breast milk storage bags!
New burp cloths
I did buy a new pack of burp cloths with my second baby because they were kind of gross after my first baby. I also think they're incredibly handy to have just about everywhere because you never know when something gross is going to come out of your baby!
Diapers
Oh golly, diapers. Whether you're cloth diapering or using disposable diapers with your 2nd baby, you'll like need to buy diapers. I recently shared the best cloth diapers and disposable diapers for blowouts. Obviously, if they're the best diapers for blowouts, they're the best diapers in general. For now, I'll share the best of each.
So the cloth diapers I like to recommend are only sold on Amazon. If you don't have an Amazon Prime account, you can sign up for a 30-day trial!
The cloth diapers that I think are the best, are the Pacific Neutrals cloth pocket diapers. You can read more about why I recommend them here!
Baby Wipes
One of the most important things to put on your baby #2 shopping list is baby wipes. I really enjoyed the Huggies Special Delivery baby wipes so I'm adding a link for those to Amazon, but I am a sucker for the Target brand baby wipes, so check those out too!
Diaper cream
Even if your kids are close together, I still think it's good to add a tube of diaper cream to your second baby gift registry. Sometimes the oil can separate and become yucky. With my newest babe, I discovered my most favorite diapering product, this amazing diaper balm. I love Zarbee's products, but this daily bottom balm is AMAZING!
Baby soap
You'll want to make sure you have baby soap for your second baby. You may be able to use what you're using on your first child, but I always like to have a gentle, lavender soap for my baby's. I always recommend Little Twig baby soap to new moms. It is gentle on a baby's skin and it smells nice and natural.
Carseat
It's super important that you check the expiration date of the car seat you used with your first baby. If it has expired, you'll need to replace it. In all of my research, and in talking with some friends who are firefighters and have seen car seats in action, I can confidently recommend Chicco and Britax car seats.
Car Mirror
If your first child is still rear-facing, you'll want to make sure to add another baby mirror to your registry for your second baby.
Seat protector
You'll want to add a car seat protector to your second baby shopping list also, especially if you have leather seats. Without a doubt, these seat protectors have saved my leather seats.
Clothes hangers
If you plan on organizing your baby's clothes in a closet, you'll need to have some more baby clothes hangers.
Baby teethers
Be sure you add some baby teethers to your shopping list for your 2nd child. Chances are they're gross and possibly even cracked since you had your first child. My favorite baby teethers are these nuby baby teethers. My kids have all loved how they massage their gums gently.
Baby Spoons and Bowls
Somehow between my first and second kid's I lost all of our baby spoons and bowls. I have no idea where they went. So, you may want to consider adding some spoons to your baby registry.
Humidifier
I run a humidifier in each of my kids' rooms throughout the entire winter. I find that it keeps their little noses from getting dried out and it is especially helpful if they're dealing with any kind of congestion. If you don't have one on your second baby registry, you should totally add one.
Baby Gear You Need for 2 Kids
Double Strollers
If you're preparing for a second baby with a toddler, then a double stroller is an absolute must! My double stroller was a lifesaver for me when I went from 1 kid to having a toddler and a baby. Here are some of my favorite double strollers! I also have a post if you want a more in-depth review of my favorite double strollers!
Sit n Stand Double Stroller
Graco Ready2Grow LX 2.0 Double Stroller
Joovy ScooterX2 Double Stroller
Diapers bag for two kids
The diaper bag you used with your kiddo was a baby may be totally sufficient. For me, with experience came a better understanding of what kind of things I really needed in a diaper bag. So much so that I wanted to share what I learned about buying a diaper bag for two kids with other moms. This Ruvalino Diaper bag backpack is my absolute favorite and the diaper bag I am currently using. One of my second time mom tips is to buy a diaper bag that's big enough for your toddler's things, your baby's things, and you stuff too.
2nd Baby monitor/add a camera
I literally have a baby monitor in every kid's room. I have peace of mind at night knowing I can see and hear each kid, AND, it might just buy you a couple of seconds to catch puke before it hits your floor or bed. (agh!) With that said, I highly recommend that you either add a camera to your current baby monitor or buy an additional baby monitor for your second baby. If you aren't sure where to start with buying a new baby monitor, I have researched and found the best baby monitors!
Summer Lookout 5.0 Baby Monitor
This is the baby monitor we bought most recently. I like baby monitors that don't connect through wi-fi, and this one is highly rated.
On the Go Baby Dome
I didn't realize I needed one of these On the Go Baby Domes until I bought one. They are super convenient if you have a summer baby because it allows you to be outside playing with your other kiddo and your baby is protected from the sun and bugs. It has become one of my life-saving second baby must-haves.
I hope you have a better idea of what you need to buy for a second baby. It's not quite as much as you needed to buy when preparing for your first baby, but there are certainly several things that are a must.
Did I miss something you would have put on your 2nd baby shopping list? Let me know!
More AWESOME Baby Ideas!
When to Start Buying Baby Stuff
Best Baby Carriers for Petite Moms
Small Rocking Chairs for a Nursery
10 Things to Have Before Baby Arrives
7 Baby Items You'll Use Into Childhood
The Best Baby Travel Systems for First-Time Parents
Baby Essentials List for the First Year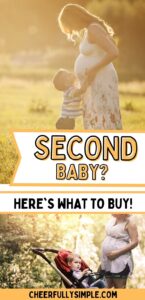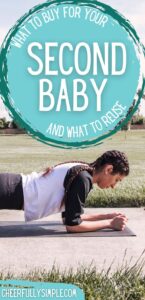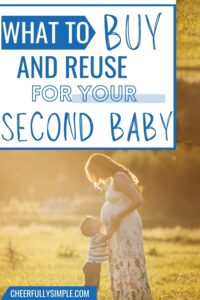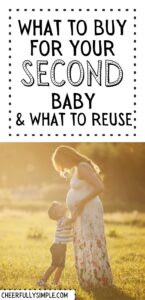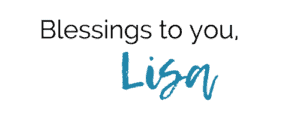 The owner of this website is a participant in the Amazon Services LLC Associates Program, an affiliate advertising program designed to provide a means for sites to earn advertising fees by advertising and linking to Amazon properties.
---