Best Teething Toys for Babies
Teething can be a pain, literally! When your baby begins to cut teeth, it can be heartbreaking.
In the beginning, you may not even know that your baby is crying because they're cutting a tooth.
But, once you figure out that teeth are causing your baby pain, there are plenty of things you can do to help your teething baby feel better.
*This post may contain affiliate links, which means I receive a small commission, at no extra cost to you, if you make a purchase using this link. I only recommend products I love or would personally use.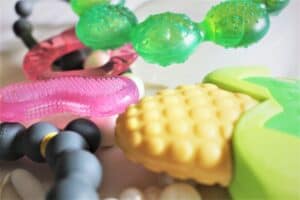 How to Look for the Best Teething Toys for Babies
There are several things to consider when looking for the best teething toys for your baby.
The different charactertics you want to look for in teething toys are:
Color: Babies love toys that are a variety of bright colors. Look for toys that will be eye-catching for your baby.
Texture: Look for teething toys that have a variety of textures. During the teething process, different textures feel better on sore gums than others.
Can be easily cleaned: Look for teething toys that can easily be cleaned. Many teething toys can be cleaned in the dishwasher. You don't want mold growing on the teething toys your baby is using.
Can be put in the refrigerator: There are a lot of teething toys that can be put in the fridge to make them cold. The cold will really help soothe sore infant gums.
The teething toys I am going to share have a combination of these features, or in some cases all of them. Price is also another factor to consider, but there are plenty of teething toys that aren't expensive!
Here are 10 of the best teething toys for babies that are not only cute, but they're teething toys that help babies feel better.
Best Baby Teething Toy Overall!
The Nuby Silicone Teethe-EEZ Teether with bristles is my FAVORITE teething toy for babies.
Hands down, this has been my favorite teething toy for every kid.
There are multiple teething surfaces that provide a variety of options for teething relief for your baby. My kids have loved the little, soft nubs on either side of this toy. Babies love to put this teething toy in their mouth, bite down on their sore gums, and pull the toy out. This is a baby massage for their gums.
This baby teething toy is the perfect size for baby hands to hold onto. It is also great if you want to clip it onto other teething toys.
It comes with its own case which helps to keep it clean. The nubs tend to pick up any hair or fiber it comes into contact with, so pet owners beware. The great part is that it is super easy to clean. And, even better, it's only going to cost you about $5.
I highly recommend buying more than one!
Cutest Baby Teething Toy!

My second favorite teething toy for babies is the Little Toader AppeTeethers Gimme S'more toy.
There are so many great things to love about this teething toy.
First and foremost, there are several different teething toy designs, each with different textures. So if the s'more isn't your thing or you're wanting to stick with some sort of theme, then check out the other designs they offer.
The S'more teething toy has a variety of types of surfaces on it, which makes it one of the best teething toys for 3-month-olds to 6-month-olds.
The marshmallow edge provides a surface that allows for the pulling actions I described above. Babies can put the toy in their mouth, bite down, and pull the toy out. It gives them the pressure relief they need. The toy also has the brand name written on it, which sticks up just enough to provide a different texture.
It can be easily washed and can be chilled in the refrigerator. Most of the teethers come in around a $6 price point, which is awesome!
Related Post: 7 Baby Registry Items You'll Use Beyond the Baby Years
Best Teething Toy for Travel!
Nuby IcyBite Keys

These Nuby Icy Gel Teether Keys are AMAZING! We were given 2 or 3 sets at our baby shower, and I wasn't sure I needed all of them.
I am so glad I kept them.
We would keep a set at home, a set in the car, and a set in the diaper bag so we always had a great teething toy.
If you've ever had a teething baby, then you totally understand. You really have no idea when the teething pain is going to hit, and if you aren't a medicine person then you're going to need some of the best baby teethers.
First, each of the 3 keys is different. They are each a different color, and the type of texture on each is different. They will help teething babies cut all the teeth in their mouths, whether that be the front or the back teeth.
The teething keys can be put into the refrigerator which adds even more of a teething relief for your baby. The pressure, the texture, and the cold create a trifecta relief for your baby's aching gums. They are on a plastic ring, so they won't get lost, and the ring itself acts as a chew toy as well.
And the ABSOLUTE best part about this teething toy is that it comes in under $4! So, grab a couple of them and spread them out where you spend your time.
Most Entertaining Baby Teething Toy!

These Lamaze teething toys are so stinking adorable I can hardly stand it.
When I was deciding which baby teething toys to put on my baby registry, I only registered for one of them. But, I got 4 different teething creatures! Originally, I was going to return some but instead held onto all of them because my kids love them.
They are awesome for even the littlest babies because of how colorful they are. And, they crinkle and squeak, which most babies love. There is a mirror where the baby can see themselves, which helps with sensory awareness and development.
As for the teething part of this toy, funny enough, my kids LOVE the white ring, which is designed to hang the toys. The best I can figure is that they enjoy the pressure on their gums. And the cost comes in at under $15!
Some of my FAVORITE Lamaze toys are Jacque the Peacock, Freddie the Firefly, the Classic Discovery Book, and the Wrist Teethers.
Babyproofing 101: The BEST Babyproofing Hacks!
Best Vibrating Baby Teething Toy!

Yes, wouldn't you know it that John Deere makes baby teether toys… in the shape of corn!
I got the biggest laugh out of this toy when it was given to us as a gift.
But honestly, this has been one of my kids' favorite teething toys. It has nubs on it which babies love to rub on their sore gums.
The other awesome part about this teether is that it vibrates. Think about it, when you have a sore muscle, you sit in a massage chair that vibrates. It's the same idea here.
Another added bonus to this toy is the developmental benefit. One thing your baby will begin to learn from this toy is cause and effect. They'll start to figure out that IF they bite down on the toy, THEN it will vibrate, which helps their gums feel better. Pretty cool, huh?
This John Deere Corn teether is recommended for ages 6 months and up, which is within the time frame most babies begin teething. And, this teething toy comes in under $10!
Most Funtional Baby Teething Toy!
Munchkin is a highly respected, very recognizable brand among parents, and their fresh food teethers don't disappoint! They come two in a pack and come in a variety of colors.
The fresh food feeders are great for teething babies because there are so many different things you can put inside of them. Most people choose to go with soft, first foods. Think avocado, banana, pears, etc.
However, the favorite thing I liked putting in our was ice chips. My kids LOVED to chew on ice. Of course, it made a huge mess, but I didn't mind. My baby felt better, and their teething gums were numb!
The fresh food feeders are easily washable, and only take a short amount of time to dry. They have a handle on them which allows for most babies to hold them on their own. The food particles that do get through are easily digestible, so choking shouldn't be an issue, but you should always monitor your baby. A pack of 2 teethers is about $6.
Most Popular Baby Teething Toy!
I am including Sophie the Giraffe because I know this is a VERY popular teething toy. We actually never had a Sophie the Giraffe because somehow, I didn't know about her. Ha! So, I am going to share some of the things others love about this toy.
The Sophie the Giraffe teether is made of rubber, whereas most other baby teething toys are made of silicone. This means that the giraffe is a much denser material than the other silicone teething toys.
There are a variety of teething textures on this toy which is great for babies no matter what stage of teething they are in. This toy can be chilled in the refrigerator for an enhanced experience for your baby. They are a bit more expensive than some of the other teething toys at a cost of around $15.
Best Freezable Baby Teething Toy!
If you are reading this, and you currently have a teething baby but don't have one or two or three of these, then grab a few now. Even if your baby doesn't like it as a teether, which can sometimes happen, your kids will play with these rings for a while!
Some of the great things about these teething rings are that they come in a variety of colors and have a variety of different textures for your teething baby. They can also be put in the refrigerator which makes provides nice, cool relief for your baby's aching gums. They can be easily washed and cost about $4 each.
Best Silicone Baby Teether!
We didn't have this exact Comotomo Silicone Baby Teether, but we had something very similar.
It looks really goofy, but it has some really great features. The first great thing about this toy is the handle. Anything a baby can hold onto will mean one less trip to the ground for you. It has a variety of different textures that are sure to help your baby's sore gums.
This teether is easy to clean and only costs about $7.
Infant Colic!: How to Survive Colic- From a Mom Who's Been There
A COLD WASHCLOTH
I know what you're thinking… "A washcloth isn't a toy".
Yes, you're right.
BUT, a washcloth has been one of the best things for our teething babies. When you can't seem to find the teething toy your baby loves, and they are sitting there screaming in pain, you'd do just about anything to help them feel better.
A simple, cold washcloth can do the trick. My kids even loved to put the washcloth in their mouths and then crawl around like that. I really don't know what their fascination was with it, but it was hysterical to watch.
There really isn't a cost here because chances are you have clean washcloths in your bathroom closet.
A Few Other Tips for Teething Babies!
When will your baby get teeth?
That's a really great question, and the answer is no one knows. And just because your first kiddo started teething at 5 months doesn't mean all of your kids will start teething at 5 months.
Every kid is different, which means it's always a good idea to be prepared. A lot of people will add baby teething toys to their baby registries, which is a really great idea. If you didn't get any baby teethers as a baby shower gift, then I would suggest you have 4-5 on hand beginning around 3 months so you're ready when the dreaded teething begins.
What are teething toys made of?
Many of the baby teething toys are made of silicone, but not all. Some teething toys are made of rubber and others are made from different types of fabric and even wood. Some infant teething toys have plastic mirrors on them and others won't. You would really have to look at each toy individually to know which teething toys are best for your baby.
What things should you consider when choosing a teething toy?
We have talked about the importance of what the toys are made of, but what we haven't talked about is convenience. Some of the most convenient teething toys are the ones your baby can hold on their own.
At the very least, you'll want to make sure the teething toys have some sort of loop or clip so that you can hook them onto something. This will help keep the teething toys where you want them for a situation such as a car when handing the toy back to your baby isn't an option.
Another thing to take into consideration is whether or not the teething toy makes noise. If you can't handle the squeaking, don't buy the toy.
When to use a teether toy for a baby?
It's hard to know when your baby is teething until you can either feel the tooth or begin to see the gum lighten up in color, eventually turning white when the tooth erupts. I would recommend following the guidelines on each toy, but thankfully many of them are great for babies starting around 3 months!
When do babies stop using teethers?
Most babies will stop using baby teething toys once their primary teeth have all erupted, with the exception of molars as they get older. This can vary by child, but usually by around age 2.
What is the best baby teething medicine?
I really try to avoid medicine for my kids, but sometimes, they need more relief than what their teething toys can offer. Depending on the age of your baby, you can always try some Infant Tylenol or Baby Oragel for their teething gums. As always, make sure you check with your pediatrician before giving your child medication.
Baby Teething is Temporary
Teething isn't fun for anyone, but I hope you have discovered some teething toys that can help make it a more pleasant experience for everyone. The cost of the toys is minimal compared to the use you'll get out of them, especially if you have multiple children, so don't be afraid to buy several different types of teething toys.
Thankfully, teething is a temporary stage that will pass. It will be short for some and brutally long for others.
Hang in there, it will get better.
What other baby teething remedies have you discovered that have worked for your baby? I love to learn about new ways to help a teething baby, so share your ideas below!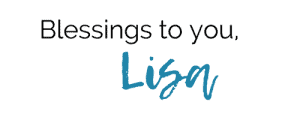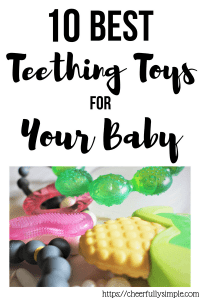 The owner of this website is a participant in the Amazon Services LLC Associates Program, an affiliate advertising program designed to provide a means for sites to earn advertising fees by advertising and linking to Amazon properties.
---