20+ Stocking Stuffer Ideas for Toddlers
Christmas is just around the corner and you're wondering what to put in your toddler's Christmas stocking. Here are fun stocking stuffer ideas for toddlers.
Every toddler likes different things so it can be hard at times to find something that will keep them entertained while also being safe enough for their tiny hands. Here are some great toddler stocking gifts that they're sure to love!
Hopefully, this list of stocking stuffers toddlers want will be all you need to get your Christmas shopping started off with a simple click!
*This post may contain affiliate links, which means I receive a small commission, at no extra cost to you, if you make a purchase using this link. I only recommend products I love or would personally use.
Best Toys for a Toddler's Christmas Stocking
3 Bees and Me Magnet Boat Set
We bought this Magnetic Number Boat Set recently for our toddlers and they LOVE them!
They are colorful, magnetic, and numbered, so there are plenty of things to talk about and teach them. They are great for water play, but they can also be used as playboats in general.
The magnets are very magnetic and attract and detract from one another well. They could easily be taken out of the box and placed into a stocking for your toddler or preschooler.
Melissa and Doug On the Go WOW! Pads
I am a HUGE fan of Melissa and Doug Products. If you haven't noticed, I like to find things that my kids will enjoy playing with, but also that will teach them something.
Melissa and Doug products are fabulous!
These Water WOW! Books include a water pen that your kids use to color the pictures in the book. The water pen will then begin to slowly reveal the picture underneath.
The coolest part as a parent is that there is MINIMAL if any mess involved and this toy can be used OVER and OVER AGAIN! These are great for road trips with your kids as well!
Hoyle 6-n-1 Card Game
This Hoyle 6-n-1 Card Game is a fantastic stocking stuffer for your little one.
Teaching kids how to identify things that are alike at a young age is super powerful for their growth and development later on.
As they begin to learn to match, they build up their confidence in their ability to learn, and that is huge. Your little one will learn the skills necessary to play games like memory and go fish and they're the perfect size to fit in a Christmas stocking.
Boley 12-pk Educational Dinosaur Toys
It doesn't matter if you have boys or girls, dinosaurs are timeless and cool. They are a creature that once roamed the earth, and there is so much to learn about.
Sure, their names may be hard to pronounce, but there are so many special characteristics about each one that makes them unique. I think dinosaurs are great teachers when it comes to teaching kids that being different and unique is super cool! These Dinosaur Toys will fit nicely in your preschooler's Christmas stocking.
LeapFrog Scout's Learning Lights Remote
We found one of these Learning Lights Remotes in our rental van while on vacation. It happened at the perfect time too when our youngest was throwing a screaming fit.
Needless to say, it entertained until we arrived at our destination. It has lights, sounds, and PLENTY of buttons to push. It's the perfect size to fit in a stocking for Christmas!
Play Circle by Battat- Princess Purse Set
This is the perfect Purse and Accessories set for a Christmas stocking, and every little girl needs one! This has it all! Lipstick, sunglasses, makeup, car keys, a phone, and much more.
If your little diva needs to release all of her sass, this is a great Christmas stocking stuffer for her!
Matchbox 9 Car Gift Set
For the little man in your life, this Matchbox car gift set is sure to please.
Every little boy loves to have his very own set of Matchbox cars. Each is unique in its features and colors.
If you have more than one little guy in your life, this box can be shared between several stockings!
Wikki Stix
Wikki Stix are new to me. I didn't even know what they were until my kids were given them at a restaurant. Obviously, make sure you aren't giving these to a little one who is putting random things in their mouth. These are sure to keep your toddler busy for a while. You can bend and mold them any way you choose. You can even wrap them around one another to build things.
Wooden Threading Toy
Toddlers and preschoolers LOVE to fidget with things which is what makes these awesome Threading Toys perfect for little hands. There is no right or wrong way to thread this worm through the objects, which means there are endless possibilities. This will help with your toddler's dexterity skills too!
Melissa and Doug Sticker Farm
My kids LOVE this Melissa and Doug Sticker Farm. They have played with it so much that *MOST* of the stickers don't stick anymore, and they STILL play with it. If you have a little sticker lover, this is an awesome stocking stuffer for your toddler.
Toddler Activity Quiet Book
I feel like the words "toddler" and "quiet" don't often go together. My toddlers are rarely quiet. This Activity Quiet Book is a fantastic gift to put in a toddler's stocking. The best part is that it can go anywhere because it can be washed in the laundry machine.
Pop Fidget Sensory Toys
These Pop Fidget Sensory toys are super popular right now. They're super simple, easy to clean, and can be played independently. All you do is pop the divets back and forth. They can be popped randomly or in a pattern. If this isn't the design you like, they can be found in LOTS of different designs and characters. They make a great stocking stuffer for toddlers who have autism because they're a great stress relief tool.
Best Puzzles for a Toddler's Christmas Stocking
Fat Brain Toys Wooden Personalized Puzzle
This *should* fit in your toddler's Christmas stocking. How awesome is this Personalized Name Puzzle!
There is something SUPER special about receiving a gift with your name on it. This is an awesome puzzle, that also gives your kiddo the chance to learn how to spell their own name!
Best Learning Toys for a Toddler's Christmas Stocking
Little Tikes Bath Letters and Numbers
We have a couple of sets of these Bath Letters and Numbers that our kids LOVE to play with. They are great for the bathtub but they can also be used as a pool toy outside in the summer, or just used as a general play toy in the playroom.
We work on letter identification, color identification, and identifying the letter of our first names. This would be a great stocking stuffer idea for your toddlers!
Playskool Flash Cards
I think every kiddo needs a couple of sets of basic learning flashcards. They can learn things like numbers, letters, colors, shapes- the basics. Although these might not be your kiddo's favorite gift on Christmas morning, you'll get hours' worth of learning and fun out of them in the long run.
It's a great indoor activity to do with your kiddo by teaching them some basic preschool concepts.
Finger Puppet Set
Some may think this 20-piece finger puppet set should be counted as a toy, but I think of it as a learning gift. Kids learn so much from imaginative play. They learn how to treat others, different kinds of jobs, different physical characteristics of the people puppets, and so much more.
My First Crayon Set
This set of 6 egg-shaped toddler crayons made by Crayola brand is an excellent stocking stuff idea for toddlers. A toddler's hands aren't really made to hold regular crayons yet, which makes these round-shaped crayons much more appropriate for toddlers.
Best Books for a Toddler's Christmas Stocking
Sesame Street Manners Book
Sesame Street does a great job of teaching manners in their Sesame Street Manners Book set. Inside these books your kiddo will learn how to be a friend, how to have manners, follow directions and so many other age-appropriate tasks.
Baby Einstein Board Book Block Set
We have several of these book block sets that have a convenient carrying handle. In order to put them in the stocking, you'd need to remove them from the box, but they'd be cute in a stocking. Baby Einstein is a well-known brand in the learning industry for kids, and this board book set will help your child learn all of the preschool basics.
The Best Stocking Ideas for Toddlers- Which is Your Favorite?
This list of stocking stuffers is going to be hard to beat! As a mom of a couple of toddlers and preschoolers, I know what types of things you're likely looking for and I compiled a simple list for you to explore!
I have no doubt you'll pick something great and your kiddo will be super excited with what they find in their Christmas stocking this year!
MORE Awesome Christmas Help
The Ultimate Toddler Gift Guide
Fun Family Things to do on Christmas Eve
Fun Activities to do during the Christmas Season
How to Serve as a Family at Christmas
Best Christmas Books for Kids by Age Group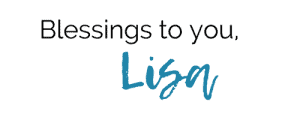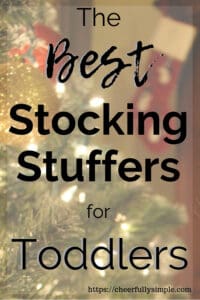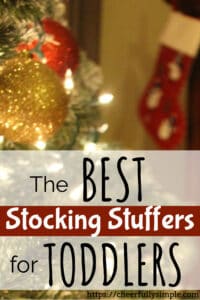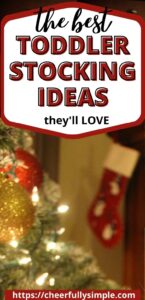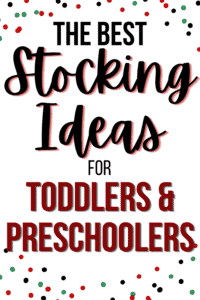 The owner of this website is a participant in the Amazon Services LLC Associates Program, an affiliate advertising program designed to provide a means for sites to earn advertising fees by advertising and linking to Amazon properties.
---