The Best Christmas Books for Kids by Age Group
Do your kids LOVE to read, or do you LOVE to read to your kids?
With Christmas coming soon, we will soon be grabbing our favorite Christmas books for kids and adding them to our reading shelf.
We frequent our local library often and there were SHELVES of Christmas books. If you aren't visiting the library with your kids, DO IT!
What are the BEST Christmas books for kids? Here is a list sorted by age group to make finding the perfect Christmas book simple!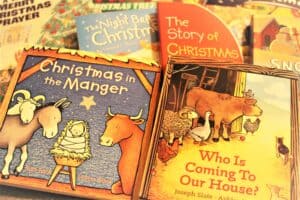 *This post may contain affiliate links, which means I receive a small commission, at no extra cost to you, if you make a purchase using this link. I only recommend products I love or would personally use.
Christmas Books for Kids Birth- Age 3
Our kiddos have loved the Priddy books. They are very colorful and full of things to touch and feel. They are excellent for young readers and this Christmas edition doesn't disappoint!
There are so many wonderful things about this book. Each of the tools plays a special role as they work on a special surprise for Christmas. Little do they know, they are each going to get a special gift in return!
I was given this book when our oldest was born and it has become one of my favorite Christmas stories for kids. We raise our children according to the Christian faith, and I love how this book tells the story of Christmas from the animals' perspective. Each page layout tells about the role each animal played in Jesus's birth. In the end, the children will meet baby Jesus and be reminded of the true meaning of Christmas.
"There was an Old Lady Who Swallowed a Fly" is just the beginning of the Old Lady's journey. In this story, she swallows all kinds of Christmas-related items, starting with a bell. Thankfully, Santa comes to her rescue at the end and she gets to tag along for a fun journey on Christmas night.
I'm sure you're familiar with the Itsy Bitsy Spider, and this adorable book is set to that tune. Based upon the title, it's about an itsy bitsy snowman and his adventures in a winter wonderland. He goes on a sledding adventure, skates on ice with children, and even dodges snowballs during a snowball fight. If your babies love nursery rhymes, grab this one as a stocking stuffer!
Santa is looking for the perfect gift to leave for a child, but he is struggling to find just the right thing. Your kiddo will enjoy lifting the flaps to reveal different Christmas presents until the very end when Santa finds just the right one.
This book is one of the indestructible books which is awesome if you have a teething baby at home. They can chew on them, and all you need to do is throw them in the dishwasher. Share in the spirit of Christmas this year as you enjoy this book of Christmas traditions with your baby.
We have several of the, "Where's is Baby's _______" books. All of the books are lift the flap books which are great fun for younger children. In this book, we are on the hunt for baby's Christmas present which is nowhere to be found. That is until the baby takes a peek under the Christmas tree!
This super cute book is great for the littles of audiences. The graphics are simple, yet beautifully illustrated. The story is about two friends, a goose, and a duck. All goose wants to do is play and be silly, and duck keeps trying to convince him there is something bigger and better coming. What is it? You'll have to read this book to find out!
Daniel Tiger is a favorite in our house. My kids enjoy watching the show every so often, and of course, the "Ugga Mugga" tagline. In this story, Daniel is celebrating Christmas with his family. You'll find his family decorating the Christmas tree, baking some cookies, and building a snow family. The story wraps up with Daniel Tiger and his family sharing gifts around the Christmas tree.
Llama llama and his friends and doing everything most people do to celebrate Christmas. They're making cookies, going sledding, and singing songs. If your kiddos love the Llama llama books, this is sure to be a win!
In our house, we LOVE the Little Blue Truck. The books rhyme and feature, you guessed it, a Little Blue Truck. There are Little Blue Truck books for many of the holidays and then, of course, there is the original. Little Blue Truck is delivering Christmas trees to all of the animals who want one to help them celebrate Christmas. My favorite part about this book is the surprise at the end! Let's just say your kids will be mesmerized by the last page!
If you've ever read the books, "If you give a mouse a _______", then you're kids will fall in love with this one! Merry Christmas, Mouse is all about Mouse decorating the Christmas tree. Mouse loves to decorate his tree, and better yet, this book counts as each set of ornaments is placed on the tree. There is a magnificent surprise at the end as Mouse reveals his grand Christmas tree FILLED with ornaments!
Poor Mr. Fish just can't win. He wants to have the most perfect present for each of his friends, but he keeps striking out at every store he visits. The time has arrived, and all the stores have closed, but Mr. Fish has not a single gift. Miss Shimmer reminds him that he is the most important gift, and anything he brings should be from the heart. They get to work, and before long, Mr. Fish has gifts for all of his friends at their Christmas party.
This book is going to take your kids on a fun Christmas adventure with Mouse. Mouse makes a visit to the movies, but soon he finds himself on a crazy journey through many of the fun things we do at Christmas. He wants to sing carols, have a snowball fight, make and decorate a Christmas tree, and that's just the beginning.
Little Bunny gets an invitation to Jesus's birthday party but he just can't figure out what gift to get for him. Would he like a toy? Maybe he would like a game? As Little Bunny struggles to figure out what to get Jesus, he notices all of his friends have brought gifts with tags on them. They say things like, charity and happiness. Baby Bunny thinks for a minute and thinks the greatest thing he can give Jesus is love. Indeed, Jesus gave the greatest gift of love and he is the reason we celebrate Christmas.
Another great book for the littlest of readers, The Itsy Bitsy Reindeer is read to the tune of The Itsy Bitsy Spider. Your kiddo will love to hum along with you as you read this super cute Christmas story.
If you have the littlest of readers at your house, this book is perfect. When you're just beginning to teach your children about the things associated with Christmas, having a simple picture book is a must! This fun little book has a page for each of the Christmas elements beautifully illustrated and labeled in bright colors, which is great for little eyes.
Have any Little People hanging out in your house? No, not like your kids, but the Little People toys. This book features many of your favorite little people as they share Christmas together. Each layout shares a Christmas festivity and your child can participate in the book by lifting all of the flaps to discover what's underneath.
Elmo and the gang present an awesome book for your little readers. Sesame Street is abuzz as they all work to prepare for Christmas. This is a lift-the-flap book so your young reader is sure to enjoy playing along in the story. Especially as they see some familiar faces!
Thomas & Friends presents an adorable Christmas book that every train lover is sure to enjoy. For each of the 12 days leading up to Christmas, kids will enjoy meeting a new engine that is decorated to celebrate the season. They are each participating in the celebration in different ways and your kids are sure to enjoy the daily surprise.
Christmas Books for Kids Ages 4-6
So many Disney stories are packed into this book that will help you countdown to Christmas with your kids. They are sure to recognize many, if not most of the characters. There is one story for each day in the month of December. Grab this book ahead of time so you can begin a Christmas tradition this year with your kids!
Do you have a Toy Story lover in your house? If Woody and Buzz are favorites for your kiddos, then you have to grab this Christmas book. The gang joins together to plan a Christmas party for everyone to enjoy together, Of course, there are some snags along the way, but nothing is too big for Buzz Lightyear to figure out.
The Little Critters' are sharing their Christmas as the Little Critter is trying to do something special for mom. And yet, everything he does seems to backfire in some way. The morning of Christmas Little Critter doesn't want to wake mom and dad, so he opens his gifts and parades into their bedroom to show them all the great gifts he got.
If your kids have read, "Where Do Diggers Sleep at Night", they're sure to love this book. Even diggers want to celebrate Christmas in the same ways you do. They want to celebrate with a Christmas tree and gifts. If you have a digger lover in your life, this will be the perfect Christmas book for them.
Children love the adventure of trying to catch Santa, but what about all the things you want to ask him, or maybe even things you want to tell him? In order to do those things, you have to catch Santa first, and these kids are rather determined. They have developed several plans that they hope will catch the Big Guy. This super cute book runs through the heads of kids at Christmas as they are thinking about all the things they want to know about Christmas. And, at the end of the day, if you can't catch Santa, there's always next year!
Poor, poor Sneezy the Snowman, he just can't win. One minute he is cold, and the next he is water. Then the children build him back up again, try to help him be warm by sharing their clothing, but he is still cold. As the story goes on Sneezy continues to try and be warm, but his efforts are always quickly ended because he melts. That is until the children come up with a DELICIOUS solution to help him be comfortable. Let's just say, you might need some ice cream to go along with this story!
Ah, Pete the Cat is back again, and ready for a new adventure. This time, he is out to save Christmas. When Santa falls ill, he knows who to call… Pete the Cat, of course! The rhyming book flows well and is a great read for kids. He gives it his all, and low and behold, he saves Christmas!
A beloved holiday favorite, "The Night Before Christmas" is sure to become a favorite in your house. The catchiness of the book grabs children's attention and keeps them aware of the happenings in the story. What do all of these events lead to… Santa of course!
Our kids are mesmerized by animals. They enjoy everything about them, especially around Christmas time. Each animal played a role in the Christmas story in this book. From the little mouse to the Kind Ox. And then, of course, the greatest act of love known to man, the birth of baby Jesus. Sit down with your kiddos and enjoy this precious story about the Christmas story.
I am a sucker for books that rhyme, and this is one of those books! You go on an adventure with Santa and one of his elves as he debunks many of the traps set up to catch the elf. Each one of the stanzas in the book tells a small story about the traps set to try and catch the elf. As the story goes on, the efforts of the children become greater and great until…
Everyone in the barn is anxiously awaiting the arrival of a special guest, but no one knows who the special guest is going to be. That is no one except the mouse. Kids will meet several of the barn animals as the mouse prepares to tell them who the special guest is going to be. Can you guess who it is?
As you likely know, bears hibernate in the winter, which for most, is when Christmas happens. So, what's a bear to do when he can't stay up for Christmas? He enlists the help of his friends to try and keep him awake. They go on a grand adventure to find a Christmas tree and of course needs to be decorated. They pop the popcorn, sing Christmas carols, and put in their best effort to keep the bear awake. This story shows an example of true friends who want to share a magical holiday with their great friend bear.
Christmas Books for Kids Ages 7-10
The Littlest Tree wants nothing more than for someone to take him home and decorate him. He wants the family to enjoy Christmas festivities by singing Christmas carols all together and enjoying Christmas morning as a family. As the days pass by leading up to Christmas, many families visit the Christmas tree stand and choose Christmas trees other than the Littles Tree. He begins to lose hope as Christmas Eve has arrived. As evening came, the Littlest Christmas Tree was left on the lot with only the man in charge. As the man began to leave, he sees the Littlest Tree and takes him home. Sweet Nathan is so excited when his poppa comes through the door with his very own Christmas tree. The Littlest Tree no longer feels little, but suddenly feels like the most important tree in the world.
Pinkalicious is at it again! She wants a pink Christmas tree for Christmas, but her family isn't so sure about their idea. Mom and dad finally see her side of the argument and the family celebrates Christmas around a pink Christmas tree. Even Santa had never seen a pink Christmas tree, but he loved the idea!
Growing up, the Berenstain Bears were one of my very favorites, and I am so glad I get to pass them down to my children. On this adventure, the bears are going to learn a big lesson about the joy of giving to others. They learn a tough lesson about not being so focused on themselves at Christmas but rather being joyful when sharing with others. Join the bears during their Christmas pageant and help your kids learn a simple lesson about giving.
Splat the cat wants to be excited about Christmas, but he isn't sure he's been good enough. So, in order to make sure Santa will bring him something really great, he does everything around the house without being asked. He waits up on Christmas night to tell Santa just how good he has been but somehow misses Santa in passing. So, does Splat get the Christmas present he's been wishing for? You'll have to read and see!
The Herdman family might just be the worst-behaved kids in history. They steal, they lie, and they disobey. And yet somehow, they managed to take over this year's Christmas pageant. When word gets out that the Herdman children are going to be the main characters in the pageant this year, everyone shows up to see just what they'll do. Yet, to everyone's surprise, the Christmas pageant turned out very different his year. Grab this book for the Christmas season and find out what happened!
Fancy Nancy is so excited to decorate the Christmas tree that they just can't wait for grandpa to arrive. They decorate it and put the magnificent Christmas tree topper on top. Everything is great until the dog accidentally knocks the tree down breaking the topper. When grandpa arrives, Fancy Nancy is devastated and sad to tell him the news. Instead of being upset, together they make a new one. One thing I love about this book is that they use a larger vocabulary, but they also explain what the words mean as well.
Without a doubt, this is one of my favorite Christmas stories. And, if you aren't aware, it has also been made into a movie. The story is about a boy who is struggling to believe in Santa. He desperately wants to, but he just can't. As the Polar Express rolls through one night, he climbs aboard. Children go on a grand adventure on the way to the North Pole. And, the first gift of Christmas is given, a bell from Santa's sleigh. But the boy just can't hear it because he doesn't believe in Santa. Grab this book to find out how the story ends. Your kids will LOVE it.
Oh, Mr. Grinch, why must you insist on trying to steal Christmas? He is a heartless Grinch who wants nothing more than to steal joy from everyone because he himself has none. That is until Cindy Lou-Who begins to tug on the Grinch's heartstrings. This is another Christmas classic your family is sure to enjoy.
There is nothing more classic than the A Charlie Brown Christmas. Charlie Brown and his friends seek out the true meaning of Christmas. Needless to say, they find it. And, if you haven't seen the movie, you're missing out. Grab the book AND the movie, and settle in one cold winter night for some Christmas fun with your family.
Do your kids like puzzles? Maybe they enjoy finding things that are hidden? This book is going to keep your kids busy for a while as they search through the pages looking for lists of hidden items.
If you find yourself trying to teach your children about God and Santa during the Christmas season, this is an excellent book to grab. It can be really tough explaining to your children the true meaning of Christmas when everything has become so commercialized. This beautifully written book does an excellent job sharing Christmas. A polar bear cub wants to find Santa, but instead, his mama bear takes him on a journey to find Jesus. And the ending, well, I'll leave that for you to enjoy with your family.
MORE Helpful Christmas Stuff
Stocking Stuffer Ideas for Toddlers
Awesome Christmas Gifts for Toddlers
Fun Baby's First Christmas Gifts
Which Kids Christmas Books Will You Choose?
There are so many incredible Christmas books, but I think these are the best Christmas books for kids. I wanted to sort them by age in hopes of making it easier for you to find what you're looking for. Do you have any other Christmas favorites I should add to this list? I would love for you to share them with me!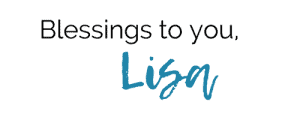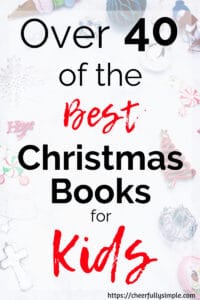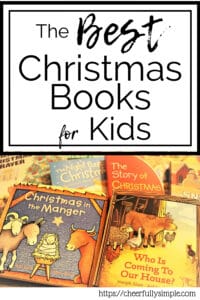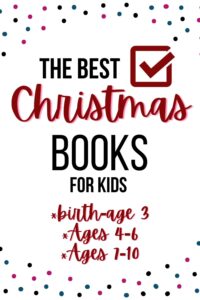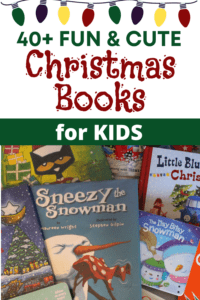 The owner of this website is a participant in the Amazon Services LLC Associates Program, an affiliate advertising program designed to provide a means for sites to earn advertising fees by advertising and linking to Amazon properties.
---