30 Fun Christmas Eve Activities for Families
Christmas is a time for family, friends, and fun. But what do you do when Christmas Eve rolls around and everyone is looking for something to do? Don't worry – I've got you covered!
I am going to share several fun activities that families can do together on Christmas Eve. From watching holiday movies to playing games, there is something for everyone! So read on to discover some fun Christmas Eve activities for families that will help make this your Christmas Eve the best ever!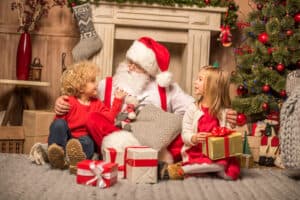 Here you'll find some new, fun Christmas Eve activities for families that you can enjoy this Christmas season with your kids.
*This post may contain affiliate links, which means I receive a small commission, at no extra cost to you, if you make a purchase using this link. I only recommend products I love or would personally use.
Christmas Eve Box
Wondering what I mean by Christmas Eve Box?
Honestly, this was new to me as well, but I love the idea of this Christmas Eve tradition.
Every year, you put together a Christmas Eve box for your family. Inside the box, you can put a new set of Christmas pajamas for everyone, some of your favorite Christmas snacks, a Christmas Eve book to read together, and your favorite Christmas movie. You open the box together on Christmas Eve, put on your cute Christmas pajamas, enjoy your Christmas snack, Christmas book, and Christmas movie. Voila, a new, fun Christmas Eve activity for your family.
Christmas Candle
This Christmas tradition is something we started doing as a family once we had kids.
It was a tradition for my husband's family, and we wanted to incorporate it as a fun Christmas tradition for our family.
Every night in the month of December leading up to Christmas, you light the candle at dinner and share something you're thankful for. While you're at it, you could also start the Christmas tradition of lighting an advent candle weekly and talking about the Christmas story.
Special Breakfast
Another tradition my husband's family did on Christmas Eve morning is breakfast and a movie. Every Christmas Eve morning, they would go to breakfast together and then see a movie at the local movie theater.
Maybe going out on Christmas Eve isn't your thing. In that case, it would be super fun to make a yummy Christmas Eve breakfast as a family.
Read the Christmas Story Together
As you're gearing up for Christmas morning, spend some time with your kids and family on Christmas Eve reading the Christmas story that tells of Jesus's birth. There is nothing more humbling than hearing the Christmas story read and having the chance to be grateful for the gift of Jesus.
"Golden Ticket" Scavenger Hunt
I LOVE this idea, and as our kids get older, it may become one of our family Christmas Eve activities.
If you have gold wrapping paper, you can use that, but really any Christmas wrapping paper would work.
All you need to do is put a special gift in a box, wrap it, and then hide it in your house. Everyone in your family will go on a scavenger hunt looking for the "golden ticket" box. You can make it special for one person and have it be a gift, or it could be something the whole family could enjoy like a fun activity out somewhere.
Set up a Nativity
Our kids have their own Fisher Price nativity set, but many families have a nativity set that has been passed down through the years. I love sitting with our kids and talking about the people and animals involved in the birth of Jesus. We also have this Melissa and Doug Nativity set as well.
Visit a Live Nativity
Just this past Christmas, we started a new Christmas Eve tradition and visited a live nativity. Our kids LOVED to see and pet the animals, and we loved having yet another opportunity to talk about the birth of Jesus and the gift he gave us.
Make a Birthday Cake for Jesus
Who doesn't like cake? One of the Christmas Eve desserts we make and share is a birthday cake for Jesus. Our kids do all the ingredients and mixing and then I bake the cake. The kids help decorate the cake and make it special for Jesus. On Christmas Day, we sing happy birthday to Jesus and eat the cake together.
Put a Special Ornament on the Christmas Tree
Does your family have a special family ornament? We have a special family ornament, and then each of our kids has their own special first Christmas ornament. Every year I take a picture of them putting their special Christmas ornament on the tree.
Have a Polar Express Night
Snuggly Christmas pajamas, hot cocoa, a yummy Christmas treat, and the Polar Express movie. This sounds like so much fun! You could also have a coloring activity of the Polar Express Train if you want to add something a little special. This Polar Express Bell and Ticket are amazing!
Go Ice Skating
If you have a place nearby where you can go ice skating, this is a fun activity for your family to do together on Christmas Eve. Take in the magic of Christmas together this year on the ice.
Share 3 Gifts
Keeping the Christmas Story of Jesus's birth at the forefront of your Christmas Eve celebration, you can share three gifts with one another. For some families, I know they only share 3 gifts, with the mindset that if it was good enough for baby Jesus, then it's good enough for their kids. We do 4 gifts- something they want, something they need, something they can wear, and something they can read, which reduces our Christmas spending too!
Watch Chrsitmas Movie
One thing I absolutely love to do during the Christmas season is to watch Christmas movies. I love to watch a Christmas movie with my family, and I also enjoy watching Christmas movies while wrapping Christmas gifts. My kidsLOVE to watch the movie ELF, but we also love the Christmas classics as well.
25 Books of Christmas
Not specific to Christmas Eve per-sey, reading a Christmas book every day leading up to Christmas Eve can be a lot of fun. You would take the books and wrap them in Christmas wrapping paper. Let your kids unwrap one each day and read the Christmas book together. If you're worried about the cost, try to find a second-hand book shop or resale. Here are my Favorite Kid's Christmas Books.
Decorate Christmas Cookies
One of my absolute favorite Christmas Eve activities is decorating Christmas cookies together. We do ours about a week before Christmas, but I know a lot of families like to bake Christmas cookies together on Christmas Eve. I LOVE this Christmas Cookie Cutter Set!
Sing Christmas Carols
Although it may sound cliche, some people really enjoy singing. If singing is your thing, maybe go caroling with your family in your neighborhood. You could also visit a soup kitchen at Christmas time and sing for them. Check out this list of Christmas song lyrics!
Visit a Christmas Eve Church Service
One of my favorite fun Christmas Eve activities for families is to attend a Christmas Eve church service. Our family really focuses on keeping Jesus's birth as the reason for Christmas. Christmas Eve candlelight service has always been something my family did growing up, and it's something we will continue to do when our kids get a little older. Right now, we attend the family Christmas Eve service that's earlier in the evening.
Drive Around to Look at Christmas Lights
Two words- CHRISTMAS LIGHTS!! There is something magical about Christmas lights that really brings joy to my heart. I love the simplicity of Christmas lights, but I also love it when people go all out decorating their house for Christmas. Hop in the car with your family and check out some local Christmas lights. Check out Christmas Light Finder and find some awesome Christmas lights near you!
Visit a Christmas Light Festival
We have several Christmas light festivals in our area. I know some businesses like zoos and amusement parks also have Christmas festivals where they decorate for Christmas. These are fantastic ideas for Christmas fun for families.
Have a Hot Chocolate Bar
I am NOT a coffee person, but hot chocolate is my jam! Give me a salted caramel hot chocolate and I am one happy girl. Creating a hot chocolate bar is super easy. All you need is some hot cocoa (either a mix or homemade), and then all of your favorite hot chocolate additions like peppermint sticks, mini chocolate chips, caramel, sea salt, marshmallows, and any other add-in you want in your Christmas hot chocolate.
Make a Gingerbread House
I have to admit- it has been a LONG time since I have made a gingerbread house. I know a lot of families like to have gingerbread house competitions at Christmastime, and this may very well be something we do when our kids get a bit older. There are some awesome Gingerbread House Kits you should totally check out if this is something you want to try this year. Check out this Lego kit!
Use NORAD to Track Santa Claus
Do your kids want to know where Santa is on Christmas Eve? Well, thanks to NORAD, you can totally track Santa all Christmas Eve night. Here is where you can use NORAD to track Santa!
Put Out Food for Santa's Reindeer
As your kids are patiently waiting for Santa to arrive on Christmas morning, prepare some reindeer food for Santa's reindeer on Christmas Eve. Santa's reindeer love carrots, or you can make this magical reindeer food.
Make a Special Family Meal
Do you have a meal that is special for your family? Maybe there was a special Christmas Eve meal you had as a family growing up. I know a lot of people who like to get Chinese takeout on Christmas Eve. Find a special Christmas Eve recipe and share it with your family.
Make a Christmas Craft
My kids LOVE crafts and Christmas, so when it comes to Christmas crafting as a family– we're there! Maybe use Pinterest to find some fun Christmas crafts for kids, or you can make things super simple and use one of these Christmas craft kits.
Wrap Christmas Presents
Depending on how your family does Christmas, you may be able to spend some time wrapping Christmas presents on Christmas Eve. This would be an awesome time to help each of your kids wrap their Christmas presents they plan to give.
Adopt a Family and Deliver Christmas Presents
Growing up, we always adopted a family at Christmas time. Our church had families in the community on a Giving Tree that we could choose to adopt. We would then go Christmas shopping as a family. We didn't get to personally deliver the Christmas gifts, but it always made us feel good knowing we were able to give some other kids a good Christmas.
Celebrate Christmas Eve with Extended Family
Depending on your family's Christmas Eve traditions, maybe you can spend some time with your extended family this Christmas Eve. If you have family traveling in from out of town, this would be a great time to select some of these fun Christmas Eve activities for families and have some fun together.
Finish Up Christmas Shopping
I make no judgments here! If you have some Christmas shopping to wrap up, load the family up in the car, and head out together. You can often find some really good deals on wrapping paper and Christmas supplies too!
Share What You're Thankful For Most
Although the last on the list, sharing what you're most thankful for on Christmas Eve is an amazing family activity. As you prepare for the hustle and bustle that Christmas can often bring, it's good to refocus your attention on Christmas Eve by having everyone share some things they are thankful for.
MORE Awesome Family Christmas Stuff
Christmas Activities for Families
Ways for Families to Volunteer at Christmas
The Best Christmas Books for Kids
How to Stretch Your Christmas Budget
Adorable Baby's First Christmas Gifts
What's your favorite Family Christmas Eve Tradition?
No matter how you choose to spend Christmas Eve, you can certainly find some fun Christmas Eve activities for families here as you prepare for the holiday season! Have fun and let me know what Christmas Eve traditions your family likes to do together.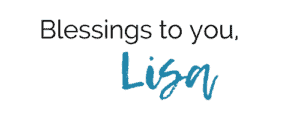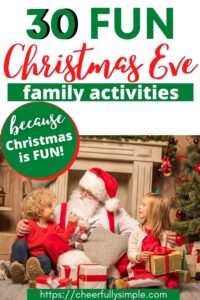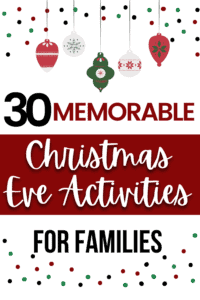 The owner of this website is a participant in the Amazon Services LLC Associates Program, an affiliate advertising program designed to provide a means for sites to earn advertising fees by advertising and linking to Amazon properties.
---