How to Stretch Your Frugal Christmas Budget
The holiday season is a time for giving, but it can also be a time of financial stress. If you're looking for ways to stretch your Christmas budget, you've come to the right place!
In this blog post, we will discuss 10 easy ways to save money during the holidays. So read on and get ready to put some extra cash in your pocket!
With a little bit of planning, you can stretch your frugal Christmas budget and make the most of your gift-giving potential.
*This post may contain affiliate links, which means I receive a small commission, at no extra cost to you, if you make a purchase using this link. I only recommend products I love or would personally use.
Simple Ways to Stretch Your Frugal Christmas Budget!
Make a list of who you're shopping for
This seems like a no-brainer when it comes to Christmas shopping, but I have joined the crowd for numerous years of those who go shopping without a list.
The first thing that happens is you will usually forget to buy a gift for someone.
Oops, been there, done that!
The second thing that is likely going to happen is you will overspend on some people, and then end up feeling the need to spend that same amount on everyone which will make you go over your already tight Christmas budget.
I would start by listing everyone you need to buy a Christmas gift for. Then I would take the total amount of money in your Christmas gift budget, and begin listing out the amounts you can spend on each person's Christmas gift.
This will help guide you in deciding what item(s) to purchase for each person on your Christmas shopping list. Another way this is beneficial is that by planning ahead, you can Christmas shop before things become crazy as we get closer to the holidays, and you will minimize the amount of time you are spending Christmas shopping.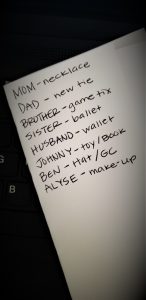 Begin watching for sales WAY before Christmas
Ok, so once you have your list prepared, begin watching for sales on things you want to buy as Christmas gifts.
There are several holidays that come up before Christmas and those are the perfect opportunities to shop for deals and get the most out of your frugal Christmas budget.
I do enjoy Christmas shopping, but I don't enjoy all of the crazy and cranky people that Christmas shopping brings out.
By shopping early for as many Christmas gifts as you can, you can enjoy the holidays more by knowing that your Christmas shopping is completed and that you saved time and hassle by getting it done early.
Looking for Toddler Gifts?: The Best Christmas Gifts for Toddlers (NOT all Toys!)
Decide what kind of Christmas gifts you want to buy
We always try to pick gifts that mean something. Sometimes we choose practical gifts like underwear. Sometimes we give consumable gifts like a jar of homemade jam.
Another type of gift we like to give our kids especially is the gift of a fun experience. The last type of gift we like to give is meaningful gifts, like making your own.
Make your own Christmas gifts
If you have kids, especially younger kids, this is a great Christmas gift opportunity for grandparents, aunts, and uncles! This will also help you budget for Christmas, and give something unique.
We have enjoyed making Christmas crafts with our kids– some we gave as gifts, and others we kept for ourselves.
They are only little once. We enjoy documenting this time and sharing it with those we love.
If you are a crafty person, this is an AMAZING way to give great Christmas gifts on a budget.
The best part about making and giving those gifts is that people usually seem to be very appreciative of the thought that went into the gift. Making Christmas gifts is a great way to save money too.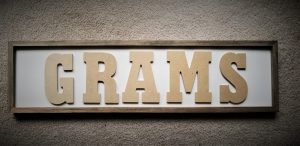 Skip eating out for a month
It's no secret that eating out can be really expensive. One simple way to boost your Christmas budget is to skip eating out for a month (or two). Then you can take all the money you've saved and put that money towards your Christmas spending.
Read This!: 4 Simple Ways to Reduce Christmas Spend Less on Your Kids
Start budgeting for Christmas at least 6 months in advance
Confession: one of the things we left out of our budget for the first several years of keeping a budget was Christmas gifts.
Why is that important?
If you are like us, and you have a very tight Christmas budget because your budget, in general, is tight (we are a one-income family), then it is critical to plan ahead for these big-budget items.
Weddings, anniversaries, birthdays, Christmas… they can all add up really quickly and when left out of the budget, you end up exceeding the amount of money you have to spend that year.
So, how to fix this?
Make sure you have a budget line in your annual budget for Christmas gifts. Think through who you are buying for, what celebrations you'll be buying gifts for, and where the money will be coming from for these gifts. It may also be helpful to have an idea of your Christmas budget per child.
If you have extra cash in your budget, consider yourself blessed.
If you don't have that extra money, it is super important that you start saving for your Christmas shopping now.
How can you do that without getting another job?
The best way I have found to do this is to cut out frivolous spending. Start by cutting out things like coffee out, going to the car wash, etc.
Here are two things that will help you stay organized. One is a Christmas budget printable, and the other is a Christmas budget spreadsheet. Be sure to print and use them!
4 gift rule for your kids
I'm not sure if you've heard of this before, but the 4 gift rule is, "Want, Need, Wear, Read".
What does that mean?
In order to stick with a frugal Christmas budget, this system only has you buying four gifts for your kids.
You would buy something they want, something they need, something they can wear, and something they can read.
This is new to me, but it is certainly something we might do with our children at some point in the near future.
And, if your kids are anything like ours, they get so many Christmas gifts from other people, that four gifts for each kid really is more than enough.
Do a family gift drawing
If you have a large family, then you know how quickly things can add up when you are buying a gift for EVERYONE!
One way to simplify this is to do a family gift drawing. In our family, we did one drawing for the adults, and one for the kids. That way each person only needed to buy one gift and they would get one gift in return.
Something else you could do is a white elephant gift exchange.
This is where you buy a gift, wrap it, and take it with you to your family Christmas. Each person draws a number (the amount of numbers is equivalent to the number of participants). The person who drew #1 gets to pick a gift to unwrap first.
This continues, and when someone wants to "steal a gift" from someone else they can.
Although there are many variations on this, it is super fun and each person ends up getting a gift.
Let your kids buy Christmas gifts with Their Own Money
Another way you can do Christmas on a budget is to have your kids buy or make their own gifts to give.
They can work to save money throughout the year and then they can go with you to buy gifts for the people they want to buy for.
This is an excellent way to teach them responsibility, as well as a way for you to not be purchasing the gifts they will be giving to others.
Volunteer together as a Family
There are so many INCREDIBLE non-profits that could really use more help. As I have gotten older I have really begun to realize the value of time.
Use this list of places to volunteer as a family this Christmas to help you find your special place!
Time is precious, and it is non-renewable.
It is a gift to be able to spend time with those you love and cherish, and volunteering together is a bonus gift that you are able to give to someone else.
I promise that if this is something your family is able to do, it will be hard to walk away feeling as though you gave your time and got nothing in return.
USE COUPONS!
If you have read any of my other posts related to money, then using coupons should come as no surprise!
Coupons are seriously just another form of money in our house. We use coupons the same way we would use cash, except it didn't cost us anything!
Not using coupons is seriously like throwing money right into the hands of those you are buying from. I don't know about you, but I would much rather keep that money for my own family.
If you really start to watch, there are coupons everywhere.
I have signed up for numerous retailers that I frequently shop at, and they often send really good coupons.
Another place to look for coupons is in your weekly paper. Many retailers even have coupons available in their stores right when you walk in.
Take advantage of all of these opportunities to use FREE MONEY! Coupons will greatly help you with your Christmas budget!
You can have an AMAZING Frugal Christmas on a Budget!
I hope you have been able to snag a few new ideas to help you set a reasonable Christmas budget before the holidays arrive. I hope you feel better knowing how to buy Christmas presents on a budget.
You have the chance to make the most of the next few months so that Christmas shopping doesn't have to be stressful because you chose to plan ahead!
MORE Helpful Christmas Posts
Christmas Want, Need, Wear, Read Gift Rule
Adorable Baby's First Christmas Gift Ideas
Must-Have Christmas Shirts for Moms
30 Fun Christmas Eve Activities for Families
Fun Family Things to do as a Family at Christmas
The Best Christmas Books for Kids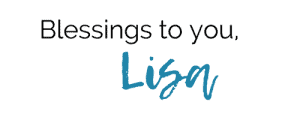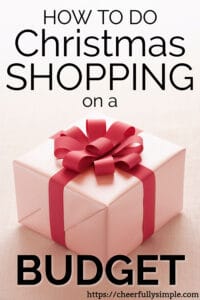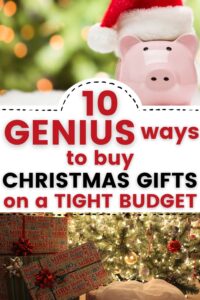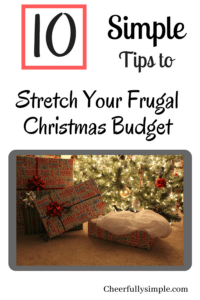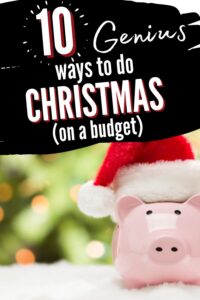 The owner of this website is a participant in the Amazon Services LLC Associates Program, an affiliate advertising program designed to provide a means for sites to earn advertising fees by advertising and linking to Amazon properties.
---