The Ultimate Gift Guide for Toddlers
Whether you're looking for the perfect toddler gift for a birthday present, a Christmas present, or something else, this gift guide for toddlers has you covered!
Everything you can think of from age-appropriate toys for toddlers, books, arts & crafts, building and creating, music, clothes and so much more can be found right here. This is your one-stop-shop for toddler gifts and the toddler who has everything.
*This post may contain affiliate links, which means I receive a small commission, at no extra cost to you, if you make a purchase using this link. I only recommend products I love or would personally use.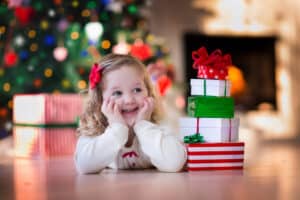 Toddler Must-Have Toys
Doodle Board
This CHUCHIK Magnetic Board is one of the more recent gifts we bought for our toddler. It is one of the creative gifts I remember playing with as a kid. I loved playing with the magnets and seeing if I could get every single part of the magnetic board to be black. Recommended for kids age 3 and older.


Baby Doll
Most little girls LOVE their baby dolls. Every baby doll is different and does different things and chances are, there are never enough. I can seriously still remember the smell of my Cabbage Patch Doll. Recommended for kids age 1 and older.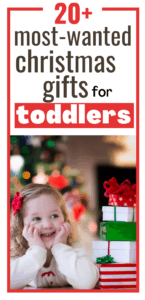 Tool Set
Perfect for boys (and girls!), this Play Toy Toolset is perfect for the little learner who wants to join along in the rough and tough fun of tools. Recommended for kids age 2 and older.
Magnatiles
Building blocks were always cool for me, but building blocks with magnets are even cooler. Even though Magnatiles is the big name associated with this type of toy, we have the Picasso Tiles brand tiles, and our kids LOVE THEM! Not to mention, they're less than half the price! These are one of the most useful gifts for toddlers because they will get used all the time! And, if you're Christmas shopping, this is one of the best Christmas gifts for families with toddlers! Recommended for kids age 3 and older.
Toy Dinosaurs
I may be a girl, but we still had toy dinosaurs when I was growing up. This 3 Bees & Me Toy Dinosaur Set combines the best of both worlds- dinosaurs and cars! Recommended for kids age 3 and older.

Building Blocks
I want to share three different building block options, and yes, we have all 3. The first is the Melissa and Doug Building Construction Blocks. Recommended for kids age 2 and older. They're large and easier for smaller kids to pick up and move one at a time. They're also incredibly light. The second is the Mega Blocks Big Blocks set. Recommended for kids age 1 and older. These are bright-colored, easy to connect, and disconnect and fun to build with because they stay together. The last set we have is the Melissa and Doug Wooden Block set. These are likely the traditional building block set you had as a kid. Recommended for kids age 3 and older.
Trucks
I LOVE the cars that you pull back and watch them go! Better yet when you can buy an entire set of Construction Vehicles Pull Back Toy Cars! I love that you get a variety of trucks and construction vehicles and for pretty cheap! Recommended for kids age 3 and older. If you're looking for something a little larger cars that toddler can push, you'd want to go with the Woby Push and Go Friction Powered Toy Cars. Recommended for kids age 18 months and older.
Dress Up Clothes
Toddlers love to dress up to be things they want to be. This DC Superhero Girls Dress Up Truck is perfect for the little superhero in your life. The princess who loves to act like royalty will love this Princess Costume. And then for the adventurous spirit, check out this Dress Up Truck Kit for the explorer, vet or scientist in your life.
Bubbles
Every toddler I have ever met LOVES bubbles. We have Bubble Wands, Bubble Tubs, if we had one, I can guarantee our kids would love this Froggy Bubble Machine. Recommended for kids age 3 and older.
Puzzles
I am incredibly grateful that our kids LOVE puzzles. They will sit down with a stack of puzzles and do every single one. Some puzzles have knobs which are great for the littles learners, and some are chunky pieces which are easy for a toddler to grab. Some of our favorite puzzles are Melissa and Doug Classic Peg Puzzles, Melissa and Doug Jumbo Farm Knob Puzzle, and the Dreampark Wooden Jigsaw Puzzle. Recommended for kids age 2 and older.
LeapFrog Magnet Bus
Our kids were given this LeapFrog Fridge Phonics Magnetic Letter Set, and it has been a favorite. Each letter has a catchy little song with the letter name and sound that the machine plays when the letter is placed on the bus and pushed. It also sings the complete alphabet. It is a FANTASTIC gift for any toddler to learn their alphabet. This is one of my favorite toddler educational toys on the market. Recommended for kids age 2 and older.
Play-Doh
I'm really not sure what childhood would be like without Play-Doh. Our kids love to play with this stuff, and every so often we add to the toy collection. We started with the Play-Doh Shape and Learn Letters and Language set and our kids LOVED IT! It's an excellent way for kids to learn their letters. We then added the Play-Doh Shape Making Machine, and then recently added the 2 0z Play-Doh Cans. Recommended for kids age 2 and older.
READ NEXT: Stocking Stuffer Ideas for Toddlers
Baking Tools
Check out this adorable JaxoJoy Complete Kids Cooking and Baking Set! How adorable is this for the little baker in your life! Then, take this gift to the next step with this Melissa and Doug Baking Play Set! Recommended for kids age 3 and older.
Little Tikes Car
Every toddler will love a Little Tikes Cozy Coupe! They're great from walking age through the preschool years! Recommended for kids age 18 months and older.

Big Wheels
Keeping with the car theme I have to add both the Radio Flyer Deluxe Big Flyer and the Radio Flyer Big Flyer in Pink. I LOVED playing on this tricycle as a kid and I'm sure your toddler will love it also! Recommended for kids age 3 and older.
Golf Set
If mommy or daddy golf, chances are you have a toddler who wants to golf just like them! Even though we don't have any avid golfers in our house, if we did, this ToyVelt Kids Golf Club Set would be my go-to. It's colorful, has several golf balls and clubs, and I think any kid would love it! Recommended for kids age 3 and older.
Picnic Table
Rounding out my favorite toy gifts is the Little Tikes Picnic Table. We had one of these growing up and we now have one for our own kids. The one thing I like about this is the shade the umbrella provides to give your kids a break from the sun. Recommended for kids age 2 and older.

Balance Bike
A super popular gift for toddlers is the balance bike. It is a great way for toddlers to learn how to ride a bike and maintain their balance. What a fun toddler gift! And yes, they have other colors! Recommended for kids age 18 months and older.

Razor Junior Lil Kick Scooter
How fun is this Razor Junior Lil Kick Scooter! Can you imagine your kiddo on this beginning scooter for toddlers? This particular one is recommended for kids 3 and older.

Scribble Scrubbie
Scribble Scrubbies are great for a toddler who loves to doodle. They are these cute little creatures that you write on with markers. The great part is that you can wash them and your toddler can write on them all over again. Recommended for kids age 3 and older.

Toddler Roller Coaster
One of my kids' favorite outdoor toddler toys is the ride-on roller coaster. THEY LOVE IT! You can also use it indoors if you have enough room. We have even taken it with us when we've traveled for vacation. Recommended for kids age 2 and older.

Non-Toy Toddler Gifts
Learning
One of toddlers favorite activities is to fidget. We gave our kids buckles to play with, and they loved them. This BuckleToy Buddy Backback is perfect for the toddler who loves to fidget. It teaches hand-eye coordination, kids learn their colors, and it can be used as a backpack. Recommended for kids age 2 and older. My First Touch and Feel Picture Cards are great for the little learner. You can work on things like colors, how things feel, as well as first words. Recommended for kids age 1 and older. Having a Wooden Activity Cube is a must for any toddler. We actually had two different wooden cubes because they were different and the kids loved them. Recommended for kids age 1 and older.
Music
I have two recommendations for music with kids. The first is to get the Melissa and Doug Band in a Box. It is FUN! We play with our kids and create our own little band. It may sound terrible, but our kids have learned the instrument names and know their sounds. Recommended for kids age 3 and older. The second instrument for toddlers is to get a guitar. We have the WEY & FLY Guitar for Kids. It's simple, easy to adjust the strings, and teaches kids the basics of an instrument. Recommended for kids age 3 and older.
READ NEXT: How to Stretch Your Christmas Budget!
What to Wear
I am a deal finder. But sometimes, that isn't possible and you need cute and functional toddler clothes. One of my favorite go-to clothing brands for toddlers is Simple Joys by Carter's. Carter's has a great reputation for creating quality kids clothes at reasonable prices. Some of my favorites are Simple Joys by Carter's Long Sleeve and Pants Sets, Simple Joys by Carter's Footed Pajamas Set, and Simple Joy's by Carter's Long Sleeve Set.
Artsy
Our kids love to doodle and do crafts. As a parent, give me all the crafting stuff over the television any day! That's why I love this Button Art Activity Set, and the Melissa and Doug Craft Kits. The button art is fantastic for learning colors and working on hand-eye coordination. Recommended for kids age 18 months and older. Melissa and Doug make fantastic products and there are all sorts of different crafts for kids, even birdhouses to build and decorate. (side note: Melissa and Doug have made a lot of money from us. I wish we were friends with them.) Recommended for kids age 4 and older. And lastly, check out this awesome Flip & Doodle Desk! I wish they made this in adult size. This flip and doodle desk is one of the most useful gifts for toddlers and is a great place for them to draw and do crafts while offering storage right on the unit. Recommended for kids age 4 and older.
Memberships
One of my favorite gifts our kids receive each year is a membership to the closest zoo. It allows us to give our kids an experience time and time again and the kids love it! Think of things like nature centers, aquariums, museums, water parks, amusement parks, etc. Memberships are a fantastic gift for a toddler who wants to learn and explore.
Gift Boxes
Did you know there are monthly gift box subscriptions for kids? Well, there are, and they're pretty amazing! If you have a child who likes nature or likes to tinker with things, or enjoys building things, there is one for all of them. I won't go into a TON of detail in this post, but check out my other post about all of the Monthly Gift Box Subscriptions and you'll find the perfect toddler gift.
Reading
One of the best things anyone can do for a child is read to them daily. It is the top influencer on how early and how well a child will read and fluently speak. Not the perfect parent by far, but we read to our kids a LOT, which means we have lots of books and visit the library often. I could seriously go on for DAYS about my favorite toddler books, but I will share my top 3. The first is Giraffes Can't Dance, and it teaches kids to not give up because others tell them they can't do something. Little Blue Truck is amazing and teaches kids to be kind even when others don't deserve it. And lastly, The Wonderful Things You Will Be teaches kids that they will do amazing things! Also, check out the best Christmas Books for Kids! These are the BEST interactive books for kids by age group!
Exercise
Every toddler I have EVER met loves you to move. I remember growing up and jumping on our trampoline as a kid, and our kids have one now. Recommended for kids age 3 and older. We didn't have anything fancy like these Tumbling Blocks, but we did have a tumbling mat right next to our trampoline. Recommended for kids age 9 months and older. And one thing we have down in our kids' play area is this set of Interlocking Letter and Number Foam Tiles.
This ball pit and jungle gym will keep your toddler occupied for a while! There are endless possibilities when your toddler uses their imagination while playing in this fun jungle gym. Recommended for kids age 1 and older.
Bath Supplies
Bath toys- can be every parent's worst nightmare. A quick bath can turn into a serious water fight. I am not the biggest fan of bath toys because they can grow mold, but I do have a few that I like and find value in. This Magnet Boat Set is a win in our house because they float well, they're magnetic and colorful and numbered. Recommended for kids age 2 and older. Every kid, boy, and girl alike can use the practice of hand-eye coordination with a Basketball Hoop and Ball Bath Set. Recommended for kids age 1 and older. And lastly, every kid can benefit from a Bathtub Alphabet Set. Recommended for kids age 3 and older.

Experience
One of my favorite gifts to give and receive even as an adult is a gift of doing something. Things like going to the ballet or a concert, taking a class, visiting a museum, tickets to an amusement park, sports lessons, or even a book subscription. All of these gifts will create memories for your toddler they'll never forget. And, a trip is one of the best gifts for toddlers who have everything.
Take a Trip
When you gift a trip to a child, it doesn't have to be a Disney trip which is the first to come to mind for most people. In my mind, a trip can be a big vacation, but it can also be something you don't normally get to do. I like to think of things within about a two-hour drive that would be new and exciting for our kids. It doesn't have to be expensive, or even an overnight stay (although I think those are more fun and less stressful). I think if you can be creative, this will be one of the most unique gifts for toddlers because it was planned by you!
Give a Pet
I saved this one for last because it might need to be discussed with parents first. If you are the parent, yay you! A pet allows a child to learn responsibility and have a companion. If you aren't up for something like a dog or cat, think of something simple like a fish.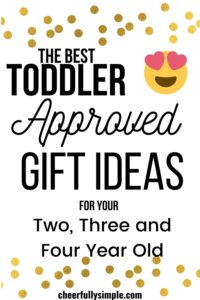 You'll Pick the Perfect Toddler Gift!
No matter what you pick, chances are, it's going to be a win for the toddler in your life. This gift guide for toddlers has so many DIFFERENT gift options there truly is the perfect toddler gift for every child!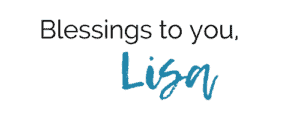 The owner of this website is a participant in the Amazon Services LLC Associates Program, an affiliate advertising program designed to provide a means for sites to earn advertising fees by advertising and linking to Amazon properties.
---