4 Ways to Reduce Christmas Spending on Your Kids
Have you found yourself sitting at your kitchen table trying to write out a budget of how much you're going to spend on each person for Christmas this year?
You list every person you want to buy for and as that list REALLY starts to grow, you start to wonder how on Earth you're going to afford all of the Christmas gifts.
Is it even possible to buy something for EVERYONE without busting your Christmas budget?
When I find myself in budget trouble, I have found the best way to you can make your Christmas budget work is to reduce Christmas spending on your kids. What does that look like? Great question!
Hopefully, you're operating from some type of budget, but even then, you know darn well that your Christmas budget is only going to stretch so far. So, you start giving a dollar amount to each person, trying to keep things fair as you go along.
And then, you get to your kids.
If you have one or two, it might not be so bad to think about spending even $100 on each kiddo.
However, if you have 4 or more, that $100 per kid thing might quickly make you want to hyperventilate.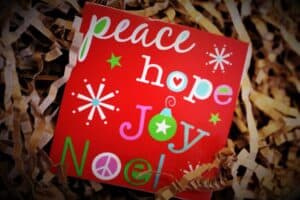 *This post may contain affiliate links, which means I receive a small commission, at no extra cost to you, if you make a purchase using this link. I only recommend products I love or would personally use.
So, how exactly do you reduce Christmas spending on your kids?
I mean, you don't want your kid to not get the "latest and greatest" toy under the Christmas tree. And they need to go back to school in a new outfit because everyone else will be wearing new clothes from Christmas.
So, how do you even begin to measure how much you can REALLY AFFORD for each person on your Christmas shopping list?
Here are some tips to help you spend less on your kids this Christmas.
The first thing I consider is how many people usually buy Christmas gifts for my kids. There are quite a few, and each person usually buys them between 2 and 4 gifts. Think grandparents, aunts, uncles, friends, etc.
So, if there are 6 people buying gifts for each of our kids, the minimum items coming into our house is about 12. This is if you only have 1 kiddo. As the number of kids increases, so does the number of Christmas gifts.
THAT'S A LOT!
So when I think about that number, it doesn't really make me feel so bad for not buying my kids A TON of Christmas gifts.
I mean really, how much do any of my kids really need?
The answer… not much.
So the fact that they're going to likely be bringing home more than 10 Christmas gifts BEFORE we even give our kids a single Christmas present means that we're KIND OF off the hook of spending a small fortune.
It is because of this that I am able to share some really great tips on how you can reduce Christmas spending on your kids.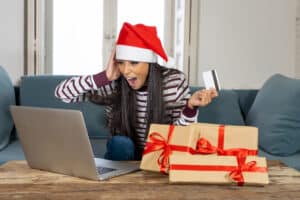 1. Ask Your Kids What They Want
It's likely you aren't going to have to ask them what they want because they've already told you ONE. HUNDRED. TIMES.
Take note of what Christmas gifts they have asked for and start watching for sales a few months BEFORE Christmas. There are often really great sales during several of the holidays leading up to Christmas.
And what's even crazier is that often times, those sales don't happen on Black Friday or even Cyber Monday. If you keep your eyes peeled, you can sometimes get great deals on popular items during non-peak shopping times.
Once you have an idea of what they want, decide which (1) "want" item you're going to buy for each of your kids. Then, reach out to the people who are buying gifts for your kids and share the other Christmas gift ideas on your kiddos "want list" with them.
Chances are, your kids are going to end up getting *MOST* of what they've asked for on their "want list", and the best part is, you aren't buying all of it!
This is the first step to reduce Christmas spending on your kids.
If you have a toddler like me, check out some of our favorite toddler toy and non-toy gifts!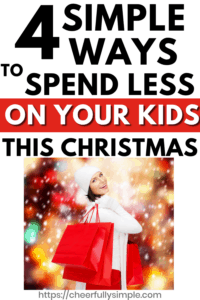 2. Think About What Your Kids REALLY Need
This one is the trickiest of all to me because I can't really say that my kids *need* anything.
However, I can think up some things they would benefit from having. They may need a new backpack, or a new pair of shoes, or even a bicycle, depending on their age.
If your kids are little, they may need some toys that are developmentally appropriate.
Or, if your kids are school age, then a need for them might be some flashcards, or new school supplies for the remainder of the school year.
Although this might not sound like a "fun" gift, this is your chance to make it fun.
Buy the glittery pack of pencils that you wouldn't normally buy. Or, buy a slightly more expensive pair of snow boots that weren't accounted for in the budget.
These are all great ideas of things your kids may "need" and could really benefit from.
Have Fun This Christmas!: Christmas Eve Activities for Families
3. Buy Some New Clothes for Your Kids
If your kids could use some new clothes, Christmas is a great time to buy them!
You as a parent are getting a 2-for-1 deal because you're able to gift them something you would've already been buying them.
MOM for the WIN!
But really, do it.
I've shared my tips on how to save money on kids' clothes to get name brand items for super cheap.
If you're like me and don't usually buy clothes at retail stores, then your kids will enjoy getting clothes from you guessed it… retail stores.
Buy them some *NEW* clothes.
If your kids are older, give them a Christmas gift card for their favorite store and let them pick their own clothes. The older kids get, the harder it is to please them because what you think is "in" may not be.
Buy what you can afford and teach your kids to be grateful for what they're given.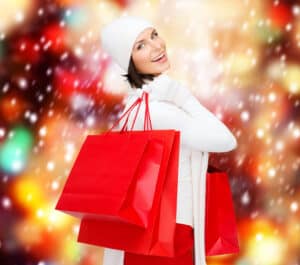 4. Pick A Few Books for Your Kids
I wasn't a huge fan of reading growing up. Even now as an adult I don't always enjoy reading.
But, I take my kids to the library several times a month and make it an exciting adventure.
We track their reading and they get prizes when their charts are full.
Yes, I'm a teacher, but I'm also a mom who knows the value of reading, and I want to instill a love for reading in my children.
I love giving my kids new books. There is something about flipping through the pages of a new book that is exciting for kids. Even some older kids enjoy getting a new book about something that interests them.
There are so many awesome series out for young people right now that it would be tough to find a kid who you can't buy a book for.
If you're unsure of what your kid might like to read… ask them. And if they say I don't know, ask again.
Eventually, they're going to give you some type of idea of what they like. Even if it might not be reading. I don't like to read, but sometimes I come across a good book I just can't put down. That's the kind of book you want to give to your kid for Christmas.
Start doing some research now so that you have plenty of time to find that perfect book for each of your kids.
Thankfully, books aren't terribly expensive so buying one or two for each kid is a great way to reduce Christmas spending on your kids. P.S. Here are my FAVORITE Christmas books for kids!
SUPER HELPFUL!: The Perfect Stocking Stuffers for Toddlers and Preschoolers
Let's Go Shopping!
Alright, so if you haven't caught onto this yet… each of the 4 gifts listed has a general theme that is going to be SUPER EASY for you to remember.
WANT. NEED. WEAR. READ.
They rhyme, and I love that. I can think through what Christmas gifts I've bought and I can be sure I've checked off one for each kid. This makes Christmas shopping MUCH easier.
I don't feel like I'm breaking the bank every year Christmas shopping for my own kids.
Back to the Christmas Budget
Alright, so to wrap this thing up, I want to go back to the numbers.
I talked about the importance of making sure you set a budget and stick with that budget. I also talked about how many Christmas presents each of your kids will likely get for Christmas in total.
As I mentioned before, chances are, your kids will likely be bringing home between 10 and 15 gifts from other friends and family. Add in your 4 gifts (WANT, NEED, WEAR, READ), and all of the sudden your kids will be getting close to 20 gifts for Christmas.
20 GIFTS FOR CHRISTMAS for EACH KID!
There are SO many kids who won't get anywhere near that for Christmas, and sometimes we teach our kids unrealistic expectations about Christmas.
Cut Christmas Spending on Your Kids and Save the Rest
That is the advice I have to share with you on how to reduce Christmas spending on your kids.
It is what we do as a family every Christmas, and I hope that it's something you can either adopt this year or adopt this concept in some way to help you meet the needs of your kids and your Christmas budget.
Christmas is exciting, but you certainly don't want to, and shouldn't have to be paying off Christmas into the new year. Make a plan and stick to it. You will thank yourself later.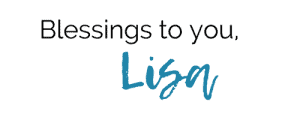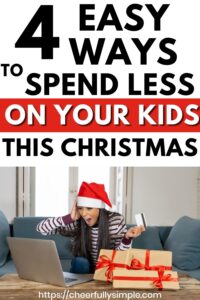 The owner of this website is a participant in the Amazon Services LLC Associates Program, an affiliate advertising program designed to provide a means for sites to earn advertising fees by advertising and linking to Amazon properties.
---