How to Plan a Baby Shower on a Budget
When I think of baby showers, I think of showering the mom-to-be with lots of fun, yet practical baby gifts, yummy food, a fun time with other women. And if the stars align, I might win a prize from winning one of the baby shower games.
If you're planning a baby shower on a budget, it's super important to keep those things in mind. You'll notice I didn't tell you that I think about how much someone spent on the invitations, decorations, or venue. To most women attending a baby shower, those things are irrelevant. After all, you're really only there to shower the mom-to-be with love, support, and of course awesome baby gifts.
Ya'll, when I had my first baby, I had 7 baby showers.
Yes, SEVEN!
We are incredibly blessed with amazing friends, family, and co-workers.
BUT, let me tell you this- every baby shower was special. All had different budgets. Some only had a cake. Some had fancy baby shower decorations.
It didn't matter to us.
We were celebrating the upcoming birth of our firstborn with the people who loved and supported us and that's what made them special.
A super awesome place to start when trying to plan a baby shower on a budget is your local dollar store. There are so many awesome deals that you'll either be able to use as-is or repurpose into something awesome to use for the baby showering you'll be hosting.
But, first, let's talk about how to prioritize your baby shower budget. You're obviously here for a reason because you want someone to tell you EXACTLY how to have a baby shower on a budget. What to buy, where to buy it, etc. I'm going to do my best to do that! I quickly want to throw in that I've created this awesome baby shower playlist just for you to create a fun baby shower atmosphere or use for a baby game!
*This post may contain affiliate links, which means I receive a small commission, at no extra cost to you, if you make a purchase using this link. I only recommend products I love or would personally use.
I'm going to create this baby shower example using a budget of $400, with a guest list of 20 people who will be attending. Obviously, your budget may be higher or lower, and your guest list may be larger or smaller, but I feel like this is a good median. This means you have about $8 to spend per person.
Here is the ideal budget breakdown.
Budget Breakdown for a Baby Shower on a Budget
Invitations

: 10% (could be cut with e-invites!) ~$40
Decorations

: 10% ~$40
Food/Drinks

: 40% ~$160
Yummy Treats

: 10% ~$40
Games and Prizes

: 15% ~$60
Favors for Guests

: 15% ~$60
Let's talk about this.
Baby Shower Invitations on a Budget
If you have a tech-savvy group of people, cut out the paper invitations. Think about it- how many baby shower invitations do you have around your house that were for someone else's baby shower. None. They end up in the trash anyway. If you HAVE to send baby shower invites, go for a super cheap, dollar store baby shower invite because chances are, no one is going to save it anyway. There are better places to spend your money.
If you're looking for ways to save on the planning aspect of the baby shower here are some things to consider:
Have a small baby shower and cut overlapping guests

: If you have guests who will be attending another baby shower for the mom-to-be, you may want to slim down your baby shower list. One baby shower is enough for each guest.

Invite mutual close friends to co-host

: If you've been asked to host a baby shower, or if you want to host a baby shower, but need help planning, or even to split the cost, consider asking a family member or a mutual friend to co-host the baby shower.

Let people who offer to help, help

: If someone asks if there is something they can help with for the baby shower, let them! Many hands make for light work. Think about the things you can pass off to someone else, and let someone else take some responsibility for hosting a great baby shower alongside you!

Host at a home

: You may not have the space to host the baby shower at your house, but maybe one of your co-hosts would be willing to host the baby shower at theirs. Or maybe someone has access to a free or cheap community building or clubhouse room.

Invite just the ladies, don't do a couples shower

: Although couples baby showers are becoming popular, they also add the expense of more guests. By inviting just the women, you essentially cut your cost in half!

Choose the time of day wisely

: One big thing when planning a baby shower on a budget is to choose a time of day that avoids traditional meal times. This will get rid of the expectation that you're going to be providing a full meal. Usually, this would be around 11 am where you'd serve a light brunch, or in the afternoon around 2 pm where you'd serve light refreshments.

Print your own baby shower invitations: You can print your own baby shower invitations for free at

The Yellow Birdhouse

. They're adorable and your only cost is your printing supplies and postage.
Baby Shower Decorations on a Budget
Next on the baby shower budget list is decorations. You absolutely want to have a cute baby shower for the expectant mom. This doesn't mean you need to spend a TON of money to have a cute baby shower theme. There are so many incredible tutorials on how to transform plastic tablecloths, balloons, and paper streamers into incredible baby shower decorations. You can also use things you may already have around the house like Mason jars, baskets, fake flowers, etc.
Here are some easy ways to decorate for a baby shower on a budget.
Use stuff you find outside

: If you have access to branches or flowers, you can create some really pretty baby shower decorations for cheap. Tree branches can be spray painted and used as table decorations. You can use acorns in glass jars to decorate for a fall-themed baby shower. Depending on the season, you can use beautiful flowers as table centerpieces.

Use kid's books as decorations and then give them as a gift to the mom-to-be: I love the idea of using interactive baby and kids books to decorate the tables at a baby shower. Put a couple of books on the table either lying down or standing up. Sprinkle some chocolate candies around the table, and voila- centerpieces that will be used!
Decorate with paper honeycombs and lanterns

: You can buy colorful paper honeycombs and paper lanterns at the dollar store. If you want to make your own, you can find

tutorials

for that as well!

Decorate with balloons

: I never realized this, but the dollar store has balloons, and sure enough, they're only $1. This is awesome for something like a baby shower because you can pay upwards of $3-$5 per balloon if you go to a party store.

Make a diaper cake

: If you want to buy some diapers as a baby gift, but you want to also use them for decorations, you can make

diaper cake centerpieces

.
Here is a sample of what types of fun things you can pick up at the dollar store, and how to easily decorate for a baby shower. PS, if you love the large baby blocks (at 4:52 in the video) she said she found on Amazon, you can find those here!
Baby Shower Food on a Budget
One of my favorite things about a baby shower is the snacks. I love to see all the different things people create. This doesn't mean you have to serve a 5-course meal by any means! A good baby shower food spread can have dips, a veggie tray, a fruit tray, maybe some lunch meat roll-ups. If it's in the winter, you could even consider something like a fondue bar or a soup bar.
You can utilize whatever season you're currently in and go with the "serve yourself food bar" theme. As for drinks, I find no offense in someone having water, tea, coffee, and lemonade. All of these drinks are fairly cheap. Again, if it's winter, you could have a coffee, tea, or hot chocolate bar. If it's in the summer, you could have a tea and lemonade DIY bar. The possibilities are endless!
Here are some ways to reduce the amount of money you'll spend on baby shower food:
Have a no alcohol baby shower

: Even though you may want to have mimosas at the baby shower you're planning, alcohol can get expensive. If you choose to host a couples shower, consider skipping the alcohol altogether.

Make it a potluck shower

: Go with me here. If you have people coming to the shower who have asked to help, and are great cooks, ask them to participate in a potluck baby shower. Maybe you ask if they want to bring a soup, side, or dessert that goes along with the food theme for your baby shower! Some people may be offended by such a request, considering they

are

guests coming to a baby shower, but many others would be happy to help.

Try to have a build your own food bar

: I shared a lot of my thoughts about this already, but just keeping it on my list of ways to cut down the cost of a baby shower!

Cater something less expensive or do the food yourself

: If you're absolutely sold on having the baby shower catered, consider something less expensive. But, if you're a DIY kind of gal, you can buy trays of sub sandwiches for fairly cheap at your local warehouse store, as well as pre-made veggie and fruit trays and large bags of chips and dips. This would be a simple baby shower food spread.

Show at a warehouse store

: Shopping in bulk at a warehouse store will help cut your baby shower cost. If you don't have a membership, you can ask around, because chances are, someone you know can get you in. I do think buying utensils, silverware, plates, napkins, and cups would still be cheaper to buy at the dollar store.
Baby Shower Desserts on a Budget
Playing off of the food theme, I love all things dessert. You can make some lovely desserts for super cheap! Playing off the "bar" theme, you could do a DIY cupcake bar with a couple of different flavors of cake and they can decorate with their own toppings. You could do a simple cake with minimal decorations. You could even do a cookie bar with a variety of homemade cookies. And, since you're planning a baby shower on a budget, ask some of your more crafty friends to bake a batch or two of their favorite kinds of cookies to share.
Baby Shower Games on a Budget
Baby shower games. Some people love them, other people loathe them. Think about your audience. If they aren't going to mind skipping the baby shower games, this is some extra money to put towards something else. If you want to have baby shower games, keep reading, because I am going to be sharing some fun (and cheap) baby shower games in a bit!
Guess the number of __ in the jar

Buy a pack of clothespins for the "don't say baby game"

Ball of yarn belly game
For prizes, you could do candles or a wine glass with candy in it
Baby Shower Favors on a Budget
Last, but certainly not the least important part of a baby shower is the baby shower favors. You can give a really neat baby shower favor without spending a small fortune. The dollar store is a great place to stroll through when trying to come up with a nice baby shower favor. There are really cute baskets, wine glasses, or storage containers that would only cost you a dollar. Buy a couple of bags of candy, maybe some cute ribbon, a pack of tiny nail polish bottles, and you have yourself a really cute baby shower favor. Don't overcomplicate the baby shower favor.
If you want some cute baby shower favors ideas that won't break the bank, here are some fun baby shower favors you can do.
Ready to pop popcorn w/candy bar

: A box of ready-to-pop popcorn packs are really cheap. Grab a variety of candy bars and tie one to each pack of popcorn with some cute ribbon.

Do a body scrub bar

: You can buy some adorable small glass jars with lids at the dollar store. Pair that with some sugar and olive oil or grapeseed oil. That combination is the base of your sugar scrub bar. Then, you can buy some essential oils like lavender, lemon, line, orange, etc. for your guests to create their own sugar scrub.

Nail polish to go

: You can pair a small bottle of nail polish together with a nail kit for each guest, wrapped in some cute ribbon.

Mini bottles of hand sanitizer

: Hand sanitizer is more popular than ever right now. If you can find some small bottles of scented hand sanitizer, paired with a candy bar or bottle of nail polish, that would make a cute baby shower favor.
DIY Baby Shower FAQ
How to Choose a Baby Shower Theme?
Here are some questions to help you choose a theme for the baby shower you're planning.
What colors does the mom-to-be prefer?

Do you know the baby's gender?

Are there animals the mom would like to incorporate?

Does the mom-to-be have a favorite kind of snack food?

Does she have a favorite kind of cake?

Does she prefer something inspired by nature?

Is there a certain type of pattern she likes?
When is the best time to host a baby shower?
The morning or afternoon are the two best times to host a baby shower. Avoid meal times so you don't feel the need to serve a full meal. This will help you to stay within your budget.
MORE Helpful Baby Posts:
The Best Baby Shower Gifts for New Moms
Top 10 Baby Necessities for First-Time Moms
Best Baby Memory Books and Calendars
When to Start Buying Baby Stuff!
10 Baby Gifts You Can Live Without
Without a doubt, you now have the best tools to plan a fun baby shower on a budget. What other awesome baby shower hacks are you using to craft a fun baby shower?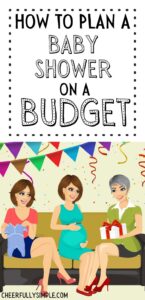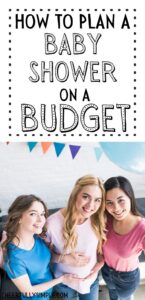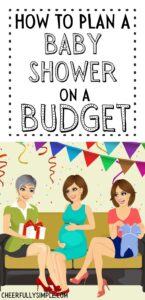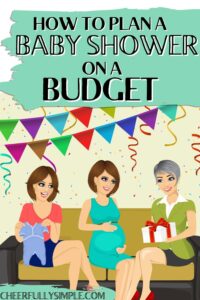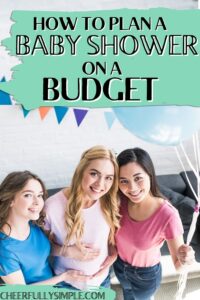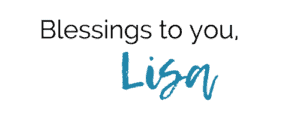 The owner of this website is a participant in the Amazon Services LLC Associates Program, an affiliate advertising program designed to provide a means for sites to earn advertising fees by advertising and linking to Amazon properties.
---