The Best Interactive Children's Books
Early literacy is one of the most important things you can do for your kids. Creating a love for books is going to do great things for your kids as they get older and develop their ability to read books on their own.
A great way to introduce books is with interactive children's books!
What is an interactive picture book for children?
An interactive picture book for children is exactly what it sounds like. Picture books are their own set of books. When you add interaction to the picture book, a child interacts with either the book, the person reading the book, or both.
Why are interactive books important?
There are some great developmental benefits for kids who are introduced to interactive books for kids at a young age. Some of these benefits are emotional, fine motor development, visual and auditory skills, and following directions.
How do I make storytime interactive?
Oftentimes, storybooks will tell you what activity to do with your kids. Some interactive kids' books will have your kids jump around, others will have your child use their finger to follow along with the actions given in the book. There are so many different types of things your kids can do with a storybook. Sometimes parents think reading an interactive book will be work to come up with an activity, but generally speaking, the book handles the interactive activity for you.
Types of Interactive Books for Kids
There are many activities within children's books that make them interactive. Things like pull tabs, pup-ups, moving parts, flaps, and more are examples of interactive books for kids. Board books, picture books, and picture storybooks are the types of interactive books you'll be using with very young children. As kids get older, you'll move into the beginning reader type books. Today, we're just looking at interactive books for babies through early elementary.
*This post may contain affiliate links, which means I receive a small commission, at no extra cost to you, if you make a purchase using this link. I only recommend products I love or would personally use.
Best Interactive Books for Babies
Peek a Who? by Nina Laden
Peek a Who? is an adorable interactive book for babies that is filled with bright colors. Your baby will love having you read this interactive rhyming book as you guess "who" is coming next.
My First Library by Wonder House Books
The My First Library Book set is the perfect book set for babies. You will work your way through the 10 books set as your baby hears about numbers, colors, birds, and more. The pages are colorful and sure to keep your babies attention as you build their vocabulary.
Babies in the Forest by Ginger Swift
Welcome your baby into the world of forest animals with this adorable Babies in the Forest board book. Inside this book, you'll find chunky flaps which are great for little hands to grab easily. This book is great for working on fine motor skills with your baby.
Sea Animal Fabric Cloth Book by bebe mondo
Inside the Sea Animal Fabric Cloth Book, you're baby will have the chance to lift the flap, play peek-a-boo, and crinkle the pages of this interactive baby book as they meet the animals of the sea. The best part about this baby book is that it is machine-washable!
The Very Hungry Caterpillar by Eric Carle
A classic, The Very Hungry Caterpillar is an interactive book for babies and toddlers that has easy-to-turn pages and is very catching to the eye. This colorful board book is a great story about a hungry little caterpillar and all the yummy foods he eats.
Where is Baby's Belly Button? by Karen Kats
Every baby loves to lift their shirt and show their belly button. Where's Baby's Belly Button? is a cute board book about finding the baby's different body parts, ultimately landing on finding the baby's belly button.
Wild Animals: A Touch and Feel Book by Little Hippo Books
Wild Animals is a touch and feel interactive book for babies. Babies will get to experience 5 different textures as you read this rhyming book to them. Lizard, Koala, Lion, Dolphin, and Elephant will soon be your baby's best friends!
See, Touch, Feel: A First Sensory Book by Roger Priddy
Roger Priddy makes some of the best interactive books for babies, and See, Touch, Feel is one of them! This interactive baby book will have your baby running their fingers along a trail, seeing themselves in a mirror, and touching different textures as they strengthen their fine motor skills.
Counting Kisses by Karen Katz
How many kisses does a sweet baby need? In this adorable counting book, Counting Kisses will have you kissing your sweet babe as you count down from 10.
Soft Baby Cloth Books by beiens Store
This set of Soft Baby Cloth Books are great for great interactive books for early development. Bright colors, crinkle fabric, squeakers, and more will activate your baby's curiosity as they use their fine motor skills to explore these adorable books that are washable!
My First Soft Book by teytoy
Another awesome set of interactive baby books is the My First Soft Book set. These machine-washable baby books will keep your baby entertained as they explore shapes, colors, fruits, and more. These make an excellent baby shower gift for a new mom!
40+ FUN INTERACTIVE INDOOR ACTIVITIES FOR KIDS!
Best Interactive Books for Toddlers
Press H

e

re

and

Mix It Up

by Herve Tullet
Press Here! is one of the most popular interactive books for toddlers. You'll set out on a fun journey with your toddler as they press the first yellow dot. Then something magical happens as your toddler follows directions and watches the dots change page by page. In Mix It Up, kids will learn about colors and mixing colors, but the best part is- there's no mess to clean up!
Flora and the Flamingo

, Flora and the Penguin, Flora and the Peacocks

by Molly Idle
This wordless picture book will have your toddler lifting the flaps and dancing around as Flora and the Flamingo learn to become friends while doing a beautiful dance together. After learning ballet Flora goes on an ice skating adventure with a penguin in Flora in the Penguin. Your toddler will be twirling, leaping, and jumping as you read this adorable interactive book. And yet another beautiful lift-the-flap book, Flora and the Peacocks will entertain your toddler as Flora learns that balancing two friends can be a bit more challenging, but also twice the fun.
Gallop! by Rufus Butler Seder
Gallop! is a great interactive book for busy toddlers. As you read through this book, your toddler will be galloping like a horse, flying like a butterfly, soaring like an eagle, and more. One of the most unique and captivating features of this children's book is how the animals appear to be moving with the scanimation. One of a kind for sure!
Can You Make a Happy Face? by Janice Behrens
Much as the name suggests, Can You Make a Happy Face? will have your toddler making all kinds of faces. Funny faces, sad faces, silly faces, and mad faces, your toddler will get a chance to explore lots of emotions while being silly and learning to read facial expressions.
From Head to Toe by Eric Carle
The perfect book for active toddlers, From Head to Toe will have your toddler acting like all kinds of animals. Get ready to see an elephant, a giraffe, and a monkey, as your toddler channels their inner animals while reading this colorful, interactive book.
Open Very Carefully: A Book with Bite by Nick Bromley
What would you do if you were reading a book and then all of a sudden, a CROCODILE appears? In Open Very Carefully: A Book with Bite, you're going to encounter a crocodile and your toddler is going to have to have a chance to help you get rid of it. Will you continue reading, or close it and let the crocodile be? This is an excellent interactive book for children!
Guess Which Hand by Hans Wilhelm
Nothing is better than playing the game of guess which hand, and every time, what is under the hand changes. In Guess Which Hand, not only does what is hiding change every time but also, you can change what the object is hiding behind. With endless possibilities, your toddler will love this interactive book.
Chomp Goes the Alligator by Matthew Van Fleet
Chomp Goes the Alligator will take your toddler on a fun adventure through the book as the alligator counts from one to ten. This interactive book for toddlers includes a variety of different textures, perfect for improving your child's fine motor skills. There is also a pull tab and a pop-up in this fun book!
TouchThinkLearn: Wiggles by Claire Zucchelli-Romer
TouchThinkLearn: Wiggles is an excellent interactive children's book if your toddler struggles to follow directions. In a simple, interactive format, children are asked to follow directions such as tracing lines, touching dots, and practicing their colors.
Hear Bear Roar by Eric Carle
If there is one thing toddlers love to do, it is push buttons. In Hear Bear Roar, toddlers will interact with the book as they learn about a variety of types of animals and the sounds they make. This book can be used independently or read with an adult, making it a great interactive book for toddlers.
HOW TO MAKE BIRTHDAYS SPECIAL AT HOME WITHOUT A PARTY!
Best Interactive Books for Preschoolers
Scribble Stones by Diane Alber
I love Scribble Stones because of the story it tells. Once a dull stone, a little stone realizes he can be so much more and gets the help of some colorful friends. This heartwarming interactive book is more than just a story because there is an art project at the end where your preschooler will get to make their own scribble stone.
Pete's a Pizza by William Steig
When Pete's dad notices he's bored with the rainy day, he's determined to make Pete laugh. Pete's a Pizza tells the story of Pete becoming a pizza. His dad sprinkles water on him to mimic the sauce, puts some checkers on to resemble pepperoni, and the story goes on. This is a fantastic interactive book for preschoolers because you too can turn your child into a yummy pizza!
The Book with No Pictures by B.J. Novak
Sure to make your preschooler crack up laughing, The Book with No Pictures is just that. You won't find a single picture in this book, only words. What makes this book fun is that no matter how ridiculously made up the words are, the reader still has to read every single word. Blurf, blork, glibbity, and blaggity are just a few of the silly things you'll be reading to your child!
Tap the Magic Tree by Christie Matheson
An excellent interactive book for preschoolers, Tap the Magic Tree will have your child playing along as they're asked to tap the tree to help the leaves grow. They'll also be asked to shake it, twist it, and maybe even give it a kiss as they make the magic tree grow.
Hoppity Frog by Emma Parrish
Where is that silly frog hiding? In the book Hoppity Frog, your preschooler will be searching for Hoppity Frog and will meet many of his friends along the way. If you're looking for a great book to encourage the use of fine motor skills, Hoppity Frog is perfect because your preschooler will be using multiple slides in this book.
Dance by Matthew Van Fleet
Do you have a little dancer at home? Dance is a great book about a baby chick who is learning some new dance moves from his friends. Shaking bopping, and bouncing, your preschooler will enjoy dancing and pulling the tabs in this fun interactive book for kids!
Hello Honeybees by Hannah Rogge
There's nothing I love more than a book that teaches as little ones play. Hello Honeybees will have your preschooler flying a honeybee through the stand-up hive as they learn about how honey is made and how a beehive works. This is an excellent learning book for preschoolers.
A is for Apple by Tiger Tales
A is for Apple is an interactive book for kids that allows them to practice tracing letters. Using a variety of senses and practicing fine motor skills, preschoolers will see objects that start with the learning letter, hear the sound the letter makes, as well as use their fingers to practice tracing the learning letter.
Don't Push the Button by Bill Cotter
A funny book for kids, Don't Push the Button is a fun book with only one rule- don't push the button. But, that button sure does look pretty neat, so maybe it's OK to only push it once. OH NO! What happened to Larry? Maybe you should push it again. Your kids will be cracking up laughing as Larry transforms with every push of the button.
Best Interactive Children's Books
How to Put Your Parents to Bed by Mylisa Larsen
As kids, sometimes you just want to stay up late. But your parents, they're looking awfully tired. In this fun, interactive book for children, they'll help their parents get to bed as they have them put their phones down, brush their teeth, and more. A silly book for kids, How to Put Your Parents to Bed is a fun book to read any time of the day.
Animal Kingdom by Best Learning
Animal Kingdom is an AMAZING interactive book for children that will teach about all kinds of animals, their sounds, appearance, habitats, and more. The book is colorful, beautifully illustrated, and will have your child using a variety of skills as they work through the pages of this fun book. One of the unique features of this interactive book is that it will quiz your kids to see what they've learned.
Ocean: A Photicular Book by Dan Kainen
By far, this is one of the COOLEST interactive books for kids I have EVER seen! Using unique technology, Ocean: A Photicular Book will introduce your child to all sorts of animals that live in the ocean, in a very unique and real way. A must-see, this book should be on every child's bookshelf! This is a very thick book. We borrowed ours from the public library.
A Perfectly Messed-Up Story by Patrick McDonnell
Poor Little Louie wants nothing more than his story to be perfect. But, in A Perfectly Messed-Up Story, Little Louie learns that not even a jelly stain can ruin his story, as his story is perfect as it should be.
The Big Book of Silly Jokes for Kids by Carole P. Roman
Even though kids think they're only telling silly jokes, they're actually improving their reading and comprehension skills. The Big Book of Silly Jokes for Kids is packed with over 800 jokes that will keep your kids entertained for a while!
The Color Monster: A Story About Emotions by Anna Llenas
I love when books serve more than one purpose. The Color Monster: A Story About Emotions is more than just an interactive book for kids. This is an excellent book for kids who are struggling with emotions. When the color monster wakes up one day and is having trouble showing how he feels, a friend helps him show his emotions through color. A genius idea for parents of kids who struggle with sharing their emotions.
The Ultimate Construction Site Book by Anne-Sophie Baumann
Flaps, pull tabs, pop-ups and rotating wheels will keep your kiddo busy for hours. If you have a child who likes to be busy, The Ultimate Construction Site Book is perfect for them. This interactive book for kids features a large variety of different construction sites where kids will learn what goes into the build.
What Should Danny Do? by Adir Levy
Do your kids struggle to understand that their actions have a direct impact on how their day goes? What Should Danny Do? is a great interactive book for children that features Danny as he encounters different choices throughout his day as a superhero in training. Kids will be working on improving their social-emotional skills without even realizing it!
The Eleventh Hour: A Curious Mystery by Graeme Base
Birthday parties are a lot of fun until someone eats all the food! Horace the Elephant is celebrating his birthday in the Eleventh Hour: A Curious Mystery when suddenly a mystery ensues. Can you help Horace and his exotic animal friends solve the mystery of who ate the birthday feast?
Which of these interactive children's books do you see your kids loving? We already have several of these, but they make excellent gifts for kids, whether for their birthday, a Christmas gift, or any other reason to celebrate with a new book.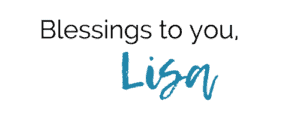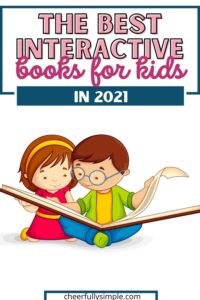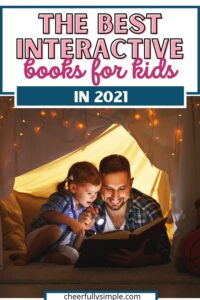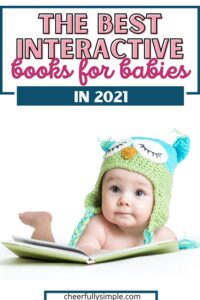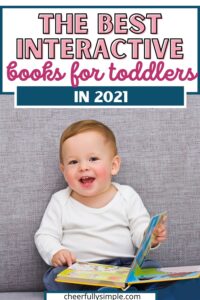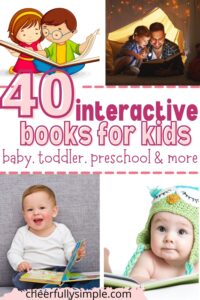 The owner of this website is a participant in the Amazon Services LLC Associates Program, an affiliate advertising program designed to provide a means for sites to earn advertising fees by advertising and linking to Amazon properties.
---