Thoughtful Gifts for a New Mom
She just survived all the ailments of pregnancy, endured birthing a baby, and gave you the greatest gift any human can.
How on Earth are you ever going to show her how much you love and appreciate her?
Having a baby is a lot of work for the mom-to-be. Show the new mom some love with these awesome gifts for a new mom from her husband. Some gifts are tangible things, while many others involve your time and energy.
As a husband, you want to show the love of your life how much you appreciate everything she has done to bring your baby into this world. The best gifts for new moms from husbands can range from a necklace to a housecleaner, to a spa day. Those are just a couple of thoughtful gifts, but as a mom myself, I have so many more to share.
Having a baby is EXHAUSTING. There is so much to learn and figure out that oftentimes a new mom can't even recognize her old life because everything has changed.
If there is a gift she has mentioned wanting to have, but couldn't justify spending the money, now may be the perfect time to give her that special gift. Here are some of the best gifts for new moms!
*This post may contain affiliate links, which means I receive a small commission, at no extra cost to you, if you make a purchase using this link. I only recommend products I love or would personally use.
The Gift of Time
One of the best gifts you can give a new mom is the gift of your time and energy. Having a baby is exhausting for a new mom physically, mentally, and emotionally. Having someone sit with the baby while she sleeps or take a shower is an incredible gift. And, you're also spending some time with her so she isn't alone. Spending time with your wife in the first few weeks of your baby's life is also important for your relationship as you begin to bond as a new family.
The Gift of Jewelry
Many husbands gift their wives a piece of jewelry after they give birth. It may be a necklace, bracelet or ring with a gemstone of the baby's birth month. Or it may be a piece of jewelry with the baby's name on it. A necklace that says "MOM" is also a special gift for new moms!
Care Set for New Moms
Microwavable Heated Slippers
Being comfortable is the name of the game during postpartum recovery. As her body is starting to heal and recover from pregnancy and birth, these Intelex Warmies Slippers would be a fantastic push present for a new mom. They are comfortable and will keep her feet warm during the late-night feeding sessions.
New Mom Gift Basket
If you aren't really sure what to buy her, you could always go with a pre-made gift for new moms. This Milky Chic Gift Box is a great gift basket for a new mom. It comes with a much-needed sleep mask, a bath bomb (when she's allowed to use it), a sugar scrub, postpartum tea, and a convenient mom planner.
Another amazing gift basket option is this Lavender Spa Gift Set. There are so many amazing things in here to help a new mom feel pampered. And, this is fantastic because she can use them whenever she wants and doesn't have to go anywhere. What an amazing surprise this would be to get in the mail!
There are also some INCREDIBLE artisans on Etsy who create AMAZING gift sets for new moms, like this adorable Mama Bear Comforting Gift Basket.
The Gift of Housecleaning
I can promise you that the last thing your wife is going to want to do after having a baby is clean the house. An incredible gift for your wife is to hire someone to clean your house for a month, or even a couple of months. It may be bi-weekly, or once a month, but having someone help with the housework is an amazing gift for a new mom.
Nursery Glider Gift for New Moms
If you haven't purchased all the furniture for your nursery, an awesome postpartum gift for your wife would be a comfortable nursery chair. You're both going to spend a lot of time sitting in the nursery rocking your baby. The gift of the perfect nursery chair will help your wife have a comfortable place to sit while snuggling your new baby. I've spent a lot of time researching and inspecting the best nursery chairs, so I can make it easy for you to find the right chair.
The Gift of a Comfortable Baby Carrier
Another way you will be spending a lot of time with your new baby is by holding your baby in a baby carrier. Each of my kids spent a lot of time in the carrier because it makes them feel secure and close to mom. Even if you already have one baby carrier, a different kind of baby carrier is still a great gift. We used the Ergobaby and the Moby Wrap with our kids. If you aren't sure which baby wrap to buy for your wife, you can check out the best baby carriers for new moms.
The Gift of Beautiful Flowers
Without a doubt, one of the most thoughtful gifts for new moms is flowers. They're beautiful, they smell good, and they make a new mom feel special. I especially loved being gifted flower planters, because cut flowers only last a week or two.
The Gift of Her Favorite Sweet Treat
One word.
HORMONES.
After having a baby, postpartum hormones are awful. Even the strongest women can be thrown for a loop with postpartum hormones. An amazing gift is her favorite treats. If she has a place she likes to get ice cream, buy it. If she has a favorite bakery, buy her a box of goodies. Anything that is going to bring a smile to her face and make her feel special.
The Gift of that Special Diaper Bag
There are SO MANY diaper bags to choose from, and there is a HUGE price range. It's likely you already have a diaper bag, but if there was a more expensive diaper bag that she really had her heart set on, but couldn't justify the price, you could buy that special diaper bag for her. Or, maybe she's struggling to adapt to having a baby and losing her identity to this new little person. If you want to get her a bag that can act as a diaper bag but doesn't look like one, these are my favorite diaper bag alternatives. Even though a special diaper bag to some, it may be important to her. Sometimes, the little things are actually really big things.
Helping Hand: Postpartum Doula
If you're a man reading this, it's likely you have no idea why your wife would need a postpartum doula because you have no idea what that is. A postpartum doula is someone who comes in to help your wife transition into the role of mom. They're around to help with things like feeding, helping find solutions to a fussy baby, helping with light housework, etc. You can search your area for local postpartum doulas.
The Gift of a Spa Day
Oh my goodness! A postpartum spa day is dreamy. To be able to take a few hours for yourself as a new mom is the bee's knees. Having a tiny human who constantly needs you, especially if you're breastfeeding, is so tiring. Thankfully, there are spas that specialize in postpartum care services such as massage, pedicures, and facials.
Gift Certificate to Her Favorite Salon
After a bit of time, she may be ready for some pampering. It sounds frivolous, but I wanted my hair longer for maternity pictures and then I wanted to cut it immediately after giving birth. If she goes to a salon, buy her a gift card so she can have her hair done. A refresh is amazing as a new mom!
Keepsake Gifts for New Moms
Willow Tree Figure
For Willow Tree Figures, you can choose from two designs for a new mom. The first is of a mother holding her new baby. The second is of new parents holding their baby. I was gifted both of these with my first bab, and they're special keepsakes I'll always treasure.
Professional Newborn/Family Photos
Memories are captured best in photos. An awesome gift for a new mom is family photos. You can throw in some newborn photos while you're at it too. Newborn family photos are priceless and an incredible investment for your new family.
Baby Handprint & Footprint Keepsake Frame
This Baby Keepsake Hand and Footprint Photo Frame Kit is a great gift for a new mom because it's a way to freeze time. One of my most treasured Christmas decorations is the Christmas ornaments of my kids' hands and footprints as a newborn. I love getting them out each year and remembering how tiny they once were.
Helpful Gifts for New Moms
I had no idea that something like this even existed, but this is amazing! If you have family who lives far away, or if you're going to be away from your wife and new baby, these Long-Distance Touch Lamps are a special way to let her know you're thinking of her. All you have to do is touch the lamp and it will light up so she knows you're on the other end sending happy thoughts her way.
Stainless Steel "Mom" Tumbler
Part of postpartum recovery is helping your body get rid of all the excess blood and fluid you once needed for your baby. As a new mom, she will be drinking a lot of water. A fun new mom tumbler is such a fun gift for a new mom.
Bamboo Bathtub Caddy
After my 6-week postpartum check-up, I was so excited to soak in a soothing bath. If you're bought her a spa gift set, or if she just likes to take baths, this Bamboo Bathtub Caddy is a great way to encourage the new mom to take time for herself.
Smart Watch
One of the hardest parts of going back to work after having a baby was feeling disconnected. I loved getting updates through the day from our babysitter, but I also wasn't able to be on my phone all day. If your wife doesn't already have a smartwatch, buy her one. This stylish Garmin Vivoactive 4S Smart Watch will help her feel more connected throughout the day. It's also great for feeding reminders during the first few weeks when you're so tired you can barely keep your eyes open. It was worth Every. Single. Penny.
A Comfy Bathrobe
If she doesn't have an amazing bathrobe to lounge around in, the Alexander Del Rossa Women's Warm Fleece Robe is a thoughtful gift for someone who just had a baby. When you just don't want to wear clothes, but you need to wear something, a bathrobe is a fantastic choice. This comfortable robe will not only keep her warm, but it's long enough for her to comfortably wear around the house and feel covered.
New Fancy Coffee Maker
Are you married to a coffee lover? Maybe she LOVES getting coffee at the local coffee shop on her way to work and that won't be happening anytime soon. The Cuisinart Coffee Center 12-Cup Coffeemaker and Single-Serve Brewer is a unique coffee maker because you can brew an entire pot of coffee or just a single-serve all from the same unit.
Essential Oil Diffuser
Maybe you still haven't found the perfect gift to give your wife after having a baby yet. A soothing gift for the postpartum weeks is an essential oil diffuser like the InnoGear Aromatherapy Essential Oil Diffuser. I love my essential oils and I diffuse them often. There are some really great essential oil blends that will help her through her postpartum recovery.
Instant Pot
You both ne3ed to eat, but you may not feel like cooking as you adjust to sleepless nights at home. If you can get groceries, get your wife an Instant Pot, like the Instant Pot Duo Plus 6 Quart
. It's a great starter Instant Pot. You can find TONS of recipes online. Basically, you can toss the ingredients inside and it will do all the cooking for you. They're a lifesaver for many new parents.
There are so many thoughtful gifts you can give a new mom. She will adore and appreciate anything you get for her, especially if you've taken the time to make it personal to the things she loves and appreciates most.
More AWESOME Baby Ideas!
The Best Baby Carriers for Petite Moms
When to Start Buying Baby Stuff
10 Things to Have Before Baby Arrives
The Best Baby Swings for Small Spaces
7 Baby Items You'll Use Into Childhood
The Best Baby Travel Systems for First-Time Parents
Baby Essentials List for the First Year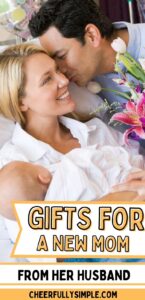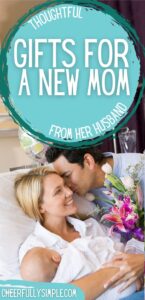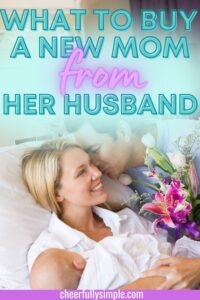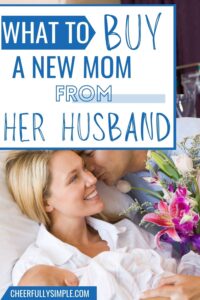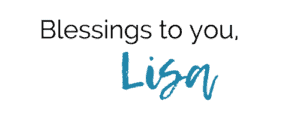 The owner of this website is a participant in the Amazon Services LLC Associates Program, an affiliate advertising program designed to provide a means for sites to earn advertising fees by advertising and linking to Amazon properties.
---