19 Fun and Frugal Fall Activities to Do With Kids
The Fall season is upon us and that means it's time to get your family outside and enjoy the crisp, cool air. However, there is a lot more to do than just rake leaves!
We are a frugal, budget-friendly family currently operating on one income. So, when it comes to most things we do, we do them on a budget. Now, don't be mistaken here, being on a budget doesn't have to be limiting. Sure, we aren't vacationing in Europe, but we are also enjoying this time at home with our kids.
Being creative with our budget has started to become a way of life for us, so I want to share with you some budget-friendly fall activities I am sure your family will LOVE!
When you're ready to enjoy the fall weather, check out these fun frugal fall activities for kids to do with their families!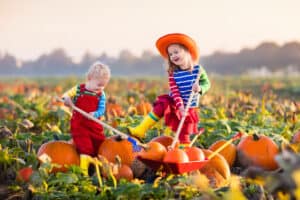 *This post may contain affiliate links, which means I receive a small commission, at no extra cost to you, if you make a purchase using this link. I only recommend products I love or would personally use.
Carve pumpkins together
a) Gather your pumpkin carving kit. Start by using the knife to peel off the top layer of orange skin. Then use either an electrical carving tool or a pointed object such as an ice pick or steak knife to create designs on the surface of the pumpkin. Finally, make sure you scrape out all of the pumpkin insides and put them in a bowl or garbage can for composting.
b) Place some orange pumpkin lights inside the pumpkin to make it glow at night! These remote lights are great because you won't have to stick your hand in the pumpkin. You can also set them on a timer and also choose from flicker or steady mode.
c) Use your imagination and pretend you're an artist by creating jack-o'-lanterns with faces that represent different emotions, to share with friends and family.
d) Make a jack-o'-lantern by painting the pumpkin with orange paint and drawing on it. Glue googly eyes, paper circles (to make teeth), black construction paper to outline features like eyebrows, nose, and mouth. Finally use white or yellow craft glue for accents such as eyelids, hair color, irises of the eyes, teeth, and tongues.
Go Trick or Treating
Dress up in your favorite Halloween costumes and head out for trick-or-treat on Halloween night. If that isn't your thing, you can take part in some trick-or-treat alternatives.
Read some Halloween Books
You can enjoy some family time this fall when you sit down to read some non-spooky Halloween books with your kids!
Make leaf art
a) Gather some old newspapers and a container of glue (or white glue). Start by tearing or cutting the newspaper into small pieces. Then, mix them with the glue in your container to create thick paper pulp. Next, use this mixture to cover an entire surface like construction paper or cardboard using a paintbrush
b) Let it dry and once it's dry, peel off the pulp to reveal a beautiful work of art.
c) Next use markers or paint pens to add other colors
d) Finally either hang your artwork up at home as a decoration or give them away as gifts!
e) Optional: Use large leaves (or leaf cutouts from paper or cardboard) to create a collage by arranging them on your surface.
f) Use leaves and flowers from plants in the yard as well for this art project
g) Optional: Put small pieces of newspaper pulp onto construction paper or cardboard, smear with glue and then leave it out to dry overnight. In the morning you will have beautiful leaf prints.
Go on hayrides
a) Head to your local pumpkin patch or apple farm and look for a hayride. Enjoy the crisp, fresh air as you're carried through fields of colorful leaves.
b) When you get off the ride go on a little scavenger hunt by looking under trees and bushes for clues that may help solve Halloween-themed word puzzles.
Halloween crafts with kids
a) Make ghostly finger puppets by securing googly eyes on craft foam hands traced out from a pattern. Then you can use markers, paint, or stickers to add features like a mouth and nose.
b) Create spooky window decorations by using black construction paper, scissors, and googly eyes to create cutouts of scary faces before attaching them with string or tape around the windows for everyone in the neighborhood to see!
c) Decorate jars with stickers and markers to create homemade jack-o'-lanterns. Fill the jar with candy, treats, or other small prizes.
d) For a fun craft activity, hunt for leaves around your neighborhood and use them as inspiration in an art project like leaf prints.
e) Make tree bark by adding brown paint and using your fingers to create lines up and down the paper. Then, use a crayon or marker to add eye holes for an adorable woodland creature.
f) Make leaf art by covering any surface with old newspapers mixed in glue (or white glue). When it dries, peel off the pulp to reveal beautiful work of art.
g) If you have the time and patience, try making a paper mache pumpkin or animal using glue to secure strips of newspaper onto construction paper. When it dries, paint as desired with acrylic paints!
Decorate your house for the Fall season
a) Putting up fall window clings or Halloween window clings (to create a festive fall scene).
b) Using a foam brush to paint concentric circles of orange and brown (optional: use other colors like red, yellow, or purple for an interesting design).
c) Stringing up fake leaves along the front porch. Use either large leaf cutouts from construction paper or cardboard, or real ones!
Cooking something Fall-themed
a) Try making pumpkin pie, apple cider, or other fall-themed treats. If you're feeling ambitious, make your own applesauce from scratch by cooking peeled and chopped apples in water (to prevent them from browning). When they are soft remove the skins before blending the mixture with some sweetener to taste!
b) Make a fun fall soup by cooking pumpkin (or sweet potato), apple cider, spices, and broth. Add some cinnamon sticks or cloves for extra flavor! Top with whipped cream and a sprinkle of nutmeg for an extra special touch!
c) For another cool fall dish, try grilling up some pumpkin seeds. Just lightly brush them with olive oil or melted butter before sprinkling on salt, pepper, or any other spices you like (optional: add finely chopped garlic, rosemary, or thyme)!
d) PS. Here is an extra little activity to do with those apples! This recipe is for Apple Crisp Shortbread Bars and they are the bee's knees! YOU MUST TRY THEM!!
Rake up the leaves and jump
Pitch in together as a family and rake leaves. Use big piles to build tiny houses, or even make leaf angels! If you have more time, try raking the leaves into large piles so they can decompose better – it will eventually be beautiful compost that you can use in your garden. You can also use these decorative leaf bags to put on your front lawn.
Have a Bonfire or Campout
a) Clear out space in your backyard and have some old-fashioned outdoor fun. Create cozy spaces by building fires, roasting marshmallows, or singing songs around the fire! Bring blankets to keep warm (or hot chocolate if it's cold!)
b) Set up a tent on the grass with friends who live in a similar neighborhood. Bring s'mores, flashlights, and anything else you need to keep yourselves entertained.
c) If it's nighttime when the weather is cooler outside, try sitting around a fire in your backyard with family or friends! You can roast marshmallows (you could even cook hot dogs!) and tell spooky stories all night long.
Visit the pumpkin patch
Plan a visit to your local pumpkin patch for some seasonal fun! You can pick out the perfect pumpkin, play games like corn hole or putt-putt, and enjoy delicious treats. Bring along friends or family members so you can make new memories with them this Fall season.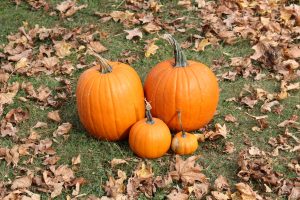 Visit a Corn Maze
One great thing about the pumpkin farm we visit every year is they have a corn maze on their property. There is an additional charge to participate in the maze, but it's not much.
They give you a card that you can use to earn a free pumpkin at the end. If you can manage to find all of the card stamping stations within the maze, you earn a free pumpkin when you leave.
This is super awesome because you get to do the fall maze with your family, and then the little pumpkin I mentioned before is now free.
Make a scarecrow
This is an activity that both the kids and adults can enjoy. The only supplies needed are straw, a wire hanger, old clothes, glue sticks, scissors, and markers or paint pens to decorate it with!
a) Use a wire hanger and piece of old clothing for the body.
b) Make two eye-holes by poking holes in construction paper with scissors, then tape it onto your scarecrow's face. You can also use buttons or large googly eyes instead!
c) Add straw arms using long pieces of dry grass or hay. Add a hat for decoration, if desired! Add some of your favorite scarecrow decorations, like a pumpkin or corn cob.
d) Add some flair with paint by painting the straw arms brown and then adding in green stripes for vines!
e) Decorate the hat – you can use construction paper to cut out leaves (or other fun shapes), glue them on, and use a marker or paint to add color.
f) Give him some teeth by drawing a mouth on construction paper, then cutting out strips of white tissue paper for the gums! Glue it all together with hot glue before attaching it to your scarecrow's head.
g) Add in details like buttons on his clothes or an old shoe for a hat.
h) Give him his own personality by drawing expressions on the construction paper eyes! You can also add in some string to make it more life-sized, or use clothespins on the end of two sticks as hands.
i) Add something that's unique about your scarecrow, like an extra eye, a lopsided hat, or mismatched clothes.
j) Give him an extra-long nose by cutting out construction paper for the shape of his nose and then adding in strips to droop down when you tape it onto your scarecrow's face!
k) Add some fun accessories like flowers on a string if he is holding something, or draw on a scarf.
l) Use some wood or straw for the base of your scarecrow if you want him to stand up!
Roast hot dogs and marshmallows over the bonfire
Roast some hot dogs over the campfire with friends or family members. If you find that your fire is getting too hot, add in a new log to cool it down before roasting! Grab a long stick or use some marshmallow roasting sticks.
You can also use marshmallows, which will melt in the heat and turn into "s'mores".
Hot Dogs: You could take a break from grilling to roast some hot dogs over the campfire. Use long pieces of wood for cooking skewers or metal rods (or the metal skewers that come with hot dogs) and roast them until the edges start to turn brown.
S'mores: Bring marshmallows, graham crackers, chocolate bars, or pieces of candy for a sweet treat! Roast your marshmallow over the fire on one end of a long piece of wood and then sandwich it between two graham crackers or pieces of candy. Add in some chocolate at the end!
Take a walk through the woods
a) Grab your family or friends and go for an autumnal hike in the woods. Find some colorful leaves to add to your leaf art, and feel the crunch of fallen leaves under your boots.
b) Take some time to enjoy nature by looking at the trees, drinking in their beauty.
c) Catch a glimpse of animals like squirrels or chipmunks running up tree trunks as you walk along. Listen out for birdsong!
d) You can bring a picnic lunch with you or stop along the way to enjoy a break.
Take Fall family photos
I know photos aren't everyone's "thing" but hear me out here. Our first baby was born in the fall, and we had a friend with a nice camera who was willing to come to take some family photos for us. (I mean come on, who doesn't want to take pictures of a cute new baby?!)
Fast forward. We have taken fall family photos every fall since then. Our same friend will hop in the car with us and snap some pictures for us. We love the fall colors and changing seasons, and we love to see how our family changes year after year.
Visit apple orchards
a) When you visit an apple orchard, pick up some fresh apples and try one of the many varieties available.
b) Harvest your own cider by pressing the juice out of chopped-up apples in a food processor or juicer! (Tip: if you don't have access to either, use old towels instead). Press and strain the juice through a cheesecloth or a strainer to remove any fruit particles.
c) Optional: Add some cloves, cinnamon sticks, and nutmeg for flavor before using it in your favorite apple recipe!
Bobbing for Apples
So, you have picked the apples, brought them home, and now it's time to have some fun. Grab a big bucket of water, or even a baby pool if you have one. Put some water in the bucket/pool, and drop some apples in. Have your kids go bobbing for apples. Better yet, have an apple bobbing contest where your entire family participates (yes, that means you too!). It doesn't cost a thing since you're going to use the apples so this is a win on my list of fall activities for kids!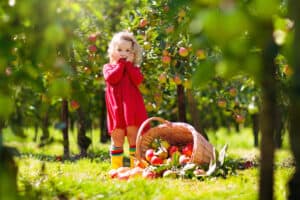 Make Caramel Apples
Apple picking sounds like so much fun to me, but what is even better is all of the activities you can do with the apples. When I was a kid growing up, I remember making caramel apples a couple of times. They are super yummy and really aren't all that bad for you.
Caramel is pretty easy to make. You will need a microwave-safe bowl, 2 tablespoons of milk, and one 14-oz bag of individually wrapped caramels. Unwrap the caramels, put them and the milk in the bowl. Place the bowl in the microwave for about two minutes, stirring once or twice. Once the caramel is melted, roll the apples (on wooden sticks) in the caramel, and place them on parchment paper to cool. You can even re-roll them once they dry. So good!
Visit a Sunflower Farm/Patch
This is another one of my bucket list items. We have a local sunflower farm here, and I am yet to make it there. I LOVE and enjoy flowers, and sunflowers are beautiful.
If you want to do a 2-for-1, take your fall family pictures with the sunflowers. Talk about an amazing setting to take memorable pictures!
I also know that a lot of times they will have different types of activities for kids. If they don't, I would encourage you to speak with someone there who can teach your kids a bit more about the flowers and how sunflower seeds begin with the flower and end up in a bag at the grocery store. They often love to talk about these types of things.
And, since you're going to be taking some really awesome pictures, this is another win on my list of cheap fall activities!
Go to a Local Football Game
I have a brother who is older than me and as a kid, I remember spending numerous Friday nights at football games. I didn't enjoy them so much as a kid because there wasn't really much to do there, but as I got older, I really enjoyed my time watching the games.
When I was old enough to know who the players were, I became even more interested in the game. So, if you have teenagers, this is a must for you!
There is just something about Friday nights under the stadium lights that feels like fall and home. I have so many fond memories of Friday night football games.
Maybe this can become a fun fall family activity for your family as well.
I hope this blog post has given you some ideas for what to do with your family during the fall. It is a time when families can enjoy each other and create memories that will last forever. What is your favorite fall family activity? Share it in the comments below!
MORE Helpful Family Posts
Super-Cute Halloween Costumes for Kids
Non-Spooky Halloween Books by Age Group
Outdoor Toys for Kids of All Ages
Must-Know Family Road Trip Tips and Tricks
Fun Preschool Board Games Even Parents Love!
Indoor Activities for Kids of ALL Ages!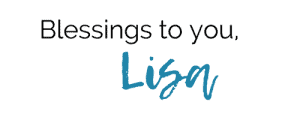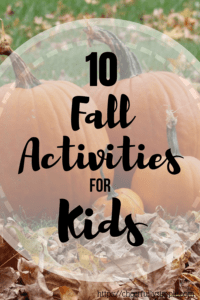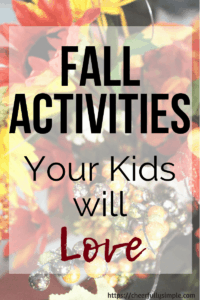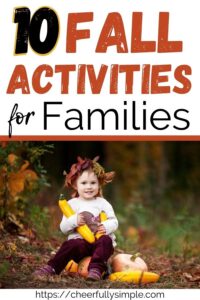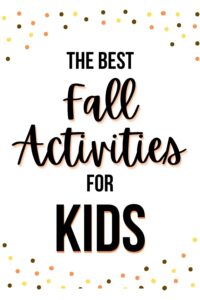 The owner of this website is a participant in the Amazon Services LLC Associates Program, an affiliate advertising program designed to provide a means for sites to earn advertising fees by advertising and linking to Amazon properties.
---