10 Frugal Fall Activities to Do With Kids
Fall is one of my favorite times of the year. The sights and smells do a body good. They are calming and relaxing and are a gentle reminder that change is on the horizon!
I love to sit out on my back porch with a warm caramel hot chocolate (sorry mommas, no coffee for this girl), take in the nice, crisp fall air, and enjoy the sound of the changing leaves blow in the gentle wind.
Ahhhhh.
But then…
Fall is also a time for back to school craziness, fall sports, and the list could go on.
All of this busyness actually nudges me to remember that this is a fun time of year and I want to spend as much time as I can outside with my family. I want to find as many frugal fall activities to do with my kids as I can because winter is right around the corner and I want to take advantage of all fall has to offer.
We are a frugal, budget-friendly family currently operating on one income. So, when it comes to most things we do, we do them on a budget. Now, don't be mistaken here, being on a budget doesn't have to be limiting. Sure, we aren't vacationing in Europe, but we are also enjoying this time at home with our kids.
Being creative with our budget has started to become a way of life for us, so I want to share with you some budget-friendly fall activities I am sure your family will LOVE!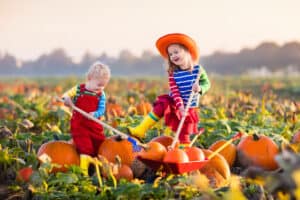 *This post may contain affiliate links, which means I receive a small commission, at no extra cost to you, if you make a purchase using this link. I only recommend products I love or would personally use.
1. Take Fall Family Photos
I know photos aren't everyone's "thing" but hear me out here. Our first baby was born in the fall, and we had a friend with a digital camera who was willing to come to take some family photos for us. (I mean come on, who doesn't want to take pictures of a cute new baby?!)
She wasn't expecting anything in return, but we took her out to lunch after our "photoshoot".
Fast forward. We have taken fall family photos every fall since then. Our same friend will hop in the car with us and snap some pictures for us. Her daughter comes with her now to help keep our kiddos in place during our shoot, but the memories captured in these pictures are priceless. We love the fall colors and changing seasons, and we love to see how our family changes year after year.
Ok, so this is one of my favorite fall activities to do with our kids! It is super cheap because we have awesome friends who love us and we take them to lunch in return for the awesome pictures they take of us.
2. Go to the Pumpkin Farm
EEEEEKKK! I LOVE the pumpkin farm. This is another one of the family traditions we do together every fall. We have pictures of our kids from their first trip to the pumpkin farm to this year's current trip. It is so much fun the older they get to watch them get excited about picking out their pumpkin, ok, sometimes pumpkin(S). But I mean really, how do you turn a kid down when we need a big one and a small one. You don't. Here's why. CRAFTS! Sure, carving the pumpkins is fun, but painting a glittering the baby pumpkins is another activity of its own.
So yes, let them pick a big and little pumpkin and snag another family craft day for cheap.
Picking pumpkins is another one of my favorite fall activities to do with our kids. Keep an eye out for pricing at the pumpkin patch. Some places charge by weight, and if you aren't sure how heavy your pumpkin is, err on the side of caution and get a smaller pumpkin if you're trying to stay within budget.
YAY Pumpkins!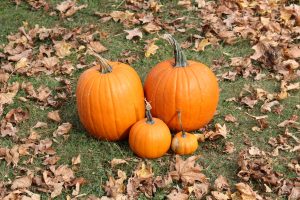 3. Visit a Corn Maze
One great thing about the pumpkin farm we visit every year is they have a corn maze on their property. There is an additional charge to participate in the maze, but it's not much.
They give you a card that you can use to earn a free pumpkin at the end. If you can manage to find all of the card stamping stations within the maze, you earn a free pumpkin when you leave.
This is super awesome because you get to do the fall maze with your family, and then the little pumpkin I mentioned before is now free.
READ NEXT: Fun & CHEAP Indoor Activities for Kids (by age group)!
4. Leaf Art
Just about everyone I know has access to leaves. And better yet, they're free. If you don't have any trees in your backyard, head to your local park and snag some leaves to take home with you. For this activity, all you'll need is some white paper, your leaves, and some crayons.
I like to use the traditional fall colored crayons, yellow, orange, brown, and red.
All you do is lay the leaf down on the table with the backside up. Put your paper down on the leaf and lightly scribble over the leaf. Voila!
The best part about this activity is that even the youngest of kids can participate.
This is a super cute, and SUPER cheap fall kids' activity.
READ NEXT: The Best Trick or Treat Alternatives for Halloween!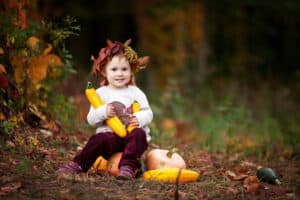 5. Visit an Apple Orchard
Alright, so this one is on my bucket list. I have picked blueberries and strawberries, but I am yet to pick apples.
So, this fall I hope to make it happen. I want to take my kids to the orchard to pick apples. We love and have made homemade apple butter and applesauce, but never from apples, we have picked. Applesauce is super easy to make if you've never done it.
Another thing I like to make is apple crisp. MMMMmmmm. The smell and taste are the essences of fall for me. Yum!
PS. Here is an extra little activity to do with those apples! This recipe is for Apple Crisp Shortbread Bars and they are the bee's knees! YOU MUST TRY THEM!!
6. Bobbing for Apples
So, you have picked the apples, brought them home, and now it's time to have some fun. Grab a big bucket of water, or even a baby pool if you have one. Put some water in the bucket/pool, and drop some apples in. Have your kids go bobbing for apples. Better yet, have an apple bobbing contest where your entire family participates (yes, that means you too!). It doesn't cost a thing since you're going to use the apples so this is a win on my list of fall activities for kids!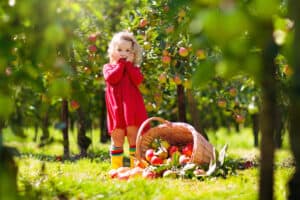 7. Make Caramel Apples
Apple picking sounds like so much fun to me, but what is even better is all of the activities you can do with the apples. When I was a kid growing up, I remember making caramel apples a couple of times. They are super yummy and really aren't all that bad for you.
Caramel is pretty easy to make. You will need a microwave-safe bowl, 2 tablespoons of milk, and one 14-oz bag of individually wrapped caramels. Unwrap the caramels, put them and the milk in the bowl. Place the bowl in the microwave for about two minutes, stirring once or twice. Once the caramel is melted, roll the apples (on wooden sticks) in the caramel, and place it on parchment paper to cool. You can even re-roll them once they dry. So good!
8. Visit a Sunflower Farm/Patch
This is another one of my bucket list items. We have a local sunflower farm here, and I am yet to make it there. I LOVE and enjoy flowers, and sunflowers are beautiful.
If you want to do a 2-for-1, take your fall family pictures with the sunflowers. Talk about an amazing setting to take memorable pictures!
I also know that a lot of times they will have different types of activities for kids. If they don't, I would encourage you to speak with someone there who can teach your kids a bit more about the flowers and how sunflower seeds begin with the flower and end up in a bag at the grocery store. They often love to talk about these types of things.
And, since you're going to be taking some really awesome pictures, this is another win on my list of cheap fall activities!
READ NEXT: The Best (NON-SPOOKY) Halloween Books for Kids by Age Group
9. Go to a Local Football Game
I have a brother who is older than me and as a kid, I remember spending numerous Friday nights at football games. I didn't enjoy them so much as a kid because there wasn't really much to do there, but as I got older, I really enjoyed my time watching the games.
When I was old enough to know who the players were, I became even more interested in the game. So, if you have teenagers, this is a must for you!
There is just something about Friday nights under the stadium lights that feels like fall and home. I have so many fond memories of Friday night football games.
Maybe this can become a fun fall family activity for your family as well.
10. Rake and Play in the Leaves
There is something about the crunch of dry leaves that screams, FALL! And then there is the yard covered in leaves that also screams, fall! I'll let you guess which one I get more excited about. Ha!
But, at the end of the day, the leaves must be raked and removed from our yard, so why not let the kids help and then play.
Our kids enjoy being outside and helping with chores around the house. (Don't worry, they aren't old enough yet to know any better!) So, we let them help.
Once the leaves are piled up nicely, we jump. Ok, so really our kids jump in them. And we re-rake and jump again. Jumping in the leaves and rolling around in them is something I have done since I was a kid myself. It is a fond memory that I want to give to my kids as well.
What is your family's FAVORITE FALL ACTIVITY?
Fall is a time that is meant to be enjoyed with your family. It is that quiet and calm time that happens between the busyness of summer and the beginning of school, and right before the craziness that is the holiday season.
So, pick a few of these frugal fall activities to do with kids, set aside a small budget, and go enjoy fall with your family!
MORE Helpful Family Posts
Outdoor Toys for Kids of All Ages
Must-Know Family Road Trip Tips and Tricks
Fun Summer Activities for Kids
Fun Preschool Board Games Even Parents Love!
Indoor Activities for Kids of ALL Ages!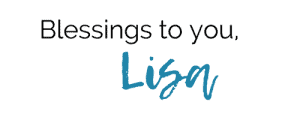 PS. If frugal living is your thing, make sure you snag some ideas from 10 Ways to Stretch Your Frugal Christmas Budget!
The owner of this website is a participant in the Amazon Services LLC Associates Program, an affiliate advertising program designed to provide a means for sites to earn advertising fees by advertising and linking to Amazon properties.
---