10 Most Popular Kids Halloween Costumes
Halloween is here are you'll want to make sure you have the most popular kids Halloween costumes of 2020!
Whether you're looking for a princess costume, a superhero costume, a baby costume, or the cutest unicorn costume, I've done the work for you!
*This post may contain affiliate links, which means I receive a small commission, at no extra cost to you, if you make a purchase using this link. I only recommend products I love or would personally use.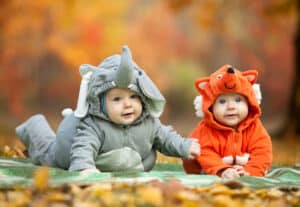 Cute Monkey Costume
How adorable is this baby monkey costume? Don't you just want to squeeze him?
Dumbo Elephant Costume
Ok, so there is baby elephant cute, and then there is baby Dumbo the Elephant costume cute! I LOVE this baby costume!
Astronaut Costume
For the cute little astronaut in your life, this astronaut costume is sure to please!
Unicorn Costume
Unicorns are all the rage right now! This adorable unicorn Halloween costume will be the hit of any Halloween Costume Party!

Read NEXT: The Best NON-SPOOKY Halloween Books!
Police Officer Costume
For the little police officer wannabe in your life, this Police Officer costume is not only great for Halloween, but also for everyday dress up as well!
T-REX Dinosaur Costume
These T-REX Dinosaur Costumes make me laugh every single year at Halloween. You need to know that this costume does have a fan inside that runs continuously to blow it up.

Gekko Costume from PJ Masks
PJ Masks is not a popular show in our house, but I know for some, it's a favorite. Check out this adorable Gekko costume from PJ Masks!
Read NEXT: The Best Alternatives to Trick or Treat!
Witch Costume
And then there is the infamous witch costume! This cute little witch costume is purple and black, the perfect Halloween colors!
Princess Costume
Almost every little girl dreams of being a princess. This pink princess costume will make her dreams of being a princess come true!
The Flash Superhero Costume
For the superhero in your life, check out this awesome The Flash Superhero costume.
Which popular kids Halloween costume will your kiddo be wearing for Halloween this year?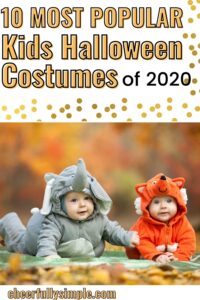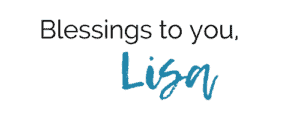 The owner of this website is a participant in the Amazon Services LLC Associates Program, an affiliate advertising program designed to provide a means for sites to earn advertising fees by advertising and linking to Amazon properties.
---