13 Halloween Trick or Treat Alternatives
Halloween can be a tricky holiday for many. Some choose to not celebrate because of religious concerns, while others are fearful their kids will not enjoy the Halloween fright. If you find yourself looking for trick or treat alternatives, this list will help you find several Halloween activities your kids will enjoy.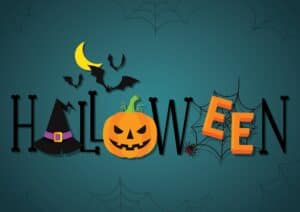 *This post may contain affiliate links, which means I receive a small commission, at no extra cost to you, if you make a purchase using this link. I only recommend products I love or would personally use.
Trick or Treat Alternatives
Do a treat scavenger hunt at your house.
Nothing says you can't have your own Halloween treat scavenger hunt at your house. This is a great alternative to trick or treating for Halloween. All you need are some fun non-scary Halloween costumes, some Halloween candy, and kids who are ready for some Halloween fun! Hide the candy around your house and let your kids go on a Halloween scavenger hunt.
Play dress up in costumes that aren't scary.
Most kids like to play dress up. Dressing up for Halloween doesn't have to be scary. There are some really cute Halloween costumes that aren't scary and your kids will likely love them! Princess costumes, Disney character costumes, video game costumes, even cute baby animal costumes. There is a Halloween costume for everyone.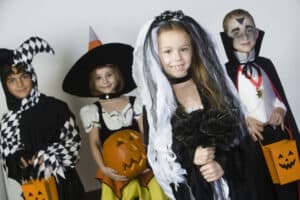 Have a fall party with friends.
Like I mentioned when I shared about my favorite fall family activities, there is something about the smell of fall that makes me heart happy. Bobbing for apples, painting pumpkins, and carving jack-o-lanterns are all great activities to include in your fall party with friends.
Have a family game night.
If it's been a while since your family has had a family game night, it's time to bring it back! Or, maybe this is the first time your kids have been old enough to play board games. Check out how to start a family game night. Then, check out these Halloween themed games! The Nightmare Before Christmas Monopoly, Ghosts Love Candy, Pin the Tail on the Pumpkin, Candy Corn Bowling Set, and Halloween Bingo.
Host a Halloween Game Night.
Once you have your Halloween-themes board games, you're ready to host a Halloween game night. Invite your closest family and friends, and enjoy a game night of Halloween fun that isn't spooky at all.
Read Halloween books together.
We read with our kids all the time! But, there is something special about going to the library to borrow books that go with the season or holiday. If you aren't sure which Halloween books to choose, I have shared my favorite Halloween books for kids!
Do a Halloween craft together.
You don't have to be crafty at all for your family to enjoy these super cute Halloween crafts.
Glitter Foam Halloween Stickers

Make a Halloween pinata.
Nothing says Halloween fun like a pinata filled with Halloween candy and small toys. Halloween trick or treat safety will not be a worry of yours as your kids are busting open their Halloween pinata!
You can fill your pinata with this awesome Halloween treat kit!

Go to a pumpkin patch and pick a pumpkin to carve or paint.
Visiting a pumpkin patch around Halloween is one of my favorite fall family activities. Take your kids to a pumpkin patch and let them choose a pumpkin or two. If your kids are little, you'll likely want to go the painting route. But as they get older and their pumpkin carving skills improve, you'll be amazed at what they can carve in their pumpkins.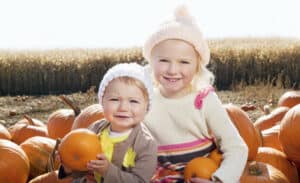 For less of a mess, use these adorable pumpkin decorating stickers!

Have a Halloween movie night.
There are so many cute Halloween movies for kids that aren't scary. Check out some of my personal favorites! Hocus Pocus (PG), Mickey Mouse Clubhouse Mickey's Treat, It's the Great Pumpkin Charlie Brown, Thomas and Friends Halloween Adventures and Percy's Ghostly Trick, and Spookly the Square Pumpkin.
Go to a Trunk or Treat.
A trunk or treat is a safe way for kids to trick or treat. Most often, you'll find a trunk or treat at one of your local churches. They're usually hosted in the parking lot. People open and decorate the trunks of their cars and give candy out to trick or treaters. Check this out if you're interested in starting a trunk or treat! Or if you'll be attending a trunk or treat, here are some trunk or treat decorating ideas.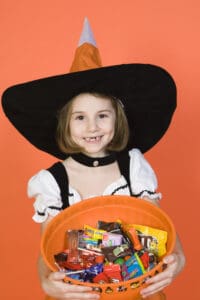 Create a Mason jar luminary or Halloween themed jar.
I like to have cute Halloween decorations with minimal prep time. You can paint Mason jars in such a way that you end up with adorable luminaries to line your sidewalk. Check out these Mason jar Halloween Crafts!
Pass out candy together.
If you're concerned about trick or treat safety, your kids don't want to go trick or treating, or you're just looking for something different this year, let your kids pass out candy this Halloween. This is the perfect trick or treat alternative.
Halloween can still be fun, even if you want to skip trick-or-treat this year. Grab a couple of these Halloween trick or treat alternatives, and your kids will still have some Halloween fun!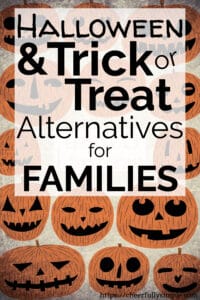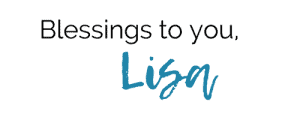 The owner of this website is a participant in the Amazon Services LLC Associates Program, an affiliate advertising program designed to provide a means for sites to earn advertising fees by advertising and linking to Amazon properties.
---