Fun Spring Break Staycation with Kids
If taking a spring break vacation with your kids isn't in the cards this year, creating a spring break staycation with kids is going to be awesome!
I have compiled a list of 25 last-minute spring break ideas you can do with your kids this year to make spring break fun and memorable.
Many of them are super simple and require no planning. Some are free or cheap and others aren't. There are some awesome spring break ideas for families on a budget, so I feel like I have offered something for everyone!
Spring break with kids isn't always easy, especially when their friends are going places and doing things your kids aren't going to do. So, if this type of thing isn't in your spring break plans, these last-minute spring break ideas may help you become the fun parent they need.
*This post may contain affiliate links, which means I receive a small commission, at no extra cost to you, if you make a purchase using this link. I only recommend products I love or would personally use.
Volunteer Together
Finding the perfect opportunity for your family to volunteer together might be just a click away. If you're ready to give back as a family, and you aren't sure of any places locally, I assure you, they're there. Many churches, food pantries, and clothing ministries are always looking for volunteers. If you need some help finding something near you, check out Volunteer Match!
Visit a National Park
If you're from the US, there are a TON of really incredible national parks! You don't need to make your trip completely educational, because after all, it's spring break, but a little education never hurt anyone!
Take a Day Trip
Is there someplace you've been wanting to visit but never seem to have the time? Make a day trip out of it while your kids are on spring break. It doesn't need to be fancy, but a little quality time in the car can go a long way. Find a neat place your kids will enjoy and make a spring break staycation trip out of it.
Have a Campout
Camping is one of my favorite things! There's nothing like the smell of a campfire, the taste of a s'more, and the beauty of the night sky. If the weather is too cold to camp outside, you can always create a campout inside too! Need a great family tent? Check out these awesome tents!
Have a Movie Marathon
If your family has some favorite movies, bust them out! Or, if you want to check out some new movies, take a visit to your local library, use Red Box, Netflix, or even Amazon Prime Video. There are a lot of choices, so sit down as a family and find a few that everyone will enjoy!
Check out Your Local Library
If it's been years since you've visited your local library, you really should take your kids and check it out. Our library does fun activities for free during spring break that are totally geared towards fun for your kids. Not to mention they could find some new books to read, movies to watch, or games to play.
Be a Tourist in Your Own City
We live semi-close to the main city in our area. And there is nothing we love more than checking out all the different things there are to do. Of course, our favorite is finding the best food, but there is plenty to do as well. Be a tourist in your own city and take a spring break staycation adventure.
If you aren't familiar with Pack Up + Go, you need to check them out. They will plan a staycation for you around your city, which takes all of the guesswork out of it and allows your family to enjoy a fun week on a low budget!
Create an Obstacle Course
No matter your kid's age, they're never too old for an obstacle course. Now, the level of intensity is going to vary based on their age but let them be a part of creating the obstacle course. Come up with some fun prizes too!
Build an Incredible Fort
Much like an obstacle course, building an awesome fort with your kids can be a lot of fun. If you don't get a chance to hang out with your kids very often, they'll likely be surprised you want to actually build a fort with them. Enjoy this time you have with them and build the biggest and best fort ever!
Create a Scavenger Hunt
Although scavenger hunts require some planning ahead of time, they can be the source of a LOT of fun. I love the rush of scavenger hunts and I'm sure your kids will too. You can do a scavenger hunt around your house or step it up a notch and create a scavenger hunt that will have you driving all over. I prefer driving all over because it's more of an adventure, but any scavenger hunt with your kids will do!
Home Depot DIY Class
Home Depot has awesome opportunities for kids to come in and build something. They're usually on the weekends, which is pretty convenient for parents. All you need to do is visit this site, enter your city, and see what's available. Even if there isn't anything offered during spring break, it's an activity you can do other times of the year.
Visit a New Park
If your kids enjoy playing outside, there is bound to be a park somewhere near you that they haven't been to. Find a couple of those parks, pack a lunch and go play for the day. Don't overcomplicate things!
Go to the Aquarium
I know not every city has an aquarium, but if you have one within driving distance, you should go check it out! Our kids love to go check out the fish.
Visit an Amusement Park
Again, I know not every city has an amusement park close, but I can almost guarantee you that your kids would love to ride some roller coasters. Most amusement parks even have an area specifically designed for younger kids if your kids are still little.
Go to the Children's Museum
Your kids don't have to be super small to appreciate a children's museum. The great part about most children's museums is that they can run around and be crazy. After being cooped up all winter, this is a great outlet for kids. Also, make sure you check the website of your favorite museum, because they may offer reciprocity at other museums closeby.
Visit the Zoo
You may feel like you live in the zoo daily, but I promise, you don't Take your wild kiddos out to check out the real wild animals at your local zoo. Most cities have a zoo nearby, even if it's not very big. Bonus points if you can find one that has a petting zoo.
Pack a Lunch and Take a Hike
One of the simplest activities you can do for spring break is to pack a lunch and go for a hike. Find a nature center close by and follow a trail. Take note of the intensity of the trail and don't do anything everyone in your family can't handle.
Check Out These 25 Fun Summer Activities for Kids
Spend the Night at a Hotel
If your family isn't "going anywhere" for spring break, it doesn't mean that your family's spring break staycation can't include a one-night stay at a hotel. Some hotels even have incredible water parks inside them. Take a look around and choose a hotel that offers more than just a place to stay.
Plan for a Garden
Our family plants a garden every single year and it's totally convenient that spring break usually falls right around the time we need to begin working the ground. If you've never planted a garden, this could be the year you earn your green thumb!
Create Your Own Pizza Night
It's no secret that I love food! And my kids love pizza. So, it only makes sense that I would add a create your own pizza night to this list of fun spring break staycation ideas! Let your kids go to the grocery with you and pick their toppings. If you do small pizzas, everyone can create their own.
Have a Family Game Night
I recently shared some awesome ideas on how to create a fun family game night at home. If you've never done a family game night at home, spring break is the perfect time to start one! these are some of the best board games for preschool-aged kids!
Play Laser Tag
One of my favorite things to do when I was a teenager was laser tag. If you have a small family, maybe invite another family to come along with you to make your laser tag experience more fun.
Do Indoor Rock Climbing
Have you ever been rock climbing? It can be a lot of fun. And chances are, your kids are going to enjoy rock climbing too. Most places don't require any fancy equipment but call ahead just to make sure.
Hang Out with Your Friends
If there is another family or two who your kids enjoy hanging out with, invite them over and have a grill out. Everyone can bring something to share and you can just enjoy a restful, fun time together.
Adopt a Pet
If you've been talking about adding a pet to your family, spring break is a great time to visit some local shelters and see some pets who need a loving home!
What is a Spring Break Staycation?
Taking a Spring Break vacation isn't always an option. But, you can always create a fun Spring Break staycation for your family. A Spring Break staycation means that you take advantage of some new activities near your house. You might go visit an amusement park, a new National Park you've never visited, or even find a place to volunteer with your kids.
Creating an awesome spring break with kids doesn't need to be complicated. Sometimes it's as simple as packing up a lunch and going somewhere.
Money doesn't have to become an issue with so many of these spring break activities being super cheap or even free!
MORE Helpful Family Posts
Fun Outdoor Toys for Kids of All Ages
Must-Know Family Road Trip Tips and Tricks
Fun Summer Activities for Kids
Fall Family Activities for CHEAP!
Fun Preschool Board Games Even Parents Love!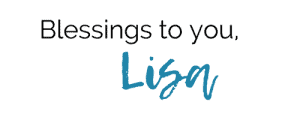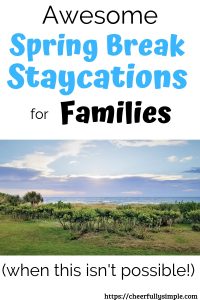 The owner of this website is a participant in the Amazon Services LLC Associates Program, an affiliate advertising program designed to provide a means for sites to earn advertising fees by advertising and linking to Amazon properties.
---