10 Cheap Toy Storage Ideas
When you're a parent, you know your kid will have toys and books.
BUT, there will come a day when you look around and see the insane mess that toys can make.
Not to worry, because there are some really great toy storage solutions.
If you're looking for some cheap toy storage ideas that are functional and have more than one purpose, you'll love these toy storage options!
*This post may contain affiliate links, which means I receive a small commission, at no extra cost to you, if you make a purchase using this link. I only recommend products I love or would personally use.
Flip Top Collapsible Toy Bin
There are so many great things about this collapsible toy storage bin. First, it's an attractive storage piece for your kid's toys, and could be used as toy storage in their room, or toy storage for a family room. Second, it has a top that can easily be removed or closed to hide the toy mess. Third, the entire thing can collapse down flat. And the last point I'll touch on is that it can be used for something other than toy storage once your kids are finished playing with toys.
Cube Shelves
We have toy storage in a 9 cube organizer shelf with bins. I love that the shelf is attractive and could be used in a common hangout place, or it could be used as toy storage for a kid's room. The shelves are easily removable, and there are two sizes that will accommodate large toys, as well as smaller toys.
Hanging Bookshelf Organizer Display
Books are VERY popular in our house and having a place for them to be stored is essential. I love having them stored off the shelves and floor with one of these hanging bookshelf organizer displays. This shelf is fastened to the wall safely, and provides great storage for kid's books.
Under the bed sliding storage
One of my absolute favorite toy storage solutions is this plastic under-the-bed storage bin. We currently have two of them under each bed. The toys are out of sight, yet easily accessible for our kids to find what they're looking for. For the time being, we have the lids off of them because it just makes it easier. Since I'm cheap, I am grateful this toy storage solution can be used for something else down the road.
Over the door shoe storage
If you're tired of having lots of little things ALL over the place, grab one of these over-the-door toy storage organizers. Obviously, it's shoe storage, but you can totally repurpose it to store your kid's toys. I love that you can see everything inside of the pockets, making it easy for your kid to find what they need.
Quick Cleanup Toy Storage Basket
My kids aren't really into the Lego phase, BUT, there are so many great ways to use this quick cleanup toy storage bin. The idea is simple- your kids can play and make a huge mess with all the little bitty toys, and then all you have to do is pull the string and slowly watch the sides pull together. You put the ball of toys into the toy storage bin, put the lid on, and just like that, the mess is picked up!
Mesh Hanging storage
If your kids are into stuffed animals, you need a mesh toy storage hammock. This is also an easy way to store toys if you have older and younger kids. You can put the toys in them that the littles can't play with, but the older kids will be able to reach them.
Toy Storage Ottoman
A fashionable toy storage option is this toy storage ottoman. This would be a great way to store your child's toys in the family room. It looks like a normal ottoman, but this storage ottoman can hold enough of your child's toys to keep them busy for a while.
Rope Baskets
Decorative storage bins are another cheap toy storage solution to store your kid's toys. This XXXL Large Cotton Rope Basket would be a great place to easily toss your child's toys for storage. It could be used in the playroom, a bedroom, or a family room.
Toy Storage Organizer
Another great cheap toy storage option would be these colorful toy storage bins. There are a couple of different color options for the bins and the wood, the idea is the same. The bins of this toy storage shelf can be easily removed for playing and put back for storage. You can also see there are a variety of bin sizes for storing large and small toys.
MORE Helpful Parenting Tips
The Best Interactive Books for Kids
Awesome Indoor Activities for Kids
Super Helpful Toddler Gift Guide
Preschool Board Games Parents Love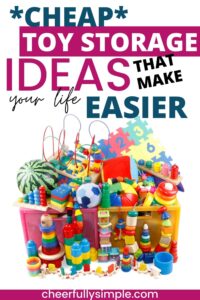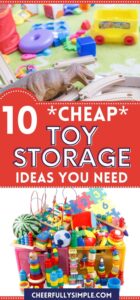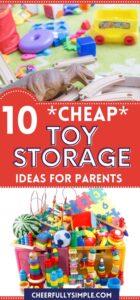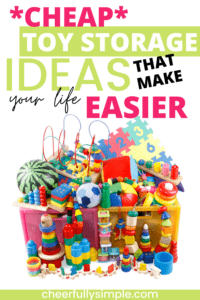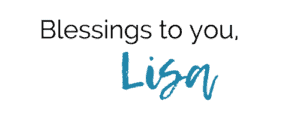 The owner of this website is a participant in the Amazon Services LLC Associates Program, an affiliate advertising program designed to provide a means for sites to earn advertising fees by advertising and linking to Amazon properties.
---