Must-Have Beach Essentials for Baby
A trip to the beach before kids was pretty simple.
But a trip to the beach with a baby becomes way more involved and will have you wondering what to bring to the beach for a baby!
It really can be simple to make the adjustment, with some simple help from a mom like me who knows all the tricks to make a trip to the beach super fun.
We have taken each of our babies to the beach and every trip has been enjoyable. You just need a few extra things. Check out these beach essentials for baby to make your baby beach trip much more enjoyable.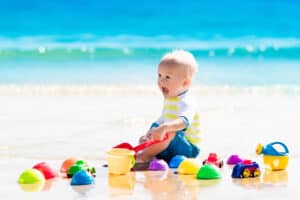 *This post may contain affiliate links, which means I receive a small commission, at no extra cost to you, if you make a purchase using this link. I only recommend products I love or would personally use.
Beach Essentials for Baby!
Baby-Safe Mineral Sunscreen
One of the most important beach baby essentials to grab is a baby-safe sunscreen. My favorite baby sunscreen brand is Blue Lizard Baby. Blue Lizard sunscreens are mineral-based. The way I understand it is that mineral-based sunscreens stay on the skin, protecting the skin by blocking the sun rays. Also, make sure to grab this Blue Lizard Face Stick.
Baby Swim Diapers
Another item to add to your baby beach list is swim diapers. No one likes floaties in the pool or ocean. Make sure to grab these Huggies Little Swimmers swim diapers! They're easy on and easy off and I've never had an issue with a leak.
Baby Beach Tent
When bringing your baby to the beach, one of the beach essentials for a baby that you'll want to take is a baby beach tent. I will admit, these things can be a MAJOR pain to put up, especially if it's windy. But, I will say that the convenience is worth the hassle. It's really nice to be able to have your baby nap on the beach or to breastfeed with a bit of cover.

Read Next: What to Bring When Flying with a Toddler
Baby Powder
Baby powder all of the sudden will become one of your favorite baby beach supplies. You need baby powder because it is fantastic for removing sand from the skin. Rather than feeling like you're giving your baby a rough exfoliation, be sure to grab some Johnson's baby powder.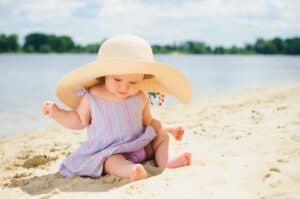 Puddle Jumper
Beach safety for babies is always at the top of every parent's list. One of the favorite pieces of beach gear for infants is a Puddle Jumper. My kids LOVE their puddle jumpers. They're so much better than the little arm swimmies in my opinion. Puddle Jumpers are made for kids who weigh 30-50 pounds. If your little one isn't quite there yet, read on, I have something else for you.
SPF Swimsuit and Baby Canopy Float
Two beach essentials for a baby are an SPF swimsuit and a baby canopy float. If your beach baby is younger than 6 months, they technically aren't supposed to have sunscreen on their skin yet. No worries! Grab one of these cute SPF swimsuits. Made specifically for babies, you can't go wrong. And while you're shopping for the best baby beach gear, grab a baby canopy float.
Read Next: Tips and Tricks for Road Trips with Kids
Beach Baby Carrier
Something that is new to me, but super awesome, is a beach baby carrier. I love my Ergobaby, and this concept of babywearing in the ocean is amazing.
Beach Toys for Babies
If your sweet beach baby is a little older, make sure you add some awesome baby beach toys to your baby beach bag checklist. Look for toys that are large, bright-colored, and easy to hold onto. These baby beach toys from 3 otters are some of my favorite.
Read Next: The Best Bathing Suits to Hide Stretch Marks
Large Beach Towel or Beach Blanket
Just my opinion, but I think every parent needs a large beach towel or large beach blanket. They are super convenient for so many reasons. An afternoon nap, a diaper change, a break from the sand, and so many other things will make you grateful you added this to your baby beach checklist.
A Cooler for the Beach
One of the last things I would recommend adding to your list of beach essentials for baby is a collapsible cooler made for the beach. If you have a younger baby, this cooler can hold a bottle of milk. If your baby is older, you can store snacks and drinks. This cooler will be super convenient so you aren't always running back inside to grab something.
Beach Essentials for Baby- Yes, You Need Them!
A trip to the beach with a baby is certainly more challenging than a trip sans baby. But, you'll make beautiful memories, and maybe even some funny ones. When we took our first baby to the beach, we ended up with pictures of the baby spitting out sand. They're comical, to say the least.
Enjoy your first trip to the beach, and make sure you've grabbed all the beach essentials for baby.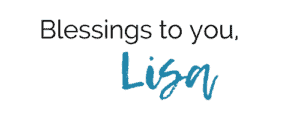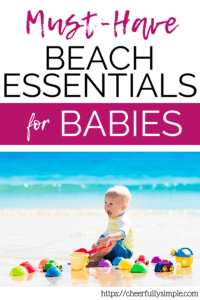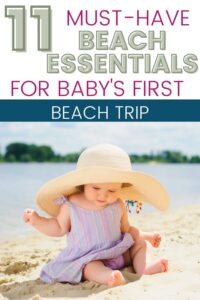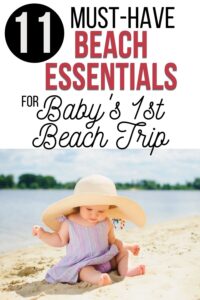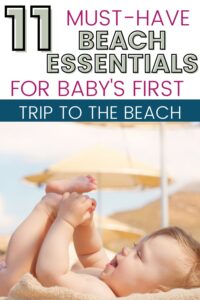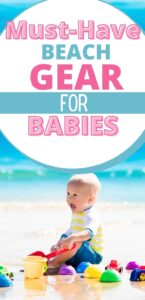 The owner of this website is a participant in the Amazon Services LLC Associates Program, an affiliate advertising program designed to provide a means for sites to earn advertising fees by advertising and linking to Amazon properties.
---