The Best Coolers for Breast Milk for New Moms
Whether you'll flying with breast milk, or just transporting your breast milk back and forth between work and home, you want to make sure you have one of the best coolers for breast milk because you don't want to spare a drop of your liquid gold.
It's important to have the best cooler for breast milk so that all your breast milk stays at the right temperature and travels well.
I'm going to share some of the things you need to consider before looking for the perfect milk cooler bag, and then we'll get right into the coolers.
If you have other questions about storing breast milk, I have an entire post where I share helpful tips for storing breast milk.
Keep scrolling past the cooler bags for other important questions about transporting breast milk.
What should you look for in a breast milk cooler?
Cooler Size
How many bottles do you need to fit in your cooler bag on a regular basis? Don't forget when looking for a cooler bag that you'll want to consider whether or not the ice pack is included or how much space it will take up once you do put one inside your bag.
Insulation
The most obvious factor in how long breast milk will stay cold or warm is how much insulation the cooler bag has. The more insulation, the longer you can expect the bag to maintain its temperature.
Price
Thankfully, breast milk cooler bags aren't all that expensive. Even the pricier bags are reasonable. But, if you're on a budget, you should absolutely consider one of the cheaper cooler bags.
How long will it keep cold?
Without a doubt, this is one of the most important factors to consider. I am including a snapshot of each cooler bag, but I encourage you to go to Amazon and read a page or two of the customer reviews. This will give you an even more in-depth idea of how long you can expect your breast milk to stay cold.
How does it cool?
Does the cooler bag you're looking at have an attached freezer pack or is it removable? Also, there are small hard-sided coolers that require electricity or battery to maintain their temperature. For the most part, the bags I have included here all require an ice pack of some sort.
Durability
Not all cooler bags are made the same. Some cooler bags are far more durable than others. If you know you're harder on bags, then you'll want to look for something with a more durable fabric that can handle being thrown around a bit more. If you tend to be pretty gentle with things, you have more flexibility in the type of bag you're looking for.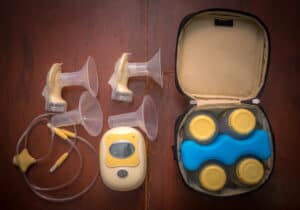 *This post may contain affiliate links, which means I receive a small commission, at no extra cost to you, if you make a purchase using this link. I only recommend products I love or would personally use.
The Best Coolers for Breast Milk
Here are the top breast milk coolers you'll want to consider!
Medela Breast Milk Bag with Ice Pack
This popular Medela Breast Milk Cooler is perfect if you're going to be pumping at work and need a small cooler bag for transporting your breastmilk back and forth between work and home.
Small and compact, this breast milk cooler also provides a contoured ice pack that allows baby bottles to fit directly up against the ice pack, keeping the breast milk colder for longer.
This cooler bag is designed to hold 4 5-oz bottles of breast milk. An added convenience is that they provide you with 4 Medela bottles with lids for easy use of this bag.
I know from personal experience, this bag can also hold 4 Spectra bottles easily as well.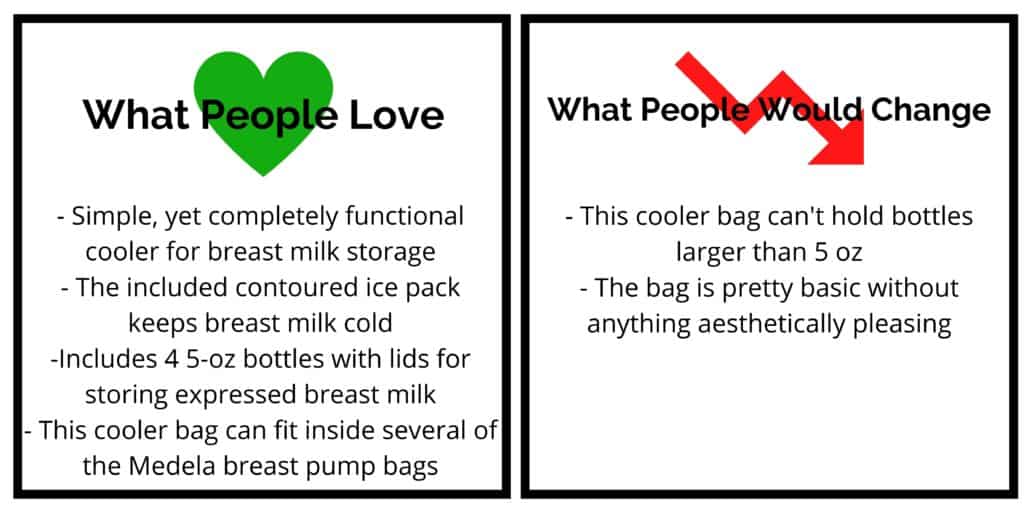 Kiinde Twist Breast Milk Storage Bag
I wish I could show you the inside of the Kiinde Twist Breast Milk Storage Bag, but if you use this breast milk storage system, this is the cooler bag for you. Designed to fit 6 Kiinde bags of breast milk, you won't have to worry about your breast milk spilling over in the bag. Even if you aren't specifically using that brand of breast milk bags, but you will be using breast milk bags in general, this is an awesome bag simply because it's designed to hold milk pouches.
This cooler bag is easily wipeable and comes with two large freezer packs. You can also take advantage of the outside back pocket in the bag.
The only drawback to this bag is that the ice packs aren't great quality and you may want to consider another type of cold pack.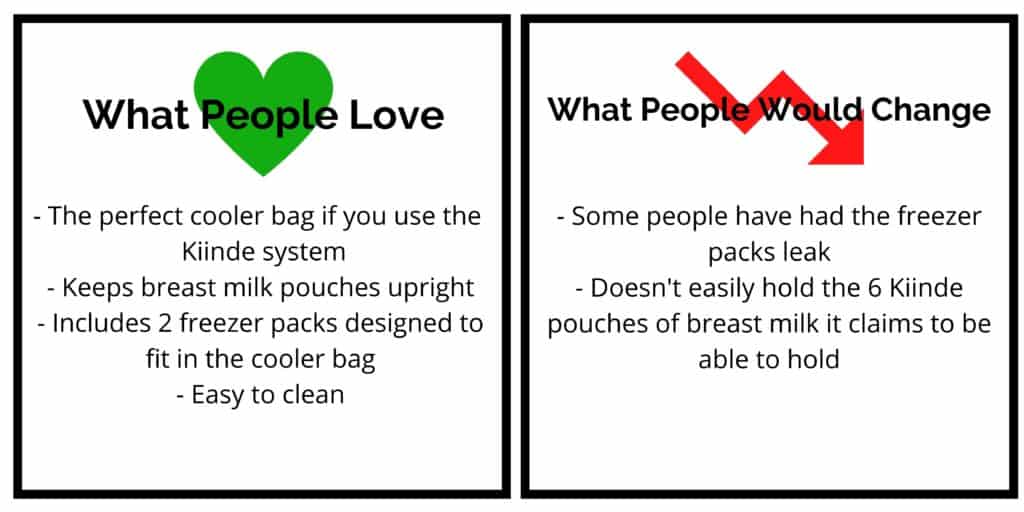 nanobebe Breast Milk Cooler
If you use nanobebe bottles, this breast milk cooler is a great cooler option for you. Built specifically to keep bottles in their upright position, this cooler bag can hold 3 nanobebe bottles of breast milk. Although you could use it for storing bags of breast milk, it isn't specifically designed for that.
If you need a bottle bag that is small, this is likely a great option for you. It does have a strap with velcro on it, which is great for storing the bag on a stroller. It does include an ice pack that is made specifically for this bag. Another added bonus is that it is machine washable.
If you're going to need to store more than 3 small nanobebe bottles, you'll want to find a larger storage bag.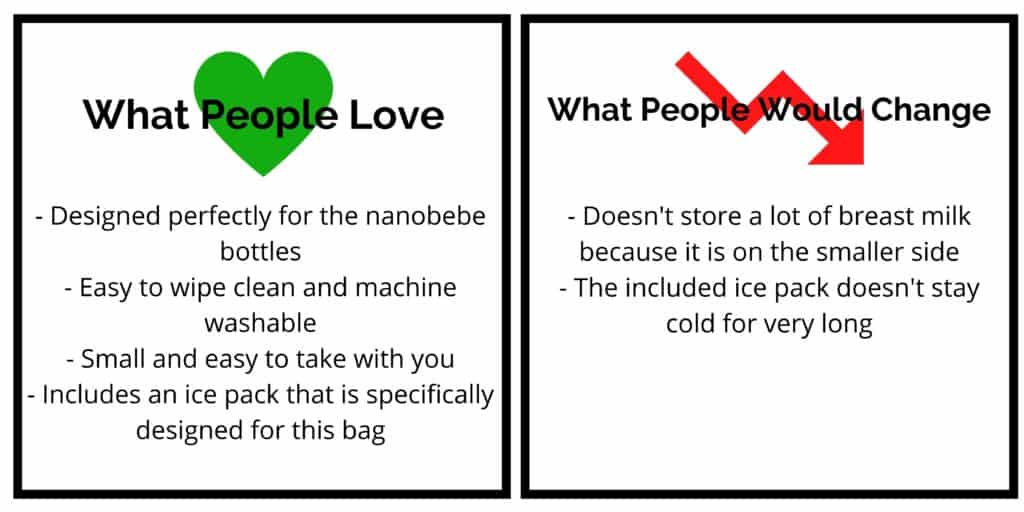 Tiblue Breast Milk Storage Bag
The Tiblue breast milk storage bag is a bit larger and can hold 6 smaller bottles, or 4 larger bottles.
This breast milk storage bag has a lot of really convenient features. It is made of fabric that wipes clean easily, has foam insulation to keep milk cold or warm, has a removable ice pack, and an extra pocket in the back for something like a set of keys or a cell phone.
I also love that this cooler bag has a strap that can be unbuckled to hang on the stroller.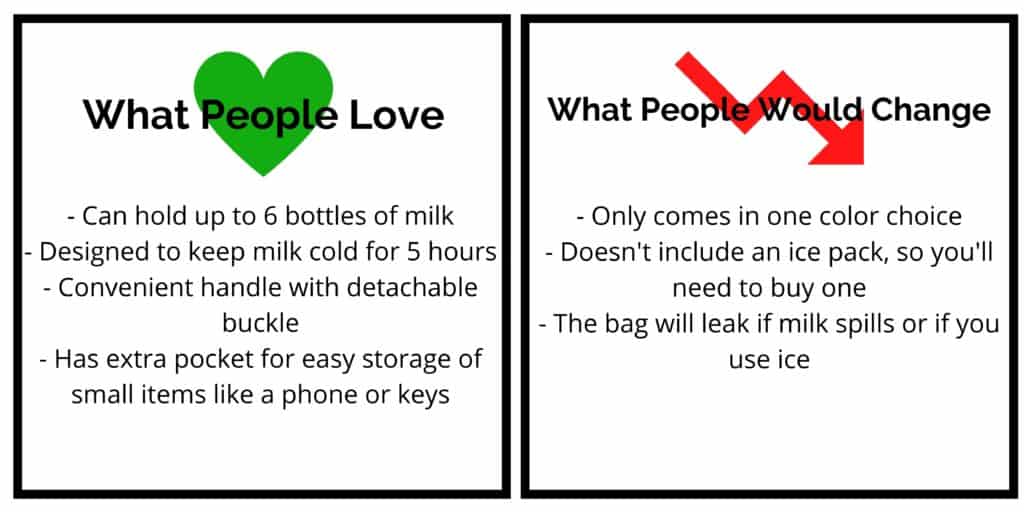 Lekebaby Breast Milk Cooler
One unique feature of the Lekebaby milk storage bag is that it not only has a top zipper, but also a zipper on the front. This cooler bag comes with the bag, a shoulder strap, and an ice cooler pack that keeps milk cold for up to 8 hours.
You'll also be able to use the front storage zipper pocket to put your keys or your phone in. You can store up to 6 bottles of breast milk inside. If you happen to have milk spill inside the bag, you can remove the inside for easy cleaning.
This milk storage cooler can be used to store bottles of breast milk or breast milk storage bags. Because bags are more flexible, you can fit a decent amount of those inside this bag.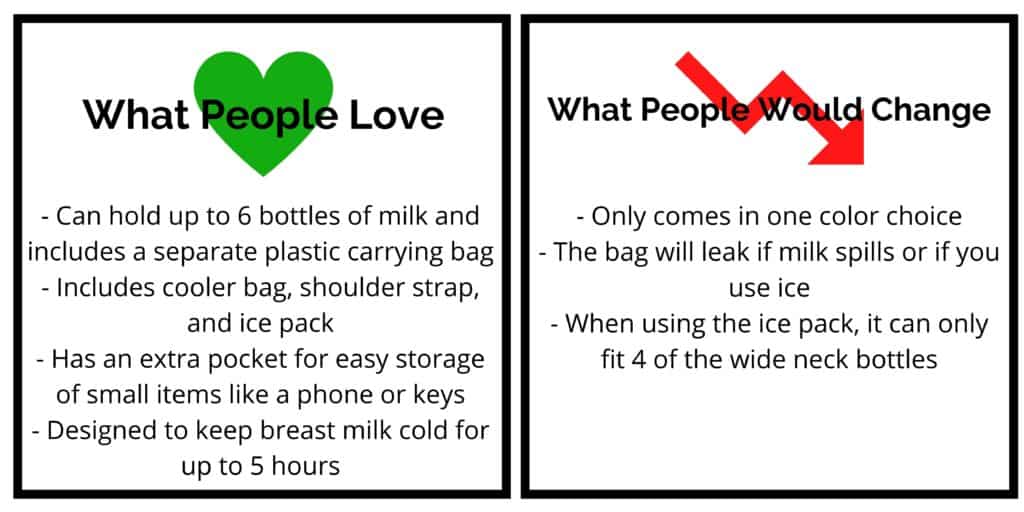 Momcozy Large Insulated Bottle Bag
I have researched a lot of cooler bags, but one thing I like that this Momcozy cooler bag is that it can serve more than one purpose. When I was working and pumping, I always pumped during lunch. If I packed my lunch, this meant I had a work bag, pumping bag, milk cooler bag, purse, and lunch bag. I looked like the bag lady. If you're lucky, you can fit your breast pump in the top compartment instead!
Enter this large cooler bag. You have enough room to put your (small lunch) up top and still have the bottom of the bag for storing 2-6 bottles of breast milk. If your bottles are taller than the bottom compartment (6 inches), you can remove the insulated separator and have plenty of room.
Another awesome feature of this bag is that it has a hand strap with a buckle, which is great for attaching to the stroller of your pumping bag. It also comes with a detachable shoulder strap.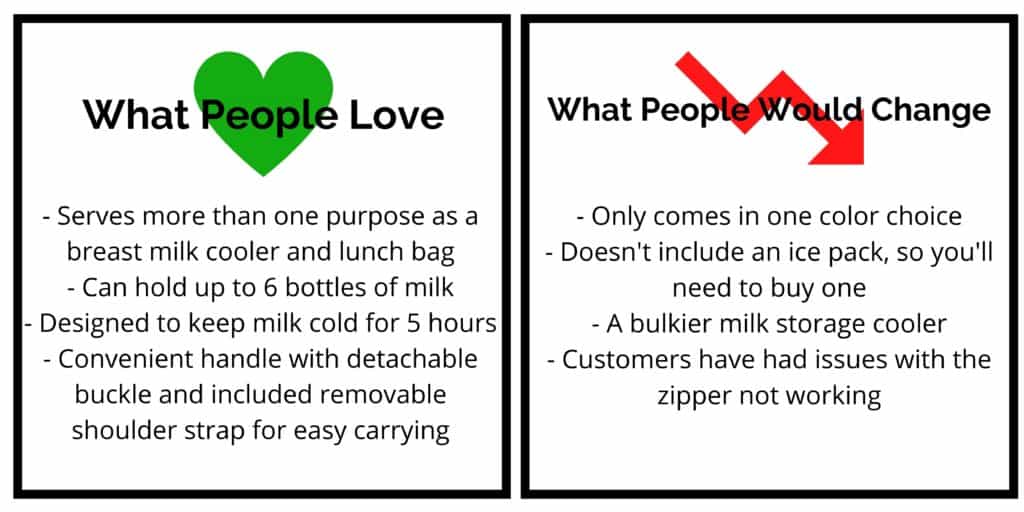 Lekebaby Breast Milk Bag
This Lekebaby breast milk cooler is a bit larger than the previous cooler I shared. The ice pack is included, and the bag can hold 6 large baby bottles and keep the breast milk cold for up to 8 hours. If you'll be transporting a larger amount of breast milk, this is a great option for you.
There is an attached handle on the top of the bag but it is not adjustable like many other bags. However, you can attach the shoulder strap and carry it that way, or use the shoulder strap if you would need to attach it to your stroller. There is a pocket on the back where you can store some small items, as well as two pockets on the front under the front flap.
Be sure to note that if you buy this bag, you will need to fill the ice pack as it comes empty. But, do not fill it all the way, because the material inside will expand as it freezes.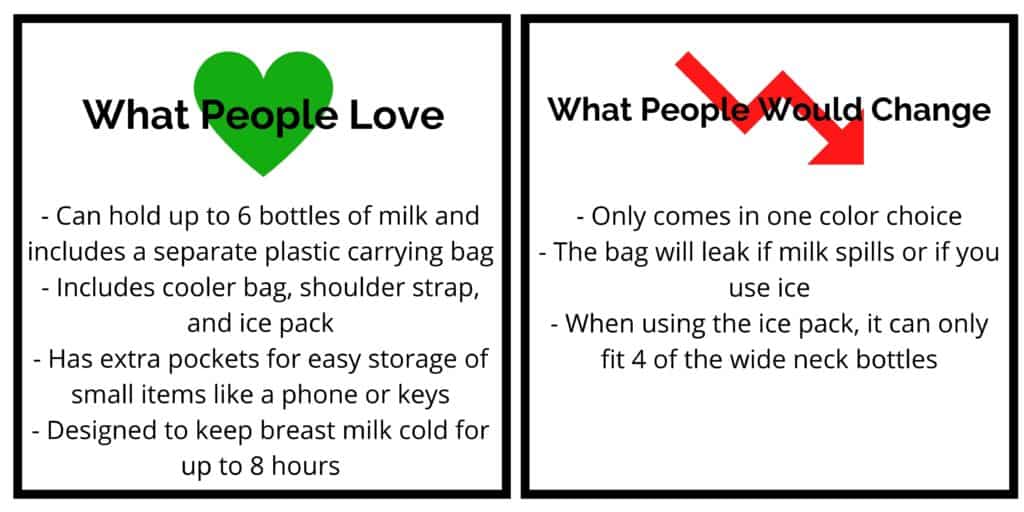 Fashionable Cooler Bags
Luxja Breast Pump Bag with Cooler
Serving more than one purpose, this Luxja Breast Pump Bag will hold your breast pump (with easy access), the included breast milk cooler, your computer, and so much more!
The included milk cooler bag will hold 4 5-oz bottles (without the nipple attached), and a cooler pack.
Very fashionable, this breast pump bag is made of heavy-duty nylon and has a leather strap for easy carrying.
There are two side zippered pockets, one for your breast pump, and the other for the milk cooler bag. There's also a zippered pocket on the front for things like your phone, small wallet, or keys.
The only drawback to this bag is that some people have experienced the straps coming apart, but it isn't anything you can't fix with a needle and some thread.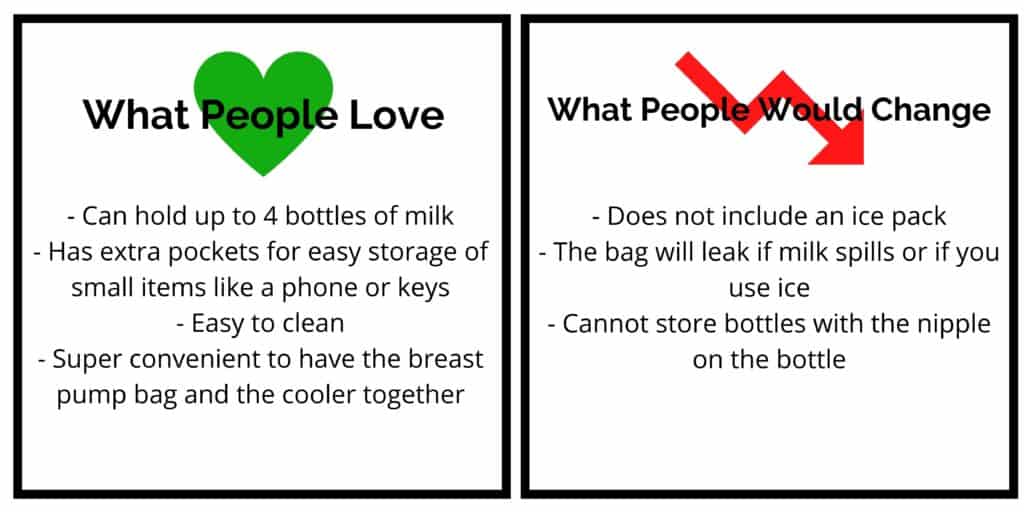 Momcozy Insulated Breast Milk Cooler
What an adorable cooler bag! Momcozy's Insulated Cooler Bag is fashionable, yet functional. It can hold up to 6 bottles, depending on size and shape, is waterproof, has an inside mesh pocket tp put your ice pack (not included), and has a detachable buckle for easy carrying.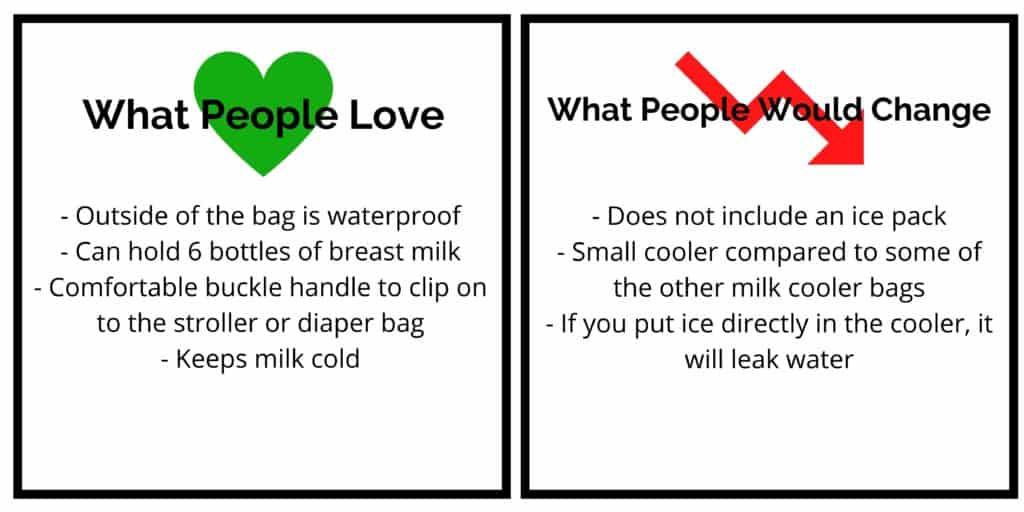 GOGOSO Small Breast Pump Bag with Cooler
This breast pump bag with included cooler bag is adorable. But it's important to note early on that this bag will not fit larger breast pump models. It is designed for smaller electric breast pumps of manual breast pumps. It does include a chart on Amazon to show you which breast pumps it can hold.
The bag itself can be carried as a handbag, used as a shoulder bag, or even as a backpack. The top part of the bag is designed for your breast pump and your breast pump parts. The bottom zipper portion of the bag is designed to store your pumped breast milk either in bottles or bags, though I would recommend bottles. You will want to purchase an ice pack separately because they don't include one.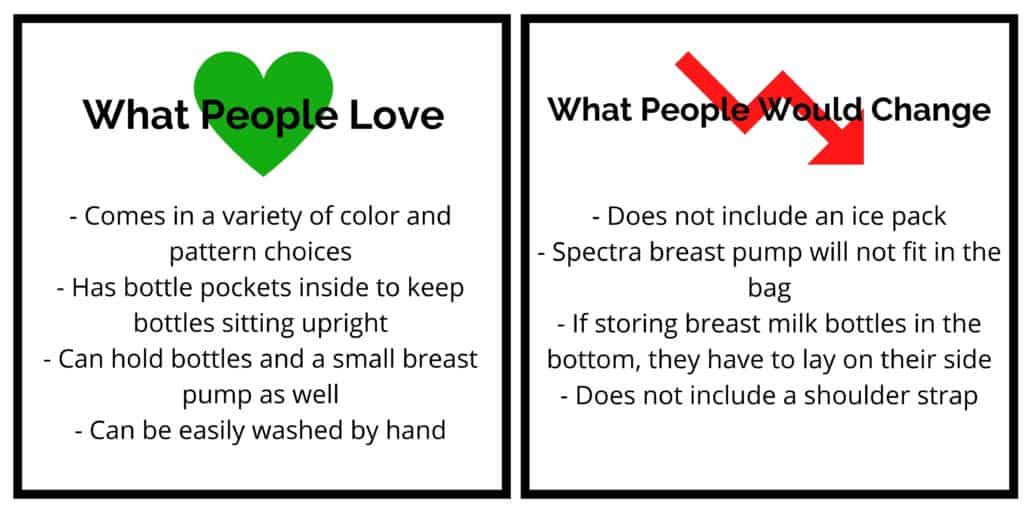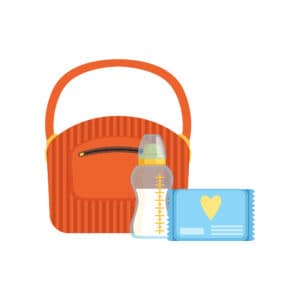 The Best Cooler for Flying with Breast Milk
Sarah Wells Cold Gold Milk Cooler Bag
I am always a fan of companies that will back their products with a lifetime guarantee. Sarah Wells is one of those brands. This Sarah Wells Cold Gold Cooler Bag is a chic design made with mom in mind. You not only get a cute cooler bag, but it's made with top-of-the-line insulation, includes a new and improved ice pack that's specifically designed to fit this bag, and it can store a lot of milk. Some moms even claim to store several days worth of breast milk in breast milk bags.
I am putting this bag in the travel section because it is great for traveling with a decent amount of breast milk. As long as your breast milk bags are frozen, you shouldn't need the freezer pack, which means you can store more breast milk. Many moms have reported traveling with this bag full of frozen bags of breast milk, getting to their destination, and the bags still being mostly frozen.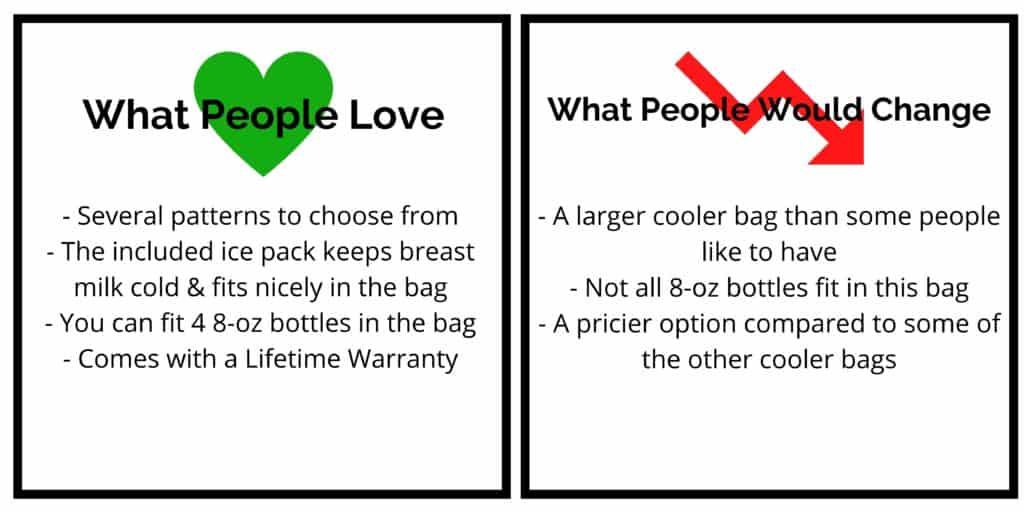 Common Questions About Breast Milk Coolers
Can you keep breast milk in a cooler?
If you'll be transporting breast milk, you'll need to keep your breast milk in a cooler bag. The type of bag, as well as the kind of freezer pack you'll need, is dependent upon how long the breast milk will be stored in the bag.
What is a breast milk cooler and when would you use one?
A breast milk cooler is a cooler that you use specifically for breast milk. It doesn't mean that the cooler has to be made specifically for breast milk, rather just a dedicated cooler for transporting breast milk from one place to another.
Breastfeeding women often use breast milk coolers when working and pumping, or when traveling and pumping. Both of these situations would have you away from your baby, forcing you to pump and store breast milk.
Do I need a breast milk cooler?
If you're a breastfeeding mom and you'll be spending time away from your baby, you will greatly benefit from having a breast milk cooler. Keeping breast milk at the appropriate temperature will allow you to give your baby the breast milk at a later time.
How do you use a breast milk cooler bag?
When you pump breast milk, you'll want to store it in some kind of breast milk storage container. If you aren't sure how to store breast milk, I can tell you all about how to store breast milk and what to store it in.
Once you've safely stored your breast milk, you'll want to make sure you have a freezer pack in your cooler bag and then put your expressed breast milk into the cooler sitting upright.
It's important to know how long your cooler will stay at a safe temperature so you'll be able to use the breast milk. If the temperature in the cooler bag gets too warm, you'll need to dispose of the breast milk.
What types of breast milk coolers are there?
For the most part, when searching for a breast milk cooler, you'll be looking based upon size. All of the breast milk coolers I researched have a zipper closure, are made with a variety of types of fabric, and some are machine washable while others aren't. If there are specific features you're looking for, you'll be able to find them.
How long can you keep breast milk in a cooler bag?
This is a great question, but it totally depends upon which cooler bag you're using, how you'll be storing your breast milk, whether or not you'll be using an ice pack, as well as the outside temperature where the milk bag is being kept. Most breast milk coolers are designed to keep milk cold for up to 8 hours, but not all.
What is the best temperature for breast milk?
Breast milk temperatures will vary based on what you're doing with it. Are you planning to store it or will you be using it soon? I highly recommend checking this chart for the appropriate breast milk temperatures.
How do I know if my breast milk has gone bad?
Similar to cow's milk, breast milk will also develop a sour milk smell if it has gone bad. You can also taste it to see if it tastes sour. Another option is the swirl test to see if it swirls well together. If not, then chances are it has spoiled.
Common Questions About Traveling (Flying) With Breast Milk
How do you keep breast milk cool while traveling?
When traveling with breast milk, you'll absolutely need to have a breast milk cooler. Depending on the length of your travel, as well as the amount of breast milk you'll be transporting, you'll want to buy a breast milk cooler bag that meets those needs.
You'll need to consider possibly freezing all of your breast milk if you'll be making a long road trip or traveling by air. If your breast milk is all frozen, you can potentially travel with it as is, or you may choose to add a frozen ice pack to your cooler bag.
Does a breast milk cooler count as a carry-on?
This is a great question that I struggled to find a clear answer one. It seems some airlines will consider your breast pump a medical device, whereas others will consider it a carry-on. If this is something you're concerned about, you should contact the airline you'll be traveling on to verify their policy.
More AWESOME Breastfeeding Posts
How to Safely Store Breast Milk
Breastfeeding and Pumping- Everything You Need to Know
Best Bottles for Breastfed Babies
How to Quickly Increase Breast Milk Supply
Breastfeeding and Teething Tips
What to Do When Your Baby Prefers the Bottle Instead of Breastfeeding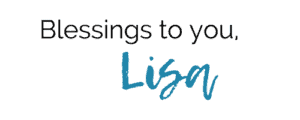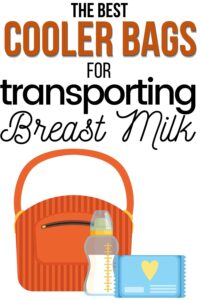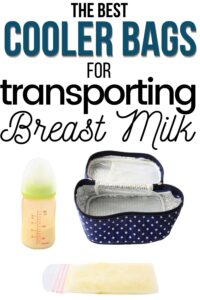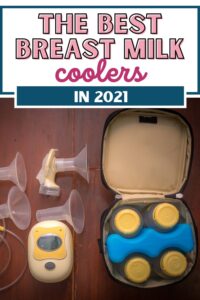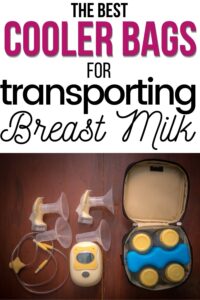 The owner of this website is a participant in the Amazon Services LLC Associates Program, an affiliate advertising program designed to provide a means for sites to earn advertising fees by advertising and linking to Amazon properties.
---