The Best Bathing Suits to Hide Stretch Marks
You know the feeling.
You've been working on your body for months, and are finally starting to see some results thanks to a healthy diet and regular exercise.
But when you look in the mirror, you can't help but notice those stretch marks that seem like they're begging to be seen.
Don't worry ladies!
I've got just what you need: 8 of the best bathing suits to hide stretch marks. These cute swimsuits cover all the right places!
*This post may contain affiliate links, which means I receive a small commission, at no extra cost to you, if you make a purchase using this link. I only recommend products I love or would personally use.
One-Piece Swimsuits for Women with Stretch Marks
MOLYBELL One-Piece Swimsuit
Vertical stripes are one of the best ways to make you look slimmer. When you add vertical stripes to a swimsuit that hides stretch marks well, that is a win!
This MOLYBELL one-piece swimsuit is fashionable, yet it completely covers the tummy area. I LOVE that this is a high-waisted one-piece swimsuit because it allows you to have the luxury of a one-piece suit, but the appearance of a tankini. I love the racerback design and the tie in the back! A must-see for sure!
This swimsuit for moms comes in sizes XS to XXL, offers 40 different print/color combinations, and is made from a blend of nylon and spandex.
Miraclesuit Swimsuits
I will say this again- you get what you pay for.
Miraclesuit makes some really cute swimsuits for moms who want to be comfortable yet covered.
This asymmetrical swimsuit has a built-in shelf bra to help you feel supported, yet is attractive and covering.
This particular swimsuit comes in 4 different colors, is made of a blend of nylon and lycra spandex, and comes in s sizes ranging from 6-16.
Check the price of this cute Miraclesuit swimsuit!

CUPSHE
If you were blessed to only get stretch marks on your stomach, this CUPSHE swimsuit is perfect for you! This is one of those cute bathing suits that cover stretch marks, yet still lets you feel like you can wear a cute swimsuit.
This high-waisted swimsuit will cover your stomach and has a bra-style top with ruching on the front. From the backside, this swimsuit (almost) appears to be a one-piece.
When you go to choose the right swimsuit for you, you'll choose between 19 color/pattern choices and sizes XS to XXL. It is made from a blend of chinlon and elastane.
beautyin One-Piece Swimsuit
I love swimsuits that make you look slimmer. This dark-colored swimsuit from beautyin does just that! It is a simple one-piece swimsuit that covers the stomach entirely and will certainly cover stretch marks. If you were lucky enough to not get stretch marks on your hips, this is a great swimsuit choice for you. This does have a built-in bra for extra support.
When selecting your details, you'll choose from sizes XS-XL, and then you get to choose from 12 different color/pattern options. The materials used to make this swimsuit are nylon, polyester, and spandex.
Smismivo One-Piece Swimsuit
Another great tummy covering swimsuit is this one-piece swimsuit from Smismivo. With a great range in size and color options, this one-piece swimsuit is one of the best bathing suits for moms with stretch marks.
This slimming swimsuit for women offers a built-in bra for comfort and support. I love the ruching on the stomach that is fashionable, yet hides any of your tummy imperfections. This swimsuit is great for all kinds of body types, and is a great wardrobe addition for just about any age!
This swimsuit comes in sizes ranging from sizes S-3XL, is a blend of spandex and nylon, and comes in 36 color/pattern options!
Two-Piece Swimsuits

for Women with Stretch Marks
Daci Long Sleeve Swimsuit
This Daci Long Sleeve Swimsuit is a great option if you've had kids and want a swimsuit that covers more skin. This swimsuit has a built-in bra that will offer extra support. This swimsuit can run a bit small for some, so you may want to consider ordering up one size. This is a great swimsuit for covering stretch marks and is also great for a variety of body types.
This swimsuit comes in sizes XS to XL, is made of a polyester/spandex blend, and comes in 31 color/pattern choices.
SouqFone Tankini Swimsuit
This SouqFone swimsuit is a super adorable tankini swimsuit with a ruffled flounce top that is flattering on nearly every body type. The high-waisted bikini bottom will help you feel covered and also adds great attractiveness to the swimsuit. There are removable pads in the top depending on if you like the coverage or dislike the bulkiness.
Made of a nylon/spandex blend, this swimsuit comes in sizes S-3XL, and comes in 24 different color/pattern options.
TemptMe Two Piece Tankini Swimsuit
This Tempt Me two-piece tankini swimsuit for moms is every bit as fashionable as it is functional. With 31 different color/pattern choices, as well as sizes ranging from XS-XXL, this polyester/spandex blend swimsuit is a great choice for covering stretch marks.
Inside you'll find a padded push-up bra for support, a high-cut tankini bottom, and the high-quality fabric ensures quick drying.
Tips for Getting Rid of Stretch Marks
If you want to read more about how to get rid of stretch marks, here are some more helpful tips for getting rid of stretch marks from the American Academy of Dermatology.
Massage
Massage is one of the best ways to get rid of stretch marks. Anytime you rub your skin, you're bringing blood into the area. When this happens, it stimulates healing.
Bio Oil
Bio Oil is one of my favorite oils for stretch marks. It is light, doesn't have much of a scent, is full of natural ingredients, and doesn't feel sticky. I like to use this to massage my stretch marks. I also used this during pregnancy!
Mederma Stretch Mark Therapy
Mederma recommends beginning to use this stretch mark cream during pregnancy, but I have used it afterward and I still think it helps to get rid of stretch marks after pregnancy.
Palmer's Stretch Mark Lotion
If you're looking for a lighter feeling stretch mark lotion, Palmer's Stretch Mark Lotion is a great choice. This lotion is packed full of ingredients that are designed to help the skin recover from stretch marks.
FAQ For Best Bathing Suits to Hide Stretch Marks
How do you hide stretch marks in a bathing suit?
There are a lot of cute mom swimming suits that are great for covering stretch marks. You want to look for a swimsuit that specifically covers the area or areas that have stretch marks, such as the stomach area and the thighs. Some swimsuits offer coverage of one area, while other swimsuits offer stretch mark coverage in both the thigh and stomach areas. There is absolutely the perfect swimsuit for you!
What color bathing suit makes you look slimmer?
If you're looking for a swimsuit to make you look slimmer, stick with a swimsuit in a dark color. Dark colors have a tendency to make you look slimmer, especially in a swimsuit.
What to look for in a swimsuit?
If you're in the market for a new swimsuit this year, there are a few things to keep in mind.
–Price: Before you start shopping for a swimsuit, make sure you know what you're comfortable spending.
–Tummy Control: If you want to hide your tummy area, make sure the swimsuit you're looking for has tummy control. There are some really great swimsuits that cover the tummy area.
–Full Bottom Coverage: Some swimsuits let more hang out than others. Make sure you find a swimsuit that covers your bottom to your comfort level. If you're concerned with bending over to help your kids and your bottom falling out, pick a swimsuit with more bottom coverage.
–Right Design: Do you want a one-piece swimsuit or are you in the market for a two-piece swimsuit? Maybe you aren't sure which one is right for you. I feel like two-piece swimsuits offer more coverage options than a one-piece, so maybe start there.
–Support: What kind of support do you need from your swimsuit top? Do you need a swimsuit with a built-in bra, or are you looking for a swimsuit with an underwire? All of these things will play a role in choosing the right swimsuit for your needs.
Mommas- these are seriously some of the best bathing suits to hide stretch marks.
Although stretch marks are an incredible mark of giving life, sometimes, I just don't want to share them for the world to see at the pool. These swimsuits are adorable, functional, and perfect for any woman who wants to feel comfortable in her own skin.
MORE Helpful Tips
Carpal Tunnel After Having a Baby
Postpartum Leggings You Have to See!
The Best Cleaning Schedule for Busy Moms
The Best Planners for Busy Moms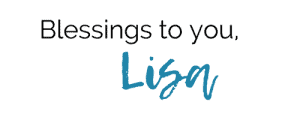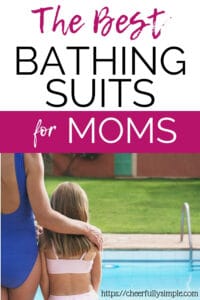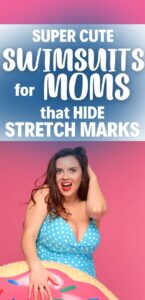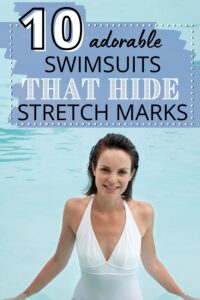 The owner of this website is a participant in the Amazon Services LLC Associates Program, an affiliate advertising program designed to provide a means for sites to earn advertising fees by advertising and linking to Amazon properties.
---