The Best Shoes for Toddlers with Wide Feet
Have you noticed your toddler has wide feet and now you're looking for the best shoes for toddlers with wide feet? I have some great tips!
Shopping for kids' shoes in general isn't always fun when you have a wiggly toddler. In fact, it's like trying to hold onto a slimy, wiggly fish as you're trying to get the hook out of its mouth. Sometimes, near impossible.
Add into that the fact that you're looking for shoes made for toddlers who have wide feet and you've got a hot mess.
Finding the best shoes for toddlers with wide feet can be so much easier when you do your research ahead of time and know the best brands of toddler shoes before shopping.
Some brands of kids' shoes even have the option for wide feet or not, which is great as their chubby little feet slim down.
Before you start shopping, make sure you know the important features of wide feet toddler shoes so you can save yourself the hassle of a return!
Things to look for when buying shoes for a toddler with wide feet!
Wide Opening

: When you're shopping for toddler shoes, make sure there is a wide opening to be able to put your child's foot into the shoe. Especially when your toddler has wide feet, it can be hard to fit their cute little feet in a narrow opening.
Larger Toe Box

: If you're looking down at your foot, the toe box is the part of the shoe at the widest part of your foot. When you're shopping for shoes for your toddler, make sure that part of the shoe is wide. If you aren't sure, compare a couple of different types of shoes and you'll see a difference.
Traction on the Bottom of the Shoe

: Toddlers are often not steady on their feet when they first start walking. It's important to make sure the shoes you buy can provide good traction to avoid falls.
Extra Depth

: When the shoe is sitting on the floor, and you're looking at it from the side, you'll want to choose a shoe that is tall. This will allow for more room for your toddler's wide feet.
Flexible Shoe with a Soft Rubber Sole

: The shoes I am going to share with you have a very flexible sole. This is because most toddlers are just learning to walk and they're used to walking with the natural arch of their step.
Ankle and Arch Support

: When you're shopping for shoes for yourself, you're looking for a good shoe with ankle and arch support. Your toddler needs the same features in their shoes. As their ankles get used to walking, it's important that their shoes give them that support. Equally as important is arch support so that their feet continue to grow and form correctly.
A Comfortable Shoe

: There are several things you should look for when trying to find a comfortable shoe for your toddler. The first thing to look for is memory foam insoles. Having a shoe that fits your toddler's wide foot will ultimately help them walk better. The second thing to look for in a toddler shoe is that it has breathable material. No one is comfortable wearing shoes that make your feet sweat. And it's possible that if you're training your toddler to wear shoes, they may learn to hate them if their feet are hot all the time. The last thing to look for when shopping for wide shoes is adjustable straps. As your toddler's feet change, you'll want the shoe to have straps so you can adjust them to fit your toddler's foot comfortably.
Quality of Material

: It's important that you buy quality shoes for your toddlers. As their bones begin to form, you want to make sure their feet are well-supported. A huge part of this is making sure the toddler shoes are made of quality material. Leather is a great choice because it breathes well and holds up great.
*This post may contain affiliate links, which means I receive a small commission, at no extra cost to you, if you make a purchase using this link. I only recommend products I love or would personally use.
Best Brand of Shoes for Toddler with Wide Feet
Stride Rite
This pair of Stride Rite Soft Motion Rhett Sneakers is one of my favorite shoes for toddlers who have wide feet for so many reasons.
First, they're cute and there are several different color combinations to choose from.
Second, they're super easy to get on and velcroed. Also, I'm a budget shopper and they're a reasonably priced toddler shoe that is made really well.
They have a memory foam footbed for added comfort for little feet. Their oversized opening makes them easy to put on. This shoe is made of leather which makes them extra durable.
Another feature of this shoe is the balance-assist rounded outsole which helps new walkers keep their balance. The hook and loop closure makes for easy on and easy off. As your toddler gets older, they may even be able to take them off and put them on by themselves.
The Stride Rite Wilbur Sneaker is a great shoe option for wide feet. They're a casual everyday toddler shoe that comes in a variety of colors. There is a removable insole for a wide-fit shoe. This toddler shoe also features a padded collar for added comfort as well as a memory foam footbed helping little feet have the support they need as the bones grow.
The round rubber outsole of the shoe offers flexibility as your new walker makes his/her way around. This shoe features a hook and loop design for easy on and easy off.
One of the best features of this toddler shoe is that they're machine washable.
The Stride Rite Mason Althetic Sneaker is a combination of leather and mesh.
They feature a memory foam insole to cradle your toddler's foot, while the deep flex grooves move with your baby's feet.
The hook and loop closure makes for easy on and easy off, as well as an easy adjustment as their feet change.
PediPed
The pediped Gehring Sneaker is a stylish sneaker made of microfiber suede and mesh. Inside, you'll find a breathable mesh lining.
The flexible rubber sole of the shoe is great for little walkers who need a lot of flexibility as they're mastering walking. The shoe fastens with a hook and loop. They also feature additional insoles that can be used for a snug fit and then removed as your toddler's feet grow.
As an added bonus, this shoe is machine washable!
New Balance
The first thing you notice about the New Balance Rave Run V1 Lace-Up Shoe
is that it is more of a high-rise shoe. The shoe itself is made of mesh, making it a great lightweight shoe for toddlers. Mesh is very breathable which will help allow your toddler's feet to breathe throughout the day.
The midsole of this toddler shoe offers amazing cushioning as the rubber outsole offers durability. The shoe features a hook and loop closure making it easy for toddlers to get the shoes on and off.
The New Balance 455v2 Hook and Loop Running Shoe is a well-made toddler shoe that is made of engineered mesh and other lightweight materials.
The elasticized laces are great for wide toddler feet, and the hook and loop features make for easy closure of the shoe at the top of the foot. The inside of the shoe is made of a soft mesh lining.
Crocs
I personally think every kid need s a pair of the Crocs Classic Clog. Each of my kids has a pair because of how easy they are to get on and off, not to mention how easy they are to clean when covered in mud and dirt.
The shoe is made of durable Croslite material with a design that supports feet well. There are ventilation holes all around the shoes making them a great shoe for toddlers with hot feet.
The pivoting heel strap can be used to help keep the shoe on, or it can be put in the upward position on the shoe. If you have a toddler who loves a particular thing, you can allow them to add Jibbitz to the holes of their shoes!
See Kai Run
The Stevie II toddler shoe is a flexible, lightweight shoe that is perfect for the beginning walker.
This shoe also has a padded collar and tongue that help keep your toddler comfortable all day. They do come in a variety of colors.
The shoe has a canvas lining, as well as a removable leather-lined footbed, which can be cleaned easily.
The rubber outsole allows for great flexibility, increased traction, and durability.
This shoe has a hook and loop closure, which as you can see is one of the best options for toddler shoes. There is a large toe box on this shoe which helps accommodate your toddler's foot development.
Saucony Jazz
The Saucony Baby Jazz Hook & Loop Sneaker is not only SUPER cute but also a great shoe for a toddler.
There are MULTIPLE color pair options to choose from both for boys and girls.
What is even more fun about these toddler shoes is that they also come in adult sizes which means the entire family could have a set of matching shoes!
The shoe is made of durable suede and nylon, which holds up really well. The hook and loop closure once again makes an appearance because of how easy they are to get on and off of a toddler. The bottom of the shoe is made of durable rubber for a long-lasting toddler shoe.
ikiki
The ikiki Squeaky Shoes with On/Off Squeaker Switch are not only adorable, but the squeaker serves a big purpose!
The one thing that makes these shoes unique is the squeaker in the heel. The purpose of the squeaker is to teach toddlers to walk with a heel-toe step, rather than walking on their toes. Once your toddler discovers that they can make their shoes squeak, the goal is to teach them to develop a proper step by getting the shoe to squeak. If the squeak drives you nuts, you do have the option to turn it off!
The shoe has a durable rubber sole that provides an anti-slip grip, a velcro shoe strap on top for closure, a high-top back design for support, and breathable fabric for comfort.
Native
The Native Jefferson Junior Water Shoe is unique in a lot of ways.
This shoe serves many purposes, even for toddlers. There is no need for another pair of shoes when you buy this pair. The water shoe is great because it can be worn anytime, is shock absorbent, odor resistant, hand-washable, and you have so many colors to choose from!
There are holes all around the shoe which provides great air flow to keep feet cool and help them dry quickly. They are SUPER lightweight as well because they're made of rubber.
Toddler Shoe FAQ's
When should I put my toddler in shoes?
Most people begin to put their toddlers in shoes when they begin to walk. It's likely your toddler will want to be down and walking while you're out in public and it's not safe to have them running around barefoot. This then creates a need for your child to have shoes on. By putting them in shoes as they begin walking, there isn't as much of a learning curve because they'll be learning to walk part of the time barefoot and part of the time in shoes.
How can I figure out what size shoes my toddler needs?
The easiest way to figure out what size shoes your toddler will need is to take them to a shoe store and measure their foot. If this isn't an option, you can often go to the shoe you want to buy, use their sizing chart, and measure your toddler's foot at home.
How do you know if your toddler had wide feet?
You will likely notice that your toddler has wide feet before you buy their first pair of shoes. Some toddlers feet don't slim down right away, while others just tend to have a more boxy foot. Either way, if a regular fit pair of shoes isn't working well, try a wider shoe for your toddler.
What size shoe should I buy for my toddler?
9-12 months: Size 3.5 or 4
12-18 months: Size 4.5 or 5
18-24 months: Size 5.5 or 6
MORE Toddler Tips!
How to be a Better Mom to Your Toddler
Best Book for Parenting Toddlers
Educational Apps for Preschoolers
The Best Outdoor Toys for Toddlers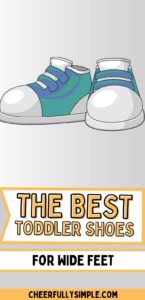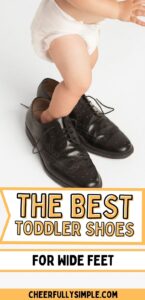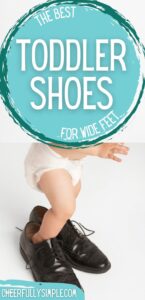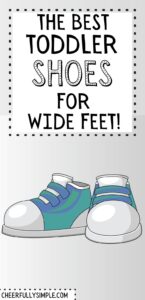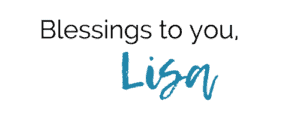 The owner of this website is a participant in the Amazon Services LLC Associates Program, an affiliate advertising program designed to provide a means for sites to earn advertising fees by advertising and linking to Amazon properties.
---