The Best Clothes to Hide Your Baby Bump
Just because you're pregnant, doesn't mean you're ready to share the news with everyone, especially if you've suffered a miscarriage.
Personally, with all of my pregnancies, we always waited until we were out of the first trimester to tell anyone I was pregnant, so I can totally relate to you wanting to hide your pregnancy.
But, one of the hardest parts of hiding a pregnancy is your growing baby bump. And, if this isn't your first pregnancy, I know very well that your baby bump seems to get bigger, and faster, making it even harder to hide.
I want to share with you some of the best clothes to hide pregnancy so that your cute baby bump can stay tucked away out of sight until you're ready to share your big news! You should also check out some of my favorite pregnancy hacks– some will help extend the amount of time you can wear your current clothes!
I would be remiss to not share with you that there are some incredible places you can find cheap maternity clothes, so save this post, or pin it for later, because you'll want to save some money on maternity clothes.
Also, you're here because you need to shop. All of the links and pictures in this post will take you to Amazon so you can shop and get some new clothes fast!
*This post may contain affiliate links, which means I receive a small commission, at no extra cost to you, if you make a purchase using this link. I only recommend products I love or would personally use.
Some of the best clothes to hide pregnancy are busy patterned tops and dresses. The eye is naturally drawn to the pattern rather than a baby bump hiding under the shirt. This comfy print shirt is not form-fitting at all and can be worn casually or at the office. It's also great because you can add a cardigan to it for an additional distraction to the eye. There are 40+ color/pattern options to choose from too!
I also love this relaxed-fit short sleeve shirt for hiding your baby bump. It is a simple, easy-on-the-eye pattern that flows well. It can be dressed up or down. You have several different patterns/colors to choose from.
This is a dress that's great for hiding a baby bump. The empire waistline hits at just the right place for your baby bump to hide inside the extra fabric. Also, this dress has pockets. So, if you're feeling self-conscious about who you're around, you could always keep your hands in your pockets as a distraction. Another added benefit is that you can put a cardigan over top of this dress.
Another option for hiding your baby bump is with a tie-knot shirt. This knotted shirt naturally brings the eye down below the waist, while the pattern distracts from your midsection. Choose from 45+ patterns and colors, some long-sleeve, others short-sleeve!
Front shirt tucked in with low-waisted pants
A great way to hide your baby bump is with a front tuck. This women's v-neck shirt is very forgiving in the tummy area and makes hiding your baby bump super easy. You can wear this adorable top untucked as well. Another nice feature of this shirt is the detail on the sleeve. Anything that is going to draw the attention away from your baby bump. There are a lot of color and print options to choose from!
I also love this button-up blouse with a pocket because it adds the button detail which is another distractor from your baby bump. You can wear this shirt tucked in the front or un-tucked altogether. I do believe you could also wear this casually or even to the office with a nice pair of dress pants. There are a lot of color options for this shirt too!
This short-sleeve peplum top flows very well and has several blocks of fabric as you work your way down the shirt visually. One great this about this summer peplum top is that you can choose a top with or without sleeves. This style of top is one that you can wear as a solid because of the design of the shirt. There are some patterns to choose from if you want to check those out too.
Maybe you need a warmer peplum top! This adorable long-sleeve top is perfect for cool nights and winter days. This is another example of a shirt you can rock in a solid simply because of the design of the fabric. It comes in 20ish colors and patterns.
Maybe you prefer a peplum top with a pattern. This short-sleeve peplum top is very flattering to any body shape and does a great job of distracting from your baby bump. You can choose from 14 different patterns.
A classic denim jacket is a great piece to have in your wardrobe at the beginning of your pregnancy. It's a great piece to put over a shirt or dress to add a little something, or just to even add another dimension to your outfit. I like to pair a chunky necklace with this kind of outfit.
A warm, knit cardigan is great to put over anything in the cooler months. They're attractive and flattering, all while hiding your growing baby bump. This cardigan comes in a variety of colors and patterns.
If you need a great kimono cardigan like this one, grab it! There are several colors and patterns to choose from, and they're very reasonably priced. I love that this is a piece you can permanently add to your closet after having your baby.
And last, but most important, if you need a classic cardigan for the office, this long-sleeve, open-front cardigan is perfect for you! It is a staple in my closet all year round for when I am headed out on a cool night, or when I am headed out somewhere that I need to be a little more dressed up. This is another piece that you can add a chunky necklace to for some added flair.
This long sleeve empire waist dress is a great addition to your wardrobe when you're trying to hide your baby bump. It has long sleeves, a very attractive empire waist fit, and then a nice, flowing bottom. The fabric lies well on its own, but again, this dress has pockets if you feel the need to pull your dress away from the tummy area every now and again.
I have a dress that's incredibly similar to this loose maxi dress that I wore for most of my pregnancy. It is SUPER comfortable, it has pockets, and it's pretty cheap! It has a raised waistline which naturally brings the eye upward. This is a great way to hide your baby bump. I also highly recommend that you add a low-hanging necklace because that acts as a distraction from your baby bump. You can choose from 40+ colors/patterns, so grab more than one!
Here is another example of fantastic clothes to hide a baby bump. This halter, maxi dress is such a great piece! The neckline naturally draws the eyes up towards the face, and there is a super cute tie around that waist that again draws the eye away from the tummy area. There are several cute prints available in this style of dress.
The first chunky floral necklace is an amazing addition to your collection because it will draw attention from your growing belly up toward your face. The second stone necklace comes in a variety of colors but is a bit more simple and will go with just about anything. The last necklace is a choker-style necklace that is going to wear up close to the neckline. This is a great option if you're wearing a shirt that's always up close to your neck.
If you need something a bit more dressy for the office, this flowy printed shirt is perfect and will keep your baby bump kidden! You can choose from a lot of colors and patterns, so buy more than one! What I love about this shirt is that it's sleeveless. You will quickly find out that being pregnant can make you sweat, literally. The ruffles on this shirt make it a great clothing piece to hide your baby bump.
This v-neck party dress is amazing if you're trying to hide a baby bump. There is a ruched waistline, which is where someone's eyes would naturally be drawn to. BUT, if you had a really cute necklace, they'll be distracted by that instead. Another thing that's great about this dress is that it comes in a short-sleeve and a sleeveless option. The sleeveless option is great if you want to add a cardigan.
Another great way to keep a baby bump hidden is with a cute pair of bib overalls. These bib overalls keep with today's fashion style with the ripped look. They offer that extra bit of space in the tummy area that regular pants just don't give you.
You could also try this sleeveless shorts romper. A couple of great features about this romper is the tie at the waistline, as well as the gathered fabric. It's a place that will help you out by hiding the baby bump, and you'll look cute while wearing it! Several colors to choose from!
AVOID Form-Fitting Clothes
One of the biggest things you need to do when trying to hide your baby bump is to avoid wearing fitted clothes. Without a doubt, you'll be showing off your baby bump. Form-fitting clothes show every curve, and you can't hide your baby bump at all. You're looking for clothes that are flowy, have extra fabric, and distract the eye away from the tummy area. Those are the best types of clothes to hide a pregnancy.
Tell people you're pregnant when YOU'RE ready!
You shouldn't feel like you have to tell people you're pregnant until you're ready. The biggest hurdle to that will be your growing baby bump. Well, and if you drink, you'll need to come up with a reason you've suddenly stopped. The same can be said about foods like sushi or lunch meat that are often recommended to avoid while pregnant.
What are your favorite closet staples when trying to hide a pregnancy?
MORE Helpful Pregnancy Posts:
Pregnancy Tips for First-Time Moms
How to Survive the First Trimester
Pregnancy Hacks Every Woman NEEDS to Know!
What to Know About the Last Month of Pregnancy
What to Wear During Labor and Delivery
What Does the Hospital Supply When You Have a Baby?
What to Wear After Giving Birth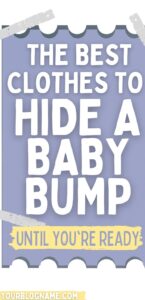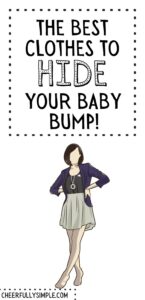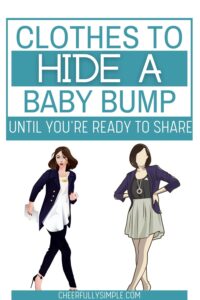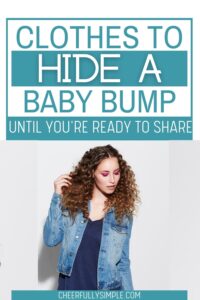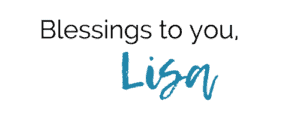 The owner of this website is a participant in the Amazon Services LLC Associates Program, an affiliate advertising program designed to provide a means for sites to earn advertising fees by advertising and linking to Amazon properties.
---