Where to Find Cheap Maternity Clothes
When you find out you're pregnant, it's easy to think about buying all the baby things. But, as your baby belly begins to grow, you'll quickly realize that you also need to be finding some cute and cheap maternity clothes.
Maternity clothes are a must for nearly every pregnant woman because your body changes so much during pregnancy. Your current clothes may fit for a while, but eventually, your belly just isn't going to fit in your normal clothes.
Before you head out to shop for cheap maternity clothes, I want to let you in on some great secrets to finding cute maternity clothes for cheap!
How to Find Cheap Maternity Clothes
Shop at consignment shops
One of the best places to find cheap maternity clothes is at your local consignment shop. My favorite consignment shop for maternity clothes by far is Clothes Mentor. Clothes Mentor is great for women's clothes in general, but they have a special maternity clothes section. This is where I have purchased the majority of my maternity clothes. You can also look for a Goodwill in your area or any other consignment shop close to you.
Shop store sales or outlets
When I can't find the maternity clothes I need in a consignment store, I shop for sales and outlet stores. Motherhood Maternity often has great sales, as well as Old Navy and Gap. If you have an outlet mall nearby, you should also see if there are any stores that sell maternity clothes for cheap!
Borrow maternity clothes from friends and family
If you don't really have much of a budget for maternity clothes, you can always ask your friends and family if you could borrow maternity clothes. Obviously, you want to make sure you take great care of them because they'll likely want them back, but borrowing maternity clothes is a great way to find cheap maternity clothes (for free)!
Only buy maternity clothes for the season you're currently in
As you're shopping for maternity clothes, it's really easy to get sucked into buying all the cute maternity clothes without really thinking about what you're buying. When you head out, make sure that you're only shopping for the current season. You may need to go back out and buy a couple of things if you're still pregnant in the next season also, but it is impossible to know what size you'll need for the next season, and you may end up wasting money.
Buy things as you need them
In a minute I am going to share some of the most important closet staples for maternity clothes. These are the must-have maternity clothes every mom should have. Without a doubt, they are the things I would buy first, and then as your budget allows, you can add to your maternity clothes wardrobe.
Check Facebook Marketplace
Another great place to find cheap maternity clothes is Facebook Marketplace. As long as you're meeting in a safe place, I see nothing wrong with purchasing maternity clothes from another mom who no longer needs them. Make sure you have someone to go with you just to make sure you're safe.
When shopping for maternity clothes, buy a few key versatile pieces. Something like a cute maternity jacket, some black maternity leggings that can be dressed up or down, as well as some cute maternity tops that can also be dressed up or worn casually. As you're shopping for maternity clothes, try to buy some key pieces that can be worn in a variety of settings.
Have a budget in mind before shopping
I think this is one of the most important things, especially if you're buying maternity clothes on a budget. Before you begin shopping, make sure you have a budget in mind for how much you will spend on maternity clothes.
*This post may contain affiliate links, which means I receive a small commission, at no extra cost to you, if you make a purchase using this link. I only recommend products I love or would personally use.
Must-Have Maternity Clothes
Motherhood Maternity Full-Length Leggings
Foucome Women's Maternity Leggings
Motherhood Maternity Clip-Down Nursing Cami
Motherhood Maternity Clip-Down Nursing Bra
Smallshow Long Sleeve Ruched Maternity Shirt Three Pack
Bearsland Maternity T-Shirt Three Pack
Motherhood Maternity Drape Knit Cardigan
Motherhood Maternity Skinny Denim Full Panel Jeans
Maternity Pants
Motherhood Maternity Bootcut Pants
Maternity Shorts
Motherhood Maternity Secret Fit Shorts
Maternity Dresses
Liu & Qu Sleeveless Maternity Dress
Liu & Qu 3/4 Length Sleeve Maternity Dress
Musidora Long Sleeve Maternity Dress
Where to Shop for Affordable Maternity Clothes
Amazon has become my go-to for just about everything when I don't have the time or ability to go shopping. (Although I do like shopping!) All of the links I am sharing here with you today are from Amazon. They've become a one-stop-shop for so many things, and maternity clothes are no exception. In fact, you can often find name-brand clothes on Amazon, the prime example here being Motherhood Maternity. The biggest benefit of buying maternity clothes on Amazon Prime is the free, two-day shipping, and often free returns. You likely won't find clothes quite as cheap as consignment stores, but Amazon is a great budget-friendly option when shopping for maternity clothes.
Target has very reasonably priced cute maternity clothes. You can shop online or in-store for all of your maternity clothes needs. You will find all the maternity clothes you need, and the benefit of shopping in-store is that you can try everything on before you buy it.
Old Navy is another great option for finding cute maternity clothes that are budget-friendly. I have bought several cute maternity shirts and maternity dressed from Old Navy. One of the things I like about shopping for maternity clothes at Old Navy is that they offer great discounts often, and then you can also earn and use Old Navy Super Cash.
If you can catch maternity clothes on Zulily, you'll likely get a great price (sometimes up to 75% off store prices) on quality maternity clothes. The only catch with Zulily is that you never know what is going to be on there, and you can't know ahead of time if you're going to find what you need.
Motherhood Maternity was another place that I purchased a few key pieces of maternity clothes. My favorite purchase from Motherhood Maternity was a lightweight zippered jacket. I've worn it through each of my pregnancies because it is a quality, versatile maternity piece. Motherhood Maternity also runs great sales often!
ThredUp is an online consignment shop, and it's a great option if you don't have any consignment shops locally in your area that carry maternity clothes. You can find brand-name maternity clothes for cheap!
Poshmark is essentially an online yard sale, which is great when you're shopping for cheap maternity clothes. You can type in specifically what you're looking for, or you can browse around and try to build your maternity wardrobe. This is another great place to find maternity clothes for cheap!
Where to rent affordable maternity clothes?
If you're looking for something specific, but you don't want to spend a small fortune because you're likely only going to wear it once or twice, you might consider Rent the Runway. In my opinion, this is anything but cheap for the long haul of maternity clothes. But, if you need a piece or two to borrow for something specific, you can for sure save money by renting instead of buying.
LE TOTE is another place where you can rent maternity clothes by the tote. Plans start at $79/ month. Basically, the idea is that you get one tote with various maternity clothes inside. When you want a new tote, you send the one tote back and they'll send you a tote with new clothes to wear.
Cheap Maternity Clothes FAQ
Where can I find cheap maternity clothes?
You can often find cheap maternity clothes at your local consignment store, Facebook Marketplace, yard sales, etc. There are a lot of places to find budget-friendly maternity clothes, and you may even be able to borrow some maternity clothes and not spend a dime.
What's a reasonable amount of money to spend on maternity clothes?
I feel like this is a really personal question because everyone's situation is different. I had to buy both casual and business attire when I built my maternity clothes wardrobe. This meant maternity dresses, maternity skirts, maternity dress pants, maternity jeans, maternity tops, maternity tank tops, etc. There were a lot of different kinds of pieces I had to buy. If you're working from home, you would be able to buy all casual maternity clothes.
At the end of the day, I think it is totally possible to buy a complete maternity wardrobe on a budget of less than $500. If you shop consignment and yard sales, I think it's absolutely doable to build your maternity wardrobe for WAY cheaper than that even.
When should you start buying maternity clothes?
It's wise to start shopping for some key maternity clothes essentials when you start showing and your clothes start to feel uncomfortable. For many women, this is around the 3-4 month point of pregnancy.
I hope you have a plan on where you can find cheap maternity clothes that are cute and functional. Let me know if you would add anything! I love hearing about where my readers find great deals!
MORE Helpful Pregnancy Posts:
How to Survive the First Trimester
The Best Clothes to Hide Your Baby Bump- Until You're Ready to Share
Must-Know Pregnancy Hacks for Every Trimester
Pregnancy Tips for First-Time Moms
How to Prepare for the Last Month of Pregnancy
The Best Nursing Tops for Breastfeeding Moms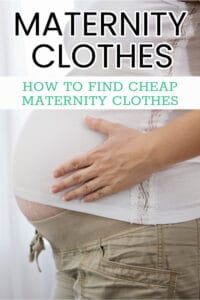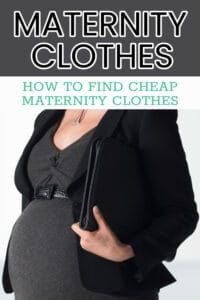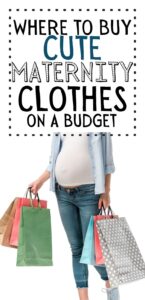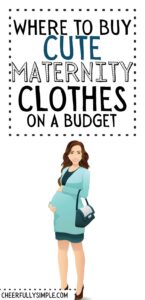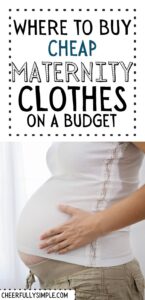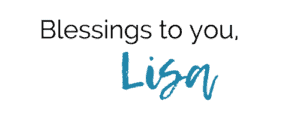 The owner of this website is a participant in the Amazon Services LLC Associates Program, an affiliate advertising program designed to provide a means for sites to earn advertising fees by advertising and linking to Amazon properties.
---