10 Ways to Baby Proof a Christmas Tree
The holidays are a time for family and fun, but they can also be stressful as well. One of the things that may cause some stress is making sure your Christmas tree stays child-proofed. With these tips to help you baby proof a Christmas tree, your baby will be protected from your tree, and your tree will be protected too!
*This post may contain affiliate links, which means I receive a small commission, at no extra cost to you, if you make a purchase using this link. I only recommend products I love or would personally use.
Use a baby gate.
You can use a baby gate to babyproof a Christmas tree. We have used our hexagon baby gate to protect our Christmas tree each year we've had a little one toddling around. Not only does it protect our baby from the Christmas tree, but it protects our Christmas tree from our baby, which is equally important.
The baby gate is easy to put around your Christmas tree, and it has a handle that makes getting in and out of the area super easy. Even though you're likely buying it to keep your baby safe from your Christmas tree, it can be easily folded and put away, or you can use it on a regular basis. It's super convenient to put your baby inside the space with some toys while doing some things around the house within eyesight.
Put your tree in a low-traffic area.
If possible, place your Christmas tree somewhere in your home that you don't use quite often. I know this may not be possible, so I shared the baby gate idea first because, in my opinion, it's the most practical way to baby-proof a Christmas tree.
Buy your baby a Christmas tree of their own.
A simple way to keep your baby distracted from your family Christmas tree is to give them a Christmas tree of their own. Depending on the age of your baby, you can buy one of these felt Christmas trees or this Fisher Price plastic nativity set. We were gifted the felt Christmas tree and our kids have loved playing with it each Christmas, even as they've gotten older. We also enjoy playing with our plastic nativity set each year and miraculously we haven't lost all the pieces.
Use unbreakable or plastic Christmas ornaments.
You may not think this is necessary, but you'd be surprised at how many children throw things in frustration and break them when they don't get their way! Having plastic or unbreakable Christmas tree ornaments will help keep your baby safe.
Use large Christmas ornaments that don't have small pieces.
Make sure ornaments are larger than your child's mouth and do not have any small parts that could come loose and be a choking hazard. That is why we recommend using unbreakable decorations for this reason! Ball shapes and rounded globes with no pointy edges are usually best.
Secure your Christmas tree.
Secure your tree to a wall or stand if you're putting it in a place where there is nothing else behind it. It should be stable and secure enough that children cannot knock into the tree. I feel like this Christmas tree stand is a better choice compared to the traditional three-pronged Christmas tree stand simply because it's going to be harder for a baby to pull over.
Place the last string of lights towards the back to be plugged in.
Tie a string of lights around the tree and make sure it is placed in a spot towards the back of the tree where you'll be plugging your lights into the wall. I think it's easiest to buy a remote-controlled outlet plug so you can easily turn your Christmas lights on and off without the chance of tipping your tree over. If you do need to unplug your lights, make sure you place an outlet protector back in the outlet.
Avoid putting tinsel on your Christmas tree.
While it may be pretty, this can cause a choking hazard if there are small pieces that fall off the branches and into the hands of your baby!
Use something to secure your ornaments if necessary.
If you have some really special, fragile decorations that tend to fall off the tree easily, make sure you have them secured well on your tree. I usually do this by wrapping the metal hanger around the Christmas tree branch. If the ornament hangs with a string or ribbon, you can make sure that it's tied tightly around the branch.
Use an outlet light timer for your Christmas tree lights.
This is especially important if you have young children who will want to play with Christmas lights! If you find that your baby is attracted to the tree because of the Christmas tree lights, you can baby proof your Christmas tree by having the lights turned on when your baby is asleep for naps and bedtime. This manual outlet timer is what we use in our house because you can have the tree set to come on and go off as often as you want during the day. The prongs are easy to push up and down (for adults), so you can have the tree go on and off as needed.
With these helpful tips, you'll be able to have a safe Christmas tree that is baby-proof and will give your family years of enjoyment. With all the different precautions taken into consideration, you should have a much safer Christmas tree for your baby! So whether or not you are considering buying new decorations this year or just setting up your old tree, just remember that with a little extra care and attention to detail you can baby proof a Christmas tree easily!
MORE Helpful Christmas Posts
Baby's First Christmas Gift Ideas
30 Fun Christmas Eve Activities for Families
10+ Fun Christmas Activities for Families
Fun Christmas Books for Kids by Age Group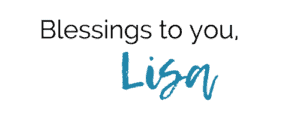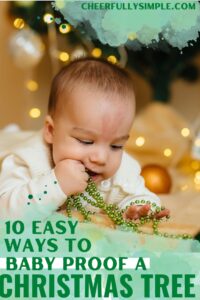 The owner of this website is a participant in the Amazon Services LLC Associates Program, an affiliate advertising program designed to provide a means for sites to earn advertising fees by advertising and linking to Amazon properties.
---