5 Tips for Buying Kids Clothes on a Limited Budget
Simple Tips for Buying Kids Clothes on a Limited Budget!
Buying kids clothes when the budget is tight can be really tough. Especially if you're buying kids clothes for multiple children every season.
BUT, there are ways that you can score some fantastic, gently used kid's clothes.
You may want your kiddo to have the latest fashion, but spending big bucks at the name brand stores just isn't an option for you right now. I get it! We don't spend big bucks on clothes either, but our kids do have really nice clothes. How? Let me share 5 of my best tips!
*This post may contain affiliate links, which means I receive a small commission, at no extra cost to you, if you make a purchase using this link. I only recommend products I love or would personally use.
Tip # 1 Shop Consignment Sales
OK, so the first place I like to go when I am buying kids clothes on a limited budget is consignment sales. Now, these can be a bit tricky. Usually, the local moms' groups have a sale in the fall and in the spring. So, shopping these types of sales does require you to do some planning ahead of time. There are several groups within an hour drive of me that have these semi-annual sales. And, if you pick the right ones, you can land some really great deals.
When I shop consignment sales, I like to go in with a paper list of what I am looking for. I have found that going in with a mental list never works because I ALWAYS end up forgetting something. If there are specific things that I know I need, then I go for those things first. If for some reason I can't find something that was on my list, I know that I need to make sure to attend another sale for that season so I can have my kids covered.
It may be a good idea to take someone with you if you are shopping for quite a few things. This way you can split the list in two, and you can each go your separate ways. By doing this, you are more likely to get more of the things on your list.
How much money can you save?
I can tell you that I usually do really well at these types of sales. I have found that depending on the type of sellers who are selling at that sale, that I can walk away with name brand (sometimes tags on still) clothes for super cheap. And by cheap, I mean anywhere from $0.25- $5. I usually try to not pay more than $5 for any clothing item. Unless of course, it's something like an Easter dress or a Christmas suit.
Consignment sales are also really great places to shop for special events. Whether it be a wedding, Easter, Christmas, or some other major event, you can often find clothes that have only been worn once for a fraction of the price of what you would find in the stores, it just requires planning.
Many of the sales that I shop also offer incentives to show up early. Some let you shop early, and others let you enter to win coupons to shop that day.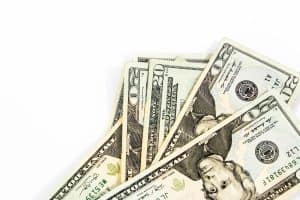 Related Post: Kids, "What Does Mommy Do All Day"
Tip # 2 Shop at Consignment Stores
So, my second place I like to go when I am buying kids clothes on a limited budget is consignment stores. As I mentioned before, I try to make sure that I have a plan in my mind of what I will need for each kid for each season.
But, there are times that I either completely forget that we are going to need something, or I thought I had something that in fact, I did not. Oops!
Thank goodness for consignment stores! One great thing about consignment stores is that they are open all year. That is probably the biggest downfall to the consignment sales.
Much like consignment sales, consignment stores are a great place to shop when you are buying kids clothes on a limited budget. Once again, you can buy gently used, sometimes never worn clothes for really reasonable prices.
Consignment stores do usually offer a much wider selection of products and clothing than a consignment sale would, so that is a bonus of shopping here too.
Tip #3 Shop at Yard Sales
As you can tell, I am all about getting a great deal. I know exactly what it's like to be buying kids clothes on a limited budget because that is how I shop.
Could we spend more money on clothes, sure, but why would I do that when I have some really great options that save our family a LOT of money?
Yard sales- some people hate them, and others love them. I would say I fall somewhere in the middle. Although this isn't my favorite way to shop, it can certainly be the place to find incredible deals!
One time I bought a pair of jeans for our oldest at a yard sale for a dollar or two. Little did I know this particular pair of jeans was a super popular name brand that I had never heard of. People made comments like, "Wow, those are expensive!" I was just sitting there thinking, "Ummm, yeah, totally expensive!" Ha!
But, this is one of the great things about yard sales. Sometimes you come up with treasures you didn't even know you had.
RELATED: 10 Necessities to Have Before Baby Arrives
Tip #4 Shop the Clearance Section
The clearance section is really the only place I shop at big box stores. Why? Because there are some really great deals to be had! When you are buying kids clothes on a limited budget, any place you can save money is a great place to shop.
Some of my favorite places to find clothes on clearance are Macy's, Target, and Kohl's. Those tend to be the top 3 stores that I can find cute clothes for a fraction of what the rest of the clothes sell for.
I will mention this though, some stores only put out of season stuff on clearance. Again, this simply requires a bit of planning to know what you will need for your kids for the next season. Think about what size each kid will be in, and what types of things you need.
Another way you can save some money while shopping online for your kids' clothes is to use ebates. It has become a favorite of mine in terms of shopping online because they give me cash back just for buying the things I was going to buy anyway! If you haven't checked out ebates, this is a perfect time!
Tip #5 Embrace Hand-Me-Downs!
We have been so incredibly blessed by hand-me-downs! We haven't had to buy a ton of clothes for our kids because of hand-me-downs. This is because of some very generous people in our social circles.
If you have friends who have children a little older than your kids, and the same gender, offer to pay them for their hand-me-downs even. I promise, even if you are paying someone a bit of money, you are saving so much money compared to buying clothes off the shelf.
Some of the clothes might need to be deemed play clothes, but that is totally ok. My kids have two sets of clothes- play clothes and clothes to wear out to places. Totally fine!
If you have boys, then you know that play clothes usually only last through one kid, so this concept of hand-me-down play clothes may be non-existent.  If this is the case, then just find some super cheap clothes to make up your play clothes pile.
RELATED: 12 Ways to Prioritize Marriage After Kids
Important Things to Keep In Mind
There are some things that you want to keep in mind when you are buying kids clothes on a limited budget.
The first thing I would recommend is that you always check the clothes for stains and holes. I am totally bummed when I get clothes home that I saved a bunch of money on and when I am throwing them in the wash I realize they have a stain!
Total bummer, so make sure you check your clothes.
The second thing I would recommend is that AS SOON AS YOU GET HOME, you run the clothes through the washer on hot. You wouldn't want to chance bringing any little creatures home with you on your cute clothes.
The third thing I recommend is calculating how much you spent and how much you saved. I'm always amazed at how much clothes I can get for such little money. The markup on clothes is ASTOUNDING! It makes me feel good knowing that I am meeting my kids' needs and doing well for my family at the same time!
What about you? Do you enjoy finding good deals? Any other places I should add to this list for those who are buying kids clothes on a limited budget?
Let me know all your great tips!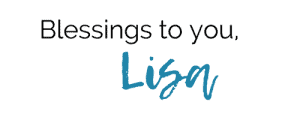 The owner of this website is a participant in the Amazon Services LLC Associates Program, an affiliate advertising program designed to provide a means for sites to earn advertising fees by advertising and linking to Amazon properties.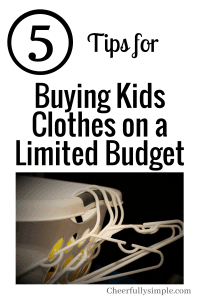 ---