The Best Postpartum Leggings for New Moms
I think just about every postpartum mom has asked, "What can I wear to hide my postpartum belly?"
Postpartum leggings are one of the best postpartum clothing items to have in your postpartum wardrobe. They are forgiving in all the right places, comfortable, and supportive above all else. If you select a high-waisted option of leggings, they're going to come up higher and hide more of your postpartum belly.
Can you wear leggings after giving birth? If you're comfortable wearing leggings after giving birth, go for it. If the compression leggings are a bit too much for you, go with traditional leggings.
After having a baby, I loved that my postpartum leggings were comfortable and supportive in my stomach area. They kind of made me feel put back together when everything felt like it was all over the place.
What are postpartum leggings and do I really need them?
There are certain types of postpartum leggings that are designed specifically for women who have just given birth. But, you don't have to buy postpartum leggings to wear leggings during your postpartum recovery period.
Postpartum leggings are leggings that you'll be comfortable wearing during your postpartum recovery after having a baby. Find some leggings you'll be comfortable wearing. You may need to buy a smaller size as your belly begins to shrink back, but that's not a big deal.
Postpartum leggings above all need to be supportive, since your abdomen just grew a baby, and your body just forced your tiny human into this world.
What are the benefits of wearing postpartum leggings?
Hide your postpartum belly
Postpartum leggings are amazing because they can hide your postpartum belly as it shrinks back to size. This can be emotionally draining and frustrating when you still look like you're 4 or 5 months pregnant AFTER having your baby. Postpartum leggings pull things back together which can make you feel better about your postpartum body.
Support your abdomen as your uterus shrinks back
Your belly and uterus took 40 weeks to grow a tiny human. It isn't going to shrink back within hours after giving birth. This is totally normal! As your uterus shrinks back, your belly size will begin to go back. Postpartum leggings are great because they can offer compression similar to an abdominal binder. Although I still think abdominal binders are important, wearing leggings after giving birth can be a great way to get back to your pre-baby body.
Make you feel better about your body as it begins to transition back
When you're caring for your new baby, dealing with sleep deprivation as a new mom, and realizing that your body looks nothing as it used to, you may be emotionally drained. A great pick-me-up is to have a great-fitting pair of leggings that make you feel better about your post-baby body.
Great for when you're between sizes
Going along with everything mentioned above, postpartum leggings are great as your body transitions in the fourth trimester. You will experience a variety of size changes as your body gets rid of all the extra things it no longer needs.
What are the different types of postpartum leggings?
Compression Leggings
Compression leggings are designed to pull everything in. Compression in general is designed to increase blood flow, and reduce muscle fatigue, which is ideal after giving birth. Because compression leggings are designed to compress, you may feel like they're really tight, and harder to pull on at first.
High-Waisted Leggings
High-waisted leggings are designed to come up over the hip and into the waist. They're designed to hide all of the bumps and rolls in the abdominal area. They're usually at least 3 inches above the belly button but are often up to 5 inches above.
Capri Leggings
Just like capri pants, Capri leggings are leggings that are shorted than regular pants but are longer than shorts. Essentially, they're a pair of cropped leggings. These may be ideal if you'll be having a baby in the summer and want something cooler.
What to look for when buying postpartum leggings?
Type of Fabric
If you're looking for a specific type of fabric, make sure the postpartum leggings you choose are made of that specific blend. I have included a variety of different types of leggings made of different types of fabrics. For me personally, I think leggings made of Elastane are the softest leggings for postpartum women. If you're looking for something really stretchy, look for a higher elastic or spandex content.
Length
Are you looking for a full-length legging or one that is more of capri length? Are you shorter, and pants tend to be longer on you, or are you taller, and pants tend to be shorter on you? Make sure you take note of this as you're choosing which type of postpartum legging is best for your body type.
Color/Pattern
There are so many different color and pattern choices. Some people like simple black postpartum leggings, while others like something with a pattern. There is something for everyone, so make sure you look around and find the color combination that's right for you. Another thing that's nice about the postpartum leggings I'm sharing today is that there are several variety packs of leggings in various colors and patterns.
Cost
Most of the leggings here are ideal for a small budget. They're certainly on the cheaper side compared to some of the most expensive postpartum leggings. But, don't think that means they're inferior in quality, because they certainly aren't. In fact, many women have bought some of the more expensive leggings and actually prefer the postpartum leggings that are budget-friendly.
What you'll be doing in them
Do you just plan to wear your postpartum leggings around the house, or do you plan to work out in them or go out in them? Take this into consideration when picking the style of leggings. I have included a pair of leggings that looks more like a real pair of pants instead of leggings, just in case you need something that offers comfort and compression, but a little more formal than traditional leggings
*This post may contain affiliate links, which means I receive a small commission, at no extra cost to you, if you make a purchase using this link. I only recommend products I love or would personally use.
The Best Postpartum Leggings for New Moms
Best Postpartum Leggings for C-Section Recovery
Campsnail High-Waisted Leggings
Colors/Patterns: 11 color packs to choose from
Material: 92% Polyester, 8% Spandex
Sizes: 3 sizes (SM-MD, LG-XL, XXL)
Pockets: none
What Moms Love: soft and stretchy but still offer good support; 5-inch compression waistband; comes in packs of 4; a great deal for the price
Colors/Patterns: 8 Capri options; 25 color and pattern options for the full length
Material: Polyester and Spandex
Sizes: XS-2XL
Pockets: 2 outside pockets, one hidden pocket in the waistband
What Moms Love: moisture-wicking; elastic waistband; hold everything in without being too tight
Best Postpartum Leggings with a Pocket
Dragon Fit High Waist Yoga Leggings
Colors/Patterns: Over 30 colors choices and patterns
Material: Spandex and Polyamide
Sizes: XS-3XL; order on the smaller side, as they will stretch a bit as your postpartum belly goes down
Pockets: 3 pockets
What Moms Love: lots of color options; great length, even if you're short; comfortable with a slimming effect
can be worn during pregnancy and postpartum; don't roll down when you move or sit
Ewedoos Women's Yoga Pants with Pockets
Colors/Patterns: 5 Capri color options; 13 color and pattern choices for the full length
Material: 75% Polyester, 25% Spandex
Sizes: XS-3XL
Pockets: one pocket on each side, with a hidden pocket in the waistband
What Moms Love: not seethrough, but soft, strong fabric; the material isn't shiny
If you're getting ready to have your baby, but you're nervous about everything that happens after giving birth, you NEED this Postpartum Handbook. How to manage breast pain and engorgement, postpartum bleeding, postpartum pain, great foods to eat, postpartum exercise and so much more! CHECK IT OUT!

Best Compression Postpartum Leggings
MOTHERS ESSENTIALS High Waist Tummy Compression Control Slimming Leggings
Colors/Patterns: 3 color choices
Material: 92% Polyamide, 8% Elastane
Sizes: XS-XL
Pockets: no pockets
What Moms Love: moisture-wicking; great length, even if you're short
Best High-Waisted Postpartum Leggings
90 Degree High Waist Power Flex Tummy Control Leggings by Reflex
Colors/Patterns: 12 colors to choose from
Material: 87% Nylon, 13% Spandex
Sizes: XS-XL; If between sizes, go larger
Pockets: 1 hidden pocket in the waistband, but no side pockets
What Moms Love: hidden pocket; not see-through at all
Best Control Top Postpartum Leggings
Signature by Levi Strauss & Co. Gold Label Women's Totally Shaping Pull-on Skinny Jeans
Colors/Patterns: 8 colors
Material: fabric blend of denim and spandex
Sizes: 2-20
Pockets: None, also no buttons or zippers
What Moms Love: Keep their shape; wash well; don't move when you wear them; don't look like mom jeans but are great for moms; 3 different inseam lengths
Best Capri Postpartum Leggings
MOTHERS ESSENTIALS Postpartum High Waist Compression 3/4 Capri Leggings
Colors/Patterns: only come in black
Material: 92% Polyamide, 8% Elastane
Sizes: XS-XL
Pockets: None
What Moms Love: moisture-wicking; thick material; not seethrough; can feel tight, so size up if concerned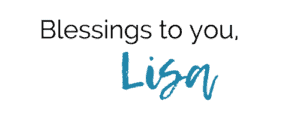 Other AWESOME Postpartum Posts:
Postpartum Essentials for New Moms
What to Expect After Giving Birth
What to Wear After Giving Birth

Postpartum Questions Every New Mom Needs to Ask
What Does the Hospital Supply When You Have a Baby?
What to Expect After Giving Birth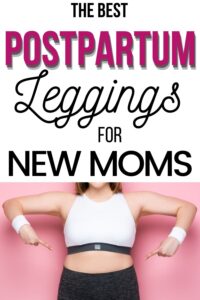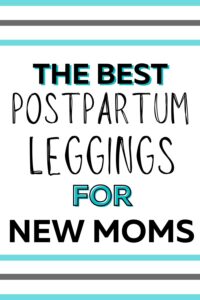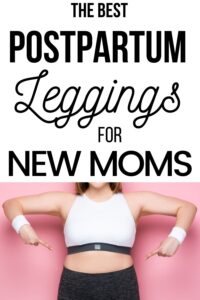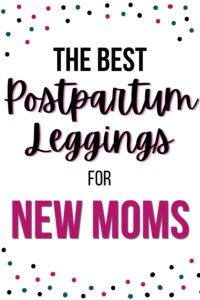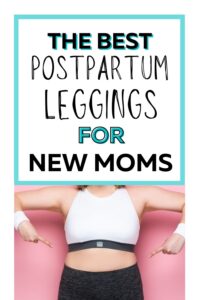 The owner of this website is a participant in the Amazon Services LLC Associates Program, an affiliate advertising program designed to provide a means for sites to earn advertising fees by advertising and linking to Amazon properties.
---