Best Planners for Moms
Do you ever feel like this mom with post-it notes everywhere and yet you still forget what you were trying to remember?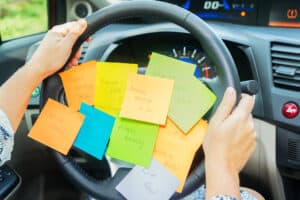 As a busy mom, I am always trying to find new and simple ways to stay organized. At the start of the new year, I wanted to become more organized, so I started looking for the best planners for moms.
I am a small business owner, wife, social butterfly, and busy stay-at-home mom. My life needs to be organized with a busy mom planner.
So, I wanted to share some of the best planners for busy moms in hopes of you finding the best mom planner that's going to work for you.
Each planner is different in what it offers in terms of color, design, functionality, and add-ons. Check out each mom planner and find the right planner for your busy mom life.
If you want 2023 to be different, you need to pick one of the best planners for moms to make your busy life easier. Make it work and stop making excuses for always being late (most of the time)!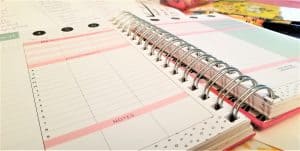 *This post may contain affiliate links, which means I receive a small commission, at no extra cost to you, if you make a purchase using this link. I only recommend products I love or would personally use.
Important Features of a Planner
Color: Do you like a planner that is bright and colorful, or do you like a simple planner for weekly activities?
Size: Do you want a desk planner or do you need a planner that can fit in your purse?
Time: Do you want space for daily activities, weekly activities, and monthly activities?
Just a planner or more?: Do you want just a calendar, or do you like a planner for setting and tracking goals?
What features have you liked most about the planners you've used?
All of these questions will set you up for finding the perfect planner for busy mom life.
For the Mom Who Needs Someone to Tell Her What She Needs
I don't know about you, but I am all about taking a quiz and letting someone else find the right mom planner to meet my needs as a busy mom. You can take the planner quiz: here!
When you arrive on the Simplified site, you'll have the opportunity to take a quiz that will tell you which planner is the best one for you.
As the blog name indicates, I am always looking for ways to keep my busy mom life simplified, and one great way to do that is with a mom planner.
One amazing feature of the Simplified calendar is that it is going to help you become more organized by offering you tips to simplify your life.
There is a daily edition that offers one day per page view, a weekly view section, and a monthly view section. Perfect for the micro-manager, and the "learning this whole mom organization thing" manager.
You can also choose to use the monthly edition planner. This planner offers a one-week view over two pages, as well as a monthly calendar. This planner has lay-flat bookbinding, a storage pocket, tabs, and stickers to help keep you organized. (YAY STICKERS!!!)
This is one of the best planners for moms because it allows you to choose what works for you and your family's needs.
Best Planner for Christian Women
Amy Knapp's Christian Family Organizer is an excellent choice for the Christian mom who wants to keep Jesus at the center of her days.
I love that there is a place to write a grocery list, track personal goals, a scripture for the week, create a to-do list, and write your prayers and praise. As a Christmas momma, I need a place to remind myself of the good every week.
This Christian planner for moms also comes with a monthly outlook as well. There are also stickers to add to your calendar to track important events. Here's the link for her 2023 Christian Family Organizer.
Best Planner for Personalization
If you find yourself looking for a planner that can be personalized, then this Erin Condren Life Planner is for you!
If you go to Erin Condren's website, you get to choose the type of beautiful, colorful cover you want, and then you can have it personalized with the label of your choosing. Maybe you want to have your name put on it, or Mama Bear, or one of my favorites, Mom Boss. Because let's be real, you are the Mom Boss of your humble abode.
Once you have designed the cover to your liking, you'll then get to customize the inside of your mom planner. As far as the layout of the book itself, you get to choose between vertical, hourly, and horizontal.
Vertical will provide a weekly layout with three boxes under each individual day where you can write notes, important times and appointments, or anything else you don't want to forget.
The hourly layout is going to break down each week by day, into hourly sections for you to fill in your important appointments. I think this is one of the best planners for working moms or moms who have multiple kids and are out of the house most of the time. It will help you make sure you have everything written down for everyone in your family.
The horizontal layout gives you a one-week setting with 4 days listed on the left, 3 days listed on the right, and then a notes section at the bottom. Each day has a section for you to write important notes or appointments that as a busy mom you may otherwise forget.
The next way you'll customize your mom planner is by choosing if you want the layout to be colorful or basic. The basic is a simple black-and-white layout, while the color option will provide color for each section that lists the days of the week.
Another option you'll decide on is if you want your calendar to run from January to January or if you want it to run from the current month to that month of the following year. Everyone likes their calendar a certain way, so the fact that Erin Condren calendars provide that option for busy moms is awesome!
The last option you'll be deciding on is the color of the coil of your mom planner.
Most planners come with stickers inside the planners, but you'll also have the option to add things on before checking out with your new mom planner for 2023!
The Erin Condren planners can be a bit on the pricier side and will increase in price as you add options to your planner.
Without a doubt, this is one of the best mom planners of 2023 because you get to totally design your planner to meet your needs, which in my opinion, will increase the chances of you keeping up with it and loving the freedom a planner gives you.
To design your very own planner for 2023, visit the Erin Condren site here! If you'd rather go with a Life Planner like what you see above, click the picture above.
Best Planner for a Busy Mom
Ok, so the one thing I LOVE about the Happy Planners is that they have specifically designed their planners for busy moms! They thought about us and then designed planners to help make our busy mom lives simpler.
Another awesome feature of the Happy Planners is that they are buildable. What I mean by buildable is that you can add things or take things away to design the perfect planner for you. So, if there is something in the planner that you don't love, you can take it out. If you found a planner that you love, but there is a section missing that you would like to have, then you can add it.
There are SO many stickers and fun add-ons to enjoy. You can add dividers if that's your thing. Or you can leave them out completely, and that's cool too.
You can choose from a variety of different sized planners. Some busy moms need a planner that can always be with them in their bag, while other busy moms need a planner that provides a large writing space and they prefer to leave their calendar at home.
As a busy mom, you may find that you've gotten to a point that you want to teach your kids to have their own planners. This is a great place to do that! You can find the perfect planner designed for kids and have them learn to use their own planner. They can add their own creative designs with all of the decorating options available.
The Happy Planners are a really budget-friendly mom planner.
Best Daily Planner for Busy Moms
The Day Designer Planners for Moms is designed so that you can track everything that goes on in your daily life. You can track appointments, set and track your weekly goals, and more. There's also a two-page layout for the month so you can see the big picture.
You can set your top 3 priorities for the day, make a to-do list, and stay centered with the gratitude section.
I also like this calendar because it runs from January through December instead of an academic calendar year.
Best Planner with Lots of Choices
With the Paper Source planners, you'll have the option to choose a calendar that runs for 17 months, 13 months, or 12 months. This is awesome for anyone looking for a planner that runs during the school year for instance.
You'll find a monthly view, as well as a weekly view inside the calendar.
Some planners come with stickers, notes pages, coloring pages, note tabs, a pocket for storing important papers, and more! Check out the type of planner you think you'd enjoy and it will give you all the specifics of what that particular planner can offer you.
This brand of calendar isn't as customizable as some of the others, so if you're looking for something to help keep you organized without all the flashiness, this is a great choice for you!
Paper Source offers a variety of planner sizes, which is great for everyone, whether you're looking for a planner to keep on your desk in view, or if you're wanting a great mom planner to keep in your purse as you're on the go with your kids.
Best Planner with Cute Functionality
Lilly Pulitzer planners are VERY popular among my community of busy moms.
When you go to select the Lilly Pulitzer calendar that is right for you, you'll get to choose the size of the planner you want, as well as the outer cover that's appealing to you.
The calendars come with a variety of resources inside of them such as stickers, note tabs, pockets, and an elastic closure to make sure all of your important notes and papers stay safely inside your planner.
The 17-month calendar has a weekly and monthly calendar that you can use to make sure you don't miss any of the important appointments on your books.
If you'd rather have a calendar that runs for only 12 months, they have those as well. You'll get to choose between 3 sizes- medium, large, and jumbo. It's great to have options to meet the demands of your busy lifestyle.
Each of the planners has a colorful and beautifully designed cover. I am certain you can find the one that's just right for your busy mom life. I think the Lilly Pulitzer calendars are the perfect balance of function and beauty.
Motherhood is busy. It just is. This is a fantastic planner for stay-at-home moms, as well as an excellent planner for working moms. It works for all moms.
These planners are awesome for busy moms who are just trying to keep things straight, getting kids where they need to be on time, and making sure all appointments are taken care of.
Whether you're a stay-at-home mom of 5 or a working mom caring for 1 kiddo, finding the best calendar for busy moms is essential to keeping life organized!
Best All-in-One Planner
Every busy mom has goals. It may be goals at the office, goals at home, or personal goals such as weight loss or trying to be a better mom to your toddler.
Add a to-do list, your daily calendar, and celebrate weekly goals, and you have a hot mess on your hands.
This is what I love most about the Clever Fox Planner.
The planner is designed with the mom in mind who is trying to accomplish everything, but can't keep things straight. You can track your goals while checking things off on your to-do list all in the same place. No more keeping notebooks and planners and post-its notes trying to help you remember everything you need to do.
Another awesome feature of this planner is a gratitude journal. This planner provides a place for you to stay centered and be reminded of things in your life to be grateful for. How awesome is that!?
You also get 3 bookmarks and 3 sheets of colorful stickers to help you keep track of important things.
So get your vision board started, and begin your trek to success!
The links above are going to take you to the UNDATED version. Here is the link to the DATED version!
Best Planner for a Micro-Managing Mom
If you're the kind of mom who likes to have a handle on everything all the time, the Panda Planner is the right planner for you.
Each day you can sit down quickly, see your plans and goals for the day, and then check back in to close out the end of your day. You can write about what you're grateful for, what you accomplished that day, and what you plan to accomplish tomorrow.
You can also set weekly goals with the weekly scheduling spread provided in the planner. This allows you to set goals for yourself as a mom and see them happen.
There's also a monthly view which will allow you to see the big picture come to fruition from the beginning of the month to the end.
Some awesome bonuses included with this planner are a couple of e-books on increasing productivity, as well as a mini-course on increasing your productivity.
MORE Helpful Posts for Moms
Logical and Easy Cleaning Schedule for Busy Moms
The Best Christian Parenting Books
8 Books to Help You Parent Your Toddler
How to Give Kids Effective Instructions
Do you have a favorite mom planner you'll be using this year?
Which of these mom planners is your favorite? What tips would you give to someone who is just learning to use a planner for the first time? Did you pick a new family planner for this year? How has having a planner made your daily life easier?
Come back and share your successes with your new mom planner!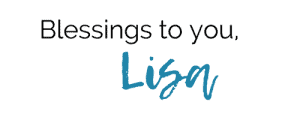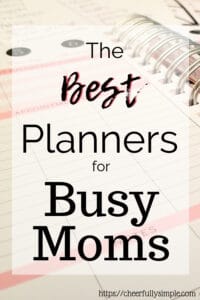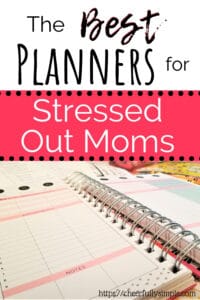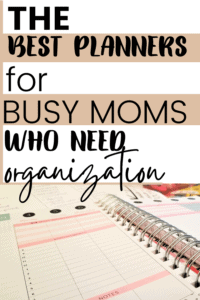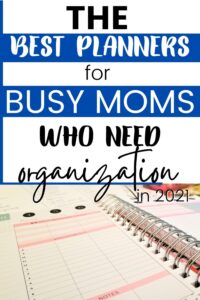 The owner of this website is a participant in the Amazon Services LLC Associates Program, an affiliate advertising program designed to provide a means for sites to earn advertising fees by advertising and linking to Amazon properties.
---