Thoughtful Miscarriage Gifts
There isn't a pain quite like the pain one experiences with the loss of a child. Regardless of whether the child was lost from miscarriage, stillbirth, or infant loss, that hole parents experience never goes away.
Miscarriage, by definition, is the loss of a baby before 20 weeks gestation. Sadly, about 10-15% of pregnancies end in miscarriage.
If you're looking for a way to show love and support to someone who has recently or is currently experiencing a miscarriage, here are some incredibly thoughtful miscarriage gifts for moms and dads.
Everyone experiences and handles loss differently. You know your people best, and I know you'll choose a thoughtful gift they'll love and cherish forever.
*This post may contain affiliate links, which means I receive a small commission, at no extra cost to you, if you make a purchase using this link. I only recommend products I love or would personally use.
Miscarriage Gifts for Mom
Comfort Box
Miscarriage is never an easy thing. Send some love and comfort with this miscarriage comfort box. Inside the box, you'll find a candle with a sweet memory poem, an amethyst bracelet, and a bag of flower seeds that attract butterflies.
Whisper of Hope Blanket
If you want to give a comforting miscarriage gift, this beautiful lightweight polyester blanket depicts a mother holding her child with a poem that says, "I carried you every moment of your life, and I will love you every moment of mine". The blanket measures 66″ by 49″. It comes in a decorated gift box.

Healing Thoughts 5-Piece Gift Set
This thoughtful miscarriage gift set includes a blanket, neck pillow, eye mask, carrying bag, and warm socks. Positive words will surround the mother who is experiencing a miscarriage.
Emma Lou Miscarriage Necklace
This stainless steel Emma Lou Miscarriage Necklace is a sweet reminder of the life that will always be loved. The necklace is made of stainless steel and can be adjusted from 14.5 inches to 18-inches long.
Personalized Pregnancy Loss Necklace
This beautiful pregnancy loss remembrance necklace can be completely personalized. You can choose a wing or cross charm. The date of choice, be it the original due date or date of loss, a name, as well as a birthstone color can also be completely personalized. The disc is a 1-inch stainless steel disc and the chain is a stainless steel 18-inch chain. The piece is made in Arizona.
Miscarriage Bangle Bracelet
This miscarriage bangle bracelet is 2.55 inches wide and made of stainless steel. It is nickel, lead, and cadmium-free, and also hypoallergenic. There are angel wings on the outside, and the inside says, "I carried you every second of your life, and I will love you every second of mine"
Sterling Silver Remembrance Bracelet
With a simple design, this sterling silver infant loss gift bracelet features a sterling silver heart is another heart piece missing from the inside. Each jewelry piece is made in Franklin, Tennessee. The heart charm is 0.5 in and the chain adjusts from 6.5 inches to 7.25 inches.
Ultrasound Frame
An ultrasound frame is a beautiful way for parents to remember the child they lost. The frame is 5″ by 7″ and can be personalized with a name, date, and 20 different background color options. The frame is made in Florida.
peace + tranquilty Candle
Sometimes one of the best ways to find peace can be with a wonderfully scented candle. This peace + tranquility candle from CHESAPEAKE BAY has a gentle cashmere jasmine blend and burns for approximately 50 hours. There are many other scent blends available as well.
Miscarriage Support Journal
Sometimes, time heals, and sometimes you need something more. This highly rated miscarriage journal with 31 daily devotions will help a mother grieve the loss of her baby as she heals.
"Grieving the Child I Never Knew" book
When you aren't sure what to say or do, or maybe even what miscarriage gift to give, you can give this miscarriage book. "Grieving the Child I Never Knew", is a book written by Kathe Wunnenberg. She experienced three miscarriages and the death of an infant son. She shares her experiences, her unexplainable grief, and walks other moms through grieving and figuring out how to go on.
Infant Loss Keychain
This stainless steel keychain is a simple, yet thoughtful miscarriage gift that isn't too personal but lets someone know you're thinking of them and the miscarriage and loss they're experiencing.
Memorial Keychain Set
This set of stainless steel keychains is a kind gesture to any mom and dad who are experiencing a miscarriage loss. Each parent will be given a keychain that binds them together to remember their child.
Christmas Ornament for Miscarriage
I teared up as I read this beautiful miscarriage Christmas ornament. Baby is Heaven is a poem written to parents who have suffered infant loss. This is one of the most beautiful poems I have ever read. The ornament is 3.5 inches wide and features a place for the picture of the baby.
Memory Christmas Ornament for Miscarriage
Even if the loss doesn't occur around the holidays, many parents consider their child a part of their family and want to remember the child lost to miscarriage, especially around the Christmas season. This 3-in round Christmas ornament is a nice miscarriage gift that can be personalized with the baby's name and birth month/year. You can also choose to add a gem or birthstone when doing the personalization.
In the Palm of His Hand Garden Statue
This unique miscarriage gift for the garden is a resin statue of a sweet sleeping baby lying in the hand of Jesus. It stands 11 inches tall and can be kept in the house or placed in the garden as a place for remembrance and healing.
Monthly Meal Subscription Box
Another thoughtful gift for someone who has experienced a miscarriage is a weekly or monthly meal service. You can easily purchase the service as a gift and then they will get to choose which meals they would like to have and when.
A Miscarriage Gift for Dad
Remembrance Keychain
This stainless steel keychain is a great miscarriage gift for a dad to remember his child.
Baby footprint leather cuff
A classy footprint leather cuff is an amazing gift for a dad who experienced a miscarriage. It is a thoughtful way for a dad to remember the child he lost. You can customize the name on the bracelet as well as whether or not there's a picture. There are 3 adjustable holes that range from 7.87 inches to 9.05 inches. The bracelet itself is 9.44 inches long.
What to Include in a Miscarriage Care Package
Something fuzzy and soft/warm
When experiencing loss, it's nice to have something that is soft, fuzzy, and warm such as a blanket, socks, or a stuffed animal. In the case of a miscarriage or stillbirth, you may even consider doing some sort of baby blanket that memorializes the child.
Mom's favorite flower
If you know the favorite flower of the momma who lost her baby, you can buy her some of her favorite flowers. You may also consider buying a flower, plant, or tree that she can plant that will always remind her of her sweet baby.
A book about miscarriage
I have included a couple of books that help moms navigate through miscarriage. There are others out there I am sure, but these are some of the most helpful books for moms who have suffered a miscarriage.
A yummy, sweet treat
Another way to help a mom who has had a miscarriage is to make or send her favorite treats. If you aren't sure what her favorite treat is, you can always send a treat variety pack.
When to Send a Miscarriage Gift
I don't honestly think there is a wrong time to send a gift to someone who has had a miscarriage. It's a nice way to let them know you're thinking of them during this hard time they're experiencing. Some women (and men) aren't ready to talk about the loss right away, but they're grateful for people who send things to show they care.
Things You Can Go Do for Someone Who Suffered a Miscarriage
Go with her to get a massage
If your friend or loved one is feeling up to it, you can take her to get massages. This is a nice way for her to have some time to focus on herself and her healing.
Go get manicures/pedicures together
Similarly, you can also go get manicures and/or pedicures together. This is a nice experience after having a miscarriage because it does allow you to talk about her loss if she's feeling up to it.
Go see a movie together
Another thing you can go do with someone who has suffered a miscarriage is to go see a movie together. Sometimes, it's nice to have a reason to cry or even laugh without feeling guilty.
Offer to clean her house
It may be that she isn't feeling up to it emotionally, but sometimes after having a miscarriage or suffering infant loss, a woman just isn't physically feeling up to cleaning her house. You can offer to come to clean her house as an act of love.
Offer to make a meal
A homecooked meal in my opinion is a universal sign of love and thoughtfulness. If you're able to make her a meal (or a few), that is a great way to support a woman who has had a miscarriage.
Offer to help with her kids
If your friend or loved one has other children, it may be helpful if you asked to help with them. It may be running them in a carpool, taking them off her hands for a few hours, or even coming to her house and letting your kids play with her kids while she does whatever she needs to do.
There are so many thoughtful miscarriage gifts for anyone who has suffered a miscarriage, but there really are countless ways to support a family who has experienced a miscarriage. There truly is no pain like the loss of a child, regardless of when or how the loss occurred. May you feel blessed in your efforts to support those you love! If you're looking for other ways to support someone who has experienced a miscarriage, The Miscarriage Association is a great place to begin.
MORE Helpful Posts
The Best Christian Parenting Books
How to Survive the First Trimester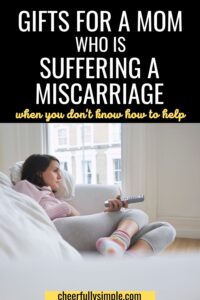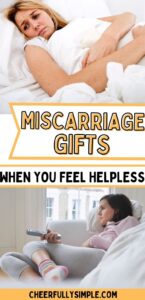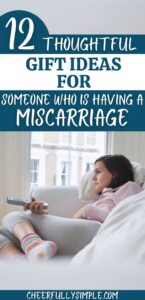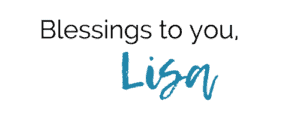 The owner of this website is a participant in the Amazon Services LLC Associates Program, an affiliate advertising program designed to provide a means for sites to earn advertising fees by advertising and linking to Amazon properties.
---