The Ultimate Guide to Pumping on the Go
Breastfeeding can be a lot of work, BUT it doesn't have to dictate what you can and can't do. There are plenty of ways you can figure out how to pump breast milk while you're out.
Pumping on the go… sound like fun, right?
Probably not, but that doesn't mean that you should let it intimidate or paralyze you from going out and enjoying your time away from your baby.
All it means is that you need a little bit of advice and a boost of confidence.
Adapting to a new baby is tough, whether it's your first or your fifth. Every baby is different and each nursing experience is different.
How to Successfully Master Pumping on the Go!
*This post may contain affiliate links, which means I receive a small commission, at no extra cost to you, if you make a purchase using this link. I only recommend products I love or would personally use.
First, Get a RELIABLE Breast Pump
I cannot stress this enough!
If you are going to be away from your baby you need to have a breast pump that is really good at helping you expel milk, and feels comfortable during a pumping session.
The last thing you need is for your pump to not get the milk you need to feed your baby.
And it will be incredibly frustrating when you switch to a different pump and express a LOT more milk than before. (I speak from experience!) So, if your pump doesn't feel right, seek out the help of a lactation consultant.
The breast pump I have loved the most has been the Spectra S1.
You will LOVE this pump because it is lightweight, portable, and can be battery operated!! (This is a game-changer!) The charge on this breast pump would last almost an entire week for me when I was pumping (4-5) 20-minute sessions at work 5 days a week.
It comes with a nightlight feature that has a low and high setting.
The pump operates on a closed system which means your risk for developing mold inside the pump or milk going up into the tubing is GREATLY reduced.
There is a cycle setting that allows you to choose how quickly the pump pulls and a vacuum setting which allows you to control the suction strength which allows you to have ultimate control of your pumping experience.
The best part is the company is owned by registered nurses, lactation consultants, and most importantly, moms who have done this too!
It is an amazing pump and I cannot say enough good things about it. Seriously… check out the Spectra S1!
If you're looking for a manual breast pump, I would highly recommend the Haakaa breast pump. Although I have personally never used it myself, I have so many mom friends who rave about it!
Second, Set Yourself Up for Success!
Bring along something to stimulate your senses. What do I mean by that? When you're with your baby, you pick up on your baby's scent, you're looking at them, and you can hear them. All of these things help to stimulate your milk letdown. This is super important to have a successful pumping session.
So, if you're going to be pumping on the go, bring along one of your baby's blankets to pick up on their smell, maybe a video of them on your cell phone, or even a picture of your sweet little one.
>If you're transporting breast milk, make sure you have one of the best coolers for breast milk!<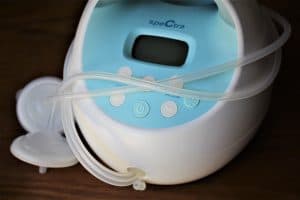 How to Master Pumping at Work
Before becoming a stay at home mom, I was a teacher. I had my first baby in September and then stayed home for 12 weeks.
I'd be lying if I said I didn't cry quite a bit leading up to the day I had to go back to work. It wasn't that I was fearful of anyone else caring for my baby, I just didn't want to go back.
But, it wasn't an option at that time for me to stay home.
Thinking about sitting in my classroom pumping milk for my baby seemed incredibly bizarre and intrusive.
What if someone walked in? What if I forget to lock my door? And the list of embarrassing scenarios continued!
Did I mention I worked in a MIDDLE SCHOOL with hormone-ridden teenage boys!
And then came the fear of what if I can't pump enough? Or, how will I find the time?
So, I had to put on my big girl panties and just do it.
Thankfully, I had several friends who were teachers and had been there, done that so I got some advice from them and figured it out from there. And much to my surprise, it was totally OK.
Here are a few tips for you based on my own pumping experience.
Have a Plan
I discovered that some of my fears with pumping on the go, such as pumping at work, were alleviated by simply having a plan.
I would get to work about an hour before school started to get work done. About 20 minutes before students would arrive, I would pump (session #1).
Then, I had a class period where students watched the daily news and I was blessed to have a great friend who was on her plan time who would come sit with my students while I went to her room to pump (session #2).
Next, I would pump during my lunchtime (session #3).
I would spend the beginning of my plan time pumping (session #4).
And, if I had a meeting after school, I would pump right at dismissal and then head to my meeting (session #5).
Here's the thing.
This may sound like a lot, but if you were at home with your baby, it's likely that you would be nursing at each of those time intervals. Really, if you pay attention to how often you're nursing, my pumping schedule was the equivalent of about every 2-3 hours.
Pumping on the go at work is totally doable if you're determined to make pumping work.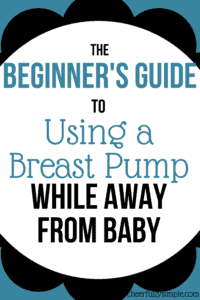 It's Your Legal Right
The biggest thing here is that it is your right to pump breast milk for your baby while at work.
Again, I am not saying it is easy, but your employer is required by the Affordable Care Act to allow you to pump milk for your baby while at work. You may need to adjust your schedule a bit to make it happen.
But, if this is truly your desire, you'll figure out a way to make it work.
Crazy Things May Happen
Funny story!
One time I was sitting at my desk pumping, which was where I always pumped, and I heard a knock at my door.
Per my usual response, I said nothing and just made it seem as though I wasn't in there. Then I heard the rattle of keys on the lock of my door.
PANIC MOMENT!
My principal was bringing a new student to my room to meet me.
Needless to say, I yelled that I would be out in a moment, and thankfully he didn't open the door.
But wow, what an awkward first impression that would've been for a new student.
Related Post: How to Find a Comfortable, Functional Nursing Bra
How to Pump While Traveling
As evidenced above in my story, pumping on the go can create some rather entertaining and laughable experiences.
Truthfully, you have to be willing to go with the flow and let it be what it will be. If you want to have a bit of freedom or have to figure it out in the case of working outside of your home, then you have to be flexible.
Here are some tips about how to pump while traveling.
>If you're transporting breast milk, make sure you have one of the best coolers for breast milk!<
Traveling for Work
So, how do you manage to pump when you're traveling?
Well, the same idea is true here in the sense that you just need to have a plan. You may find yourself traveling for work, in which case you'll need to talk with your employer about making the appropriate accommodations for you and your pumping times.
Make sure they're aware that you request to be as close to an accessible pumping space as possible. It's also important to make sure that the hotel you'll be staying at has a refrigerator you can store your pumped milk in.
But, what if you aren't at work but in fact the total opposite.
What if you're traveling in a car on vacation? How do you manage to pump in the car?
Or what if you're headed to the beach (my favorite vacay spot!) on an airplane? Is there a way to pump there?
My answer… ABSOLUTELY!
Traveling by Car
Our first baby was a little under a year old when we made a 16-hour trek across the country for a wedding.
By car.
We didn't want to have to stop EVERY single time I would need to nurse, so I figured out how to pump in the car.
I rode in the back seat with the baby, so I felt like I had a bit more privacy from passersby than if I were in front.
We had a blanket in the back seat, and I would use that as a cover when pumping. I could've used my nursing cover, but when I attempted that this first time, I felt like I was showing everything everywhere and that made me uncomfortable.
Needless to say, you don't get a good let down if you're uncomfortable.
Thankfully, I was using the Spectra S1 breast pump which has a battery.
This was AMAZING because I didn't have to be hooked up to any power source which was one less cord to manage. Here is a tip though if you're not using a battery-operated pump. Many breast pumps do offer cords that you can purchase for use in the cigarette lighter of a car, so make sure you look into that option before buying a new breast pump.
After pumping, I would use the Medela cleaning wipes for my pump parts, pour the milk into a baby bottle, and voila, the baby had breast milk.
It worked really great for us because pumping in the car allowed us to stop less and shorten the length of our trip.
Traveling by Plane
I haven't personally traveled by plane and pumped.
But, I know people do it, especially on long flights.
You really have two choices.
The first is to pump in your seat with a nursing cover. I don't know that this is something I would feel comfortable doing, especially if your pump is noisy.
The second option you have is to pump in the restroom. I would suggest that you let the flight attendant know what you're doing so they won't wonder what happened to you in there because you'll likely be in there for about 20 minutes. But again, pumping on the go, even on a plane, can be done!
Some Extra Advice!
If you are traveling and you are concerned about getting your milk back home, there is a great company called Milk Stork that will transport your breastmilk for you, making sure it gets to your baby and is still consumable.
Related Post: 10 Baby Necessities to Have Before Baby Arrives
Pumping While Out
Another reason you may find yourself pumping on the go is to enjoy some time away from your baby with your husband or your friends.
You shouldn't feel like you can't do these things!
Even as a stay at home mom, I began pumping when our baby was 3 weeks old and I started to build a stash.
It was important for me to feel like I had the flexibility to go out and let someone else take care of the baby. If you've ever had a baby diagnosed with colic, you will NEED to get out of your house without the baby.
Trust me here!
So, where all have I found myself pumping while out?
Parking garages, restrooms (quite a few of them), friends' houses, etc.
I think the one I found the most interesting was a major league baseball game. If you're lucky enough to end up in a stadium that has a nursing suite, you can totally pump there.
However, when I went in to pump, there was something weird about sitting in a small room with other women who were nursing their babies and trying to hook myself up to a breast pump.
It didn't work for me.
So, knowing I needed to pump, I did what any intelligent woman would. I went to the restroom. I hung the strap of the bag on the hook on the back of the door, sat on the toilet, hooked myself up to the pump, and there I sat.
Honestly, it didn't bother me a bit.
I've both pumped and nursed while sitting on a toilet because there was nowhere else to do it. No big deal.
As far as breast milk storage goes, you always need to make sure you take some sort of cooler bag with ice, an ice pack, and either storage bottles or bags to store your milk. The next section discusses milk storage!
I have written an entire post on how to store breast milk because it is SUPER important that you know the guidelines associated with breast milk storage. But, here is a brief rundown.
Once you have pumped your milk, you'll either want to store it in breastmilk storage bags or a bottle. I LOVE these Lansinoh brand bags because they are designed specifically for breastmilk. I have never had any issues with them leaking and they are easy to label and store. Or, you can store the breastmilk in baby bottles you probably already have.
*One note about storing in baby bottles. Unless the bottle is specifically designed for the freezer, don't store breastmilk in bottles in the freezer.
You'll also want to have a small, insulated cooler, along with some ice packs. As long as the ice packs stay cold, then you can store it in the bag for 24 hours. Once you get back home, put it in the refrigerator and it can be stored for 4-5 days. If you don't plan to use it in that time frame, then lay it flat in your freezer. Breastmilk can remain in your freezer for up to 12 months.
>If you're transporting breast milk, make sure you have one of the best coolers for breast milk!<
You Can, and Should Feel Comfortable Pumping on the Go
Feeding your baby is about as natural as giving birth. Your body was designed to do it. I know that it doesn't always work for everyone, and that's OK too.
Here is the funny thing for me, I am not really comfortable whipping out my boob and nursing in public. It just isn't my thing. And that's OK. Do I manage to figure out a way to make it work? Absolutely!
And the same goes for pumping.
You can do this!
You should feel like you have the freedom to be your own person. Get out of the house without the baby and do not feel guilty. Oftentimes, you will come back refreshed and renewed.
I've shared a lot here, but I've gotta know. What is the CRAZIEST place you have found yourself pumping on the go?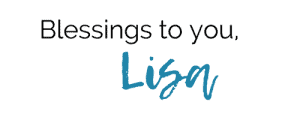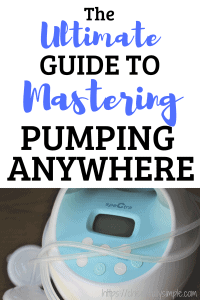 The owner of this website is a participant in the Amazon Services LLC Associates Program, an affiliate advertising program designed to provide a means for sites to earn advertising fees by advertising and linking to Amazon properties.
---