What to Wear During Labor and Delivery
Preparing for labor and birth involves way more than just being pregnant for 40 weeks and letting your body tell you when you're going to give birth.
Many women are opting for a different labor and birth gown than the traditional hospital gown.
For some, it's a personal preference, for some functionality, and for others, it's the mental side of feeling like a sick patient in a hospital rather than a woman giving birth.
I've birthed babies via c-section and naturally, and somehow I never knew about labor and birth gowns. I just thought I had to wear the traditional hospital gowns because I was "in the hospital". WRONG!
Figuring out what to wear during labor and delivery doesn't mean a hospital gown. You can wear a functional labor and birth dress or gown. These are the best birthing dresses and birthing gowns for new moms!
*This post may contain affiliate links, which means I receive a small commission, at no extra cost to you, if you make a purchase using this link. I only recommend products I love or would personally use.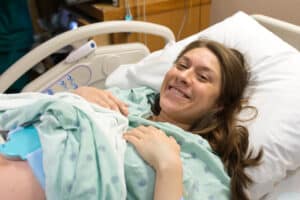 The Best Labor & Delivery Gowns for Women
The Universal Labor and Delivery Gown
The Kindred Bravely Universal 3-in-1 Labor and Delivery Gown is another birthing gown I want to share. It is a Polyester, Cotton blend that's also a budget-friendly option.
But, this birthing dress doesn't sacrifice anything when it comes to cuteness and functionality.
With 5 colors/patterns to choose from, there is something for every birthing mom.
There are two sizes to choose from (S-M-L fits baby bump up to 45 inches, and XL-XXL fits baby bump up to 51 inches).
The Universal 3-in-1 Labor and Delivery Gown has a Velcro front great for fetal monitoring during labor and then super helpful for skin-to-skin and breastfeeding after your baby is born.
Should they be needed, there are snaps along both shoulders, and two large pockets for whatever you would want to carry around with you.
So many of the reviews of this gown share how awesome they are, that they got a handwritten note congratulating them on their upcoming birth, and many are even wearing them after giving birth as part of their postpartum wardrobe!
Baby Be Mine Maternity
Whether you plan to birth naturally or with an epidural, this Baby Be Mine delivery gown is able to meet the needs of your labor and birth.
Unlike some of the other delivery gown options which don't have snaps down the back, this birthing dress does have snaps on the back. There are also snaps on either shoulder for easy monitoring, accessible breastfeeding, and also skin to skin contact.
The front of this delivery gown has snap-down panels that are helpful for breastfeeding and also exams.
You have 34 different patterns to choose from, and given how reasonably priced they are, I would buy 2 or three. You never know how awesome and convenient something like this is until you get it. And then you're wishing you would've bought more.
As far as the size you'll want to base it on your pre-pregnancy size, you have three size options to choose from. S/M is sizes 0-10, L/XL is sized 10-16.
In my opinion, one of the unique things about this company is the add-ons. You can buy a matching delivery robe, matching 2 in 1 maternity nursing nightgown, matching mommy and me set, and matching baby coming home set. Although the above-pictured set is pink, they do have a LOT of other color and pattern choices!
Motherhood Maternity- 3 in 1 Labor, Delivery and Nursing Gown

A Cotton, Modal, Spandex blend, this birthing gown from Motherhood Maternity is perfect for any mom preparing to give birth.
This sleeveless birthing gown has a snap closure and an empire waist for comfort and functionality. The snaps are in the front center of the gown as well as the center back of the gown.
There are also hidden snaps at the shoulder for easy access great for skin-to-skin and breastfeeding.
In my opinion, this is the simplest of all the birthing gowns here. If you want something different than the traditional hospital gown, yet functional for birth, and simple without any special features, this is what to wear during labor and delivery.
Ekouaer Labor and Maternity Dress
When looking at all of these delivery gowns and searching for the one that looks most comfortable like a nightgown, this is it.
A Polyester, spandex mix, this delivery gown snaps along the breast-line, which is different than most.
I don't feel like this is the best option for a hospital birth because they often want to monitor you, or if you have an epidural, you'll likely find yourself needing to remove your birthing gown because there isn't easy access to your back.
This birthing dress would, however, be awesome for right after giving birth because of the easy access for breastfeeding and skin to skin that doesn't involve snaps at the tops of your shoulders.
You'll get to choose from 16 colors, and 5 sizes ranging from S to XXL.
Pretty Pushers- Labor & Delivery Gowns
Pretty Pushers labor and birth gowns are different from many others. You've read that they all have snaps at access points. This labor and delivery gown has ties. Some people love this feature, and other moms know it's not for them.
It's a synthetic-free Cotton gown, with a low scoop tie back that is perfect for a mom with an epidural. The easy access doesn't involve undoing anything. If they do decide they need a little more access to your back, there is an additional tie that can be undone.
You can choose from 5 color options and two sizes. Based on your pre-pregnancy size, you can choose from One Size (2-16), and Plus Size (18-26).
Emory Posh Pusher Labor & Delivery Gown
You guys- This labor and delivery gown is SO STINKIN' CUTE! She looks like she could be sitting at her baby shower.
If I were you, I would buy this birthing dress now and use it for maternity pictures. It's that cute!
This delivery and breastfeeding gown has short sleeves, a round neckline, empire waist, snaps down at the shoulder, and snaps in the back, it has it all!
Birthing dresses are also amazing for Kangaroo Care too!
And can we take just a second and talk about how STINKIN' cute this adorable muslin baby wrap set is! Seriously! What an incredible pair for hospital pictures!
They have so many CUTE BABY SWADDLES FOR PICTURES! Grab one, or two!
Seriously, do yourself a favor and check out ALL of their awesome birthing gowns. Sizing varies depending on which gown you choose but ranges from small to XXL.
Soft as Butter Labor and Delivery Gown in Rose and Blue
The name of this birthing dress says it all: SOFT AS BUTTER! You can wear this birthing dress as a nightgown before giving birth, and as a nursing dress after giving birth.
Some women want to have a comfortable dress on for labor and then take it off for delivery so it doesn't get gross from all the fluids. The choice is totally yours!
This labor gown is perfect for giving birth because it is accessible for an IV or an epidural, and makes quick breastfeeding a dream with its
front snap-down feature. You can't go wrong with this dress!
And, be sure to snag this extra adorable matching outfit for your baby!
Don't Settle for the Hospital Gown, Choose a Birthing Gown!
Do yourself a favor and buy a couple of these cute birthing dresses. They are hands-down the best labor and delivery gowns out there. If you aren't sure which one is going to be best for you, buy a couple of different gowns and try them out.
I wish I would've known that I didn't have to wear that drab, sterile hospital gown. Not only would I have been more comfortable in one of these cute birthing gowns, but I sincerely believe that your environment plays a huge part in the mental part of labor, and having a cute and comfortable gown during labor makes a difference.
MORE Helpful Postpartum Posts:
Postpartum Essentials for New Moms
What to Expect After Giving Birth
What to Wear After Giving Birth

Postpartum Questions Every New Mom Needs to Ask
What to Expect After Giving Birth
Postpartum Leggings for New Moms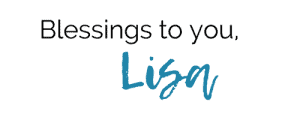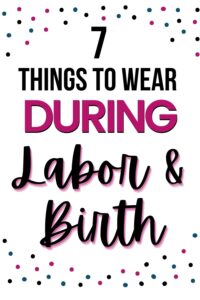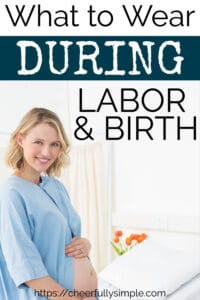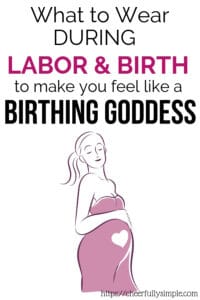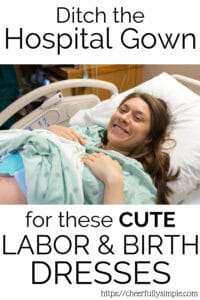 The owner of this website is a participant in the Amazon Services LLC Associates Program, an affiliate advertising program designed to provide a means for sites to earn advertising fees by advertising and linking to Amazon properties.
---