Motherhood Is Not A Competition- You're Rocking It!
Dear Momma,
You're rocking this mom thing.
If you got up this morning, fed your kids breakfast, got them to school, or daycare, or whatever your morning routine is, you're doing awesome.
If you ran the carpool last night making sure your kids arrived safely at their destination, kudos to you.
Or, maybe your family was at home all day yesterday, homeschooling, and had a quiet dinner at home as a family. You, momma, are doing awesome too.
*This post may contain affiliate links, which means I receive a small commission, at no extra cost to you, if you make a purchase using this link. I only recommend products I love or would personally use.
Being a mom, it's hard.
Some days, in fact, it's downright brutal. Thank goodness though, motherhood is not a competition.
As moms, we tend to find our shortfalls, at least those we identify as our own insecurities, and we nag at our own selves.
And, if we don't identify them ourselves, all you have to do is scroll through social media and you'll be bombarded with an overwhelming sense of not being good enough.
Not being good enough because you chose to go back to work when you had kids.
Not being good enough because you haven't lost your baby weight.
Or, maybe you chose not to breastfeed your baby without any good reason, other than that you didn't really want to.
That's OK. Every mom is different. Our goals are different. The way we know to raise our own children will be different than everyone else.
Related Post: How to Be a Better Mom to Your Toddler
You need to do you and be good with that.
But, then comes mom-shaming.
As if we aren't hard enough on ourselves as mothers, there are PLENTY of other people who make sure we judge ourselves as mothers.
Mommy wars are real and they aren't going to disappear any time soon unless we as women choose to end them.
Breastfeeding versus bottle feeding.
Homeschool versus public school versus private school.
Immunization versus not immunizing.
And the list of debates goes on.
But you momma, stop what you're doing and know this.
You're doing awesome.
If we as moms could stop judging other moms, we would all benefit. Mom bullies should not have power over you.
They shouldn't dictate how you feel about yourself as a mother, and they most certainly shouldn't keep you from enjoying beautiful moments with your children.
NEWSFLASH! Motherhood is not a competition!
Mom-shaming robs us of beautiful moments.
Moments that we shouldn't second guess ourselves and our judgments as our kids' moms. We know our kids best and we should be the ones making the necessary decisions for our kiddos. We shouldn't be concerned about the judgment of others and the fear of what others will think.
Jump in puddles with your kids.
Swing on swings at the playground.
Let them do your hair and then don't be afraid to leave your house.
Hold their sweet, dirty little hands and skip down the sidewalk.
Momma, these moments are fleeting and you're missing out.
You're missing out on beautiful moments with your babies.
One day, they won't be babies anymore.
There will come a day when they won't think you're the coolest person in the entire world.
One day, they won't think you're their best friend ever.
You'll blink, and those moments will be gone.
Related Post: Thinking About Becoming a Stay at Home Mom? Read This!
Motherhood is hard.
Motherhood was in no way, shape, or form was designed to be a competition. We've made it one.
Motherhood was created by God to be a beautiful intermingling of two souls, mother, and child.
God designed our hearts as mothered to be tender and loving. Not to be judgmental of ourselves and others.
I have been both a working mom out of the house and a stay at home mom. In both instances, I have been critical of myself. I have nitpicked at things that really have no hold on me as a mother. I felt the shame of being a working mom and going back to work when my baby was just a mere 12 weeks old.
However, I have also experienced being a stay at home mom with a baby who was 12 weeks old and longing to go back to work because this stay at home mom thing is incredibly challenging.
Some of that I suppose, I put on me by myself, but also, it's just the status quo.
As a stay at home mom, I have at times struggled to find my identity as a person. I love being home with my kids and I count it as a blessing, but it's hard.
Momma friends, we are amazing!
We brought these little humans into this world in one of the greatest miracles, I believe, any of us will ever experience in our lives.
Don't let other people take away beautiful moments with your kids because you shame yourself.
You deserve EVERY. SINGLE. ONE. of those beautiful moments!
Your kids deserve you. All of you. Not just the pieces society says are acceptable. Your kids love you just the way you are.
And that mommas, is all that matters.
Love yourselves. I'm a work in progress and so are you, and that is the beauty of motherhood.
Sincerely,
Another momma figuring out this mom thing.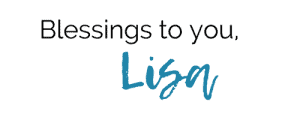 The owner of this website is a participant in the Amazon Services LLC Associates Program, an affiliate advertising program designed to provide a means for sites to earn advertising fees by advertising and linking to Amazon properties.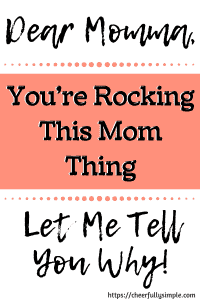 ---