Best Backpacks for Moms
When you're a busy mom, having a place to throw all your things as you head out the door is a necessity. Ever since having kids, I have been using a backpack. I spent a lot of time looking for the best backpack for moms because I needed a backpack that would meet my needs and also my kids' needs.
Every mom's needs will differ. For some, the best mom backpack purse has a place for bottles, diapers and wipes, blankets, outfits, etc. For almost all moms, a backpack for moms must also have a place for your phone, your wallet, chapstick, etc. All the things need to have a place.
I suggest checking for things like pockets, compartments, accessories, durability, type of material, and functionality. And, even though you're most likely looking for functionality the most, also be sure to find the right color/pattern that fits your personality!
*This post may contain affiliate links, which means I receive a small commission, at no extra cost to you, if you make a purchase using this link. I only recommend products I love or would personally use.
Best

Diaper Bag Backpack for Moms
When I first became a mom, I knew I didn't want a traditional over-the-shoulder diaper bag. I wanted something I could throw onto my back and not have to worry about it falling all over the place.
I quickly fell in love with this RUVALINO diaper bag backpack. So much so, that I still use this, even as our kids have gotten older. It is an affordable backpack for moms and it has always been reliable regardless if I'm just around my home or traveling.
I have written an extensive post about my favorite (and most loved) diaper bags for two kids and I have gone into extensive detail about this bag in particular. If you know you're on the hunt for a diaper bag backpack, make sure you shop this post!
Backpack for Moms with Twins
The Babbleroo Backpack for moms with twins is super helpful and can hold everything you need.
When you choose the Babbleroo Backpack, you'll first choose between 10 different color options. Inside, you'll quickly learn to appreciate the diaper organizer, 3 insulated pockets, a super convenient pocket for your keys, and convenient side pockets.
Also, make sure you take advantage of the back side zipper pocket and the main compartment that has 9 (yes 9!), separate storage pockets. If you're trying to get an idea of all the things this awesome backpack can hold, be sure you click through the link because there is a fantastic graphic in the listing that gives you a rough estimate of all the things this trendy mom backpack can hold.
As a seasoned mom, I can tell you the importance and convenience that comes with a backpack having stroller straps. These are the best at the grocery store! I also love the cute little pacifier attachment so you can easily grab that when you're baby is screaming.
Convertible Backpack for Moms
When I think of a convertible backpack option for moms, I think of something that can function like a diaper bag, but without question can be taken out for a date night or night out with the girls. And I think you would agree this Itzy Ritzy Mini Backpack is that bag!
When you choose this mom backpack, you'll enjoy more than just its cute appeal. First, you can choose from 8 different color/pattern options.
When you take a look around the outside of this backpack, you'll see two side pockets, great for bottles or cups, or maybe even your phone. You'll see a convenient handle on the top of the backpack making it easy to grab and carry. The front zipper pocket is great for your keys, phone, or chapstick. Also, take advantage of the hidden backside pocket for anything you want to keep to yourself.
One unique feature about this mom backpack is that when you open the main compartment, it's totally open. There is a pocket that would be great for diapers/wipes, change of clothes, toys, etc. There are also two side pockets that would easily fit a bottle or sippy cup. Lastly, inside you'll find a zippered pocket for anything you'd like to keep private.
One last thing I want to share about this trendy mom backpack is that it includes a vegan leather changing pad which is not only convenient but also easy to clean when needed.
Another great convertible backpack for moms is this Freshly Picked backpack.
This incredibly convertible backpack is available in 18 different colors/patterns. First, you'll notice two outside side pockets and a front zippered pouch. On the back, you'll find backpack straps to use this bag as a backpack. BUT, this bag can also be carried by the handle at the top, as a crossbody bag, and it can also convert into a shoulder bag using the included strap and the hooks at the top of the bag.
The inside of this backpack is where all the magic happens! Inside, you'll find a zippered pocket, great for your phone, keys, or chapstick (maybe even all 3)! In front of that is a great pocket for your included changing pad. There is a large open compartment where you can keep your large wallet, diapers, wipes, a blanket, etc. This is the best spot for all the larger items you may need.
There are two side pockets great for a water bottle, baby bottle, or sippy cup. Lastly, inside you'll find two side mesh pockets and a place for your small tablet. All of this is wrapped out with a pretty zipper at the top of the bag in case your bag topples over.
Another great feature of this mom bag is that it is 100% wipeable and spill resistant. Even when I don't have my kids with me, this is a great feature.
Best Backpacks for Moms with Young Kids
Sling Backpack for Moms
With over 50 patterns/colors to choose from, you'll find the right KAVU sling backpack.
The first thing I want to say about this sling backpack is that it is truly for any mom regardless of the stage of life you're in. It is so versatile that you'll be able to use it through all the ages and stages of motherhood.
As I mentioned before, there are over 50 shades and patterns to choose from. Made from polyester, the outside of the backpack provides you with a large zippered compartment on the left side with a small zipper pocket in the back.
In the middle of the bag, you'll find a hook and loop closure at the top, and a zippered pocket at the bottom. These two pockets would be ideal for the things you access most often- keys, phone, chapstick, etc. The right side of the bag features another zippered pocket, though not as large as the left side.
The padded back of this backpack provides you with great comfort no matter how long you'll be wearing the bag. The bag is worn as a sling backpack on the right shoulder.
Travel Backpack for Moms
One of the top-rated travel backpacks for moms is the Matein Travel Laptop bag.
When traveling, I need a bag that can fit my laptop, my own personal necessities, and a couple of things for my kids if needed. You'll soon see this travel backpack can do all of those.
When you choose this travel backpack, you can choose between two sizes: 15.6 inches and 17 inches. Once you've chosen the size of backpack you'll need, you can select the color, which will vary depending on which bag you choose.
All bags feature a convenient luggage strap for getting to where you're going without needing to hold onto your bag and your suitcase. There's also an anti-theft pocket in the back for things you want to keep out of sight of others.
Comfort features you'll enjoy include a sturdy handle for carrying your backpack, a hanging clasp for hooking your keys on, easily adjustable straps to get the bag to your comfort level, and a must-have multi-panel airflow in the back to keep your back from getting too hot.
The front of this backpack has a super handy external USB charging port, two elastic mesh side pockets, 3 zippered compartments, and a small zippered pocket in the front. A front zippered pocket is a great place for your cell phone, your keys, passport, etc. Hidden to the side of this pocket is another zippered pouch. The back zippered compartment has a place to safely keep your laptop or tablet in place.
If you're bringing along your child with you, I recommend you use the last front zippered pouch for their things. There's a space that can be used for a book, pencils, crayons, an extra outfit, diapers, and wipes, etc. This is a great space to dedicate to them.
High-End Backpack for Moms
Michael Kors is a well-known name among many women. Although a bit pricier, this Michael Kors backpack for moms comes with some really good ratings.
Let me start off by sharing that this stylish backpack for women comes in over 20 different colors/patterns. Several of the patterns offer both large and small sizes. I always appreciate this with a bag, because not all bags are created equally.
This Michael Kors backpack is made of 100% polyester. This bag is great for any mom who needs a bag to occasionally throw baby or kid items into, but for the most part, needs the bag for herself. It is incredibly trendy and functional for your day-to-day use.
You'll notice the handle on the top for easy carrying, as well as two shoulder straps on the back so it can be worn as a backpack. The bottom zippered compartment is convenient for easy access and to keep items you may not need as often. The top of the bag features two zippered compartments- one large and one a bit smaller. The large area is great for things like your wallet, tablet, and even things like diapers and wipes when needed. The front zipper compartment is great for your cell phone and things you use more often.
I hope you've found the right backpack based on your current needs. Never be afraid to get yourself a trendy mom backpack, as your needs change in your motherhood journey!
MORE Helpful Posts for Moms
Logical and Easy Cleaning Schedule for Busy Moms
The Best Christian Parenting Books
8 Books to Help You Parent Your Toddler
How to Give Kids Effective Instructions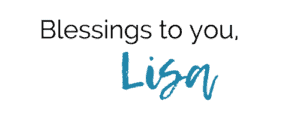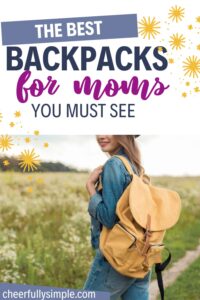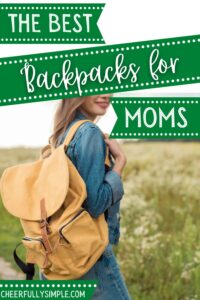 The owner of this website is a participant in the Amazon Services LLC Associates Program, an affiliate advertising program designed to provide a means for sites to earn advertising fees by advertising and linking to Amazon properties.
---