Start a Blog | A Beginner's Guide to Start a Blog
Start a Blog- Is Blogging Right For You?
Blogging is a great way for you to share your knowledge of something, such as a hobby, or maybe how to raise kids, with people who are searching for things on the internet.
There are many ways to create a blog and lots of ways for you to get the information to those who are looking for answers to questions you may be able to share about.
If you have decided to start a blog, there are so many things you will need to learn and consider.
A niche, a theme, a host, a domain, and the list could go on.
If you're new to blogging and curious about what it takes to start a blog, let me share what I have learned so far.
I can only imagine that it's everyone's dream to build the life they choose.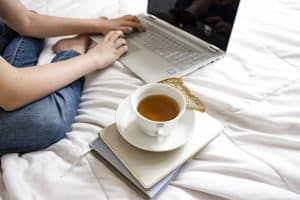 *This post may contain affiliate links, which means I receive a small commission, at no extra cost to you, if you make a purchase using this link. I only recommend products I love or would personally use.
Why Did I Start Blogging??
Like most, I wanted a life that allowed me the freedom to be at home with my kids while still earning an income and helping to support our family.
I have participated in a direct sales company, and although it does OK, it would take way more time away from our kids than I am currently willing to give.
I've been home for a few years now and during that time I have looked around for things that I can do from home while the kids sleep.
It was important for me to find something I was passionate about because if it was something I could do for the long haul and be my own boss, then I knew I would be more likely to REALLY invest myself into it rather than it being "just another job".
Is this starting to sound like something you can relate to?
What to Do With My Life?
So here I was, still trying to figure out "what I wanted to do with my life" when something popped up on my computer.
I was browsing around on Facebook, something that once consumed a lot of my time, when something about blogging popped up.
Blogging was something that I knew nothing about, but this particular post caught my attention because it talked about becoming a mom blogger.
I thought, "I am a mom, and I know blogs involving writing, and I think I can do that".
This post I saw talked about something called "Start A Mom Blog".
I had no idea what I was doing, but I was intrigued and interested. I fiddled around and decided that indeed I could do this blogging thing.
Literally, it happened that fast.
I was committed to my family and myself, and I was going to learn everything there was to know about blogging. 
I would make this work.
These are the tips I would share with anyone who is new and wanting to learn the basics of starting a blog.
1. Let's Make Some Money
Did you know you can make money with a blog? I had no clue! So of course, I had no clue how bloggers actually made their money either.
Here are the most common ways to earn an income blogging:
Affiliate Marketing
This is often one of the ways bloggers monetize their blog. If there is a product you would recommend to your readers, you can often make a commission from the product owner.
Making money for promoting a product is called affiliate marketing. Many companies offer EXCELLENT commissions when you help them sell their products.
Courses
Did you know there are websites where you can create your own online courses?
I HAD NO CLUE!
How silly of me, because I had taken MANY online courses.
The two most popular are Udemy, and Teachable. Both have plusses and minuses, but my personal recommendation would be Teachable. You pay a monthly fee for them to host your course, as well as the support they offer you, and then you make money when people purchase your course.
And of course, you will want to use your blog to promote your course.
The first set of courses I bought was the  Start a Mom Blog 5 Course Bundle, by Suzi Whitford. It has been incredible! It walked me through the basics of exactly how to purchase and set up my website, as well as other courses about how to create resources I want to offer for my readers and MUCH more!
I have also purchased Stupid Simple SEO, by Mike Pearson. I have learned a TON about how to maximize my SEO reach so that Google likes me, recognizes me as a reliable source of information related to motherhood and parenting, and puts my content in front of my intended audience.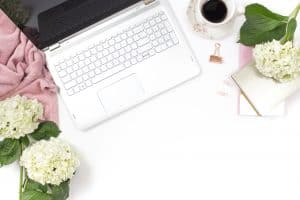 Ad Companies
As you can see on any website, companies want to pay you for space on your website. Each company has different requirements, but some of the more popular companies are Google Adsense, Mediavine, Media.net, and Adthrive. If you have a blog, it is wise to take advantage of ad companies and the income they can provide. 
Not everyone can just have ads placed on their site. Companies will want to review your site and see if you're a good match for their intended audience. 
Also, ad companies will want to make sure that their time is well spent putting ads on your blog, so they'll be looking to see that you have a steady flow of people coming to your site on a regular basis. Every company is different, so it's important to figure out which company you want to work with and familiarize yourself with what they require.
2. Choose Your Niche (Topic)
Choosing the right niche is the most crucial part when you start a blog!
It's important to choose something you're passionate about because you need to really be invested in the topic you choose. You want others to visit your blog and be engaged in your content.
As they say, "Content is King", and you need to make certain that people WANT to read what you write.
Make sure that you choose something that people are going to be searching for on Google or Pinterest. I would venture to say that these are two of the biggest forces that will drive traffic (people) to your blog.
And, if people don't visit your blog, it's really tough to make money.
Related Post: How to Start a Blog as a Stay at Home Mom
3. Be Committed
When you start a blog, success doesn't usually happen quickly.
It takes time to build an audience, which means it's going to likely take some time to make money. Producing quality content and learning how, where, and when to promote your content is key in this business.
There is no get rich quick button to be pushed. It takes a commitment to make it work. It can be tough to stay motivated when you aren't seeing the types of numbers you want, but you have to keep going.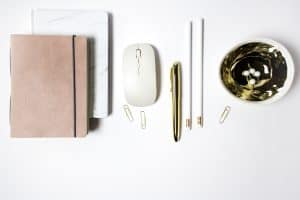 4. Educate Yourself
I would ABSOLUTELY recommend that you take some blogging courses if you decide to start a blog.
There are a ton of them out there and the prices range from really high to really affordable depending on your budget.
If you find that you are stuck in a rut, find a course that will help you become unstuck.
There is no one right way to do this, but there are a lot of people who have spent a lot of time blogging. I would take the blogging tips they recommend and implementing them as closely as possible.
Two resources that I would HIGHLY recommend are, Start a Mom Blog 5 Course Bundle, and Pinteresting Strategies.
Blog By number is a course that literally walks you through the process of starting a blog. From choosing your niche to actually going live with your blog. The awesome part is that it can be purchased as a group package with a few other awesome resources. 
The other resource I would recommend is called Pinteresting Strategies. If you plan to use Pinterest to drive traffic (people) to your blog, this is a must-read. Carly is a mommy blogger herself, and she has an AMAZING strategy that I have used to drive traffic to my blog.
She recently updated her course and now she offers videos that are literally you watching over her should to see what she does to be successful on Pinterest.
An added bonus is that she has a THRIVING Facebook group of like-minded bloggers who are very welcoming and offer great advice. There are a lot of bloggers in there with a wide variety of experience.
5. Find Like-Minded People
There are a lot of online communities out there, and blogging is no different.
I found some blogging communities that are centered around my niche and I joined in. They offer excellent resources, feedback, and advice.
You need these things if you are going to start a blog as a business. If you want to make money, you need to treat it like a business.
One of the greatest community resources I have found is on Facebook. There are a lot of people out there doing this blogging thing, but there is always room for one more.
You too can be successful with the right tools, and many of those tools will be found in the blogging communities you choose to join.
6. Choose the Right Hosting Company
I have learned that choosing the right hosting company is critical!
Two of the most popular hosting companies you will likely read about are Bluehost and Siteground.
Without a doubt, these are two of the most talked about hosting companies of the groups I am in. I was torn between which one to choose, so I did what I usually do, and Googled it.
What I discovered is that Siteground has the best customer service and the least amount of downtime. Those two things were really important to me.
Why?
I want my blog to ALWAYS be available to my readers, and when I have an issue, I was to have someone help me resolve it quickly.
7. WordPress.com vs. WordPress.org
This is an important one! Make sure that you are using wordpress.org if you plan to make money from your blog.
It is imperative that you register your domain under wordpress.org. You have much more freedom to choose who your hosting company will be, what theme you use (what your blog looks like), and what plugins you can use on your website. Plugins are things you use to tell your blog what you want it to do.
WordPress.com is commonly used for people who start a blog as an online journal, want to blog for fun, or maybe even keep family updated while away.
I hope you have gained some ideas of what is needed to help you start a blog! Make sure to stop back in and let me know how your blogging adventure is going!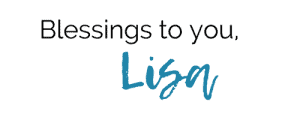 The owner of this website is a participant in the Amazon Services LLC Associates Program, an affiliate advertising program designed to provide a means for sites to earn advertising fees by advertising and linking to Amazon properties.

---