3 Helpful Tips for Your Kids Daylight Savings Sleep Routine
Daylight savings time can be dreadful. And it can totally sneak up on you.
Then BOOM!
You suddenly have grumpy kids whose sleep schedule is totally out of whack.
There are some super simple ways you can adjust your child's daylight savings sleep routine and (hopefully) avoid this headache!
*This post may contain affiliate links, which means I receive a small commission, at no extra cost to you, if you make a purchase using this link. I only recommend products I love or would personally use.
But First- When is Daylight Savings?
For 2019, daylight savings will take place on Sunday, March 10th, at 2 AM.
Slowly change bedtime before the clock actually changes
Although I'm going to share two other tips to help your kids adjust their sleep pattern, I feel like this is the most effective strategy.
With our kids, we start to adjust their regular bedtime routine about one week before the time change. Having toddlers and daylight savings time is the perfect potential for no sleep for a few days. But, there are some ways to make the time change easier.
It's pretty simple. Each night leading up to the time change, we bump things up or back 10 minutes.
Do the math: 6 night before time change x 10 minutes each night, means you have made the full hour adjustment the week leading up to the time change.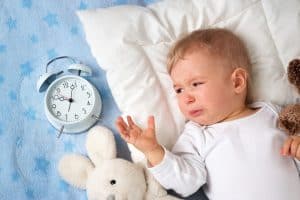 Cut out technology before bedtime
Another simple way to help your kids adjust to the time change is to cut out technology before bedtime.
When our eyes take in the blue light put off by technology devices, it signals to our brains to stay awake.
Cutting out the screens will tell our bodies to shut down and begin the evening routine.
This will also help aid your kids in adjusting to a new daylight savings sleep routine.
Super Helpful Tip: 40 Fun Activities for Kids to Burn Energy
Begin adjusting the lights in your house
Much like cutting out screens prior to bedtime, you can start cutting the lights earlier, or leaving them on later.
Doing this will help your body keep up with the circadian rhythm. If you aren't familiar with the circadian rhythm, it essentially means telling your body to be awake when the sun is up, and asleep when the sun is down.
There is nothing tricky to this, which is what makes it extra helpful.
Daylight Savings Sleep Routines Can Adjust!
Although it isn't always easy, your kiddos will eventually adjust to daylight savings time.
Daylight savings 2019 is right around the corner.
Begin tonight and make your life much easier!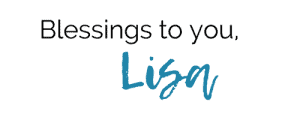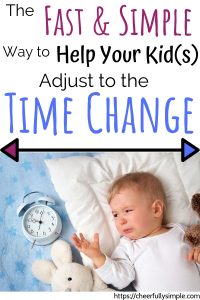 The owner of this website is a participant in the Amazon Services LLC Associates Program, an affiliate advertising program designed to provide a means for sites to earn advertising fees by advertising and linking to Amazon properties.
---