Blog as a Stay at Home Mom- Is It Right For You?
Is starting a blog as a stay at home mom is right for you?
Momming is hard!
And, if you were enjoying your career before you had kids, then you can relate in a different way.
I know for me, it was really tough to give up the intellectual stimulation that teaching brought into my life on a daily basis.
Let's be real here… I went from teaching middle school students how to find the surface area to teaching my kids how to walk and pee on the potty.
Not quite as mentally stimulating for me.
Choose to Make a Change
After a couple of years of being at home with my kids, I realized that I really needed to find something that was going to fulfill my need for mental stimulation.
I do run a small direct sales business, but I am not out in the field actively growing my business. I just supply people with the things they need. And unfortunately, this wasn't meeting my need.
So, I did what I always do. I consulted Pinterest and Google both in a search for ways to make money from home.
These are many of the same things I looked for when I first started dating. I wanted someone who I would enjoy dating for the rest of my life. Someone who understood and accepted me for who I am, knowing that my best version of "me" would change with the seasons of life and that he would love me anyway.
*This post may contain affiliate links, which means I receive a small commission, at no extra cost to you, if you make a purchase using this link. I only recommend products I love or would personally use.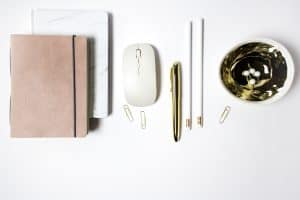 Why start a mom blog?
Simple.
If I was going to be using my brain for something, then I wanted to make sure that I was also going to be helping our bank account at the same time. I mean I may as well be using my brain for good.
There are so many different ways to make money, I mean like SO MANY!
As I started to sort through all of them, I kept finding reasons that all of these things weren't going to work. Many required too much time, or me being out of the house. Others were going to require a rather large up-front investment that isn't an option right given the fact that I am not working.
There had to be something out there that I could do right from the comfort of my own home, AND while my kids were sleeping.
Blogging.
I'm going to be totally honest here… I had NO CLUE what blogging was all about. All I knew was that I had visited many blogs because Pinterest had sent me there, and that was about it.
You too?
I am going to give you some tips to decide if creating a blog as a stay at home mom is a good fit for you and then at the end, I will share with you how I got my start blogging.
Blogging may be right for you if…
#1 You need intellectual stimulation
This was truly my driving force for starting my blog. It was one part of my life that had remained unfulfilled for the handful of years I was home with my kids after initially taking time off from teaching. I needed something that was going to give me intellectual stimulation and allow me to have "adult time".
It needed to be something that let me use my creative abilities, but it had to be on my own schedule. There had to be flexibility in the hours that I could work, and ideally, I wanted to work for myself, but I just didn't know what that looked like. And, as an added bonus, there is money to be made as a blogger.
That was something that I had never realized before. But, I am so glad that I now know that creating a blog as a stay at home mom is right for me, and it may be for you too!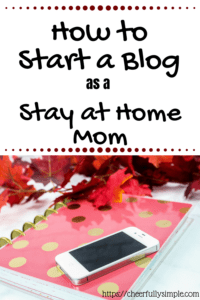 #2 You have "free time" you can put towards something constructive
I'm not sure about you, but when I would have "free time", I would mindlessly throw it away on social media. I started to realize just how much time I was wasting when I put a time tracker on my phone. It wasn't quite as bad as I had imagined, but it was still an average of two hours per day that I was giving away.
There had to be a better use of my time. And indeed, there was. For me, it was creating a blog as a stay at home mom.
When you create a blog, you are creating a whole new world that is yet to exist. The thought of that was exciting to me. I knew I had the ability to create and share something that had the potential to impact others. To me, that is a lot of what life is about.
And, as a teacher, this was one piece of teaching that I really enjoyed. Once again, blogging is what has allowed me to reach people from the comfort of my own home (or wherever my laptop goes) in my "free time".
#3 You want to make money, AND can be patient and persistent
Blogging isn't a "get rich quick" type of thing. Re-read that!
There is no simple formula to create a blog that is guaranteed to be profitable right away, or sometimes even at all. Even many of the big-name bloggers will tell you this. Although there is the occasional person who does some crazy awesome blog launch that blows everyone away, this just isn't the reality for the majority of bloggers.
Blogging takes time, persistence, and A LOT of patience.
I'm still not really sure how, but I did make money during my first month of blogging. It wasn't much, but it was enough to keep me motivated. It was enough to remind me on a daily basis to create strong content and keep promoting it.
With time, creating a blog as a stay at home mom can be a really successful avenue of income for your family. But, I would suggest that you do a lot of research and learning before jumping in. I honestly thought I was ready to go when I launched my blog.
I had grown my Pinterest (business) account, I had 25 blog posts that seemed to be set up well for SEO, and I had read a lot of information so that I knew what to expect right away. This was a great foundation, but I quickly found out that there was even still another entire world waiting for me.
So, make sure that you are ready to be patient, and that you are ready to keep going for the long haul.
How to: Start a Blog | A Beginner's Guide to Start a Blog
#4 You can write content that people will benefit from and actually want to read
This really should be at the top of the list. If you want to have a successful blog, you MUST make sure that you choose a niche that meets the needs of a group of people. If this is something you fail to do from the beginning, it will likely be a struggle for you to find success.
Why?
If you aren't writing material that meets someone's need, then there is no one coming to your blog. And if no one is coming to your blog, then there is no traffic to help you make money. It really is that simple.
One thing I did before making a true commitment to start a blog was that I began to write. I made sure that I could create content between 500-2000 words, and that my content met a need.
Another thing I did was make a list of topics I thought I would be able to write about. I would say I had close to 100 topics I knew I would be able to share advice on that would meet the needs of a group of people.
As I continued to blog as a stay at home mom, I did notice that my writing kind of took a direction of its own, and it has really allowed me to pinpoint my target audience better, which is always a very important thing.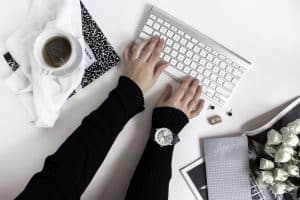 #5 You can be coachable and teachable
As I mentioned before, I really didn't know anything about creating a blog as a stay at home. The only thing I knew was that when I would search Pinterest or Google, I would often land on a blog that another person created. That was about it.
And it was because of this lack of knowledge that I knew there would be a huge learning curve. You can read my story of how I stumbled into blogging HERE, but I enrolled in a set of courses by Suzi Whitford.
She created a set of AMAZING courses that are designed for stay at home moms who want to start a blog. Seriously, it was God leading me to her courses.
I went into the courses as a student, and I still consider myself a student. Even though I have learned so much, I am not naïve, and I know that I am just on the tip of the iceberg of all there is to learn about blogging.
However, Suzi's set of courses was an amazing start to my blogging career and I am incredibly grateful that I landed in her space.
#6 You want to help a group of people accomplish something
I have mentioned it before, but if you know anything about me, I should tell you that I am actually a middle school teacher. I am home for the time being to raise my kids because that was important to me and my husband.
Because of my intense desire to teach others, I knew creating a blog as a stay at home mom would be a good fit if I could just zero in on what it was I wanted to share with people. As I started writing, I noticed that there was an underlying element of simplicity and a desire to help people solve simple problems.
So, Cheerfully Simple was born. The more I write, I have noticed that I seem to be writing to help out moms with young kids who want to make their own lives simpler. And really, who couldn't use some more simplicity in their life?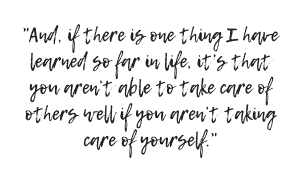 #7 You want to be a SAHM, but need something more
I truly love being at home with my kids, and I am so grateful that I have this opportunity. BUT, there was just something missing. And that is OK.
I needed something that fulfilled my need to teach, as well as something that would keep my mind challenged. I love my kids, but teaching things like the ABC's, and how to count just wasn't doing it for me.
Starting a blog as a stay at home mom has already made me a happier person. Although it is a goal to make money, even if I didn't, the fulfillment that blogging has given me has been well worth the couple hundred dollars we have put into it.
One thing I have learned in life thus far is that you aren't able to take care of others well if you aren't taking care of yourself.
Here's What It's Like to be a Stay at Home Mom
#8 Your spouse is on the same page and supportive
What was it like when I told my husband I had bought a set of courses on blogging and I was going to start a blog?
Ha! Great question.
Thankfully, my husband just said, "OK". Now, his response wasn't because he didn't care, but it was because he trusts me. He knows that I am not the type to just jump on the bandwagon of something and start throwing money at it without some kind of plan.
Being on the same page as my husband and having his support is always important to me. And, starting a blog is no different. He asks me on a regular basis how things are going and he is understanding when I may need to take a bit of time to get something done.
#9 You can separate work and home
There are many people who work from home and have learned to create a healthy work/life balance. Blogging is the same way.
If you are going to blog as a stay at home mom, you need to be able to put down your blog, walk away, and be with your family. There are online tools you can use as a blogger to track how things are going, and most of these can be done on a cell phone or tablet.
For me, I didn't want these apps on any of my devices. I didn't want to feel the need to check things constantly when I needed to be spending time with my family.
So, make sure that if you do take the leap into blogging that you create some accountability both with yourself and your family. Your family should always have priority.
#10 You need something for you
The bottom line was this… I needed something that made me feel good about me. For some people, it may be going to get their nails done, or going shopping, etc.
All I need is something that makes me feel like I am being productive and that I am contributing to our family.
Being a stay at home mom is tough. And when the days get tough, going back to work seems like an amazing option.
BUT, I come back down to reality and realize that I need to be here, at home with my kids. I need to be nurturing their hearts and teaching them to be good people. I want that.
However, I also need to make sure that I am taking care of myself. Thankfully, this came in the form of starting a blog. I am so grateful for my husband's support and the timing of how everything has fallen into place.
Maybe starting a blog as a stay at home mom is a good fit for you. Maybe not. But, I hope that you will find something good and healthy that makes you feel fulfilled.
If you do go the blogging route, stop back and let me know how it's going!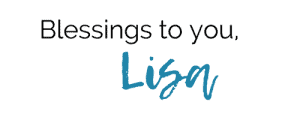 If you are wondering more about my blog host, the course I took on starting a blog, and strategies to master Pinterest, make sure you check out this post!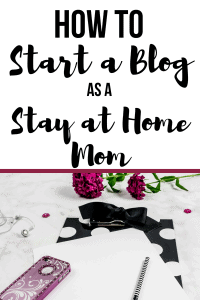 The owner of this website is a participant in the Amazon Services LLC Associates Program, an affiliate advertising program designed to provide a means for sites to earn advertising fees by advertising and linking to Amazon properties.
---